Have you made it to 17 DPO (that's 17 days past ovulation, by the way) with no sign of your period?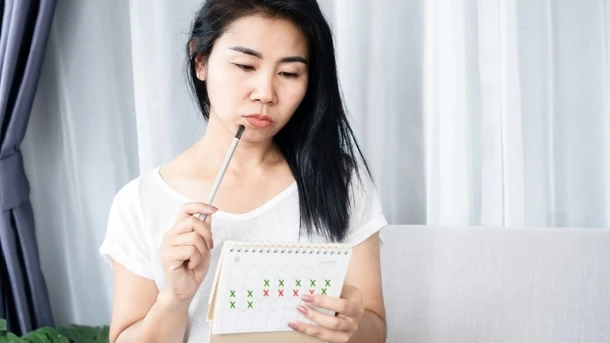 You're probably late by now, which is a great sign if you're trying to get pregnant.
But, if you're still waiting for your BFP (big fat positive), it can be hard to stay patient.
When they said TWW, you thought it would end at 14 DPO, right?
Whatever's going on, you're not alone.
Now let's take a look at what might be happening at 17 DPO.
In this article 📝

How many DPO is considered late?

What to expect at 17 DPO?

Can I take a pregnancy test 17 days after ovulation?

17 DPO symptoms
How many DPO is considered late?
At 17 DPO, you might be about three days late for your period.
Doctors work off the assumption that you have a 28-day cycle.
Day one is the first day of your period, day 14 is the day you ovulate, and Aunt Flo is due again on day 28, aka 14 DPO.
Of course, there's no such thing as "normal" when it comes to TTC.
If you have a 32-day cycle instead of a 28-day one, you might not be as far along as the maths above says.
Cycles vary, and everything from a cold to a stressful time at work can delay ovulation and throw your TTC calculations out of whack for a month.
What to expect at 17 DPO?
Pregnant or not, your hormone levels at this time of the month can cause some symptoms (more on this later).
Whether your body is getting ready for a period or a baby, your progesterone level will probably be high, which can drain your energy and make you feel uncomfortable.
Rest up if you need to — you come first.
Can I take a pregnancy test 17 days after ovulation?
And more importantly, Can I get a positive pregnancy test at 17 DPO?
We have some good news: A 17 DPO BFP is definitely possible.
It's early days, so follow the instructions closely to minimize the chance of a false negative but, from today onwards, there's never really a bad time to test.
If the test comes back negative, take a deep breath.
It's frustrating, but even if you ovulated two days later than you thought, your 17 DPO hCG hormone levels might not have climbed high enough for the test to pick them up.
Just to show how different every woman is, a home pregnancy test will usually come back positive if it detects 20mIU/ml in your urine.
At 17 DPO, hCG levels can be anything from 17–429 mIU/ml.
If you end up with a 17 DPO BFN (that's a big fat negative pregnancy test result), try to take your mind off things and repeat the test in a couple of days.
17 DPO symptoms
You can get early pregnancy symptoms, whether you've already got your BFP or you're still waiting. The most common ones are:
Headaches – These are usually related to dehydration and blood pressure changes as your body adjusts to its new mix of hormones.
Mood swings – You've either been waiting for weeks for some life-changing news, or you've just found out that you're going to be a parent. We think that heightened emotions (good and bad) are justified.
Cramps – 17 DPO cramping can be from your uterus adjusting to early pregnancy or from late implantation.
Bleeding – It is possible to have a light bleed around the time you expect your period, which can be due to the egg implanting in your uterine wall.
So what comes next?
If you have a BFP, make an appointment with your healthcare provider to start your prenatal care, and connect with the mamas-to-be here on Peanut to share the ride.
And if you're still looking at a BFN, hang in there and keep testing every few days. It's not over until your period arrives.
Read next: All You Need to Know About 18 DPO