Welcome to 18 days past ovulation, or 18 DPO. By this point, you might know if you're four and a half weeks pregnant or just four days late. But whether you've already tested or not, here's everything you need to know about this time.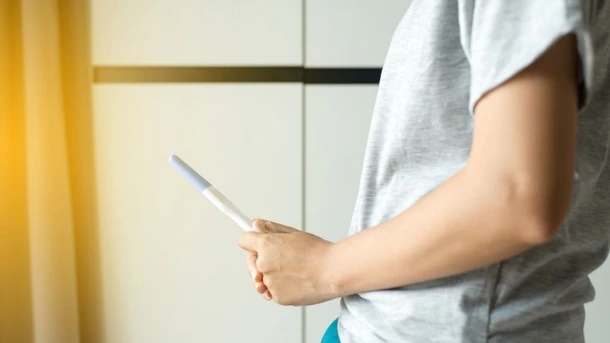 In this article 📝

What to expect at 18 DPO?

How many DPO is considered late?

Can you get a positive pregnancy test at 18 DPO?

18 DPO symptoms

18 DPO BFP

18 DPO BFN
What to expect at 18 DPO?
Every woman is unique and every TTC journey is different too.
So you might be feeling lousy right now, or you might feel like your normal self.
The only universal at this point is the nerves.
Maybe you're anxious because you're waiting for a certain day to test, you're worried that your period is still going to show up, or you've already tested and it's come back with life-changing news.
Nerves are totally normal.
How many DPO is considered late?
Anything after 15 DPO is considered late, so that ship sailed a few days ago.
You know your body best and if you normally have a 32-day cycle instead of a 28 day one, that's fine.
But if you are pregnant, chances are that by now, even with a longer cycle, you've hit that magic two weeks past ovulation mark.
Fun fact: If you are 18 DPO and pregnant, you're already in the fifth week of your pregnancy, since the first week of pregnancy technically begins on the first day of your last period.
Can you get a positive pregnancy test at 18 DPO?
Is 18 DPO too early to test?
No. Definitely not.
You can absolutely get a positive pregnancy test at 18 DPO.
It can be a strong positive result too, with an unmistakable line in the window.
You can even get a BFP (Big Fat Positive) if you test just a few hours after you last went to the bathroom, with no need to wait until the morning when the hormones in your pee are most concentrated.
Having said that, even a really faint line is a positive result. Test away, and we hope you get the answer you're waiting for.
18 DPO symptoms
It's perfectly normal to feel no pregnancy symptoms at all until the sixth week, when pregnancy nausea often starts to kick up a notch, or equally, to have no nausea, cravings, or aversions for your entire pregnancy.
There's no link between how severe your symptoms are and how healthy your baby is (although some people swear that more nausea = baby girl).
Either way, if they're in there and growing, buckle up for the following:
Fatigue, exhaustion, tiredness Whatever you want to call it, you probably don't feel like staying up late, or even getting out of bed in the first place.
Bloating, constipation and/or gas
Tender breasts
Heightened sense of smell
Headaches
Aches and pains, especially around your abdomen or lower back
18 DPO BFP
If you've had your BFP, congratulations!
Give yourself time and permission to feel however you're feeling right now.
You might be delighted, or nervous, or both at once.
Mixed feelings are normal, even if you've been TTC for a long time.
Physically, though, there are definitely some things to get started on if you can.
Start preparing for your first medical appointments, and think about taking some prenatal vitamins, especially this week as the structures that will become your baby's spinal cord and brain are starting to form.
And if you find yourself needing to rest, rest.
Take care of yourself, mama-to-be!
18 DPO BFN
So you're four days late, but the test has come back BFN (that's Big Fat Negative).
Home pregnancy tests are usually pretty accurate from the first day of your missed period.
So if you're using the tests correctly (and you've calculated your cycle day accurately) and you're still getting a BFN, this might just not be your month.
You don't have to spend long on TTC forums though before you find women who had to wait until they were 10 days late (so 24 DPO) before they got their BFP.
So if your period still doesn't arrive, or you are feeling definite pregnancy symptoms, it may be worth testing again in a couple of days.
Try and keep your spirits up and even if later tests do confirm a BFN, remember that it takes an average of 12 months to conceive a child, so don't lose hope.
We get it, though.
This in-between, am-I-or-aren't-I stage is so hard.
For something which is essentially a yes or no question, it's ridiculous what an extension to a two-week wait can do to your emotions.
But hang in there and keep testing every few days.
And remember, you can always find women in the Peanut community who're going through the same thing.
Read next: All You Need to Know About 19 DPO