So, you're 26 weeks pregnant, and inside your bump your baby is opening their eyes to take their first look at their (currently) rather small world. Isn't it amazing, mama, to think about the moment your eyes will meet theirs?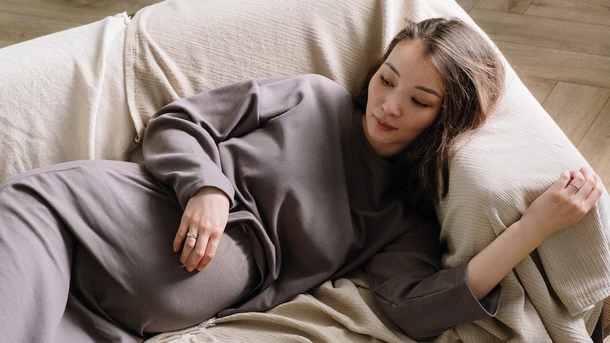 Still, there's just a few more months of pregnancy left to go until that special encounter. Let's find out what's in store this week!
How many months is 26 weeks pregnant?
At 26 weeks, you're in the sixth month of your pregnancy – [6 months](https://www.peanut-app.io/blog/6-months-pregnant0, 2 weeks, to be exact. With 14 weeks to go till your due date, you're still in the second trimester, but by the end of week 27 you'll be heading into the third trimester and your final stretch of pregnancy.
How big is your baby at 26 weeks pregnant?
Right now, your baby is about 14 inches long from head to heel and weighs about 1 and three-quarter pounds. That's the length of a scallion, or the weight of a large zucchini.
What position is your baby in at 26 weeks?
You'll be feeling a lot of fetal movement at 26 weeks. As we saw in week 25, this is a very active time for your little one, and they'll be getting up to all kinds of tricks – playing with their toes, sucking their thumb, and even punching you with those tiny fists! That means they won't be keeping to one position the whole time.
However, soon your growing baby won't have so much room to roam, and they'll be more likely to stay in the same position. Ideally, they'll choose to be head down with their back towards your belly (called the occipito-anterior position, if you want to get technical), which is best for a vaginal birth.
Your baby's development at 26 weeks
At 26 weeks, your baby's major organs are in place, and their lungs are continuing to grow and get stronger. Excitingly, their eyes will be opening for the first time round about now, and they will start learning to blink. At this point, your baby's eyes will probably be a pale bluish color, but you won't know their final color until sometime after birth.
Your little one is also growing teeny-tiny eyelashes (adorable) and fingernails, which could be quite sharp by the time they're born (ouch!).
Although a 26 week fetus has a way to go before they're fully developed, their organs are mature enough that if they're born prematurely their survival chances are very good (around 89%). But they will need a little extra help to breathe at first, until their lungs are ready to go it alone.
How do you feel at 26 weeks pregnant?
Your expanding 26 weeks pregnant belly is probably starting to impact your life more and more. If you're feeling a little clumsy and lacking coordination, that could be because your bump is affecting your sense of balance. You might start to see stretch marks on your belly (possibly breasts, hips, and thighs, too) and experience some "growing pains" as your uterus gets bigger.
Other 26 weeks pregnant symptoms that could affect you include:
Feeling hot
Tiredness and trouble sleeping
Headaches
Swollen hands or feet
Mention this last symptom to your healthcare provider – it's probably due to water retention, but it could be a sign of a dangerous condition called preeclampsia, so best to get it checked out.
And, last but not least, this could be the week your belly button pops out! If you were an "innie" before, the pressure of your growing uterus may turn you into an "outie". Things should go back to normal a few months after the birth, though.
Pregnant at 26 weeks: a checklist
What might you consider organizing during week 26 of your pregnancy? Here's a few ideas:
Some mamas-to-be also like to go on a trip or "babymoon" at this point in their pregnancy, while travel is still (relatively!) comfortable. Where will yours take you?
🤰 Read next:
27 Weeks Pregnant: What to Expect
Your Pregnancy Week By Week Guide