We all know that motherhood doesn't come with a manual. But it does come with support, information, and advice from other women who know what you're going through - which comes pretty close.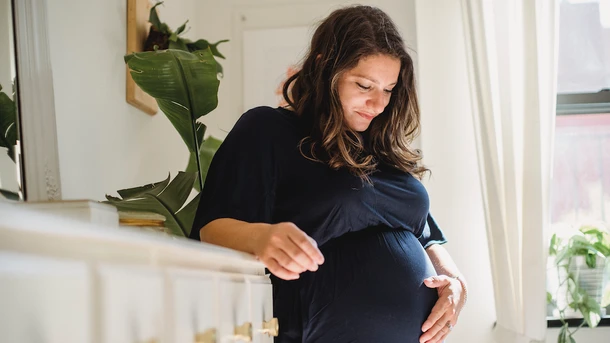 So for all the new mamas and mamas-to-be out there, know that you don't have to figure out everything on your own. It's OK to ask for help. And it's OK to be searching the internet for nuggets of wisdom.
To help you on your way, we've put together the ultimate list of tips for new and expectant moms, straight from Peanut mamas who have been there. Ready to take notes?
➡️ Related: 10 Life-Changing Mom Hacks From Peanut Mamas
13 tips for first-time moms:
1. "There is NO shame in asking for help. When I had my little one I felt like I needed to just do everything by myself, until I nearly passed out from exhaustion. I've learnt my lesson now and will take help and support when it's offered!" - Chrissy
2. "All babies cry! It doesn't mean you're doing anything wrong, baby just has a need to be met. They're like little puzzles, you gotta go through all the possible reasons for the tears. Just breathe, sing a song, and go about solving your fun adorable little puzzle" - Carmen
3. "Be kind and patient with yourself. I know you're busy raising a tiny human, but make sure you look out for yourself too. Postnatal depression is common, normal and it is good to be aware of the signs in case they impact you." - Hannah
4. "Take as many photos as you can. It's a total cliche but time really does pass by so quickly. They change so rapidly in the newborn stage so make sure you take photos and treasure keepsakes."- Jenny
5. "It's OK to not instantly bond with your baby. The first few weeks and months with a newborn are exhausting and super stressful for most. Bonding with your baby happens over time and that's OK! ." - Roz
6. "Don't buy newborn clothes. I bought so many teeny tiny newborn clothes during my pregnancy, was gifted lots at my baby shower, and then even more once my little peanut arrived. Turns out, babies grow super fast and I didn't even use a quarter of them!" - Aisha
(Our top tip? Get a baby clothes rental subscription from Bundlee. Affordable, space-saving, and sustainable!)
7. "Use your vacuum! It sounds weird, but someone told me to run the vacuum while the baby sleeps early on so they get used to sleeping through noise. It was the best advice ever because we don't have to tiptoe around at all." - Danielle
8. "Don't get lost in the new baby fog. It can be so overwhelming becoming a mama (and the best thing ever of course!) so it's really important to take time for yourself. Even if it's just an uninterrupted bath or being able to eat a meal without juggling a baby." - Holly
9. "You don't always need advice. I follow the rule that asking and listening to advice doesn't mean you need to take it. Everyone does things differently, and you know your baby best." - Fiona
10. "Find your tribe. Connecting with other women who understand what you're going through is essential. Don't ever think you have to do any of this alone. I've met so many supportive women through Peanut who I can't imagine life without." - Anouschka
11. "Everything is a phase. Good sleep, bad sleep, fighting naps, cranky, fussy, teething, growth spurts, developmental learning curves, etc. Everything is constantly changing, and is just a phase." - Sophie
12. "There's so many different ways of doing things. Every baby and every family is different so find what works best for you and don't worry about the rest. Someone somewhere will judge your choices no matter what, so don't worry about trying to please anyone except your little family unit." - Bekah
And the ultimate piece of advice for any new mom:
13. "Relax and trust your instincts. You've got this." - Laura