The Land of the Free, Home of the Brave is also home to a lot of names. Like, a lot. America is a melting pot of cultures, and if you're looking for American baby names, you've got a wide variety to choose from.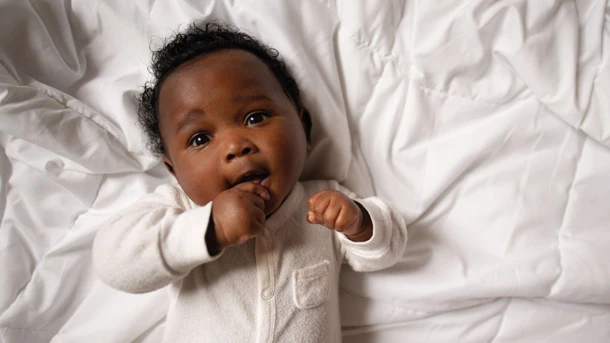 The US of A boasts a population of almost 330 million, so it's hardly surprising that lists of American baby names are alive with diversity.
From those traditional names with an all-American twist to the Native, historical and presidential, there's no shortage of 'Merican monikers for your little peanut.
Why choose an American baby name?
Maybe you or your partner were Born in the USA.
Or maybe you have American parents or grandparents you want to honor.
Or perhaps you visited the States and fell in love, or simply grew up on a staple diet of American TV, movies, books, and music.
Whatever your reason for choosing an American name for your baby, get inspired by our favorite American names for girls and boys.
Popular American girl names
According to the official Social Security website, the 5 most popular American girls' names in 2019 (the most recent year available) are as follows:
Olivia — Derived from the Latin "oliva" which means olive or olive tree, America's top baby girl name is older than the country itself. That's right, it's been in use since the 13th century, proving it's as compelling now as it was all those years ago. Famous American Olivias include actresses Olivia Wilde and Olivia Munn.

Emma — The name Emma is German in origin and means "whole" or "universal". Rather fitting for a little lady who'll soon be your everything! Notable American Emmas include Emma Stone and Emma Roberts, so yours will be in good company.

Ava — There's some debate around the origin of Ava. It could be from the Latin "avis" which means bird, or it could be a shortened version of the Hebrew name Chava, which means "life". Either way, Ava is as enduring as the Hollywood icon who popularized it — North Carolina's own Ava Gardner.

Sophia — Sophia (also spelled Sofia) is a regular on popular baby name lists, so it's little wonder this wonderful name is ranked so high. Greek in origin, meaning "wisdom", Sophia has been around since the start of the 4th century.

Isabella — Given the US's proud and vibrant Latin community, it's little surprise to see a name with Spanish and Italian origins crack the top 10. Isabella means "pledged to God" and is a form of the name Elizabeth. Best of all, it can be shortened to the infinitely adorable "Bella".
25 more popular American names for baby girls:
Abigail
Amelia
Aria
Avery
Camila
Charlotte
Chloe
Eleanor
Elizabeth
Ella
Emily
Evelyn
Grace
Harper
Layla
Luna
Madison
Mia
Mila
Nora
Penelope
Riley
Scarlett
Victoria
Zoey
Popular American baby boy names
The 5 most popular boys names in America as of 2019 are:
Liam — In Ireland, Liam evolved from the French name Guillaume, which dates back to the 11th century. The name first became Uilliam, and over time it was shortened to Liam. It can also be used as the shortened version of the English name, William. Fun fact: Liam has been either the second or first most popular boys name in the US since 2013. Talk about staying power!
Noah — Who wouldn't want a chilled out baby? Well, maybe you could nudge him in the right direction by naming him Noah, which means "rest" or "comfort". Interestingly, this Hebrew name has a long history with the USA, stretching back to when Noah Webster Jr. taught generations how to read and spell in the late 1700s.
Oliver — While Olivia takes top spot in the girls list, the male counterpart Oliver has to make do with third. A strong name with a cute nickname (Ollie), Oliver could either be Medieval in origin, meaning "elf warrior" or Norse in origin, meaning "ancestor's descendant". Famous American Olivers include the actors Oliver Platt and Oliver Hardy, and the director Oliver Stone.
William — If you want to give your little guy some flexibility growing up, then William has to be in with a shout. You can shorten it to Will, Willy, Bill, Billy, Liam — and the list goes on. Notable American Williams include the 42nd President, Bill (William Jefferson) Clinton and the Oscar-nominated actor, William H. Macy.
Elijah — Perhaps made most famous by everyone's favorite Hobbit, Elijah Wood, the name Elijah has been a mainstay in the top 10 most popular American baby names since 2016. The English version of the Hebrew name Eliyahu, Elijah can be shortened to "Eli". Cute!
25 more popular American names for baby boys:
Aiden
Alexander
Benjamin
Carter
Daniel
David
Ethan
Henry
Jack
Jackson
Jacob
James
John
Joseph
Levi
Logan
Lucas
Mason
Mateo
Matthew
Michael
Owen
Samuel
Sebastian
Wyatt
Unique American baby names
While many popular American names have their origins elsewhere, many more are distinctly American, named after cities, states, or historical figures. Names like Brooklyn, Dallas, Kennedy, and Lincoln remain popular with American mamas, while the likes of Hunter, Blaze, and Maverick also crop up with increasing regularity.
🤠 You might also like: 62 Charming Southern Baby Names for Boys and Girls
And what about Native American baby names?
It's always wise to tread lightly when borrowing from other cultures, so if you don't have any Native American heritage, you might be tempted to steer clear of Native American baby names. That being said, there are a few names with Native origins that have found their way into the mainstream in recent years.
The likes of Dakota ("friend" or "ally"), Cheyenne ("people of a different language"), Winona ("first daughter"), and Kai ("willow tree") are as beautiful as they are meaningful.
American baby names — Which one will you choose?
And that's it! 71 of the best American names to choose from.
Want a second, third, or fourth opinion? Share your favorites with your fellow mamas on Peanut.

110 women are talking about 'baby names' on Peanut. Download the app to join the conversation.
👶 More baby names:
150 of The Most Cool and Rare Baby Names
200+ Spanish Baby Names for Your Bebé to Be
166 Greek Baby Names
12 African Baby Names
58 Biblical Baby Names
70 Chinese Baby Names
49 Bellissimi Italian Baby Names
143 Victorian Baby Names with Meanings
111 Nigerian Baby Names
88 Dutch Baby Names
98 Lithuanian Baby Names
The Best 109 Cuban Baby Names With Meanings
85 Beautiful Brazilian Baby Names
201 Inuit Baby Names & Their Meanings
250+ Adorable Baby Names That Mean Love
100 Canadian Baby Names With Their Meanings
234 Cowboy Baby Names for the Wild at Heart