Planning your baby boy's nursery might feel a little overwhelming at the beginning. Where do you start? Do you choose a color first? Pick a theme? Where do the animals come in? Does it have to be expensive? Mama, we're here to help.
Let's answer the last question first: no, decorating your baby boy's nursery shouldn't stretch your budget.
There are only a few things you really need: a crib, a comfy chair to sit in while you feed him, and a changing table of sorts.
From there on, the artwork, decorations, and decor can be as simple or as elaborate as you like.
And as for the rest of the questions: well, there are no hard and fast rules. The route you take is up to you (just like everything else when it comes to mamahood, come to think of it!).
Here are some ideas to inspire.
In this article: 📝

Color-coded ideas for your baby nursery

Animal nursery ideas for boys

Sweet baby boy nursery themes
Color-coded ideas for your baby nursery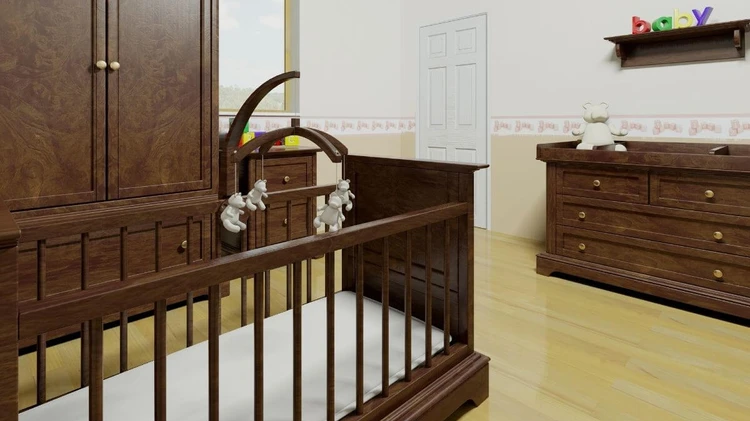 1. Nice and neutral
Go for creams, beiges, browns, and golds if you want to create a soft and soothing space, somewhere where both you and your little one will feel calm and at ease.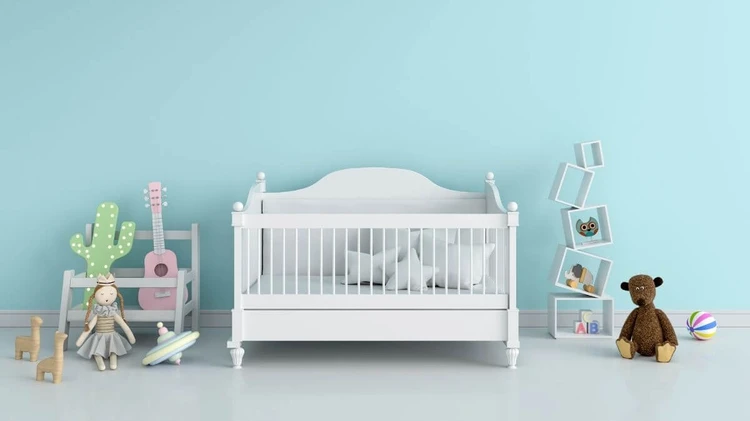 2. Blue and white
An old favorite, start with simple pale blue and white striped wallpaper for this one. Choose soft white furnishings, and set these off with small blue details, such as blue cushions, lamps, or rugs.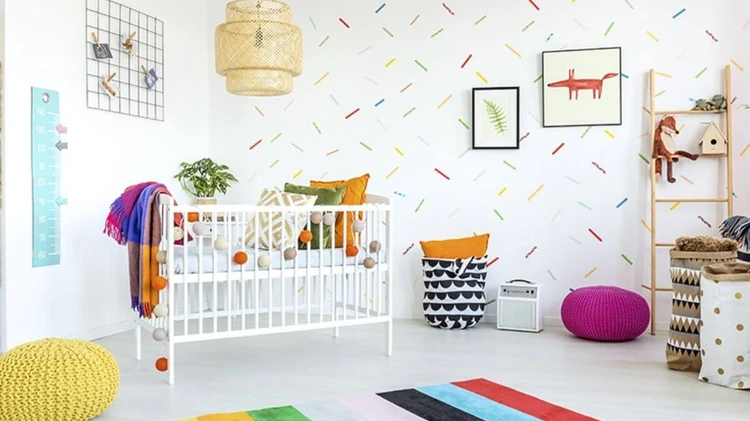 3. Big block colors
Painting one signature wall a deep, rich green or a bright, bold yellow can be a striking (and affordable) way to set the tone for your baby's room. Use this color as an accent elsewhere in the room – maybe with a matching blanket or some wall art – and everything will start to hang together.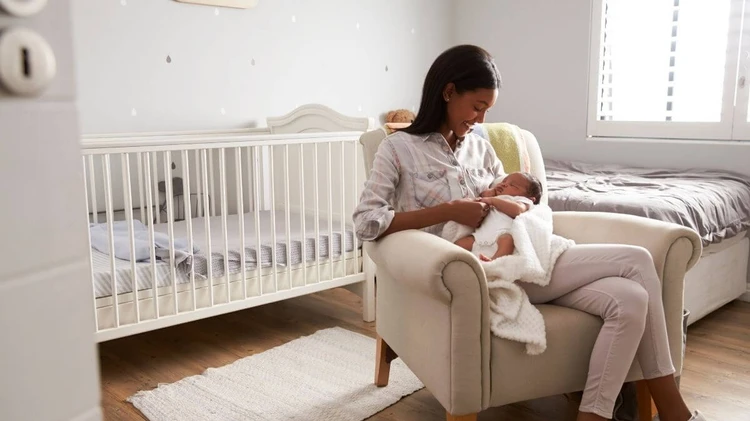 4. Go for grayscale
There's something relaxing about different shades of gray. They're perfect if you don't want an explosion of color, but also aren't drawn to the harsh contrast of blacks and whites. Different textures, such as velvet, cotton, and fluff, can help to distinguish different items in this gentle room.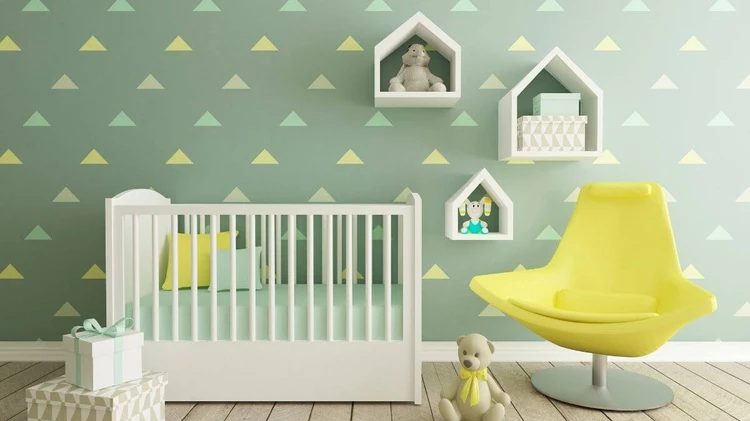 5. Drop the gender rules
If you know you're having a boy, it can be tricky to escape blue. (Be prepared for one or two blue baby grows or toys to land on your lap from well-meaning friends and family.) But your baby's nursery is in your hands, which means you can steer clear of blue completely if you like. Choose a happy orange, or all the colors at once.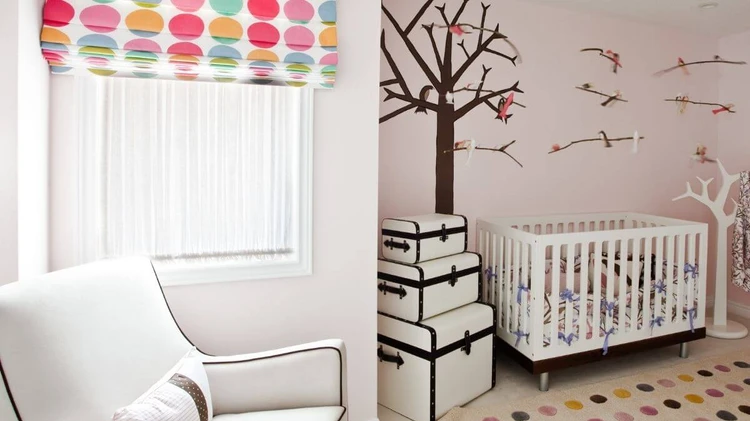 6. Do the polka
Whatever color you choose (and especially if you choose a variety), you might think of displaying it in fun ways. Polka dots on the walls will look cheerful and childlike, while colorful stripes could give your nursery a fair-like feel.
Animal nursery ideas for boys
7. Just one favorite
Pick an animal and stick to it. Maybe you've always loved bears, foxes, raccoons, or deer. Or maybe you want to honor your fur child in your human child's room by making it a cat or dog-themed space. A few pictures on the walls and a stuffed animal or two can bring a theme to life in no time.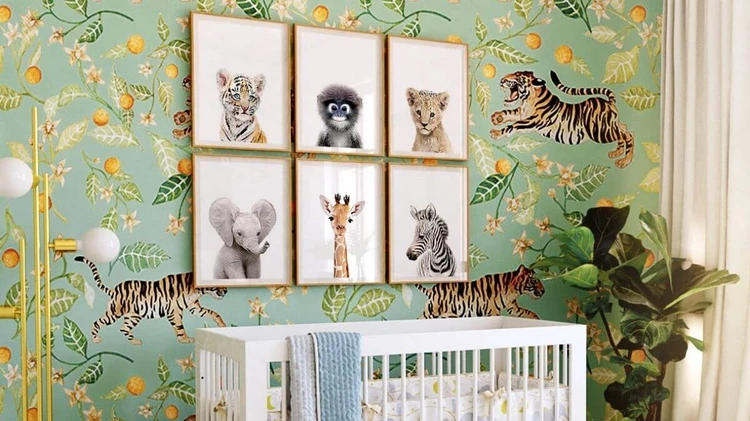 8. On safari
Giraffes, elephants, lions, and rhinos – maybe even the difficult-to-spot leopard (see what we did there?). Choosing African animals can give your animal theme a brightly colored twist.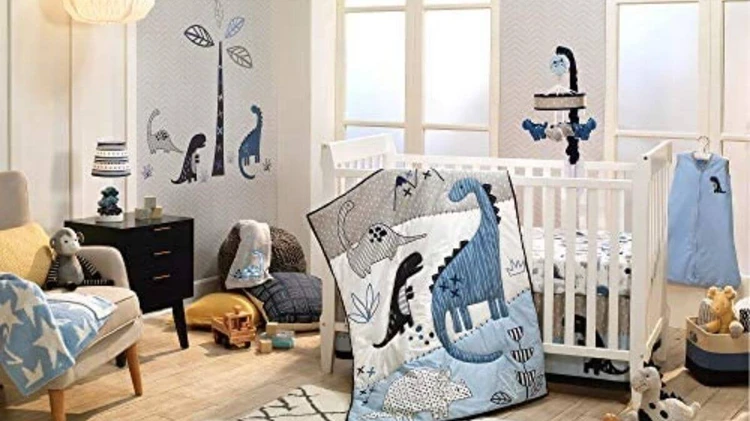 9. Delightful dinosaurs
Every child loves a dinosaur. Start this passion early with sweet and simple designs of dinosaurs. You'll likely sleep well at night too, knowing that T. rex and triceratops are watching over your little one.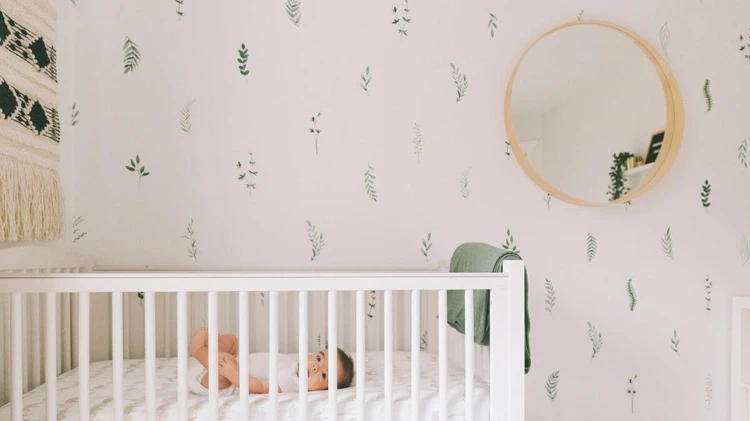 10. Forest critters
This one makes us think of leafy wallpaper or decals, and little creatures like hedgehogs, mice, and owls. Of course, forests can also be home to fairies if you look closely enough.
Sweet baby boy nursery themes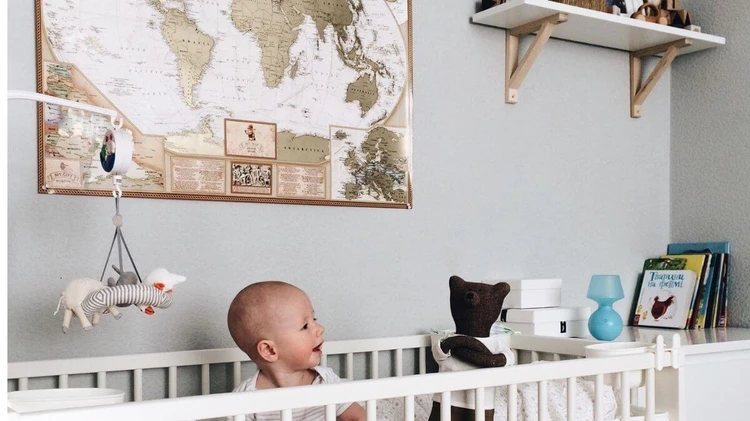 11. Adventurous spirit
If you have hopes of your little boy exploring the world one day, look for decorations that celebrate adventure and travel. A map of the world on the wall or a mobile of paper airplanes above his crib will surely help him dream of new and exciting places.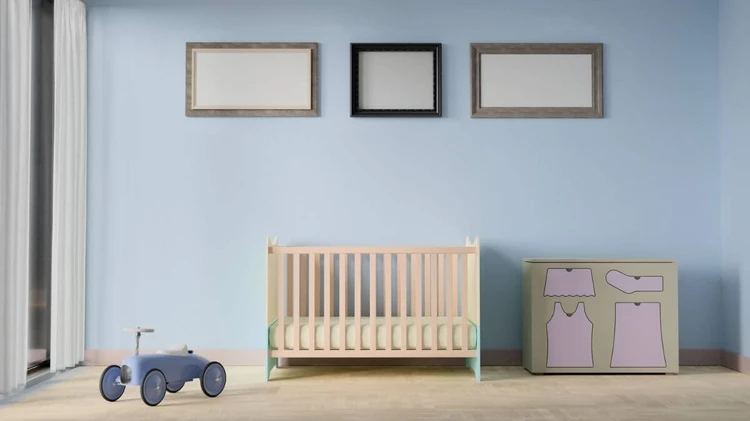 12. Minimalist magic
Do you enjoy sleek lines and a minimum of fuss? If so, there's no reason why you can't create this in your little boy's nursery. Give everything its space in a drawer or cupboard to help you keep the countertops clutter-free.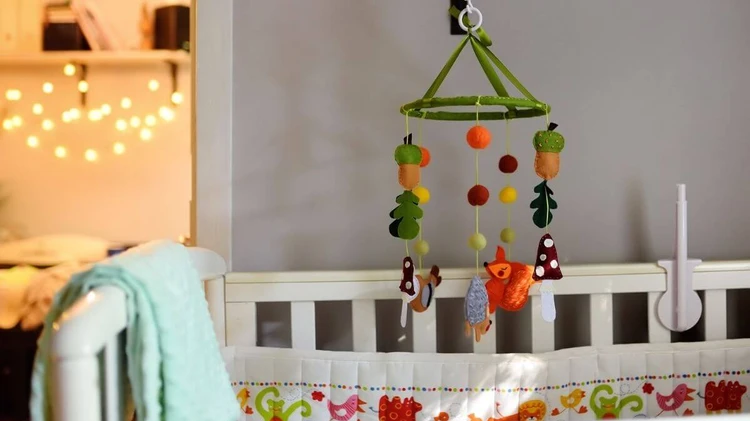 13. Get the family involved
If you're looking for art for the walls, you might want to commission some of the children in your family to do a few paintings for you. Maybe you have children already, or you have nieces and nephews who are budding finger painting maestros!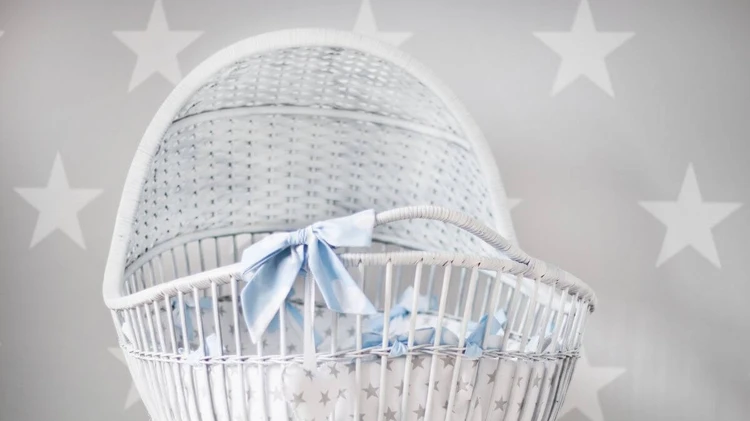 14. Your moon and stars
"I love you right up to the moon – and back," says Big Nutbrown Hare in the classic children's story Guess How Much I Love You. Somehow, a starry theme just seems right.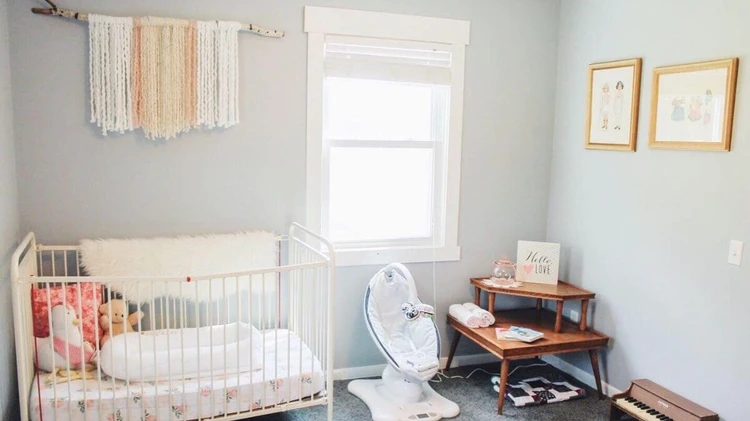 15. Oh so boho
There's just something about boho chic. Mix and match prints, bold designs, pretty details that catch the eye. This one can either be color-coded or super colorful.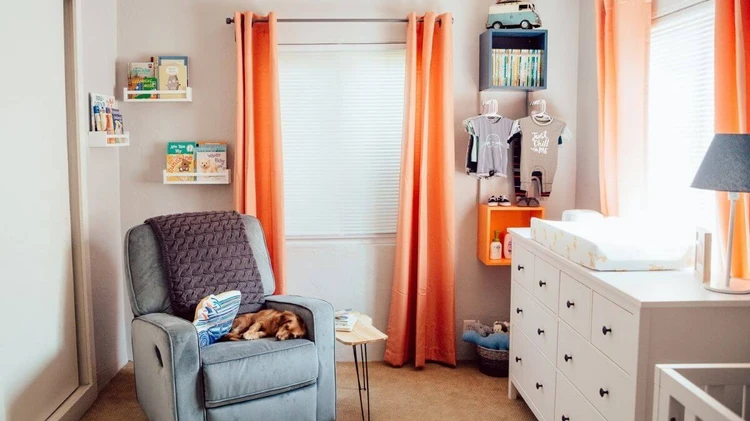 16. Literature lovers
Make books a priority by putting up little bookshelves straight away – even if the books change over the years, the shelves will always come in handy. An alphabet wall hanging or carpet will help to instill a love for words, language, and literature.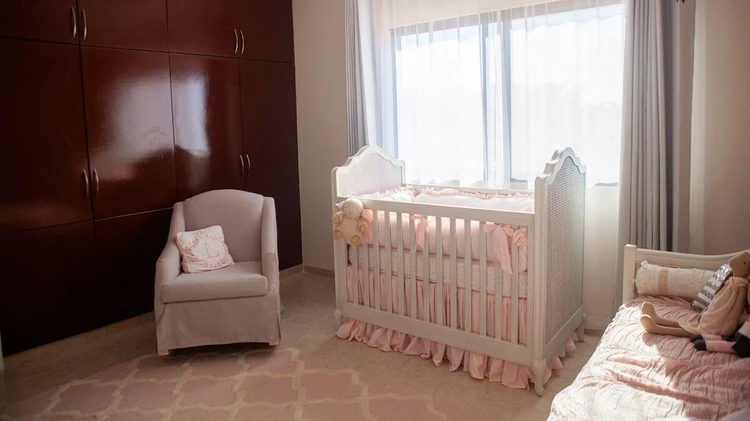 17. That vintage feel
A strong, modern style is one thing, but many of us find a vintage look and feel simply irresistible. An antique rocking chair wouldn't go amiss in a vintage nursery, neither would an old-fashioned crib made of wood. Choose your wallpaper carefully.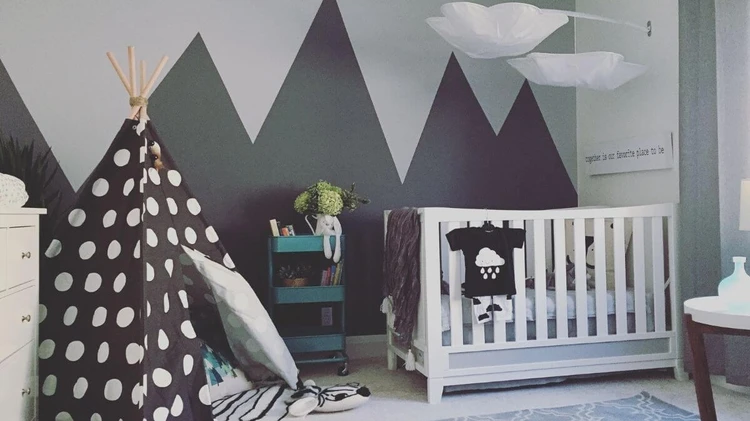 18. True to you
Take a look around your home first. How have you decorated your space? What colors have you painted your walls? What kind of rugs do you like? What art are you drawn to? Make your baby boy's nursery a natural extension of your home.
As you pull your baby's space together, try not to be intimidated by what other mamas are doing or by images you find on social media. You do you, mama. Your baby boy is going to love you no matter what you choose.
Here are a few other guides to read as you prepare for the arrival of your little peanut:
How to Prepare for a Baby: 11 Tips
How to Change a Diaper: Everything You Need to Know
A Quick Guide to Preparing for Motherhood
24 Baby Essentials You'll Need
22 Gender-Neutral Nursery Ideas
21 Gorgeous Bedroom Ideas for Women