Our list of top baby boy room ideas is packed full of fun ways to decorate a new nursery. From paint colors to a furniture checklist, we've got you covered!
Decorating the nursery is an exciting time for all mamas.
You want to make sure your little one has everything he needs for sleep, diaper changes, and his first play times.
When it comes to baby boy room ideas, the variety of options can seem overwhelming.
So, where do you start?
In this article: 📝

What do you put in a baby boy's room?

Baby boy room ideas

When should I decorate my baby's room?
What do you put in a baby boy's room?
Before you start thinking about what color to paint your baby boy's room and how to decorate it, take some time to consider your furniture and supply needs.
To welcome your little one home and make him comfortable, here are some basics most mamas have in their nursery.
A crib or bassinet
Cribs are larger but can be used for a longer time as your baby grows up.
Bassinets are smaller and more portable.
Decide what fits best in the space you have.
A mattress
Sometimes cribs and bassinets come with their own mattress, but it's possible you might need or want to buy your own.
Don't forget the mattress protector!
Bedding
Get at least three fitted sheets to cover the mattress so you can change them if — and when — your baby makes a mess in the middle of the night.
That's all you need for bedding!
Pillows, blankets, and crib bumpers are not recommended until your baby is at least one year old.
A changing table
If you don't have much room, you could use a fold-up table or pop a changing mat on top of a dresser.
Diaper storage
Bulk-buying diapers saves time and money, but you'll need somewhere to keep them.
Your changing table might have storage space, or you can use a dresser drawer.
Baskets are also an option.
A feeding chair
Do you want to use a traditional rocking chair when feeding your baby or something cushier like a recliner?
A hamper
Basically, somewhere to throw your little one's dirty clothes while you're changing them.
Keep it close to the changing area for ease.
A diaper pail
An airtight Diaper Genie or similar pail will keep unpleasant smells away.
A baby monitor
This is a great way to keep an eye (and ear) on your little boy while you're in another room.
Baby boy room ideas
There are lots of things to think about when decorating your little one's room.
Baby boy nursery themes can center around classic "boy colors" or activities, or you can opt to keep things gender-neutral.
Then there are the practical considerations — do you have enough storage?
We've brought together some nursery ideas for boys to give you some inspiration.
Enjoy!
1. Into the clouds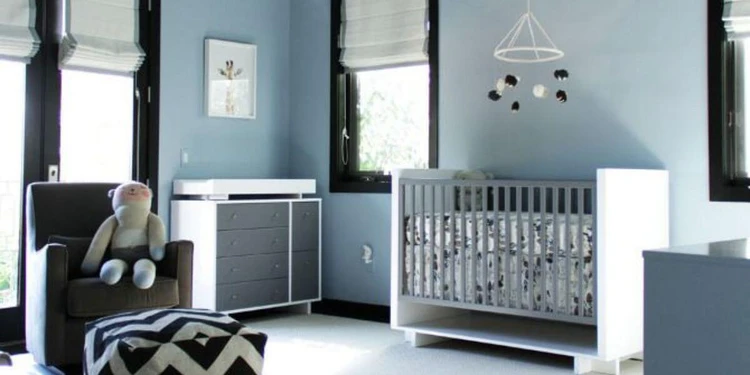 Send your little one off to dreamland with this celestial design.
Neutral furnishings help create a sense of calm and will make it easier for you to adapt the room as your baby grows.
Add the odd black-and-white pop for interesting texture.
2. Grown-up neutrals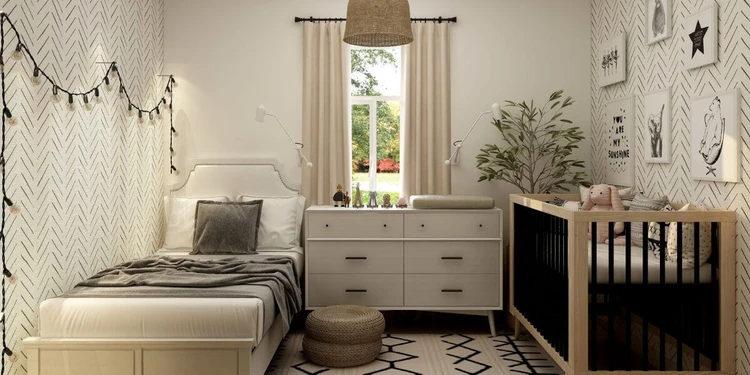 Sometimes your peanut just wants his mama to be close to him.
If you're expecting to spend a lot of time overnight with your baby, you might want to add a single bed to the nursery to make your nights more comfortable.
A more grown-up color palette, including whites, grays, and beige, might work best here.
The geometric rug draws the eye, while cute fairy lights and prints add some brightness.
3. Mixed prints and patterns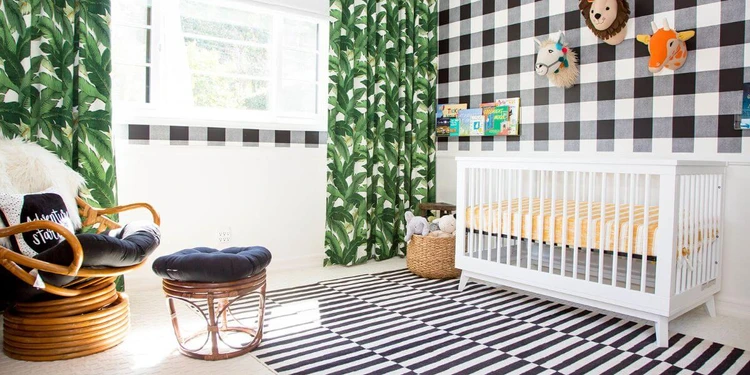 Choose mismatched prints and patterns for your little boy's room to create a truly unique nursery.
You could choose to stay monochrome or bring primary colors against one another to create a feast for the eyes.
4. Monochrome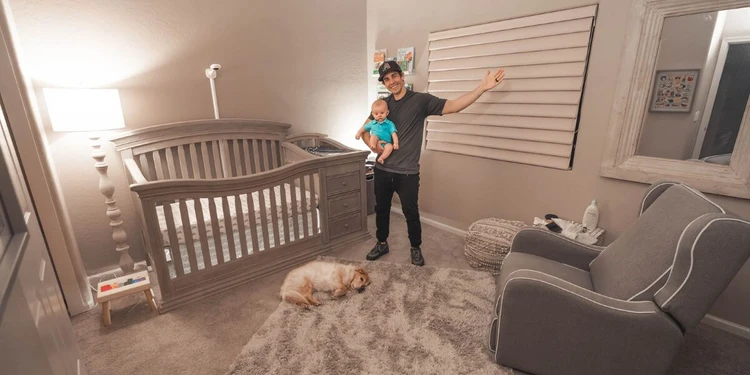 Keep nursery decor simple and classic by choosing one neutral color, like gray, and making everything match!
A fluffy rug stops the room from looking too industrial, and a big mirror adds the illusion of more space.
Everyone in the family will be happy with this setup.
5. Under the sea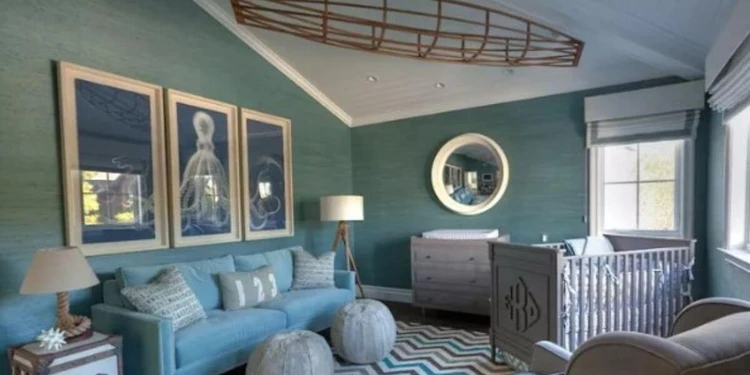 Featured on
This deep greenish blue will make your little boy feel like he's swimming in the deepest tropical ocean.
Great for a good night's sleep full of adventurous dreams!
You can run with the theme by including matching toys and decorations while keeping the main furniture, like the crib, a classic white.
You might also prefer another adventure theme, like the jungle.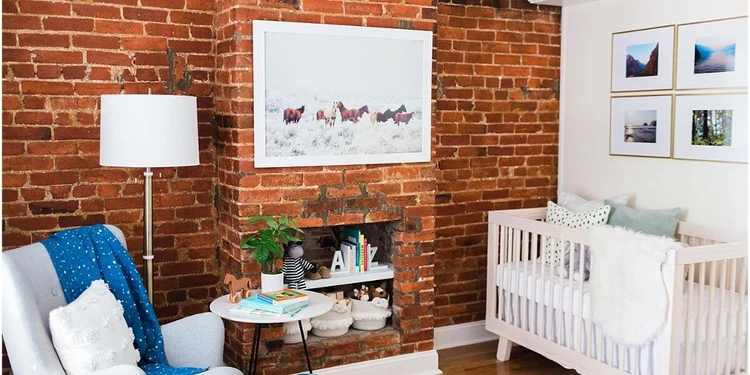 No need to keep things exclusively modern!
Get inspired by this eclectic design and create a brick feature wall filled with fun vintage prints.
Organic accents or even shiny gold accessories will make for a show-stopper of a room.
When should I decorate my baby's room?
Converting an entire room can take some time, depending on how much help you have on hand.
You might choose to bring in a professional decorator or rely on friends, family, or a partner to help you out.
Since doing anything while pregnant is tiring, you should start as early as is practical to save yourself unnecessary stress.
The end of the second trimester is usually a good time.
Medical professionals note that paint fumes shouldn't cause any problems to your unborn baby, but recommend keeping rooms well ventilated before and after your baby is born.
As a rule of thumb, you should keep your baby out of newly painted rooms for at least two to three days.
Running behind?
Don't worry.
Some mamas find they don't use the nursery for the first few months as their baby sleeps with them in a bedside crib.
We hope that we've inspired you with some baby boy room ideas.
Happy decorating, mama!