Panicking about which baby essentials you should have ready for when you bring your little one home? Look no further. Our checklist has you covered.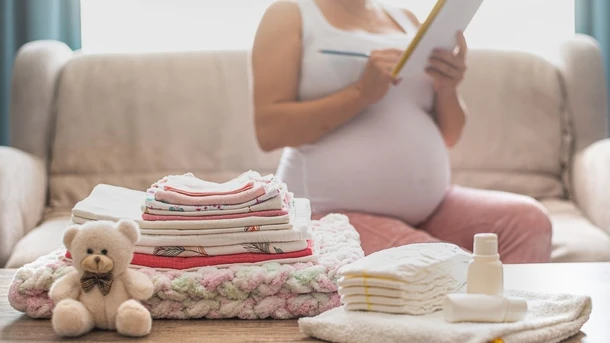 Pre-baby shopping trips are an important part of preparing for your new family member. After all, who wants to build a crib while also holding a newborn?
But you may have noticed that there's a big difference between the many so-called baby essentials people tell you you need to buy and the few things you actually need.
The baby items you can't live without will be unique to your family, but there are a few key essentials that we think you really will find necessary.
And if you're worried about the cost of all these essential baby bits, why not add them to your baby registry for your baby shower?
Start your baby registry on Babylist – it's quick, easy, and you can add anything you want!
So what you choose to add to your registry is totally up to you, but here's our baby essentials checklist.
In this article: 📝

What are the most essential baby items?

Nursery essentials

Essentials for keeping cozy

Baby essentials for feeding

Essentials for bathtime

Essentials for leaving the house

Postpartum must-haves for mama
What are the most essential baby items?
What baby items will you need in the first month? And then in the first three months? What are the most essential items you can have ready?
When you first bring home a newborn, everything is about keeping them cozy, keeping them clean, and finding your groove as a new family.
We think that the top of every baby checklist should be a safe place to put the baby down so you can get some rest too. So, let's begin with:
112 women are talking about 'baby essentials' on Peanut. Download the app to join the conversation.
Nursery essentials
1. Crib
You might prefer to use a smaller bassinet or go straight to a larger crib.
Whatever you choose, you'll also need:
A new, firm mattress that fits the frame

Two or three waterproof mattress covers

Four fitted crib sheets

Some light blankets or a sleeping bag (use whichever your baby prefers, but not both. There's such a thing as too cozy).
2. Changing table
Having a changing table with a wipe-clean mat will protect your back and let you keep all your diapering supplies exactly where you want them.
And speaking of diapers…
3. Diaper pail
Especially if you live in an apartment and it's harder to take out the trash, a designated diaper pail, (which can be any trash can with a tight-fitting lid) is an essential baby item.
We're all about the new-baby head smell, but the whiff of dirty diapers wafting down the hall? Not so much.
4. Baby monitor
Tiny babies should sleep in the same room as their parents, but when you can't sit there and watch them nap, a baby monitor does give you some extra peace of mind.
5. Comfortable chair
A rocking chair or a glider is "nice to have", but any chair with some extra cushions or a nursing pillow to help you find a good feeding position will be just fine.
6. Baby jumpers, rocker, or play mat
Because new baby or not, there are still some things that need two hands (washing your hair, for instance).
Need some ideas for baby jumpers? We've tallied up the best of the best here.
👶 Read more: When to Start Tummy Time for Your Baby
Now you've got your new furniture, let's look at what's going to be filling the drawers.
Essentials for keeping cozy
7. Clothes
Unless you want to wash and dry your laundry every day, you'll probably get through at least:
Five to eight onesies, pajamas, trousers, and tops

Two or three hats and cardigans (depending on the season)

An outfit for special occasions (although your little one will look just as cute in a t-shirt as they do in something with lots of fiddly buttons)

A snowsuit if you're having a winter baby
Top Peanut tip: Get a baby clothes rental subscription, like Bundlee. You can get all the clothes baby will need from birth to 24 months when you need them, saving space, money, and the environment (thanks, fast fashion). In fact, new parents save an average of £1,000 in baby's first year with Bundlee!
8. Blankets
To keep your baby warm at night or in their stroller, to use as an emergency burp cloth, or an improvised play mat.
Blankets are versatile, so make sure you add at least one to your list.
9. Burp cloths
You'll need between eight and 14 burp cloths to deal with any messes after your little one has a feed.
And of course, lots of diapers and wipes.
Baby essentials for feeding
10. Bottles
And something to sterilize them with, if you plan on formula feeding, mixed feeding, or pumping.
11. Breastfeeding supplies
If you choose to breastfeed, nursing bras, nipple ointment, warm and cold compresses, and breast pads are essential baby items.
12. A breast pump
Even if you don't need to express milk regularly, a hand pump can be useful for easing clogged ducts or mastitis.
These problems can come on suddenly and, if they do, you probably won't want to wait to get a pump from the store.
🍼 Read more: Breast Milk Storage Tips & Guidelines
Essentials for bathtime
13. Bath thermometer
To make sure your little one is comfortable when they're experiencing the water.
14. A soft hairbrush
Even if your baby doesn't have a lot of hair, brushing can be soothing and can help to reduce cradle cap.
15. Nail scissors
Because newborn nails grow surprisingly quickly.
16. Something to clear their nose
Stuffy noses can be frustrating for babies and can make it difficult for them to feed.
Traditional bulb syringes work fine, but you can also get electric suction pumps.
17. A thermometer
For when you're not sure if your baby has a fever or not.
Note: While it's important to have fever medicine to hand when your little one is older, any fever over 100.4 in a baby of under three months is an emergency, and you should get in contact with your doctor rather than giving your baby medicine and waiting to see if they improve.
🧼 Read more: An Intro to Babies at Bathtime
Essentials for leaving the house
18. Stroller
Considerations usually include how much storage you need underneath, what terrain you're going to be pushing it over, and how big the trunk of your car is.
19. Baby carrier
Whether you choose a fabric wrap or a structured carrier, it'll let you skip the wait for the elevator.
A carrier is also one of our baby must-haves because it can do double duty at home when your little one just doesn't want to be put down.
Not sure which carriers are best for you? We've broken down the best here.
20. Diaper bag
If you're out and about, you'll need something to put baby's essentials into, especially diapers!
Luckily, we've got all you need to know about diaper bags (and what to put in them) right here.
21. Car seat
Even if you only ever use it for the trip home from the hospital.
It seems like it might be a luxury, but a car seat is an absolute essential for when your baby arrives.
Once you've taken care of this list, you're pretty much set for baby essentials for the first three months.
You'll have to source a few more things as your baby learns to sit up and move around – a highchair for them to join you at the table, baby-proofing supplies for when they start to explore, and all the things you'll need when they start to eat solid food. But you can relax for now.
Some things that do get forgotten that we think of as essential are the things you'll need as a new parent.
Being comfortable and feeling prepared (as prepared as possible) will go a long way toward helping you enjoy these first few months.
Here are just a few more things we think you'll want to have ready for when you bring your new family member home:
Postpartum must-haves for mama
A few sets of comfy clothes for your recovery and duvet days

An eye mask to help you catch a few precious moments of sleep if you get the chance in the day

A water bottle to make it easy to stay hydrated

A TV or audiobook subscription to keep you company while you're snuggled up
Check out our full list of 25 Postpartum Essentials to Know About
There you have it: all the baby essentials you'll need for your little one's arrival!
Happy shopping!