'Tis the season to be jolly — and your baby's first Christmas will make for an especially magical holiday this year! Maybe you've got family Christmas traditions that you're excited to pass on to your new arrival. Or maybe you're looking for new ways to commemorate and celebrate their first Christmas. Either way, we've got you covered.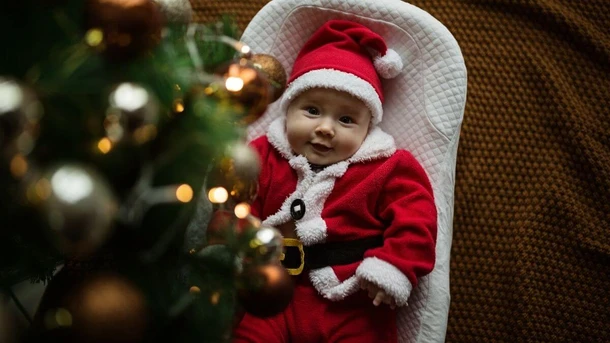 Whether it's a keepsake to treasure for years to come, a personalized ornament, or an exciting Christmas experience, we'll help you make your baby's first Christmas extra special. Here are our favorite 14 baby's first Christmas ideas.
In this article, we'll cover: 📝

What do you get a baby for their first Christmas?

Baby's first Christmas ornaments

Baby's first Christmas experiences
What do you get a baby for their first Christmas?
Baby's first Christmas is a great time to give them a keepsake or special Christmas item that they can treasure for years to come. If you're wondering what to buy for baby's first Christmas, we love these ideas for your baby's first Christmas present.
Christmas outfits
What could be cuter than your baby all dressed up in some special Christmas PJs? How about the whole family in a matching set? Yep, it's time to go all out! Whether it's a Santa onesie, some traditional plaid or fairisle pajamas, or a snowman snow-suit, a special Christmas outfit is the perfect way for your family to get in the spirit. And ideal for your Christmas photo album!

Classic Christmas books
Even though your little one won't be able to read along yet, it's never too early to gift them with some special Christmas books. The Night Before Christmas is a classic that you can read each Christmas Eve bedtime for years to come.

A piggy bank
The perfect keepsake, a piggy bank is a special gift for your baby's first Christmas. You could go for something traditional, like a silver teddy-style piggy bank, or choose one in your baby's favorite character or a design to match your nursery decor.

Nativity Set
If you've almost got a toddler on your hands, you might be wondering what should I get my 12 month old for Christmas? A toy nativity scene might be the perfect way to teach them about the importance of Christmas, and they can play with the figurines as you go. Available in many styles, a simple wooden or colorful painted nativity set can be played with and displayed proudly each year.

Milestone baby cards
If you or someone you know has a newborn at Christmas time, milestone cards are a special present to help keep track of every moment with the new bundle of joy in the year ahead. From the first rollover, smile, tooth, and babbled "mama," this is a gift that will keep giving all year round.

A year in photos
A great idea if you're looking for a more efficient way to track your baby's growth, rather than scrolling yet again through the 168 million photos of your baby on your phone. (Yep, we all do it!) Find a special photo frame with 12 slots so you can display your baby's first year, month by month. It's a great way to see just how much your little one is changing, and you can create a gorgeous gallery wall of smiles if you choose to fill a new frame each year. How time flies!

Christmas swaddle or blanket
Keep your little one cozy and warm for their first Christmas with a special swaddle or baby blanket. Gingerbread men, candy canes, elves, snowmen, maybe Santa and his sleigh – there are loads of cute designs to wrap your little bundle in for the holidays.

A Christmas teether
What should I get my 6 month old for Christmas? Anything your baby can put in their mouth and chew will be a winner at this age. Even if they're not teething, they're probably doing a lot of exploration with their gums. A cute Christmas tree-shaped teether or a Christmas-themed soother or pacifier chain will be just what your baby wants!
Baby's first Christmas ornaments
To remember your baby's first Christmas for years to come, add a special ornament to your Christmas decor.
Handprint ornament
Those teeny tiny fingers will never be as teeny tiny again, so a handprint ornament is a great way to remind you of this precious time every year as you decorate your tree. We love the air-dry clay kits which are mess-free and guarantee a quick and easy result (perfect for even the most wriggly of newborns)!

Personalized decoration
Maybe you'd like your baby's name and date of birth commemorated in a specially decorated tree ornament. There are loads to choose from, with laser-cut wooden discs or hand-painted ceramic ornaments being popular choices.

Baby's first Christmas stocking
Hanging up your stockings on Christmas eve has never been so special because now you can hang a personalized stocking for your baby. Maybe you'll choose one that says "Baby's First Christmas" or one with their name or initials. The excitement of seeing their own special stocking will only grow as your baby gets older.
Baby's first Christmas experiences
Santa photos
If you don't want to risk your baby screaming at Santa in a public place, you could always buy or rent a Santa outfit for a family member to play the part at a special Santa party in the lead up to Christmas. A photo of your baby with Santa for their first Christmas is a must-do!

Christmas lights walk
If your neighborhood is as Christmassy as Buddy the Elf, bundle up baby for a special walk to enjoy the Christmas lights on display. The bright colors and twinkling lights will enchant your baby, whatever their age.

First tastes of Christmas dinner
If you've started your baby on solids, perhaps their first Christmas will include some first tastes of your traditional Christmas dinner. Just make sure it's safe for their development, whether this means blending a small amount of turkey and veggies into a puree or letting them experiment with some finger foods. Yum!
Merry Christmas, mama!
You might also be interested in:
15 Gifts for a 1-Year-Old Baby Girl
25 Merry & Bright Christmas Songs for Kids (with Lyrics)
18 Festive Baby's First Christmas Ornaments
40 Festive Christmas Games for Kids
31 Holly Jolly Christmas Activities for Preschoolers
40 Must-Have Toys for Christmas for Girls in 2021
40 Cool Christmas Toys for Boys in 2021