So, you're getting ready to welcome your baby girl into the world. Maybe you've started to buy some of the bigger items on your list; a crib, a car seat or a stroller. Or maybe not! We get it, mama, getting everything organized takes time. You'll get there when you get there.
But if you're slowly starting to think about how you're going to decorate your baby girl's nursery, we've got a few ideas to help you.
Start simple and let your imagination soar.
In this article 📝

Classic baby girl nursery themes

Unusual baby girl room ideas

Tips for creating a nursery for your baby girl
Classic baby girl nursery themes
1. Go girly
You are having a girl after all. Sometimes a girly pink palette is just what you need, and there's a way to make it pretty rather than sickly sweet. Try lacy, earthy and vintage pinks rather than candy floss, Barbie, or shocking pink. They're easier on the eye.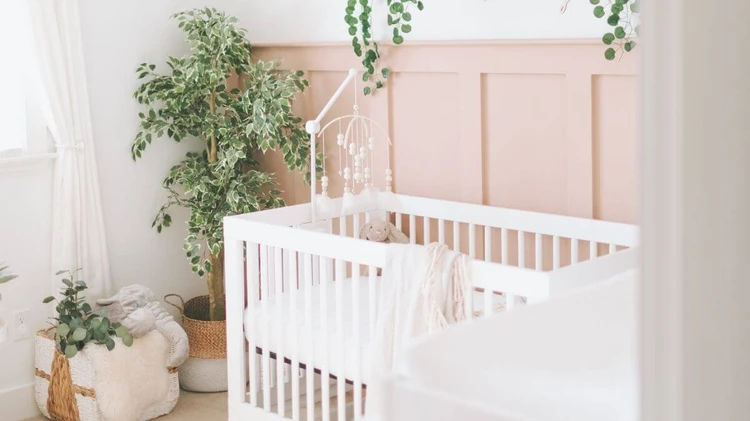 2. The secret garden
Imagine a wallpaper of rich, verdant ivy, little rose details running along cushions and blankets, pictures of berries and brambles. Create a little secret garden for your daughter, right here in her room.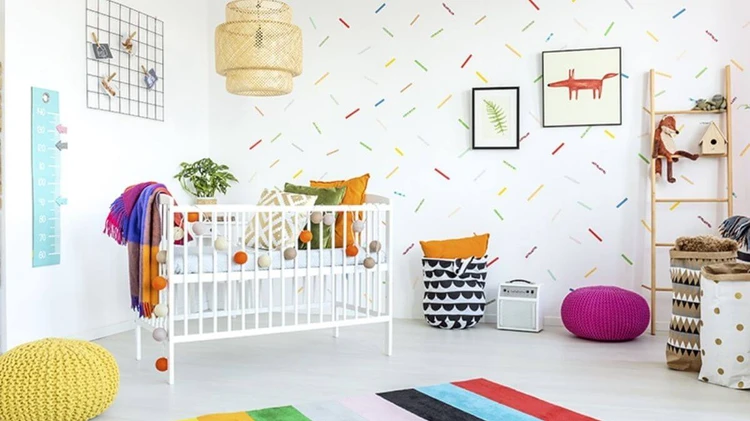 3. Rainbow baby
[We love the idea of going all-out on color, but if the full spectrum of the rainbow feels like it might be a bit overstimulating (both for your baby, and for you, coming in to feed her at 2am), we hear you. In that case, rather create a pastel rainbow, or choose a few specific rainbow colors. Rainbows also carry special meaning for many parents: a Rainbow Baby is the baby conceived after another baby has been lost.](https://www.peanut-app.io/experts/parenting)
4. Cooler hues
If you'd prefer to steer clear of pinks and peaches and go for something a little fresher instead, look at whites, pale purples, and gentle blues. They can help to create a calming dreamy feel.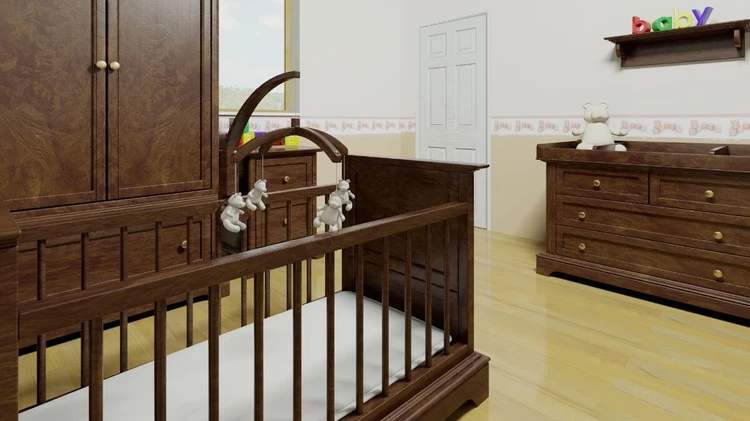 5. Down to earth
Warm beiges, browns, and golds will help to ground you and your little one. Break what could accidentally become monotonous with different textures: a woven grass crib, a leather footstool, and fluffy off-white stuffed toys.
Unusual baby girl room ideas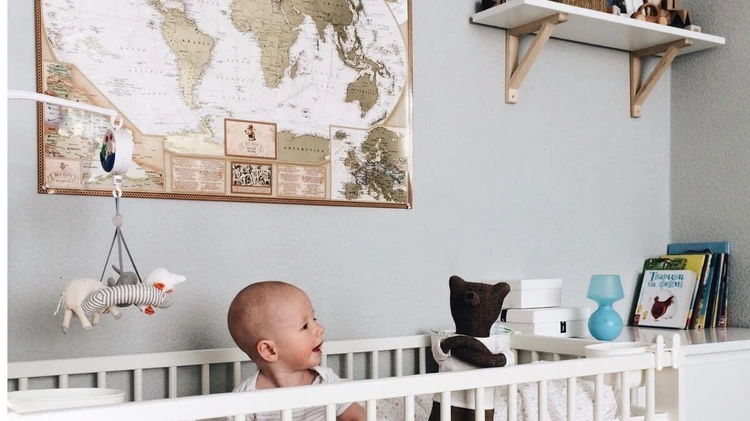 6. Flight of fancy
Encourage your baby girl to dream big with this whimsical theme. Look for anything magical and unusual: wallpaper of hot-air balloons carrying pandas, mobiles of giraffes driving red sports cars, pictures of children dancing on the moon. Anything goes!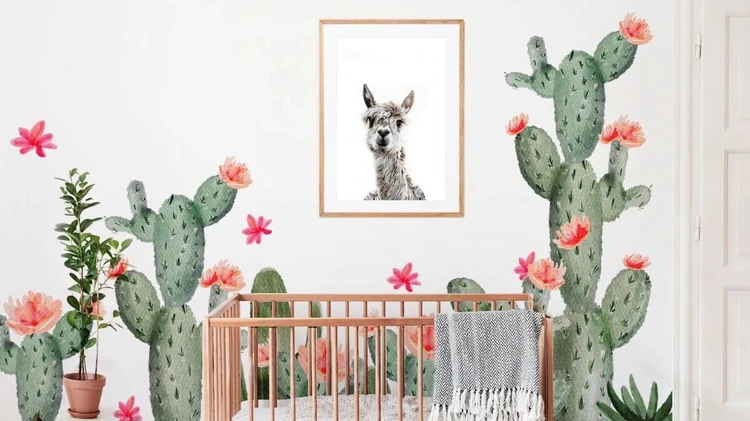 7. Cactus fun
A cactus-themed room is probably not the first thing you think of when you imagine a baby girl's nursery, but isn't that all the more reason to do it? We love cacti for their squishy centers, how they symbolize resilience, and for the big flowers they bloom.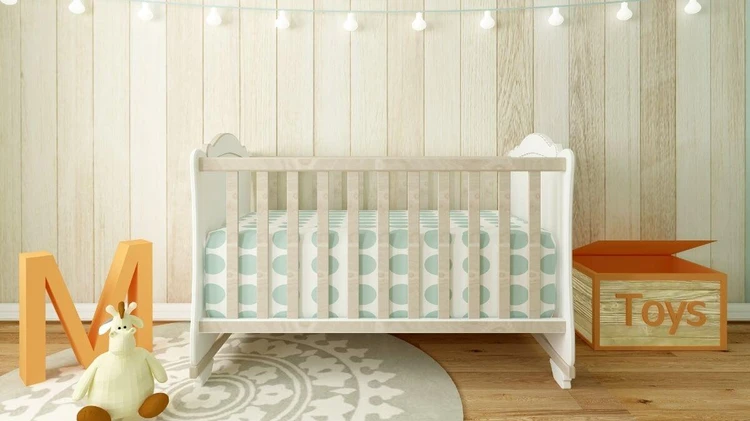 8. Pitter-patter patterned
There's no need for solid blocks of color, not for a baby's room. Stripes, both thick and thin, happy little polka dots, squiggles and squares, detailed wallpapers, or decals of birds or flowers can leave a lasting impression.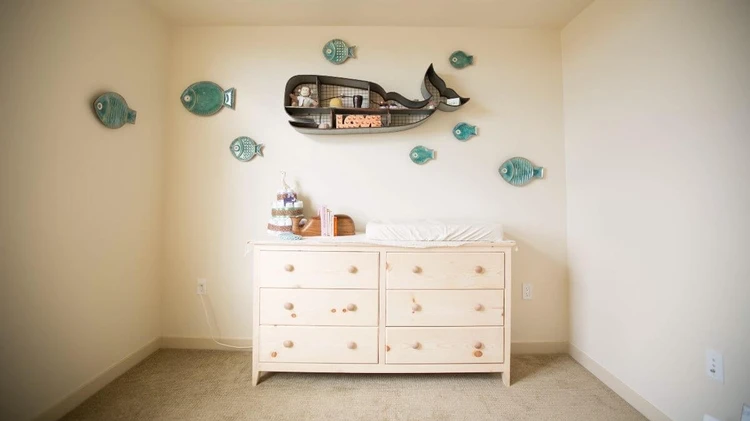 9. Under the sea
We love the idea of an underwater theme: rich ocean hues, detailed coral reefs, and shy and mystical friends for company, like turtles, jellyfish, seahorses, and octopuses.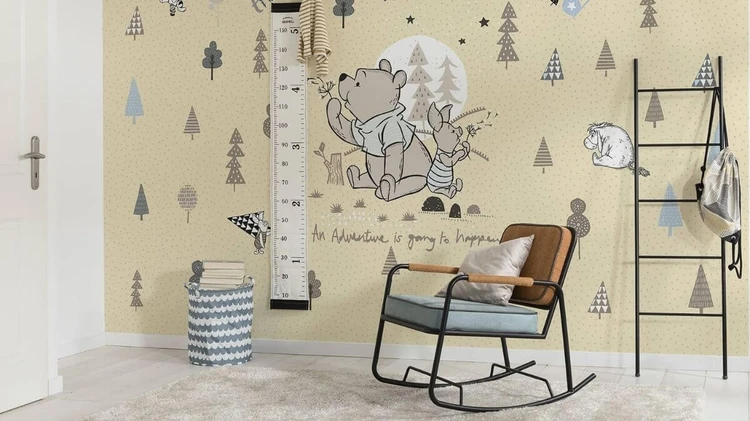 10. Straight out of a storybook
What was your favorite book as a child? Winnie-the-Pooh? Where the Wild Things Are? Dr Seuss? Would you be able to find a few prints of the illustrations and frame them? Is there a stuffed Piglet you can seek out to place in your baby's crib?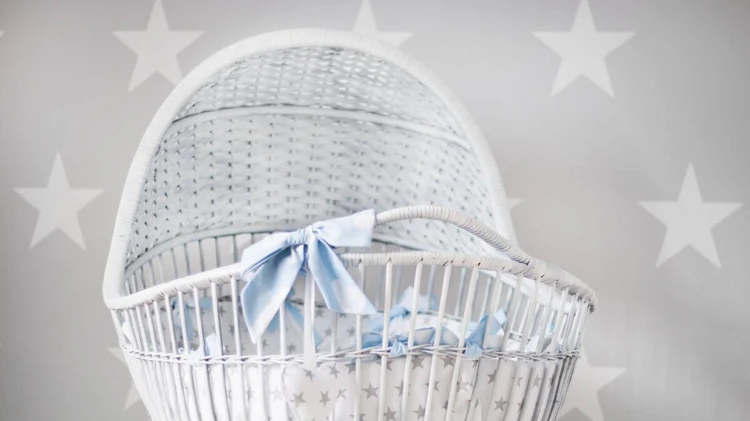 11. A sky full of stars
She's your heaven and earth; your sun, moon, and stars. This celestial theme hints at an endless love.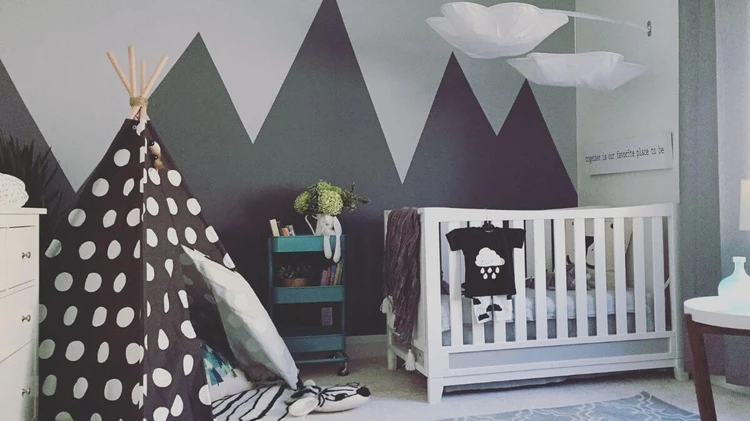 12. Gee whiz geometry
The geometric lines of triangles, diamonds, and octagons, can give a room a snazzy, modern feel. While the gentle loops of sacred geometry patterns and mandalas can feel interconnected and ethereal. Pick one that feels right for you.
Tips for creating a nursery for your baby girl
13. It's all in the detail
Sometimes, just a few carefully thought-out details make a nursery feel cozy and unique. Frame a few sweet and heartwarming photographs of your family, or place something sentimental from your or your partner's childhood somewhere prominent. You'll smile every time you walk in. Guaranteed.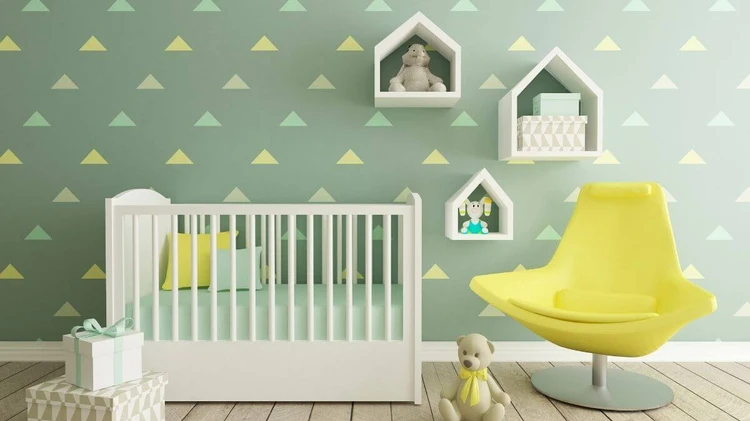 14. Paint it pretty
You don't have to spend a fortune to make your little girl's room pop. Refurbishing an old chest of drawers-cum-changing table so that it's a happy yellow, or painting a signature wall a twilight blue can set the tone for a whole room.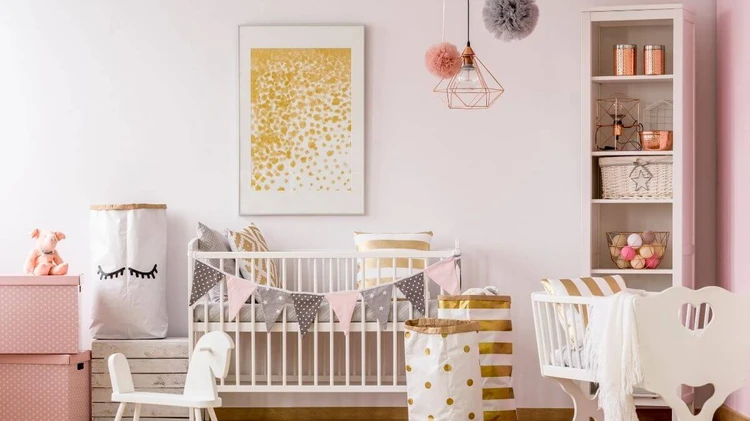 15. Light the way
Sometimes a bold lighting fixture is all you need to make the most important room in the house look really special.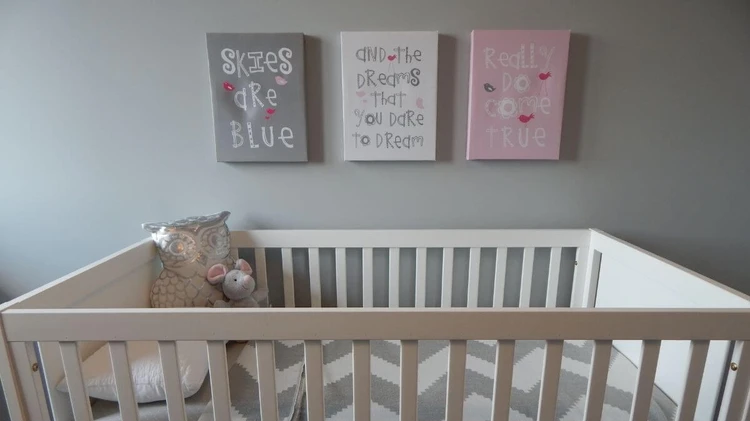 16. Start with one piece of art
Maybe it's a simple mobile you picked up in a vintage shop you love, or a small drawing made by an amateur artist you know, or a photograph you took of a place close to your heart. Whatever it is, one, small piece of sentimental art can be the centerpiece of a much bigger vision.
Still hunting for ideas? Start with broad concepts you're drawn to, such as a particular color, animal, style or idea, and go from there. You can also let it evolve over time.
It doesn't have to be completely ready by the time she's born.
Maybe as you get to know her, and notice how she always reaches for her favorite giraffe first, you'll be inspired to decorate a little further – as and when you have the time.
Happy playing, mama.
More reading:
The 1000 Most Popular Baby Girl Names
161 Cool Baby Girl Names And Their Meanings
What is a Baby Shower? Everything You Need to Know
When to Have a Baby Shower
A Quick Guide to Preparing for Motherhood
22 Gender-Neutral Nursery Ideas
21 Gorgeous Bedroom Ideas for Women