We know you're excited to create the perfect room for your little one! Check out our favorite baby girl room ideas for inspiration.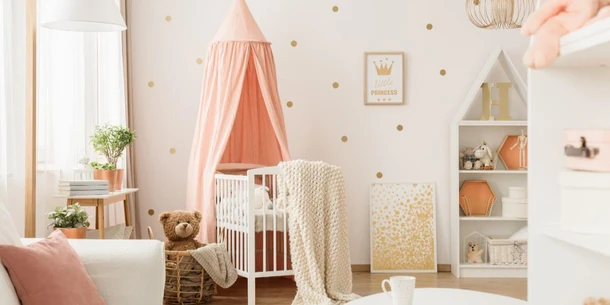 The nursery is a very special room.
Your baby will be spending a lot of time there, and so will you!
From pastel pink to jungle themed, there are lots of baby girl room ideas to choose from.
Let's take a look.
In this article: 📝

What needs to go in a nursery?

How do you decorate a baby girl's room?
What needs to go in a nursery?
When you're thinking about nursery ideas for girls, it's very easy to get caught up in how to make things look picture-perfect.
But there are some important things that any nursery needs to help you care for your peanut and keep the room clean and organized.
So how do you set up a baby girl nursery?
Here are some basic furniture and supplies you could consider.
A crib or bassinet
Your baby needs a safe place to sleep.
Make sure you keep the area free of soft toys and blankets.
Here are the recommendations from the CDC for making a safe sleep space.
A mattress
Don't forget the mattress when you're ordering your crib or bassinet!
Your little one will need something comfy but firm.
Plus waterproof mattress protectors to make sure the mattress stays clean and dry.
Bedding
You'll need a fitted sheet to cover the mattress in your baby's crib or bassinet.
You should probably get at least three to make sure you have spares if your baby leaks or spits up in the night.
A changing table
If you don't have room for a table, you can put a changing pad on top of an existing dresser.
You'll need several changing pads as they're sure to get dirty quite often.
Diaper storage
Baby will need lots of diapers and other changing items like wipes and cream.
A feeding chair
You'll want somewhere to sit comfortably when you're feeding your little one.
A hamper
Your peanut will go through lots of clothes in a day.
It's easier to pop her dirty things in a hamper by the changing table so you can throw them in the wash all at once.
A diaper pail
Again, keep this by the changing table so you can throw the dirty diapers away quickly.
You'll want something airtight to keep odors to a minimum.
A baby monitor
Unless you're sleeping in the same room as your baby, you'll want a baby monitor to keep an eye on her.
How do you decorate a baby girl's room?
So, you've made your list of nursery essentials and now it's time to decide on how to decorate your little girl's room.
Do you want it to be colorful or neutral?
Are you going to choose a particular theme, like a favorite cute animal?
Do you have to get smart with storage because you only have a small room?
We've collected our favorite nursery ideas for girls to inspire you.
1. Muted pink and gray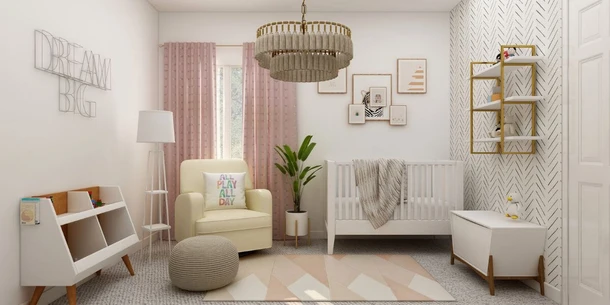 If you're looking for baby girl room decorating ideas, a pink and gray combo is a good place to start.
This palette keeps the vibe soft and sophisticated rather than cutesy.
There are also some grown-up touches here, like the wooden chandelier and shelving.
This will keep the room from feeling too baby-ish as your little one grows up or if you decide to use the room for something else.
2. Calming pastels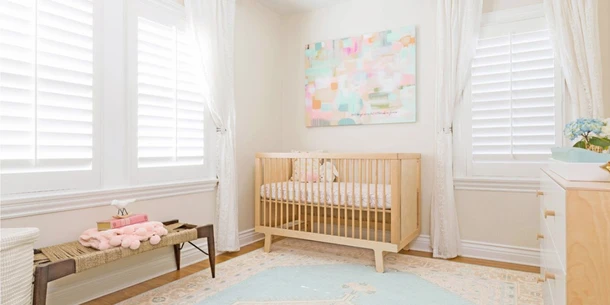 Did you know that bright colors are more stimulating for babies?
If you want your little one to stay relaxed in their nursery, you could choose one or more pastel colors to decorate the room.
Lots of soft toys and baby blankets come in these muted tones too.
And just because it's a girl's room doesn't mean you have to choose pink!
Light and medium shades of blue are said to be calming for babies and adults alike.
3. Warm sunny tones
​​
But on the other hand, maybe calm and relaxing isn't your style!
In this little girl's room, warm pops of color draw the eye and make the whole space look interesting.
Sunny yellow bursts and colorful polka dot patterns will delight your little girl.
And you can easily find bedding and accessories to match the classic muted walls and rug.
Including plenty of shelving for books allows you to choose the perfect story to send her right to sleep, too.
4. Secret garden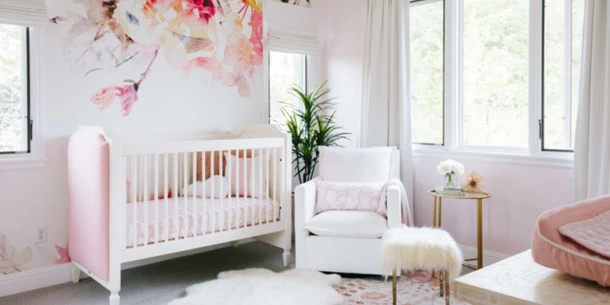 with
Interesting wallpaper can make a big difference to a little girl's room.
With a secret garden theme, you can find a lovely floral wallpaper and decorate the space with lots of plush toys and books to bring a storybook feel to the nursery.
5. Starry skies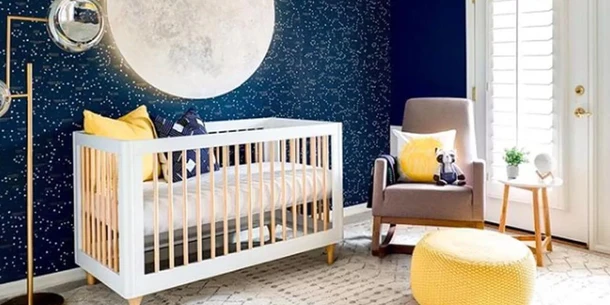 Is your little girl a budding astrologer?
Bring the stars into her nursery in an artistic way with this heavenly design.
The wooden bassinet, flooring, and armchair hold everything together and allow for a space that is just as comfortable for you as it is for them.
6. Into the jungle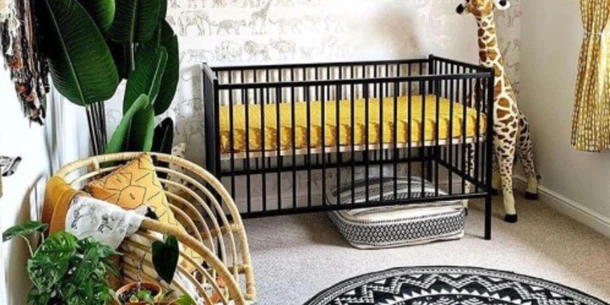 Inspire your little one to be an explorer by choosing a jungle theme for her room.
Find great wallpapers and bright animal toys — and include plants in out-of-reach corners to make the space pleasant for you to spend time in too.
7. Baaaaaa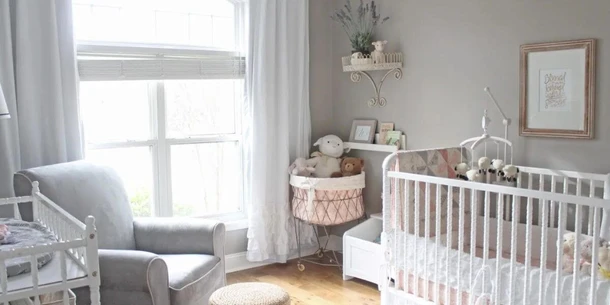 From
Theme your little one's room around one animal or an entire farm yard, and she'll be singing Old MacDonald in no time.
The calming atmosphere of this lamb design is just perfect for counting sheep.
We hope you've been inspired by our baby girl bedroom ideas.
Happy decorating!
And if you feel like swapping ideas with other mamas, join us on Peanut.