Check out our three perfect baby-led weaning recipes, plus more ideas for simple finger foods to start your baby off right.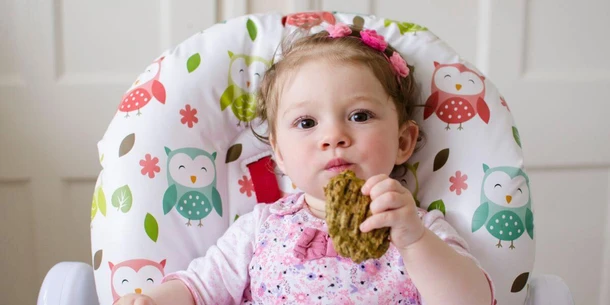 Baby-led weaning can seem intimidating, but it's actually pretty simple.
The beauty of baby-led weaning ("BLW") is that you can give your baby the same food that the rest of your family is eating!
Really, just about any food can be made baby-friendly with a few simple modifications.
To get you started, we've got three baby-led weaning recipes perfect for your little one, plus lots of other ideas for simple first finger foods.
In this article: 📝

What is baby-led weaning?

How to start baby-led weaning

Baby-led weaning recipes
What is baby-led weaning?
If you're new to baby-led weaning, don't worry.
We've got you covered.
Baby-led weaning basically means that you skip purees and head straight to finger foods.
Rather than spoon-feeding your baby, you let them explore food with their own hands.
But to make the leap straight to finger foods, it's important to make sure your baby is ready.
Here are some signs that your baby is ready for baby-led weaning:
They're about 6-months-old.

They can sit up on their own.

They seem interested in food.

They're able to bring things to their mouths, like toys or your finger.
How to start baby-led weaning
Once you've decided your baby is ready, you can start off with almost any food you like.
Just make sure the food is cut into a shape that the baby can grasp easily and isn't a choking hazard.
Something like a softened carrot stick about the size of an adult finger is good.
Some other easy, plain foods you can start with:
Steamed apple slices

Roasted sweet potato wedges

Avocado

Banana (Tip: If you push on a peeled banana from the top, it easily splits into three banana "sticks.")

Toast cut into finger-size pieces

Steamed whole broccoli florets
You can give your baby pretty much anything your family is eating.
But keep in mind some safety and health guidelines.
For safety, always make sure any food pieces baby gets are easy for them to grasp and the right size to avoid choking.
For example, if you're making roasted potatoes, try making them as finger-size wedges instead of cubes.
If you're serving fish, get rid of all the bones in your baby's piece.
To make sure the food is healthy for your baby, keep an eye on the salt and sugar.
Unfortunately, our adult palates often prefer food that is too salty for babies.
When cooking at home, consider leaving salt out of your food and then salting your own portion after you've given some to your baby.
And if you're eating salty takeout or prepared foods, it's probably best to make something else for your baby.
Like one of our recipes for blw below!
It's also important to be mindful of sugar.
If your baby is really interested in your donut, it's okay to give them a tiny taste.
But in general, try to keep added sugar out of their diet, at least during infancy.
This might mean reading labels more closely.
For example, pasta sauce can have a surprising amount of sugar.
If you're serving pasta, either leave the sauce off or try our baby-friendly pasta sauce recipe below.
(And on the topic of sugar, remember, babies under one year old can't have honey!
That's because it carries a risk of a food poisoning called botulism.)
And remember, baby-led weaning doesn't have to be all or nothing.
If you want to give your baby some purees, too, go ahead.
You can spoon-feed them purees if you'd like, but you can also put some hummus or yogurt right on their tray and let them explore.
Maybe take off their onesie and put a mat down on the floor because things can get messy.
Okay, let's get started!
Here are some baby-led weaning recipes perfect for little ones just starting out on their food journey.
And the rest of your family will probably love them, too!
Baby-led weaning recipes
1. 3-ingredient banana pancakes
From BabyFoode.com
Are you looking for breakfast baby-led weaning recipes at 7 months because your baby is already a pro with toast and scrambled eggs?
Try these simple pancakes!
In a bowl, mash 1 medium banana until smooth.

Add 1 large egg, 2 tablespoons of flour, and ¼ teaspoon of cinnamon (optional).
Mix until combined.

Spray a medium skillet with cooking spray.

Over medium heat, drop 1 tablespoon of batter per pancake on the skillet and let cook for 3-4 minutes.

Flip and cook for another 2-3 minutes until both sides are golden brown.
2. Baby pasta sauce
Pasta is a great food for babies, but store-bought tomato sauces can have too much sugar and salt.
Try this simple pasta sauce instead.
And it's got lentils for added protein.
Pro tip?
Freeze it into ice cube trays, so you always have a perfect portion ready for your baby's dinner.
Heat 1 tablespoon of olive oil in a large saucepan.

Sauté 1 onion, 1 stalk of celery, 1 carrot, and 3 cloves of garlic (all chopped fine) on low heat until softened (about 10 minutes).

Add 1 red bell pepper and 1 small zucchini (both diced) and sauté one more minute.

Stir in ½ cup (95g) red split lentils, 1 tablespoon tomato paste, and 1 teaspoon dried oregano.

Add 2 cups tomato puree, 1½ cups low sodium vegetable/chicken stock, and 1 bay leaf.

Cover and simmer for 20 minutes, stirring occasionally.

Remove the bay leaf and blend until smooth (with a stick blender or in a large regular blender).

Serve with pasta.
3. Salmon fritters with sweet potato
From Abbey's Kitchen
These fritters are a nutrition powerhouse for your baby.
The salmon provides healthy fats for optimal brain development.
And if you're looking for iron-rich baby-led weaning recipes at 9 months (when baby's existing iron stores can start to decline), the sweet potato and spinach in this recipe are good sources.
Remove the skin and bones from ¾ lb of salmon and chop them into small pieces.

Cook 1 medium sweet potato (oven, microwave, or Instant Pot are all good methods) and scoop out the flesh.

Preheat the oven to 350 F.

In a large skillet, heat 1 tablespoon of olive oil and add ½ an onion, 3 cloves of garlic, and 2 tablespoons of fresh ginger (all chopped fine).

Saute until softened, then place in the bowl of a food processor.

In the same pan, saute 2 cups of baby spinach, minced, until wilted, and set aside.

In the food processor, add the salmon, 1 large egg, cooked sweet potato, onion, garlic, ginger, and 1¼ cup oats.

Pulse to mix, then pulse in the spinach until just combined.

Add a coating of oil to the same pan, and oil your hands as well.

Roll the salmon mixture into finger-shaped fritters.

Pan-fry in batches until golden brown, then place the fritters on a baking sheet.

Bake the fritters in the oven for about 10 minutes until the internal temperature reaches 145 F.

Serve warm or at room temperature.
These three recipes will get you and your baby off to a great start at baby-led weaning.
Once you've got the basics down, the sky's the limit!
Bon appétit!