Baby memory books are essential for keeping track of all the big milestones ‒ after all, there's so much going on, you can't expect to remember it all!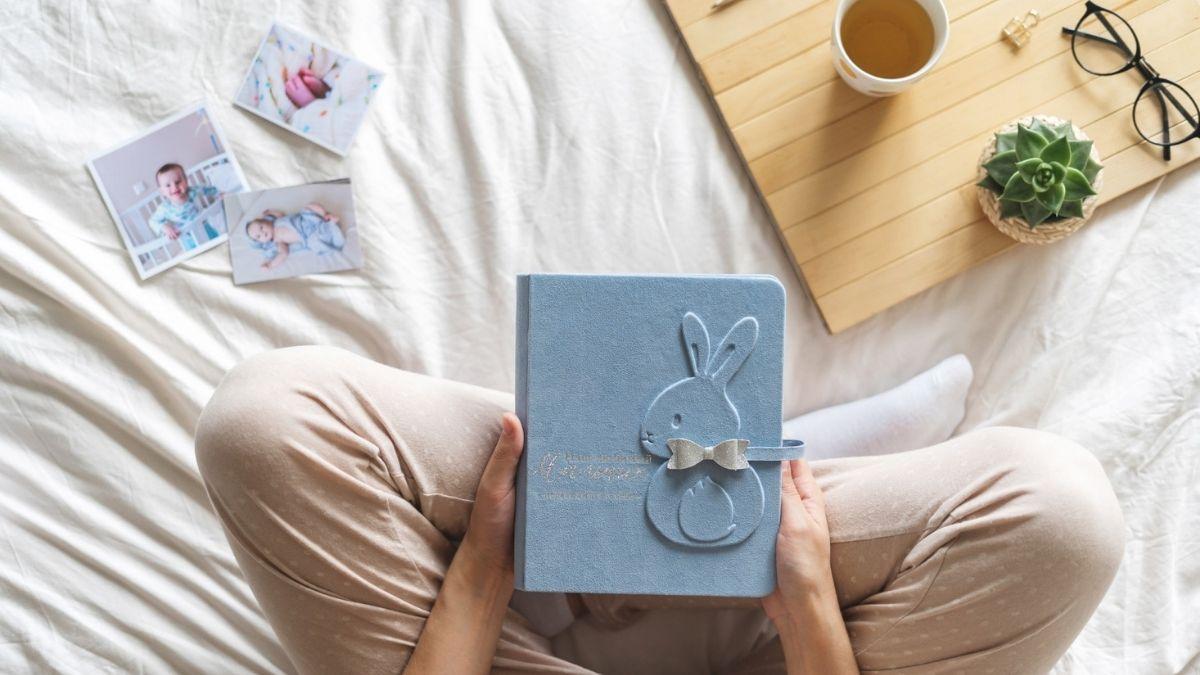 Putting together a baby memory book can help capture all the best moments for you to both look back on as your little peanut grows.
Or you might want a memory baby book for loved ones who can't be there for each milestone during baby's first year.
Or maybe you just think your baby looks simply too cute not to chronicle and take a snapshot of every single event in their life so far.
Take it from us, these first 12 months will zoom by ‒ although when baby's up at 3am, it might feel more like each minute is an eternity ‒ so having a baby memory book is a great way to keep track of all the big events.
In this article: 📝

What is a baby memory book?

Where to buy baby memory books

What are the best baby memory books?

Types of baby memory books

Make your own baby book
What is a baby memory book?
Memory books for babies are essentially places to keep photos and keepsakes of your little peanut's early years, along with sometimes journaling their progress as they grow.
They're a great place to record milestones like the first time baby rolls over, sits up, walks, talks… the list goes on!
From making a note of baby's birth weight, time of birth, favorite baby food, favorite songs, and what else makes them smile, to keeping a lock of hair from their first trim, baby memory books are a must for new moms.
Where to buy baby memory books
So where can you buy memory books for babies?
Well, most bookshops or craft stores will have a range of baby journals and baby scrapbooks, as will larger retailers like Target and Walmart.
Amazon is another place to get a baby memory book, too, but we love the selection of Etsy baby books ‒ lots of personalized baby memory books and baby journals with adorable designs.
What are the best baby memory books?
Naturally, you want the best baby memory book for your little peanut.
But there are a few things to consider so you can find the right one for you and your baby.
What you want to put in it. Photos, notes, locks of hair, hospital bracelets ‒ or even all of the above? There's no point in getting something with lots of space for physical items if you're only looking to add photos, and if you do want to add a few other bits of memorabilia, you'll need space for them.

How long you want it. There are usually two timeframes for baby memory books: baby's first year book for the first 12 months, and five-year baby memory books. The full five years can be quite a commitment, but when your baby's all grown up, it can be so sweet to read through together.

How it looks. With a huge number of memory books for babies and toddlers on the market, you want one that suits your aesthetic. Cute and floral or bright and bold? Rustic or modern? Whatever you want, you're sure to find it.

What type of baby memory book. You might be surprised to find that there are actually lots of different types of baby memory books out there. But don't worry, we've done all the research so you don't have to… (Let's face it, you've got your hands full at the moment!)

Types of baby memory books
First-year memory books
First-year baby memory books are designed to chronicle the first 12 months of your little peanut's life, and most of them have spaces for the major milestones.
Here are our top picks for baby's first year books: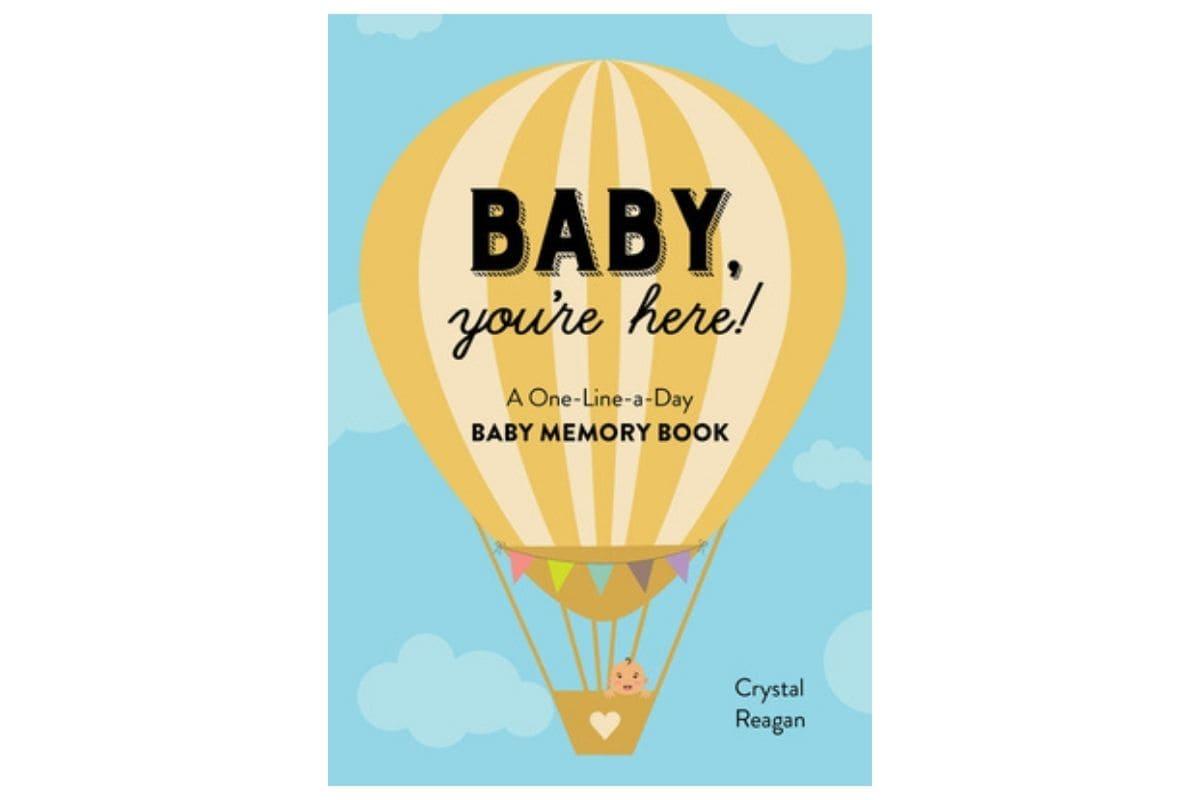 Baby, You're Here!: A One-Line-A-Day Baby Memory Book
Perfect for mamas with lots going on and not much time to spare with baby memory books, all you have to do is write one line a day. Plus, their weekly prompts help capture all the information that is so easy to forget ‒ trust us, we've been there.
Buy it here


2. Baby's First Year Memory Book: A Simple Book of Firsts by Lucy Darling
There's a reason why this is known as one of the best first year baby books, with over 1,800 stellar reviews. Printed on eco-friendly paper that's not too thin (goodbye, annoying ink splotches), it's got pages for all the important milestones with room for photos and a few words.
Buy it here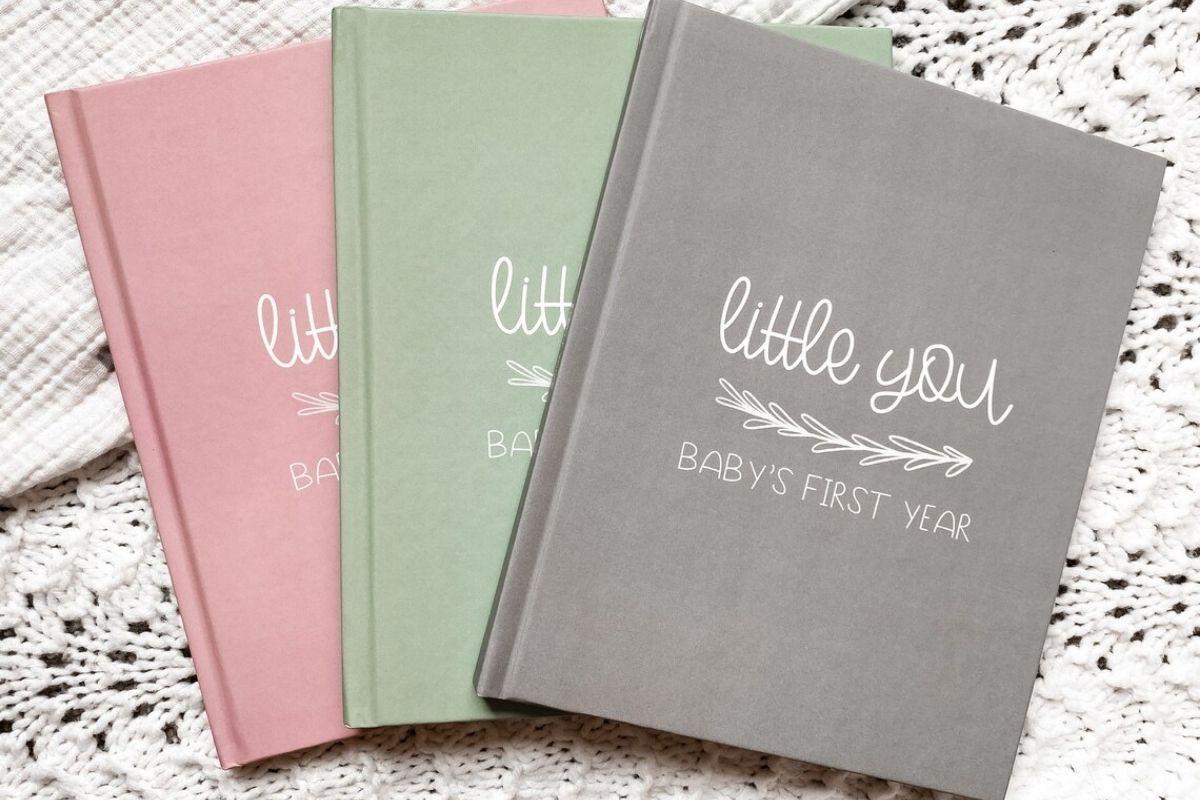 3. First Year Baby Book | Baby Journal and Memory Book
We love the prompts in this simple baby's first year book, designed by ThisLittleLoveCo on Etsy. It's a baby first year book that's easy to fill in, and gender-neutral for boys, girls, and they-bies.
Buy it here

Baby journals
Baby journals tend to focus less on the photos and mementos while baby's growing up, more on your comments and thoughts. So get writing with these gorgeous baby journals: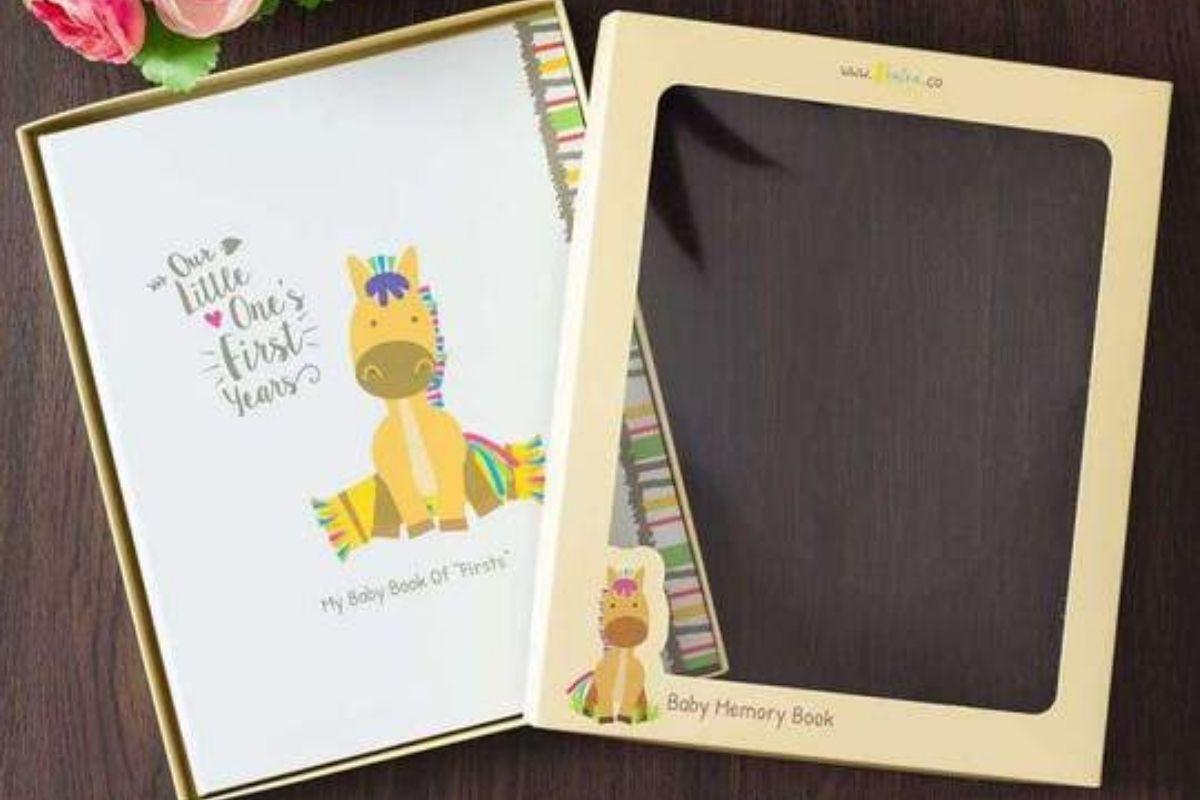 4. Baby Memory Book for Boys & Girls by Ronica
Combining prompts with photos, you get the best of both worlds with this best-selling baby journal. Some captions are pre-written to save you time, and this baby record book also comes with cute themed stickers to make adding photos a breeze!
Buy it here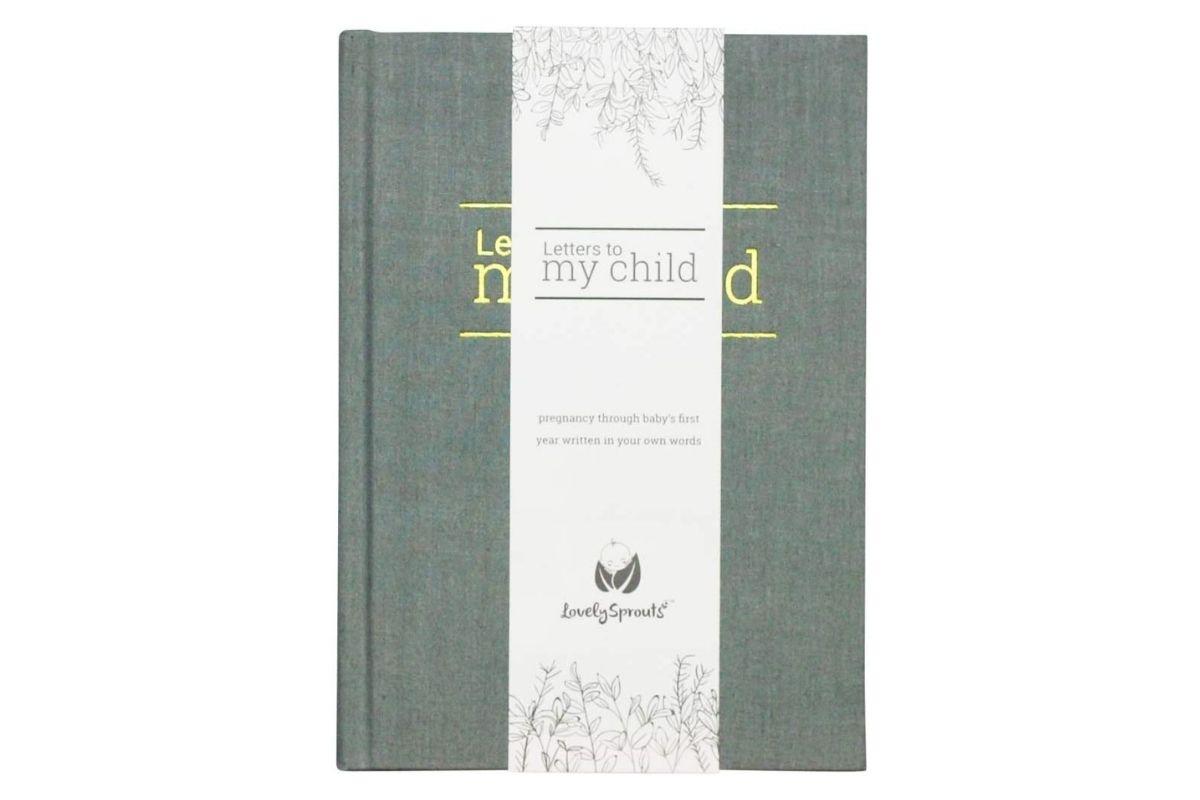 5. Letters To My Child Baby Journal by LovelySprouts
This baby journal is a little different from the others on this list, done in a letter-writing style for you to give your little peanut once they're all grown up! You can also write letters during your pregnancy, too, with prompts for your baby shower, family tree, as well as all the important firsts!
Buy it here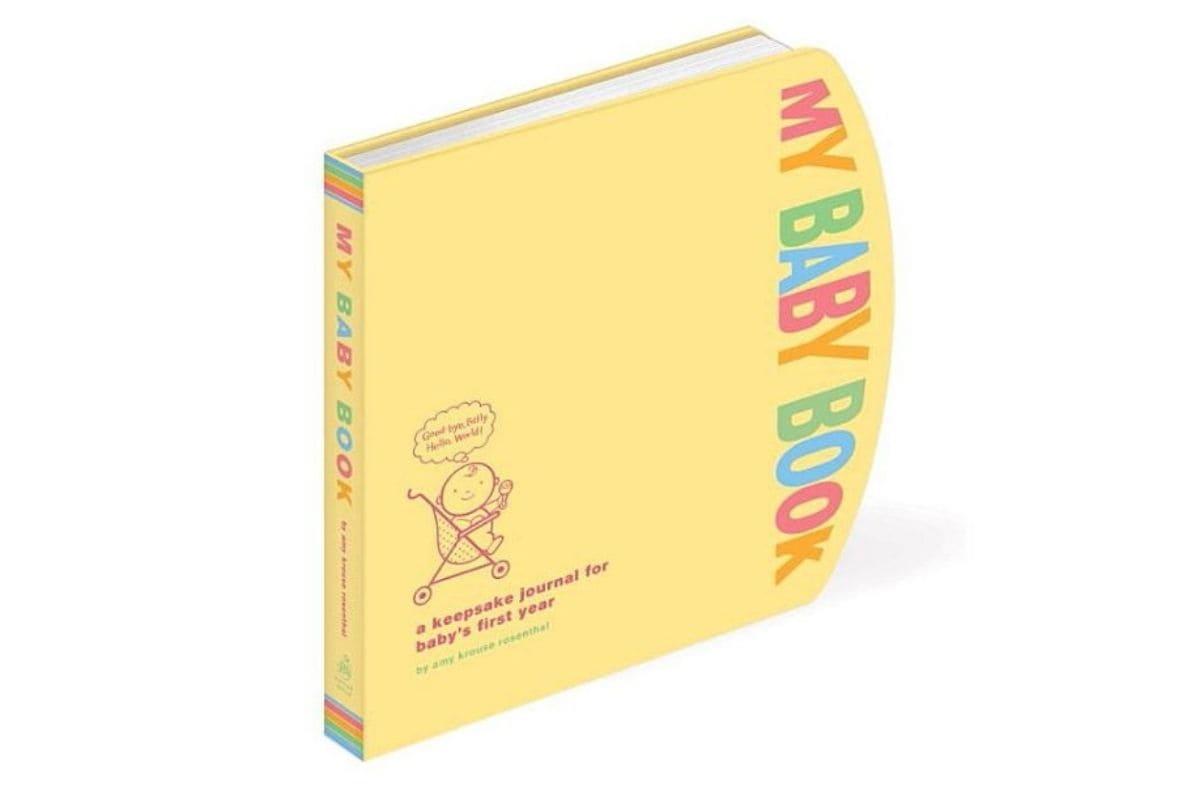 6. My Baby Book: A Keepsake Journal for Baby's First Year by Amy Krouse Rosenthal
A super-simple hardcover journal that's easy to fill out, because we know your time is precious, mama! This baby journal is gender-neutral, too, so it's perfect for girls, boys, and they-bies.
Buy it here

Personalized baby memory books
Your baby is unique, so why not check out our top personalized baby memory books for you both to look back on?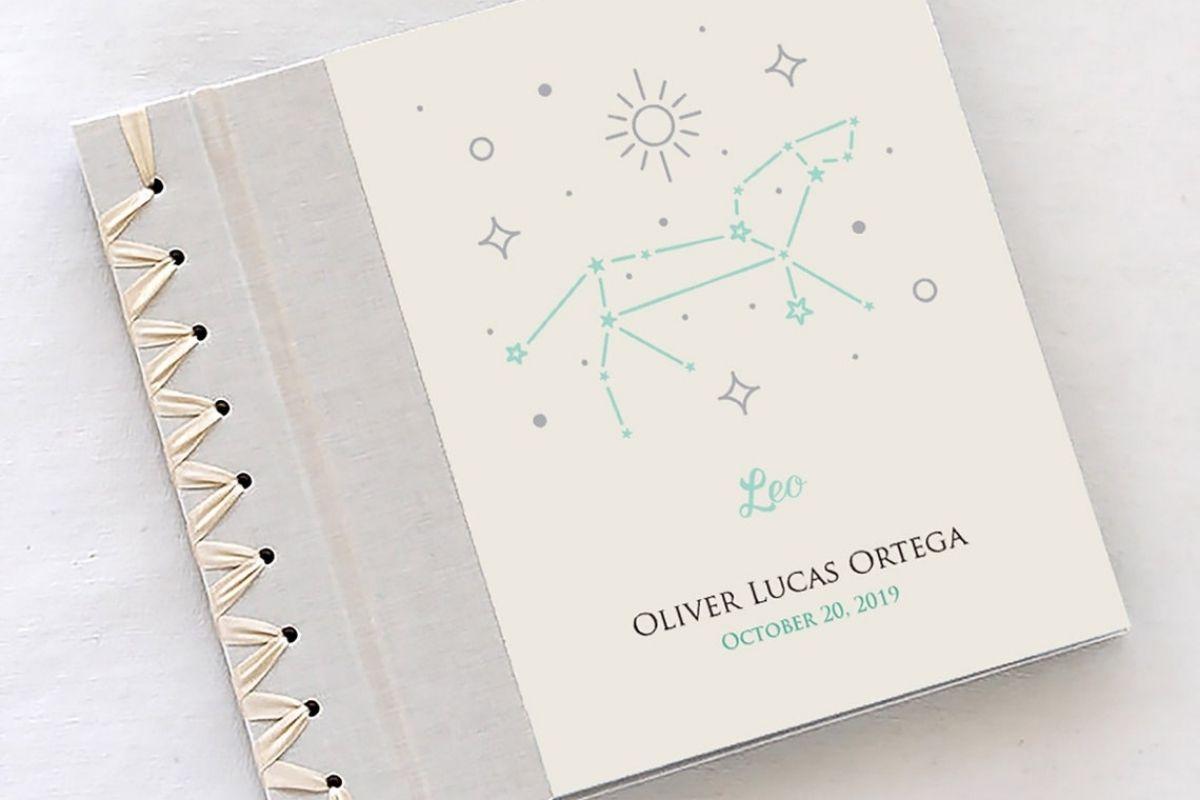 7. Personalized Baby's First Book With "Zodiac Blue" Cover by Rag & Bone Bindery
The star sign cover of this one is so cute! Get it personalized with your baby's zodiac sign, date of birth, and their name. It's not got the most pages out of all the baby keepsake books on our list, but it does include all the important milestones and other information.
Buy it here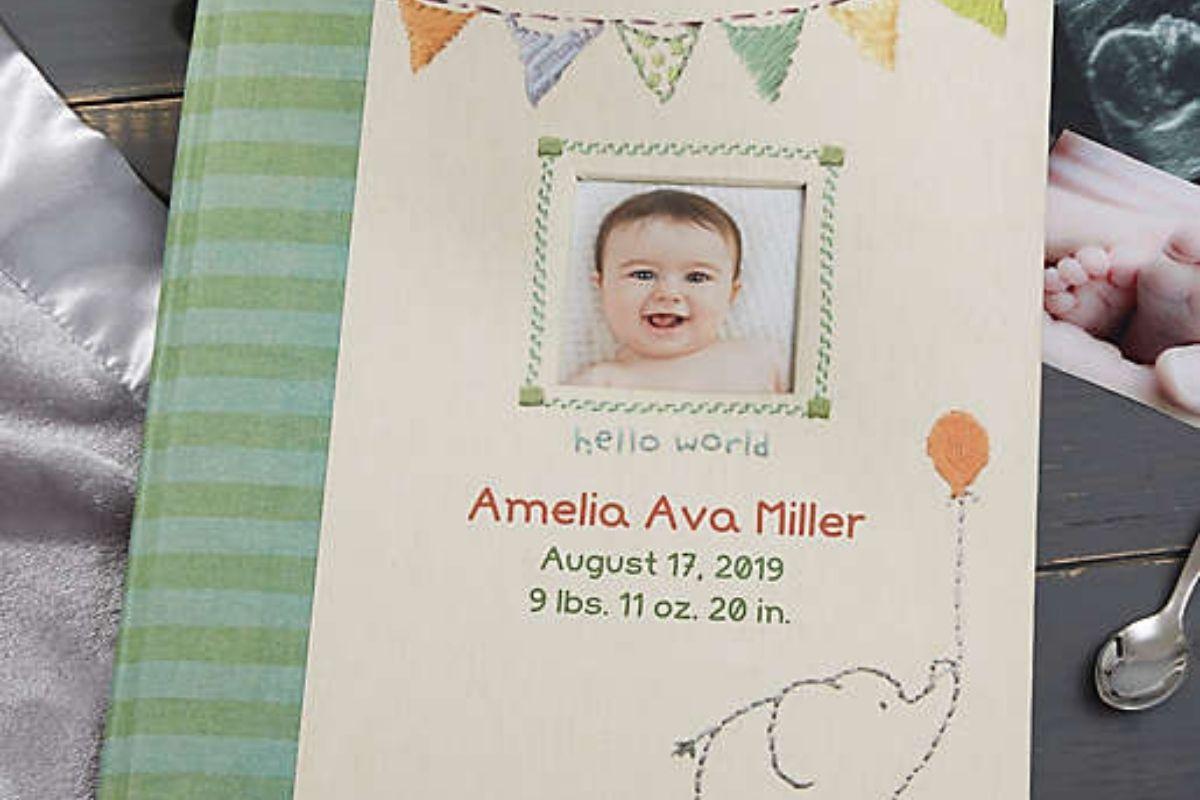 8. Made With Love Personalized Baby Memory Book by buybuyBABY
Another gender-neutral addition to our list, this personalized baby memory book has a space on the front cover for you to add a snap of your little peanut, along with three lines that you can customize with whatever you want ‒ baby's name, weight, date of birth, star sign, or even a sweet message for them when they can read.
Buy it here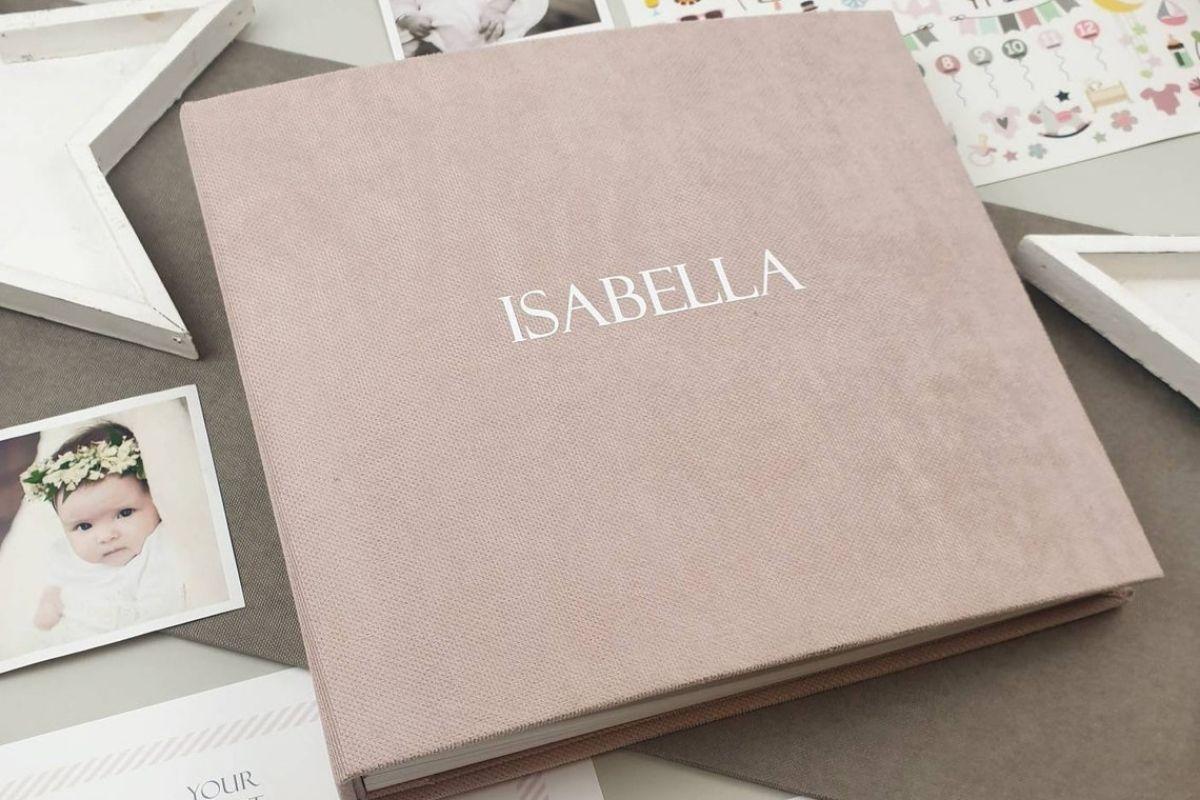 9. First Year Baby Memory Book by Catch This Moment
We love the modern style of this baby record book, and you can get it personalized with baby's name on the front cover. You can also choose whether you want enough pages for one or five years.
Buy it here

Baby photo books
Naturally, you're probably going to have tons of photos of everything your little peanut does in their first few years, so why not get a baby photo book to keep them safe?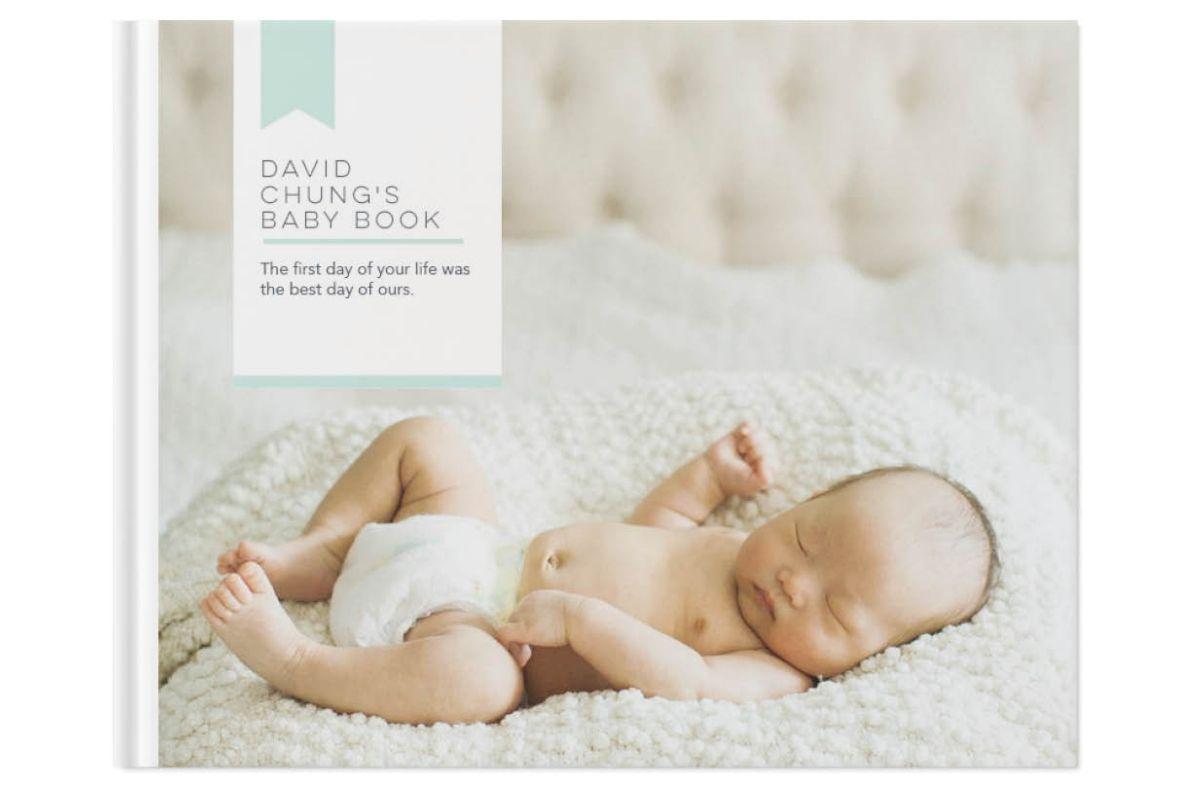 10. Modern Baby Photo Book by Shutterfly
With the Shutterfly baby scrapbook, you can add a photo of your baby to the entire cover. Although you won't be able to fill this one out along the way for the first year, you can have it printed once you have lots of snaps of your little peanut as they grow.
Buy it here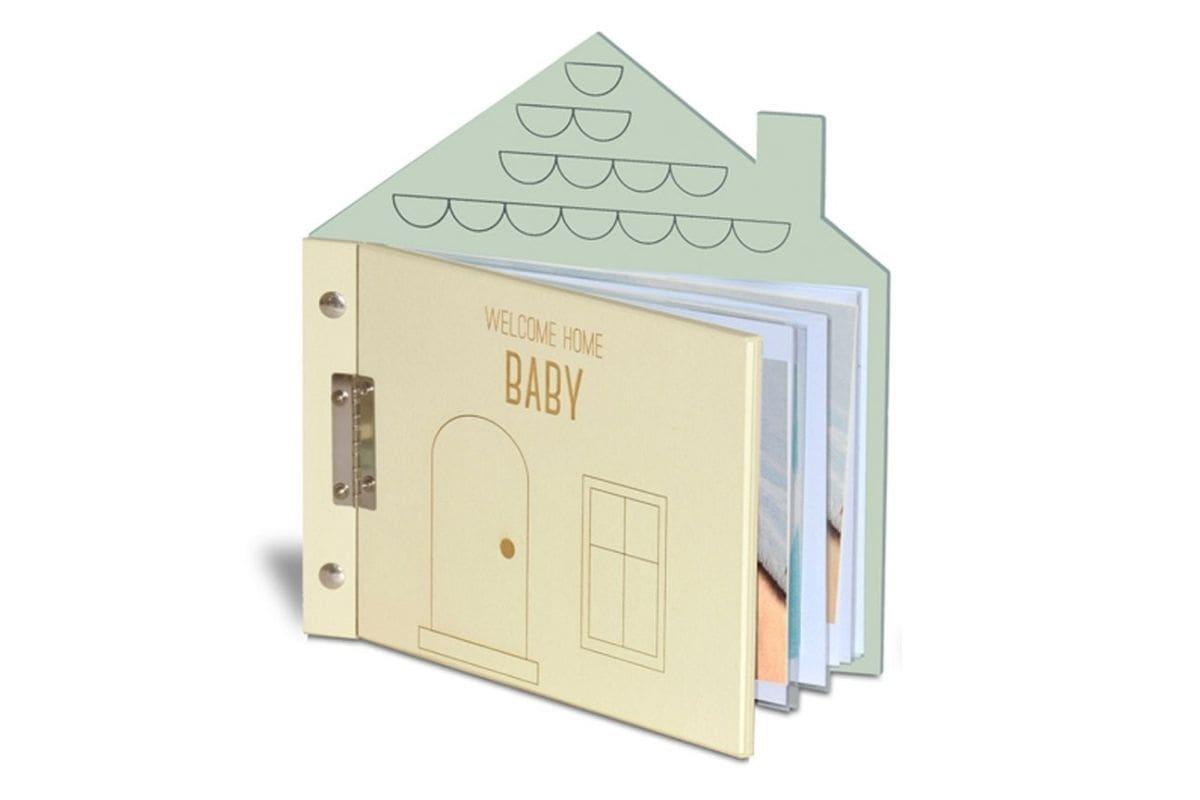 11. Welcome Home Photo Album by Tree by Kerri Lee
OK, we had to include this one mainly because it's such a cute design! While this house-shaped baby photo album doesn't have many pages, it does have space to put congratulations cards and keepsakes.
Buy it here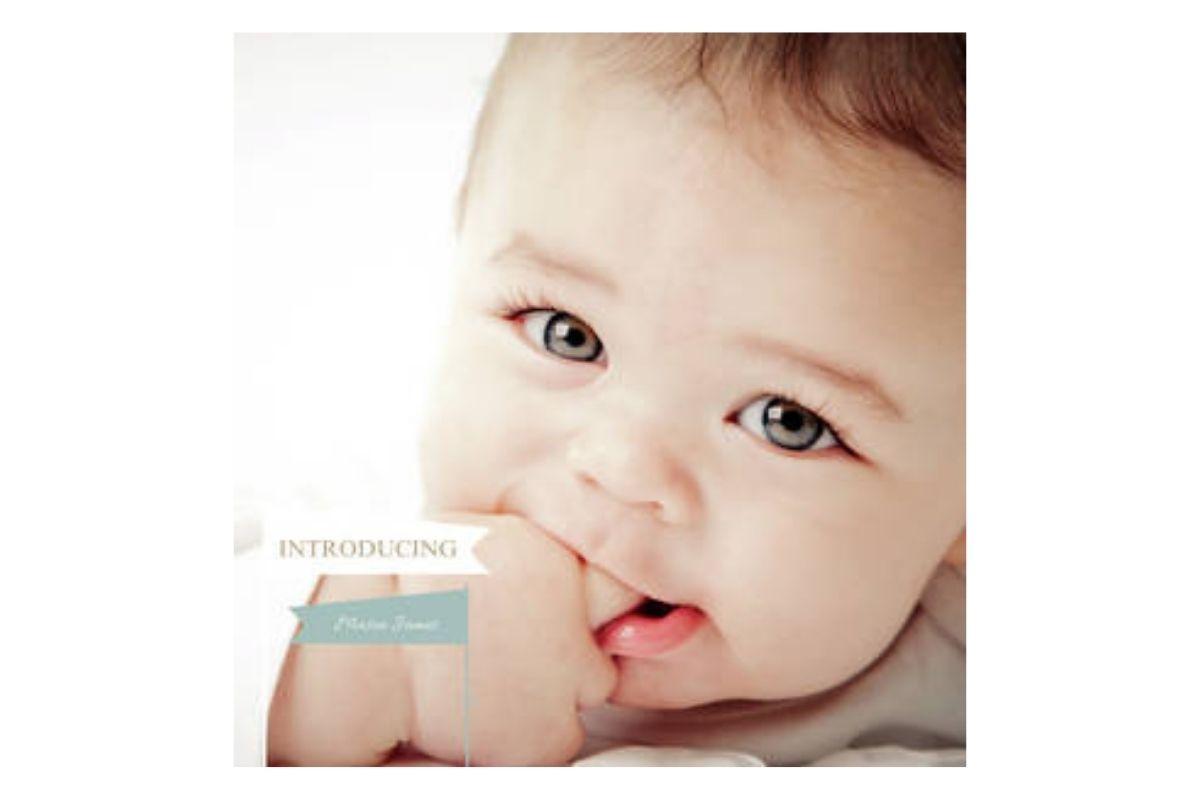 12. Baby Magazine by Mixbook Photo Co.
If you're after a baby photo book with lots of customizable options, this is the one for you. You can choose the shape of the memory book, the paper inside, the finish of the cover, and you can add a photo of your little peanut to the cover for everyone to see.
Buy it here

Baby scrapbooks
If you're a boho mama or you love a bit of bullet journaling, then check out our top picks for the best baby scrapbooks:

13. Little Camper Memory Book by Lucy Darling
We love the rustic look of this baby scrapbook, and the way you can make it your own. Grab your favorite pens, washi tape, stickers, and, of course, pics of your little peanut to add a DIY feel to your baby memory book.
Buy it here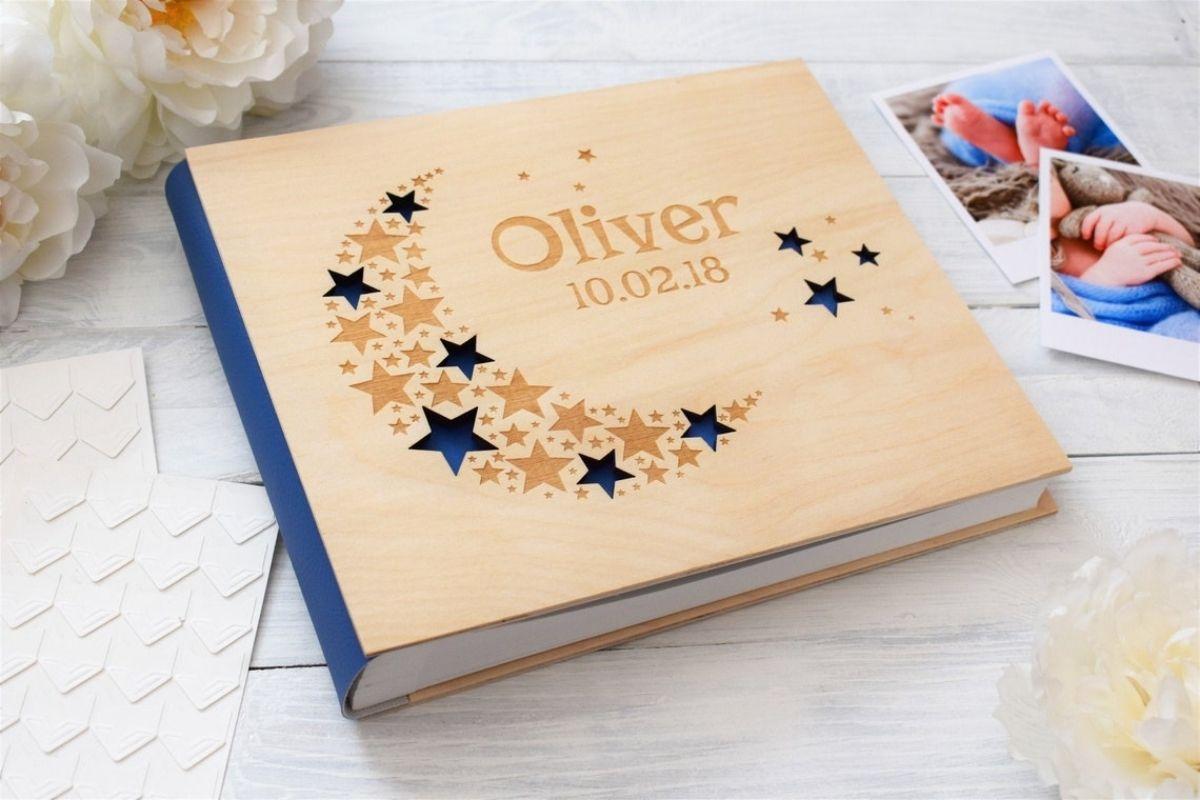 14. Blue Little Star Wood Baby Photo Album First Year Journal Scrapbook by mywoodenLOVE
The wooden cover of this baby scrapbook adds a beautiful natural touch, without compromising on color. Our favorite thing about this baby milestone book is that you can choose whether to use it as a scrapbook or a photo album to record all of baby's milestones.
Buy it here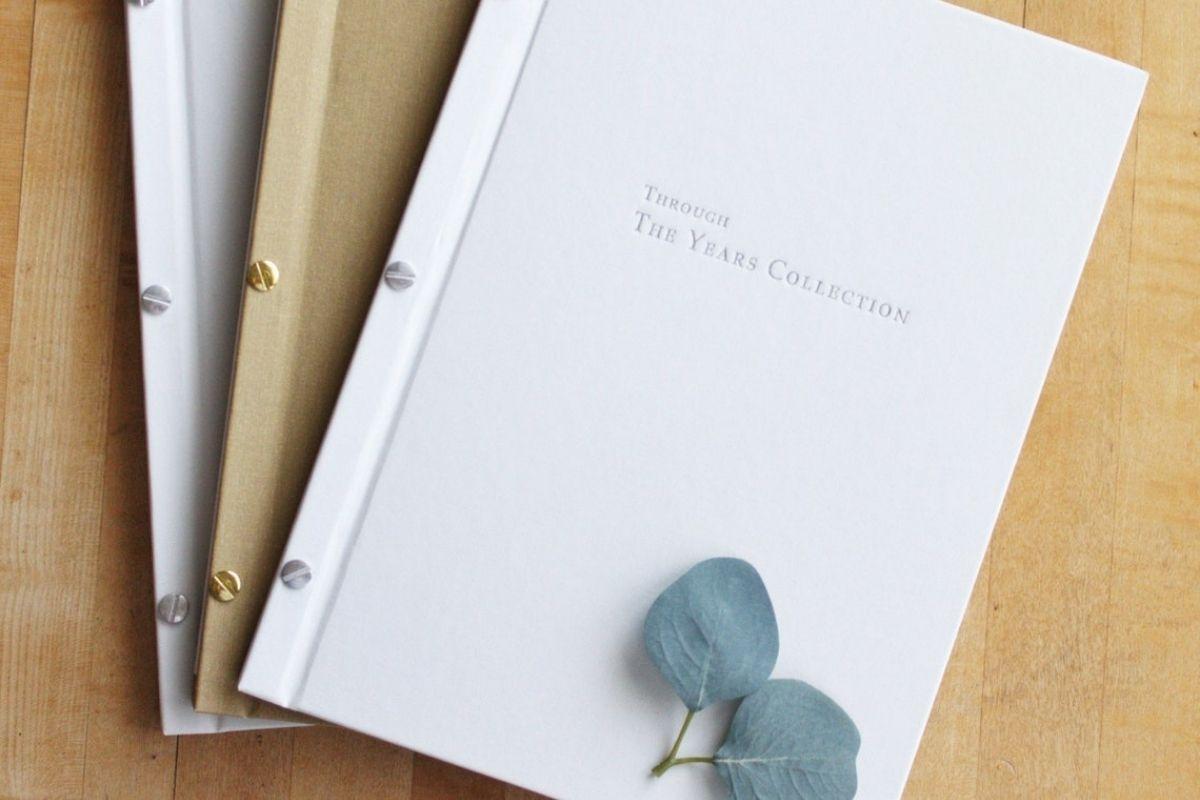 15. Baby Memory Book: A Birthday Story by TLC Squared
With its minimalist design and old-school journal look, this baby scrapbook is perfect for mamas who love mindful activities like bullet journaling and sketchnoting. The prompts in this baby keepsake book are so simple, and you don't have to spend too long adding your snaps and comments.
Buy it here

Baby memory books for boys
If you're expecting a beautiful baby boy, then check out the best baby memory books for boys: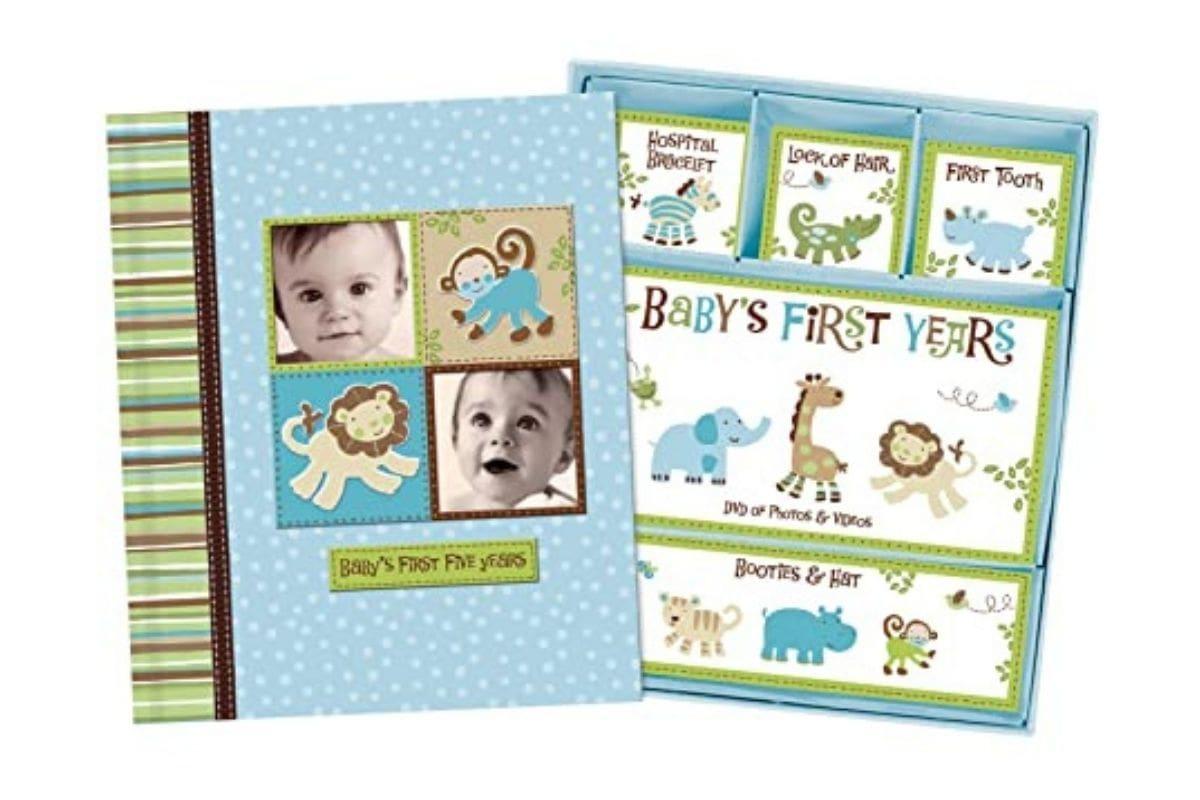 16. Baby Boy Hardcover Memory Book by Jenny and Jeff Designs
There are so many prompts in this baby memory book for boys, with spaces for their hospital bracelet, a lock of their hair, their first tooth, and their first hat and booties (is there anything cuter than baby booties?). This is one of the longer baby memory books, with space for your pregnancy experience and your baby boy's first five years.
Buy it here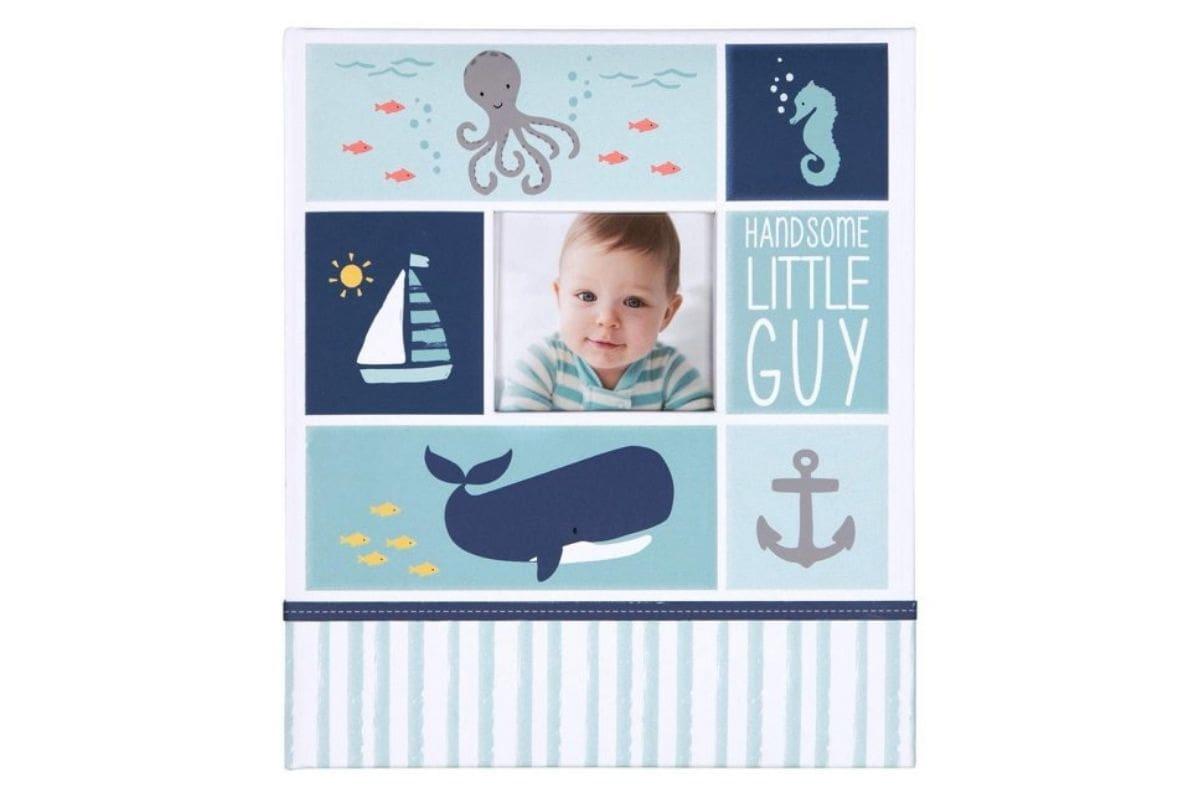 17. Carter's Blue Nautical My First Years Bound Memory Book for Baby Boys
Perfect for baby boys born into a sea-faring family, this nautical-themed baby memory book for boys has space for mementos, photos, and notes of their key milestones. We love the little inspirational quotes throughout, too ‒ "dream big, little one"!
Buy it here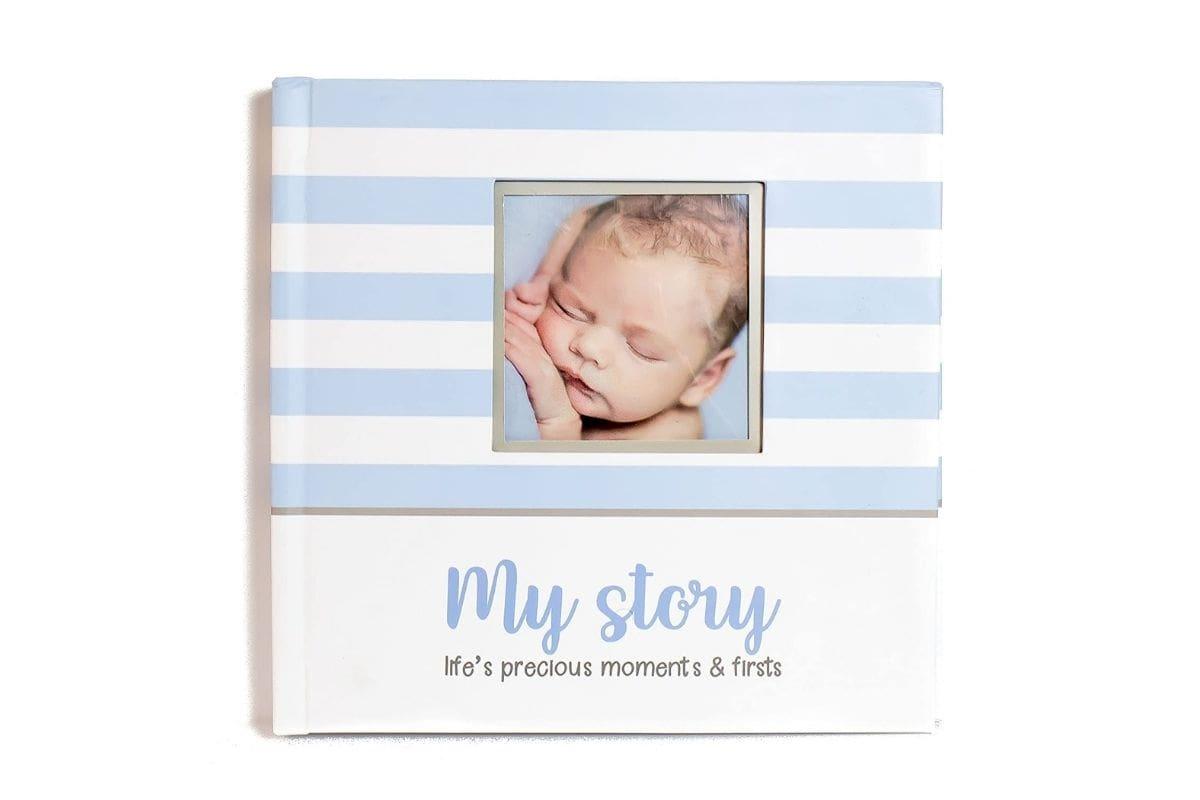 18. First Year Baby Memory Book & Baby Journal by LovelySprouts
With a lovely blue and white striped cover and a space for a photo of your baby boy, this baby memory book for boys has prompts for milestones like baby's first meal, family vacations, Christmas, Halloween… all the way up to age five!
Buy it here

Baby memory books for girls
How about something cute for your baby girl's keepsakes? Here are our top baby memory books for girls: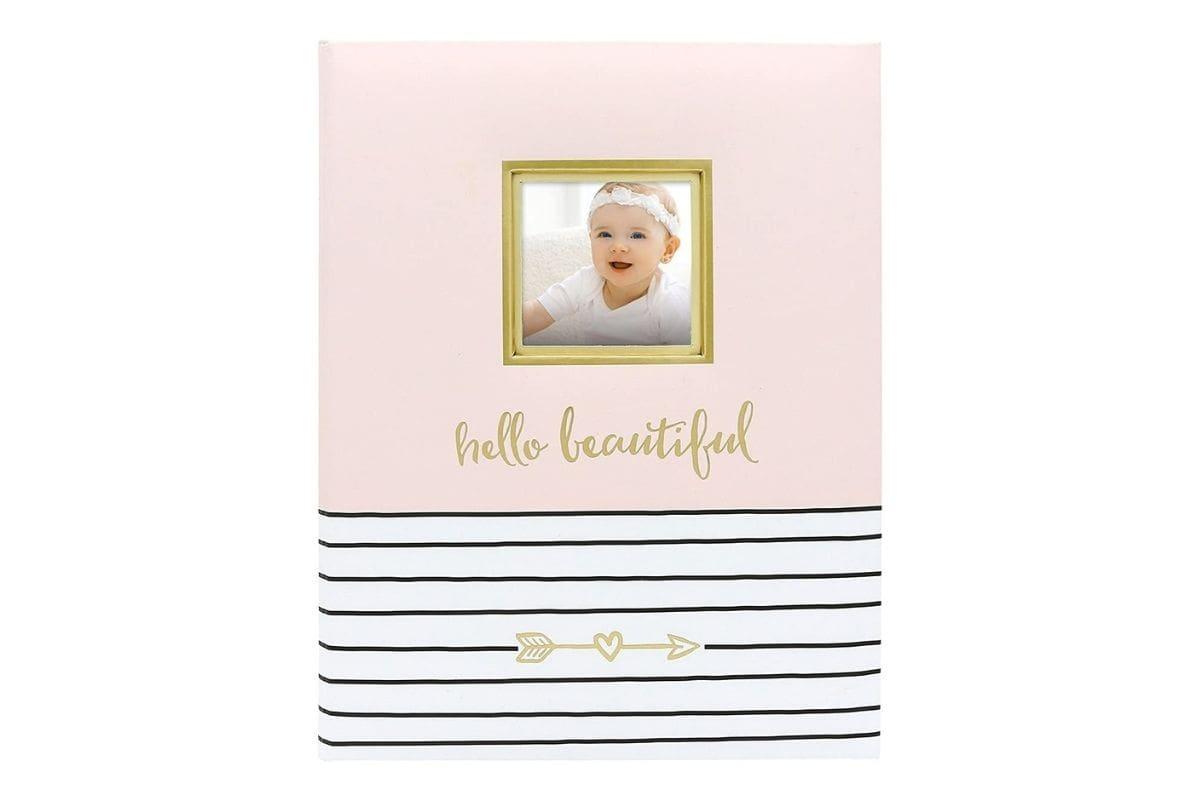 19. Hello Beautiful Baby Memory Book by Pearhead
Looking for something a little trendy? The Parisienne style of this pink with black and white striped cover is simply gorgeous. This baby girl memory book also comes with a space for you to add a photo of your little princess, so everyone can see her beautiful smile.
Buy it here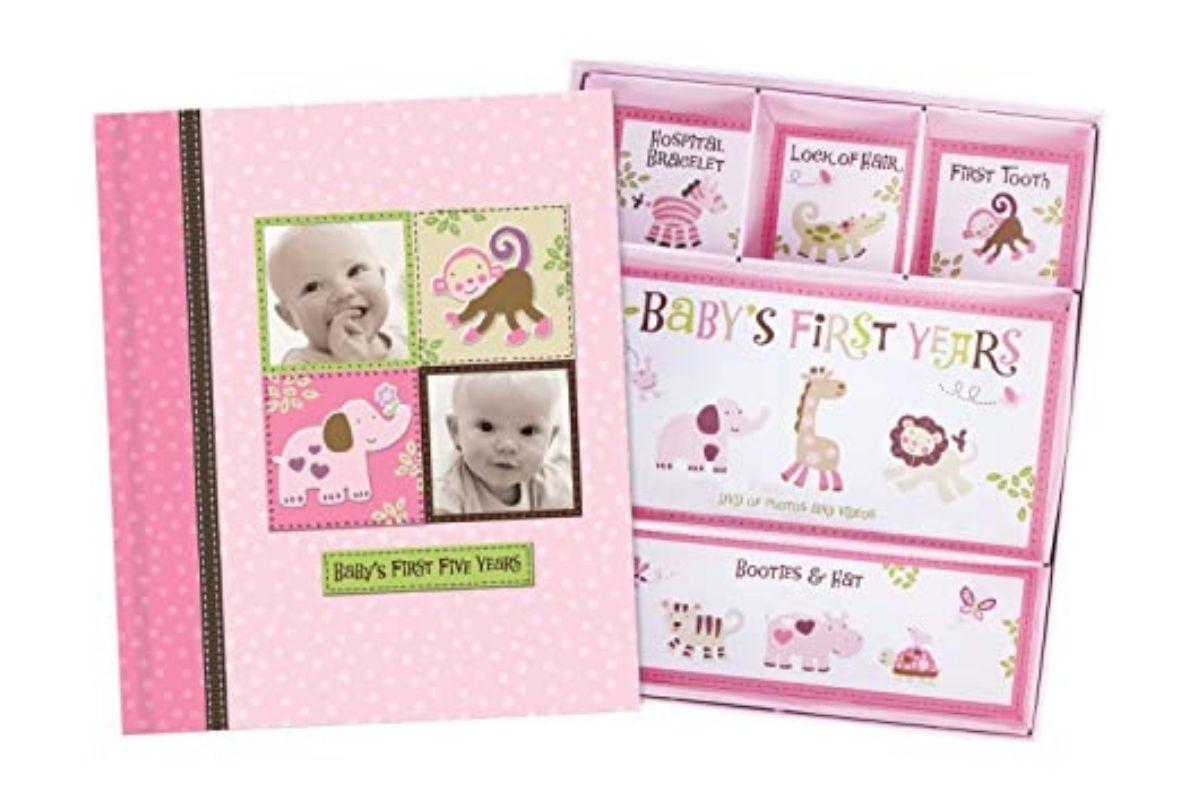 20. Baby Girl Memory Book Scrapbook Photo Picture Album by New Seasons
Similar to the version for baby boys, this baby memory book for girls comes with lots of space for physical keepsakes as well as photo mementos. And with over 60 pages, there's lots of room for you to chronicle the first five years of your baby girl's life.
Buy it here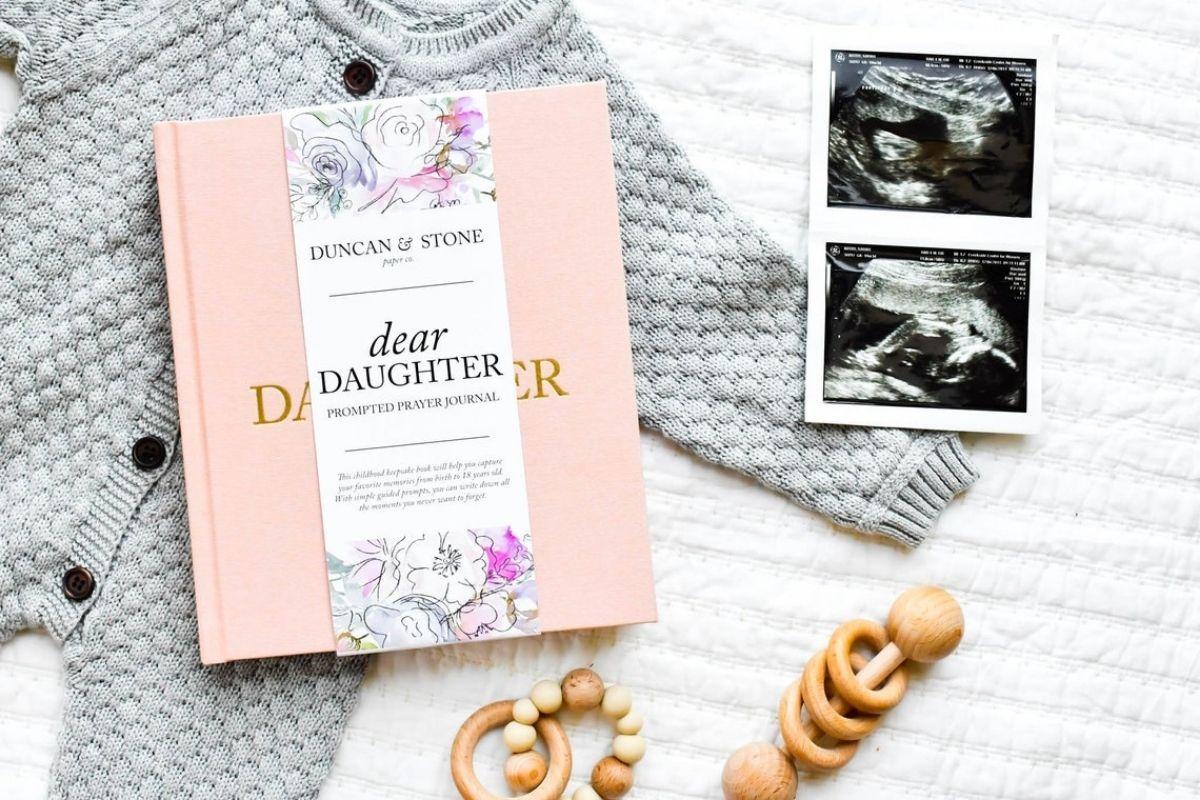 21. "Dear Daughter" Baby Scrapbook and Prayer Journal by Duncan and Stone
This baby girl memory book is unique to our list, with prompts for prayers for your baby girl as well as space for keeping track of all the key milestones of her life. If you're after a baby keepsake book that you want to use to make note of any words of wisdom or as a family heirloom, this is the one for you.
Buy it here

Gender-neutral baby memory books
Not a fan of the gendered baby memory books? Or you could be raising a they-bie ‒ whatever your reason, we've got the best of the best gender-neutral baby keepsake books for you to choose from: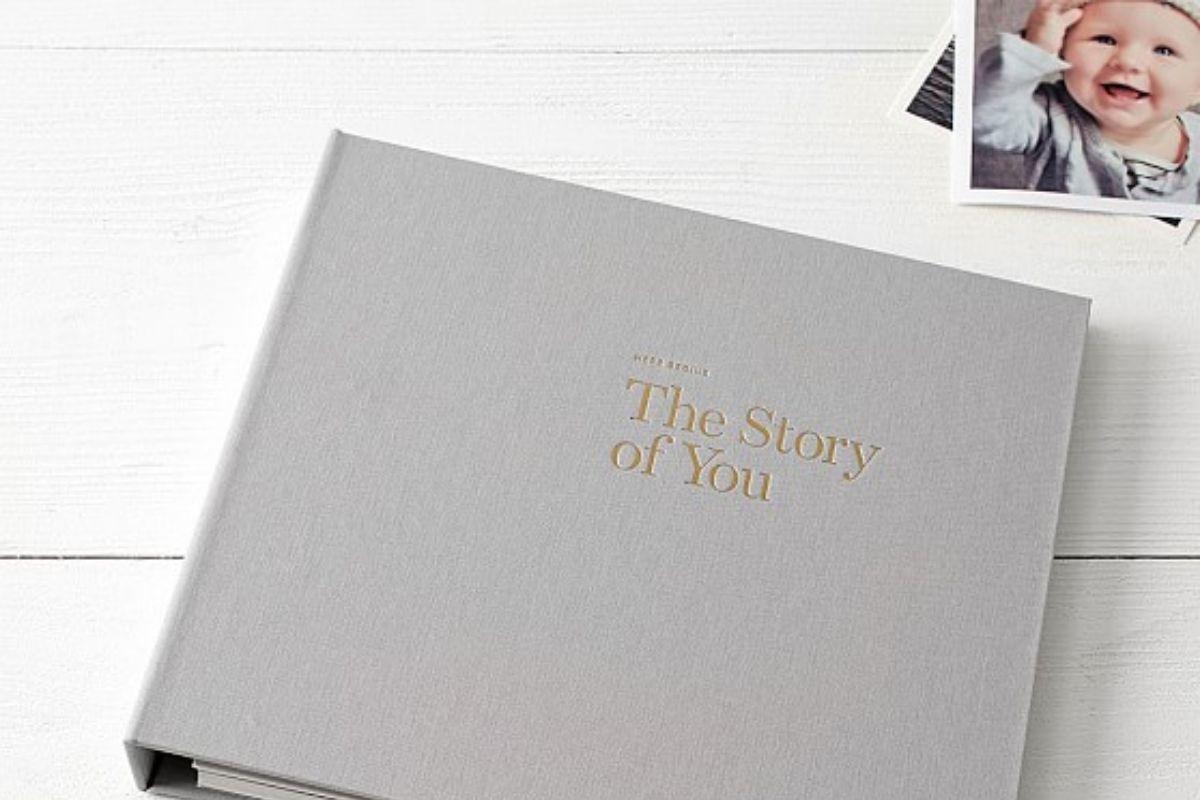 22. The Story of You Baby Book by Artifact Uprising
Wow. This baby memory book looks amazing. With premium features like quality paper (no ink bleed-through), eco-friendly paper, and everything you need to fill it out (including a recommended pen and adhesive), The Story of You baby scrapbook was an easy addition to our list.
Buy it here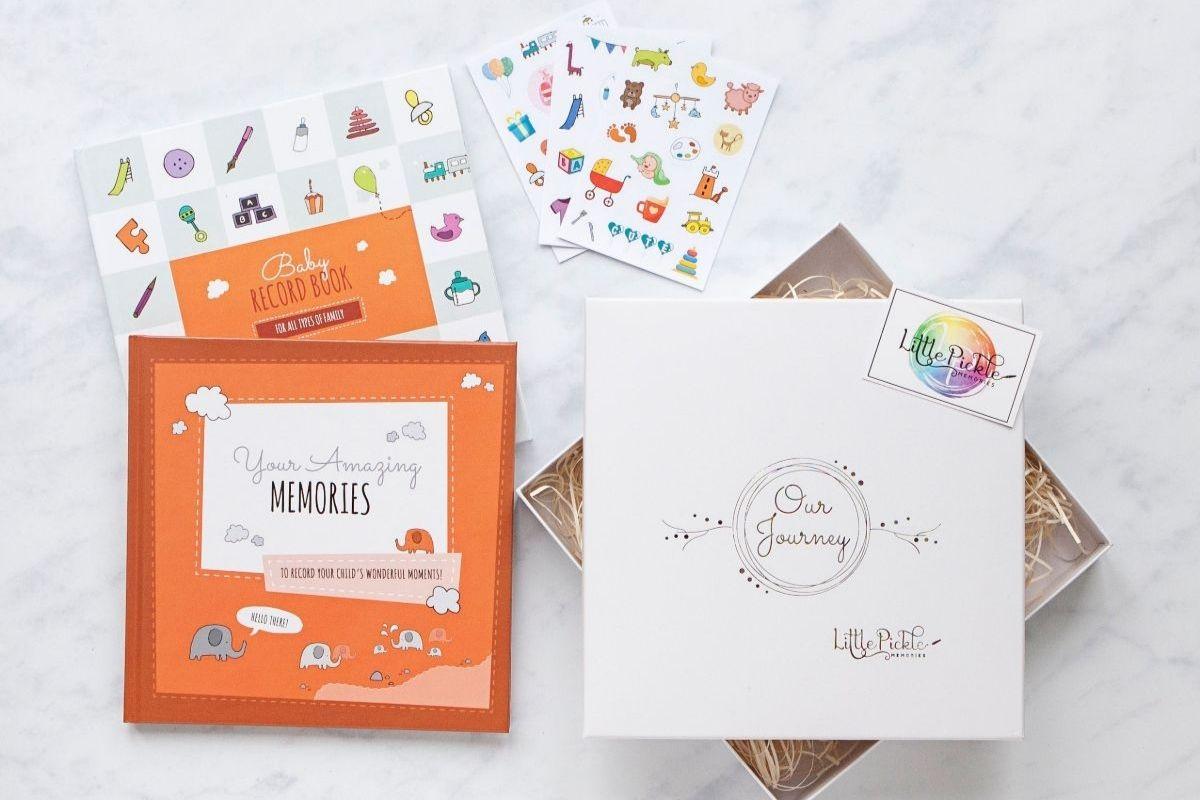 23. New Baby Books Gift Set, Baby Shower Gift by Little Pickle Memories
We love Little Pickle Memories (keep scrolling and you'll find them again!) ‒ their inclusive language and beautiful designs are absolutely perfect. Plus, this gift set comes with not only the baby keepsake book, but a toddler memory book, three sheets of baby stickers, and a gorgeous keepsake box.
Buy it here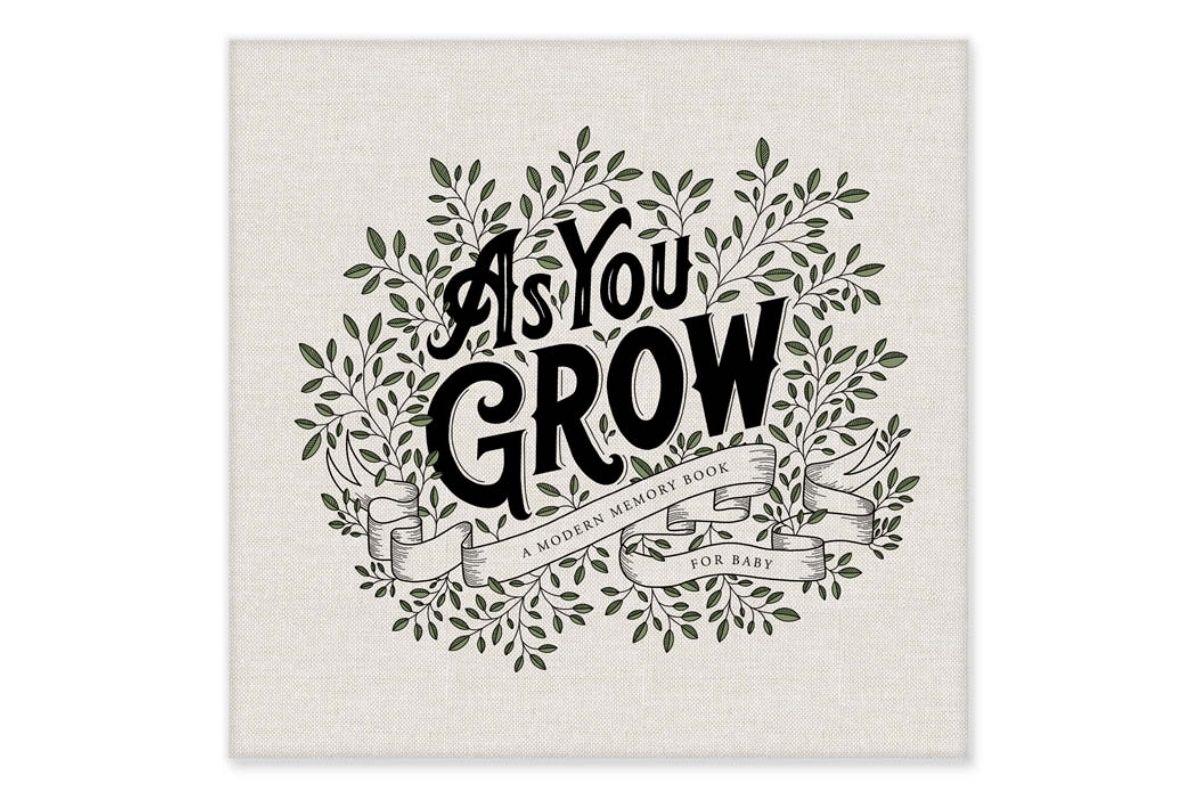 24. As You Grow Memory Book by Korie Herold
Looking for something a bit more arty? Then Korie Herold's As You Grow baby diary is the one for you! With beautiful illustrations and space to chronicle your pregnancy, baby's firsts, and their journey to age five, this is definitely a baby memory book for the ages.
Buy it here

Memory baby book first 5 years
If you're after a baby memory book that spans beyond the first year to toddlerhood, check out our top memory books for the first five years of your little peanut's life: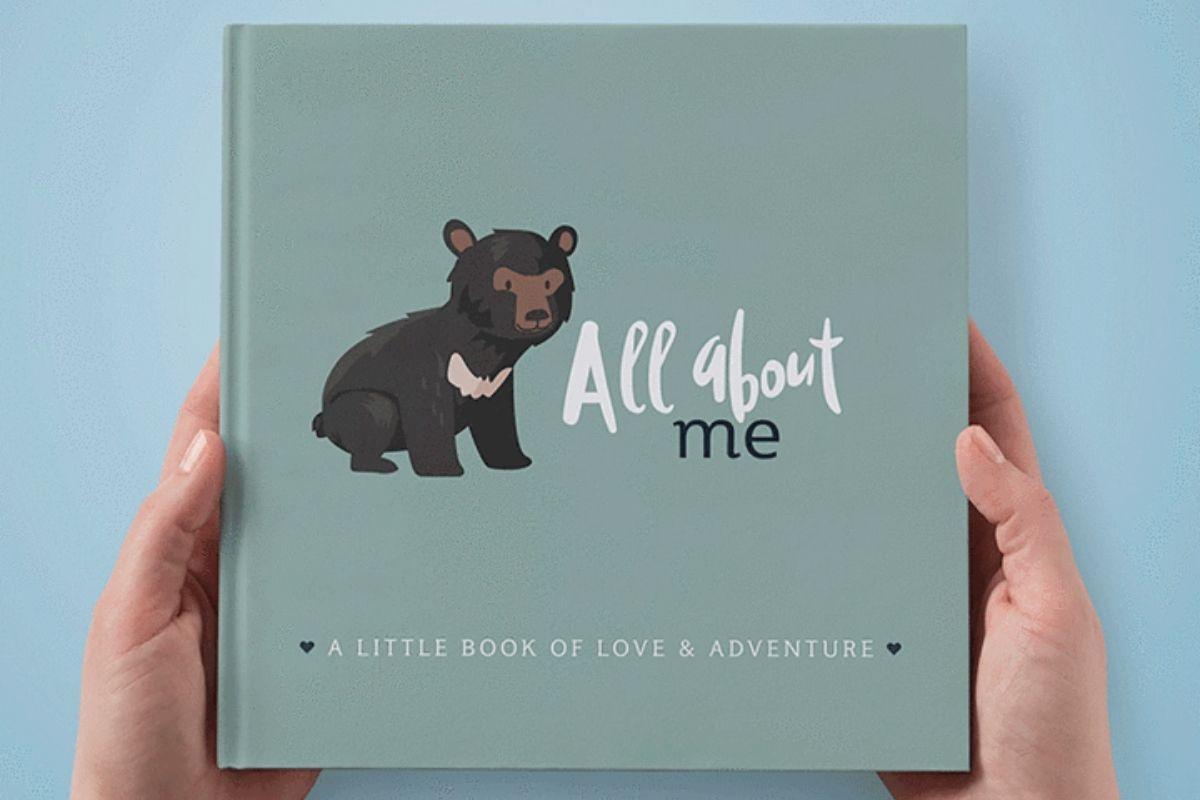 25. All About Me: A Little Book of Love and Adventure by RubyRoo
A beautifully inclusive baby memory book, RubyRoo's All About Me features pregnancy journaling, baby's first year and beyond, and includes lots of religious and important holidays (which you can easily remove if your family doesn't celebrate). Definitely one of our faves.
Buy it here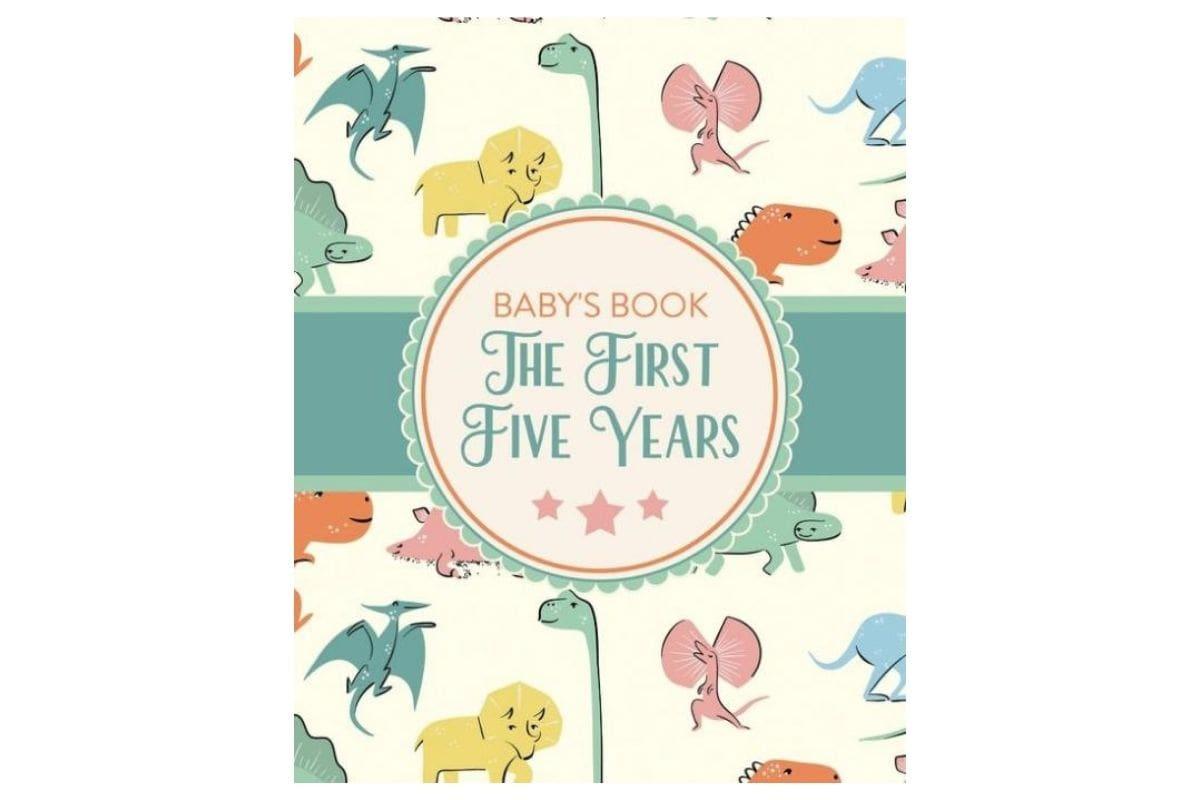 26. Baby's Book The First Five Years by Holly Placate
There are so many things you can add to this baby diary: your baby's birth journey, letters to them, photos of milestones (or just whenever they look cute), birthdays, journaling, family tree… the list goes on!
Buy it here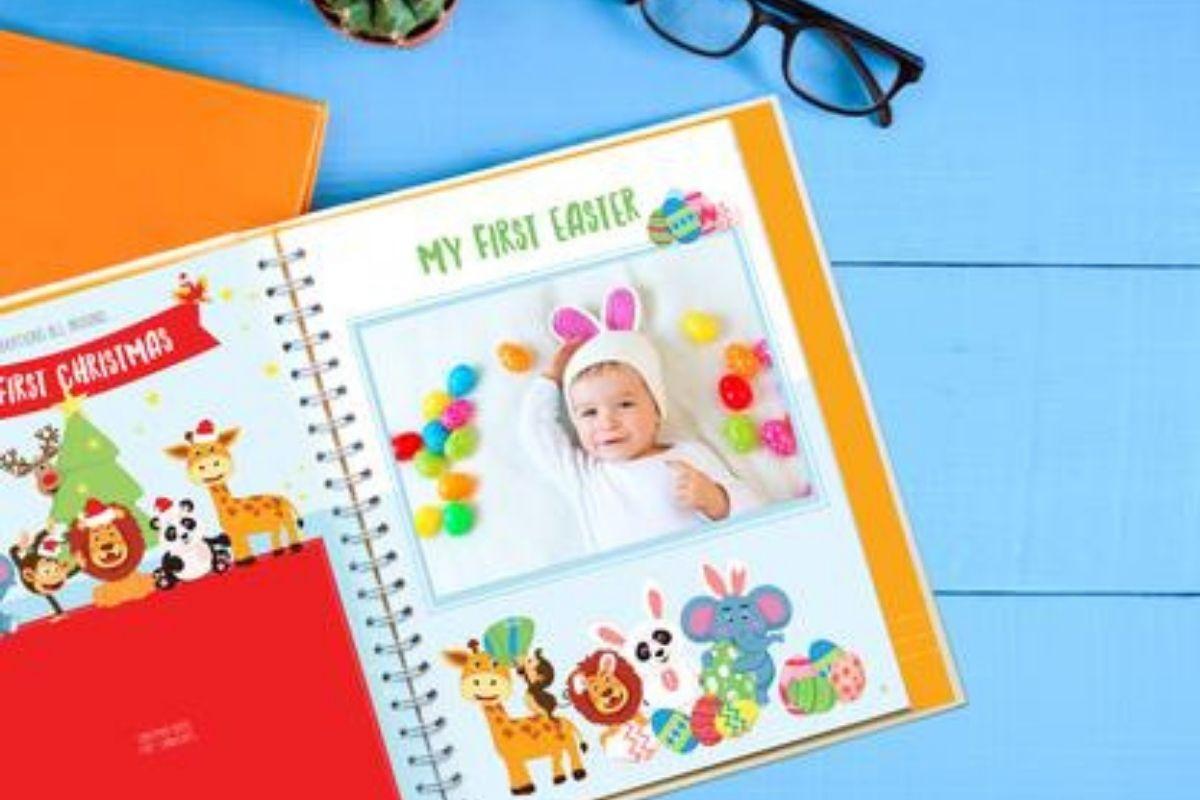 27. The Amazing Story of Me by KiddosArt
Bright and colorful, this baby keepsake book has space for all the key moments of your little peanut's first five years. Plus, it's made with eco-friendly paper and soy-based inks, so you're doing your bit for the environment, too!
Buy it here

Baby milestone books
There are so many important milestones during baby's first years ‒ rolling over, sitting up, standing, walking, talking… so if you want the best baby milestone books to track them all, we've got you covered: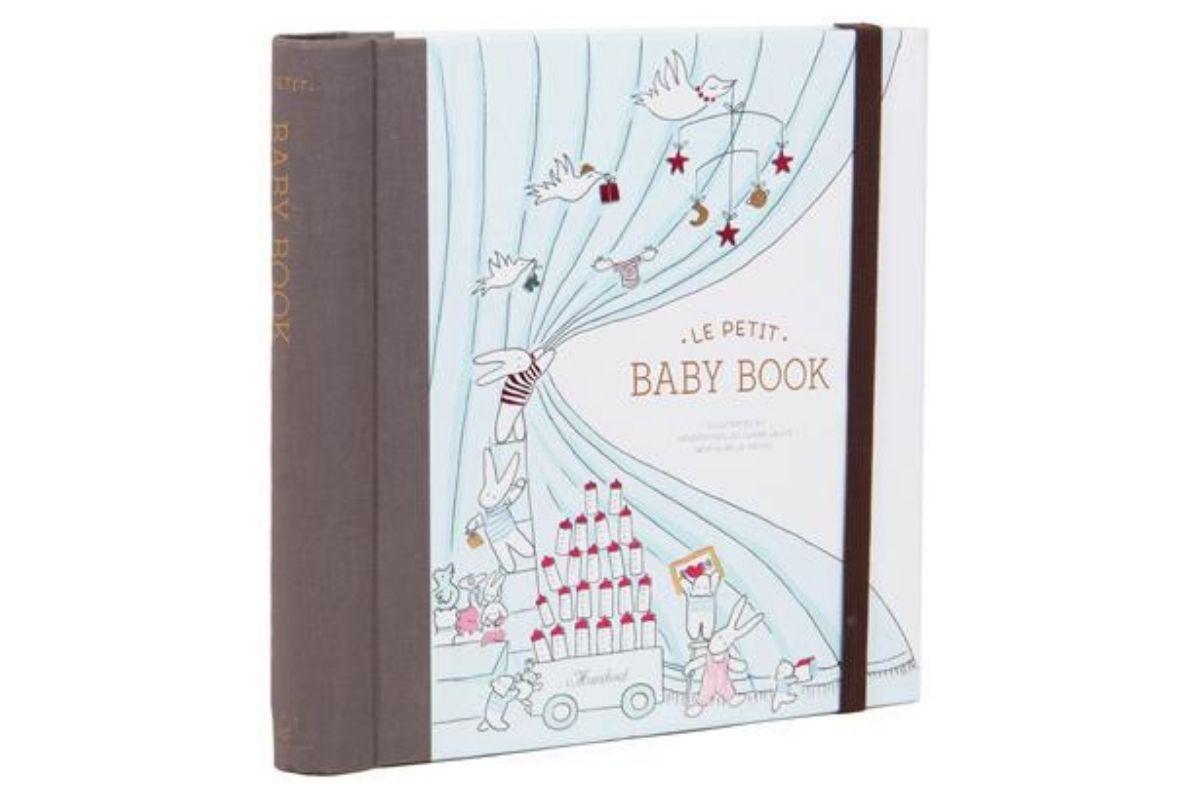 28. Le Petit Baby Book by Marabout and Mesdemoiselles
This is such an easy-to-use baby milestone book! It's got everything you need, carefully laid out to make everything that little bit easier. From an envelope to keep your ultrasounds to a folded family tree, and a pull-out growth chart, it's got all you need to track your baby's milestones.
Buy it here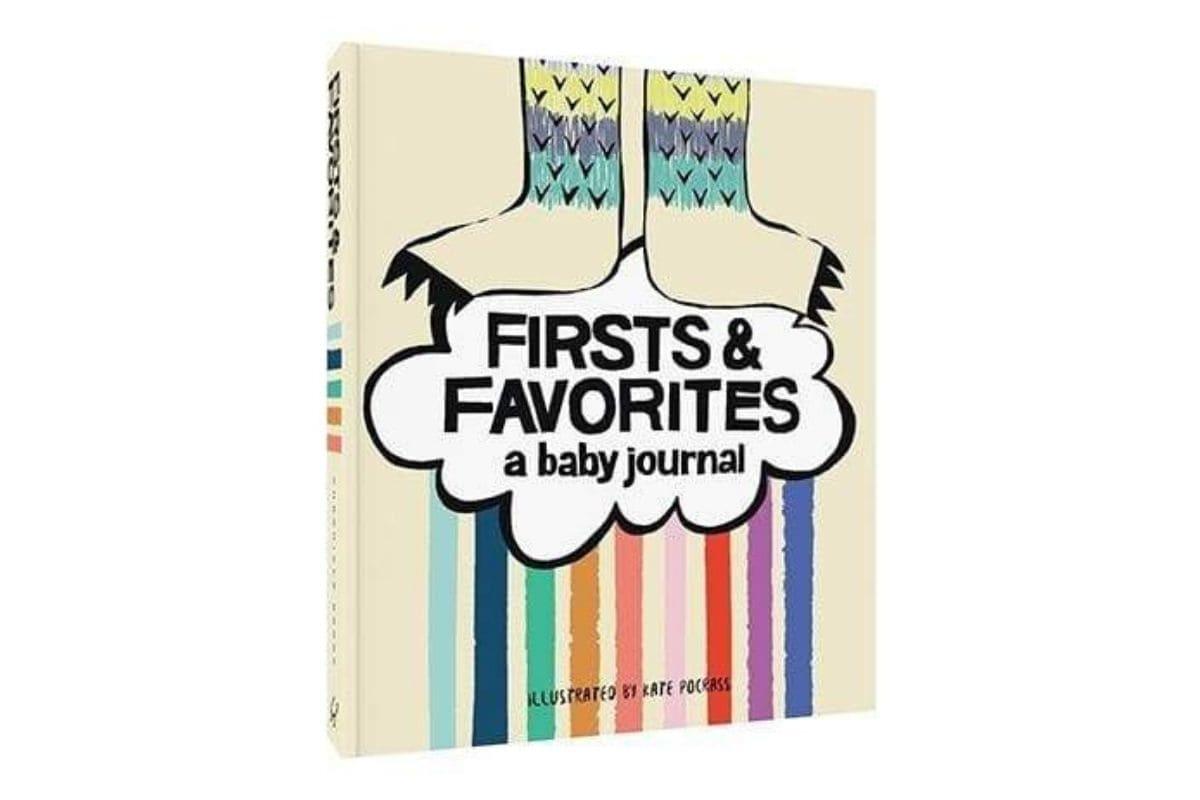 29. Firsts & Favorites: A Baby Journal by Kate Pocrass
From must-have baby milestones like first step and first words to the wonderfully weird, like favorite food to spit-up, Kate Pocrass' babies' first year memory book will help you remember those 'smaller' moments that mean so much!
Buy it here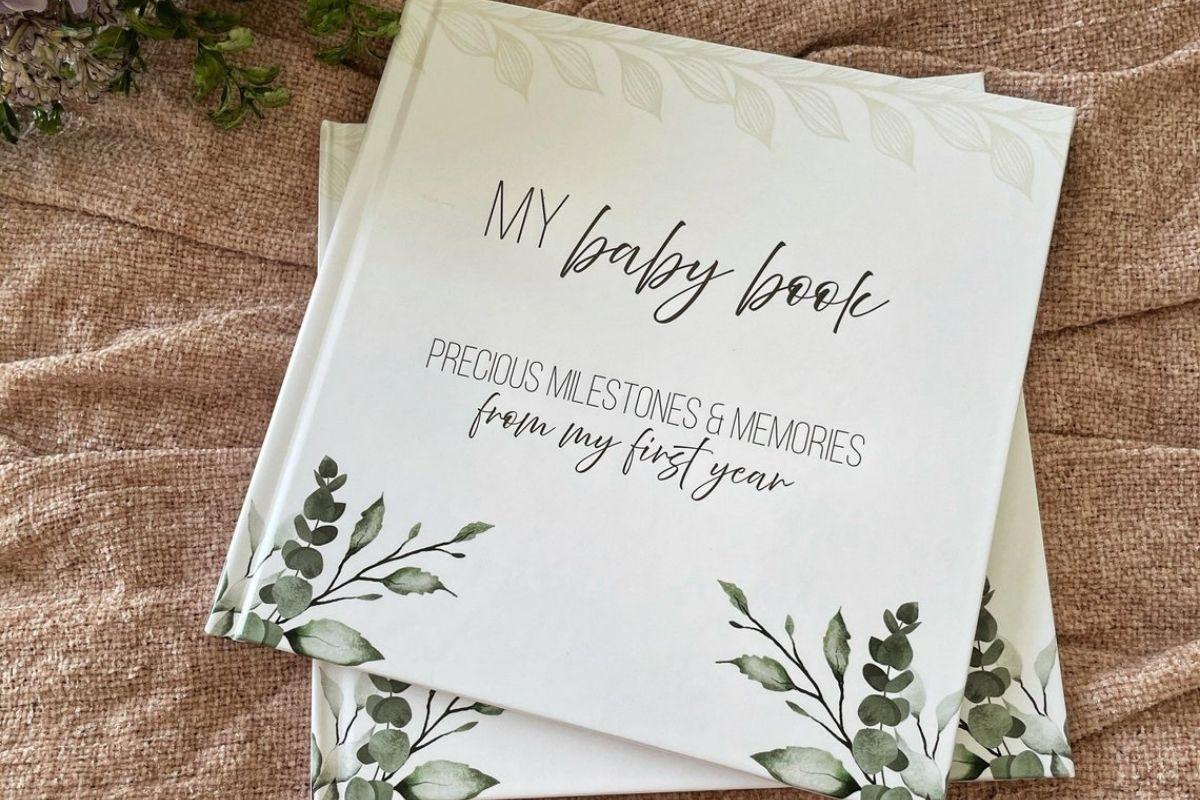 30. My Baby Book: Precious Milestones & Memories from My First Year by Memory Lane Prints
A beautifully illustrated hardcover babies' first year memory book with prompts for you to fill out, from pregnancy to baby's first birthday. Plus, there's lots of space at the back for some scrapbooking of photos and notes.
Buy it here

Modern baby memory books
If you're planning on decking out baby's room with simplistic, minimalist, modern decor, then these modern baby memory books are for you: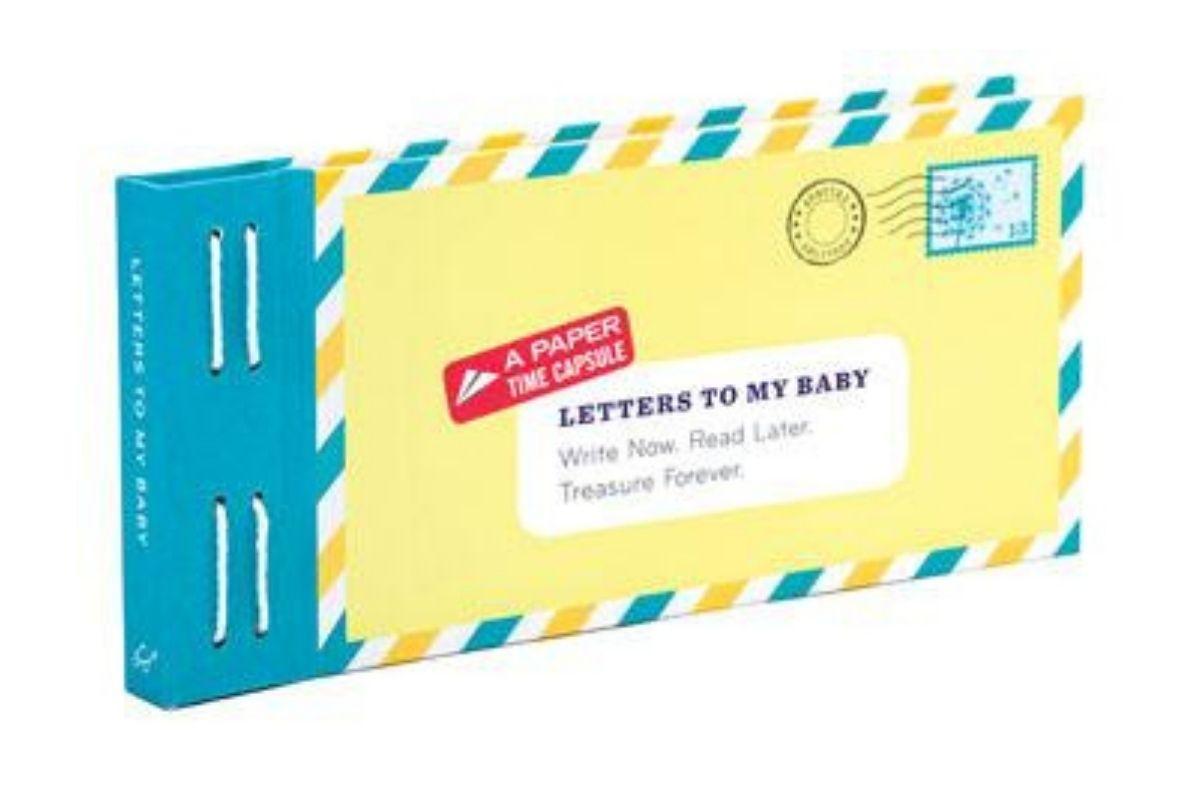 31. Letters to My Baby by Lea Redmond
Another unique baby memory book, this modern baby journal takes the form of a sort of time capsule. Simply write letters to your baby using the prompts, and post-date them for you to both read together for more beautiful memories.
Buy it here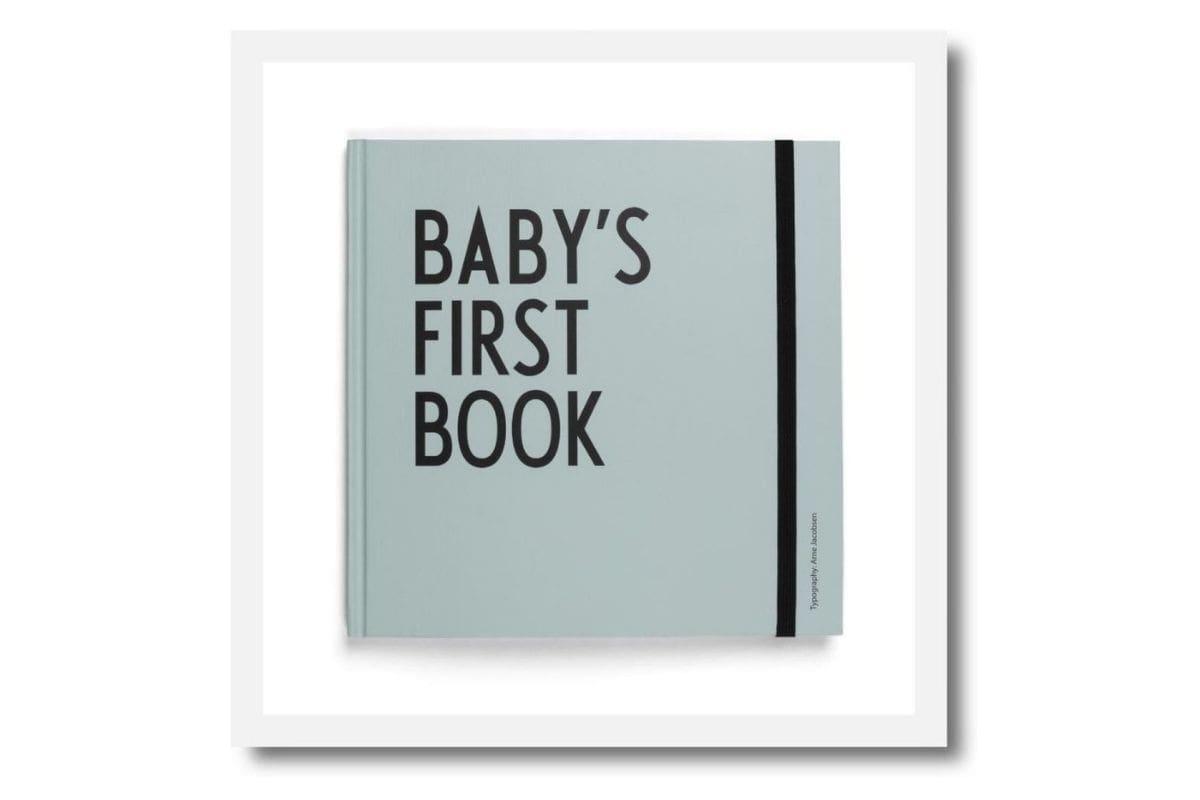 32. Baby's First Book by Design Letters
A Scandi-inspired, minimalist, modern baby diary with simple prompts and space for both photos and letters to your little peanut. Oh-so chic!
Buy it here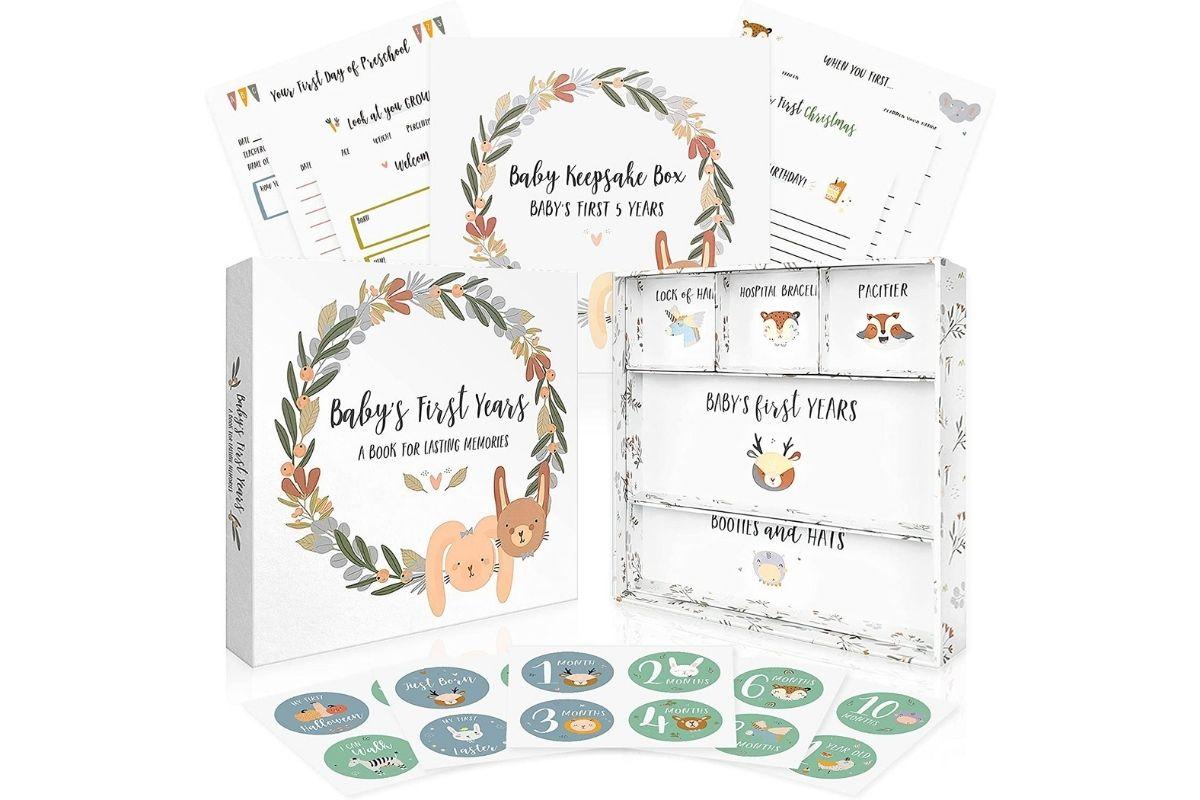 33. Baby's First Years: A Book for Lasting Memories
A more boho style of modern memory baby book, this baby journal comes with sections for keepsakes and mementos as well as detailed prompts for tracking the most precious moments.
Buy it here

Twins baby books
Expecting two bundles of joy? Congratulations, mama! Here are the best twins baby books to keep track of both your little peanuts' milestones and memories: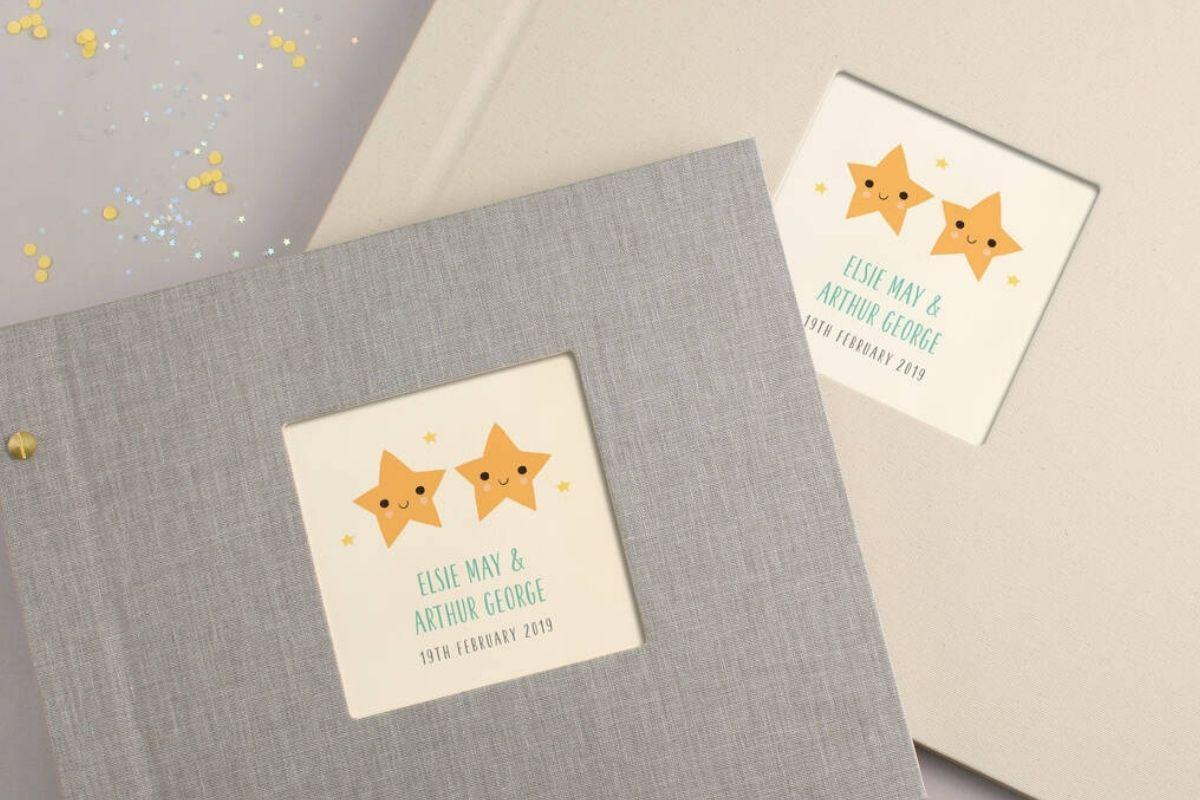 34. Personalized Baby Twins Stars Photo Album
While this entry on our list isn't strictly a baby memory book, you can use it as one. Simply stick in the photos of your two cuties and add notes around the outside. We're also obsessed with the two adorable stars on the front cover ‒ and you can personalize it with both your babys' names.
Buy it here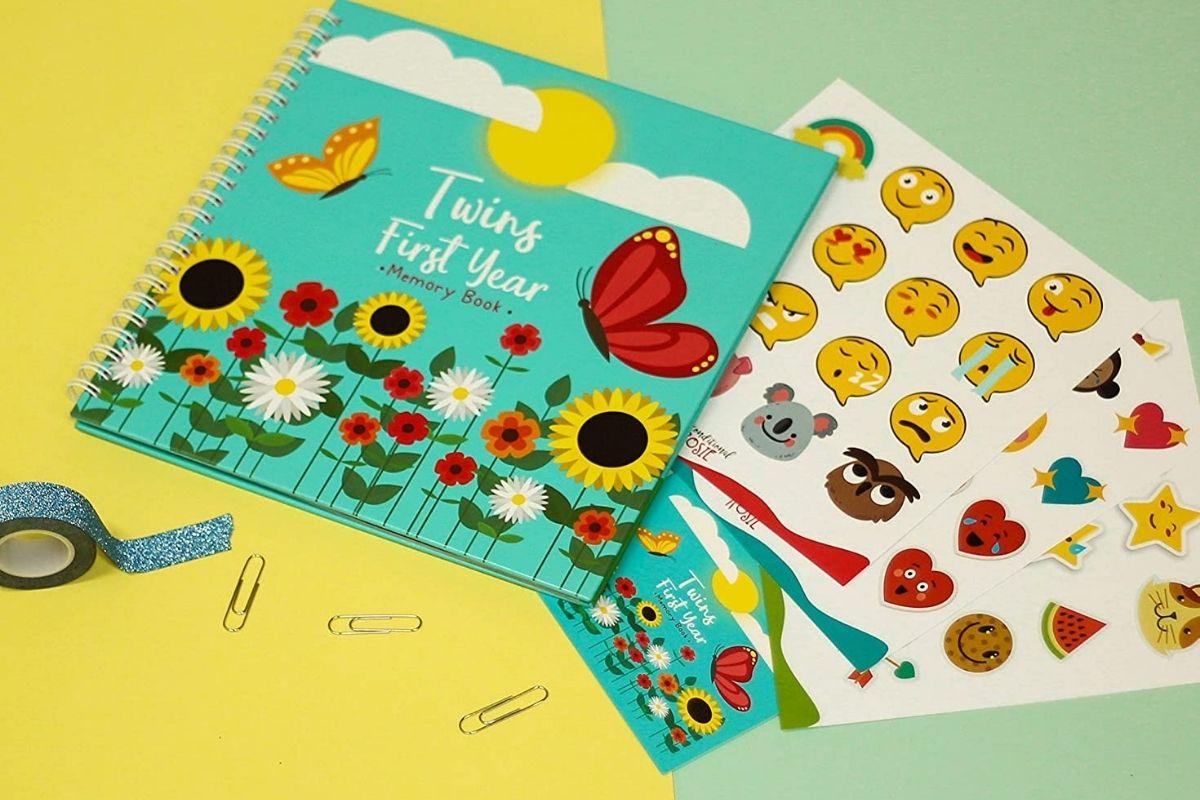 35. Twins First Year Memory Book by Unconditional Rosie
Uber-bright and colorful, this twins baby book has all you need to document all the special memories as your babies grow. There's space for two birth certificates, two hospital bracelets, and two immunization records ‒ twice as nice!
Buy it here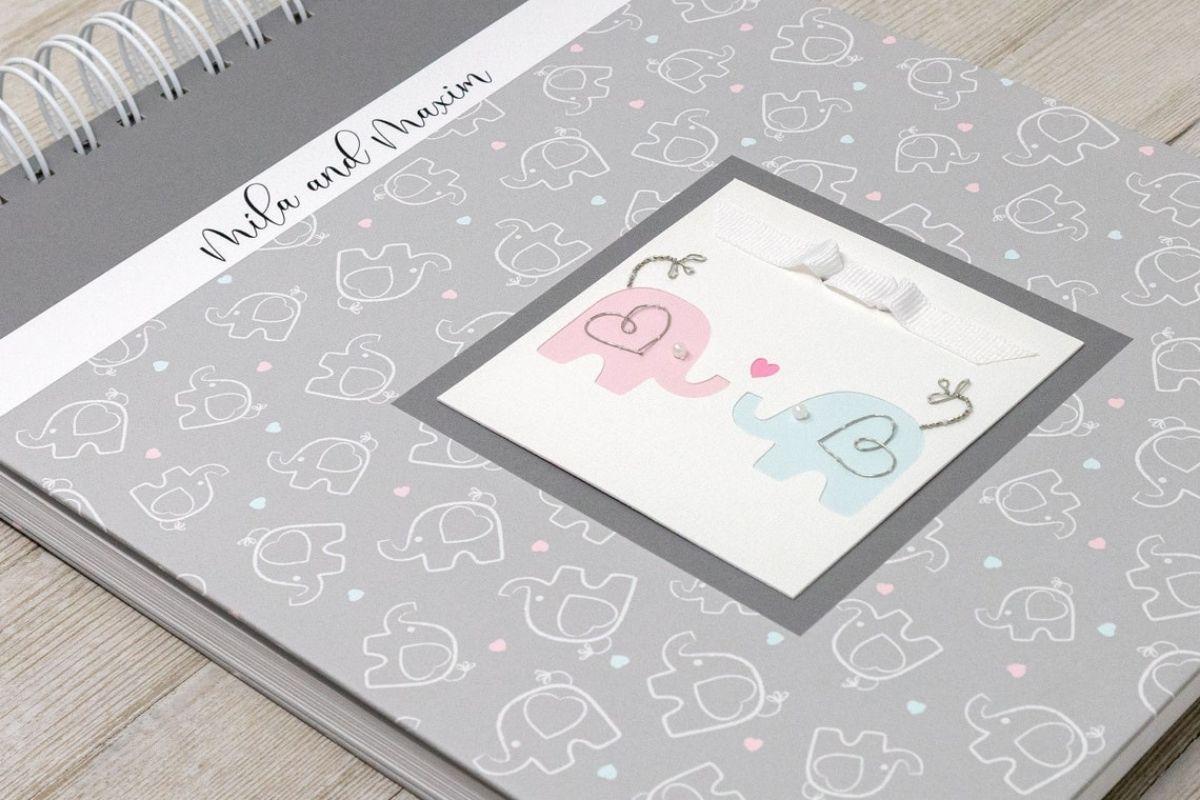 36. Twin Baby Book by Charmbooks
Another personalized addition to our list, this twins baby book chronicles all the precious moments from your twins' first 12 months. Plus, you can choose whether you want to add pages for your pregnancy, baby shower, and your twin's toddlerhoods, too.
Buy it here

Baby memory books for adopted babies
If you're going down the adoption route, getting a baby memory book that's tailored to your parenting journey can be a lovely touch.
Here are the best adoptive baby memory books: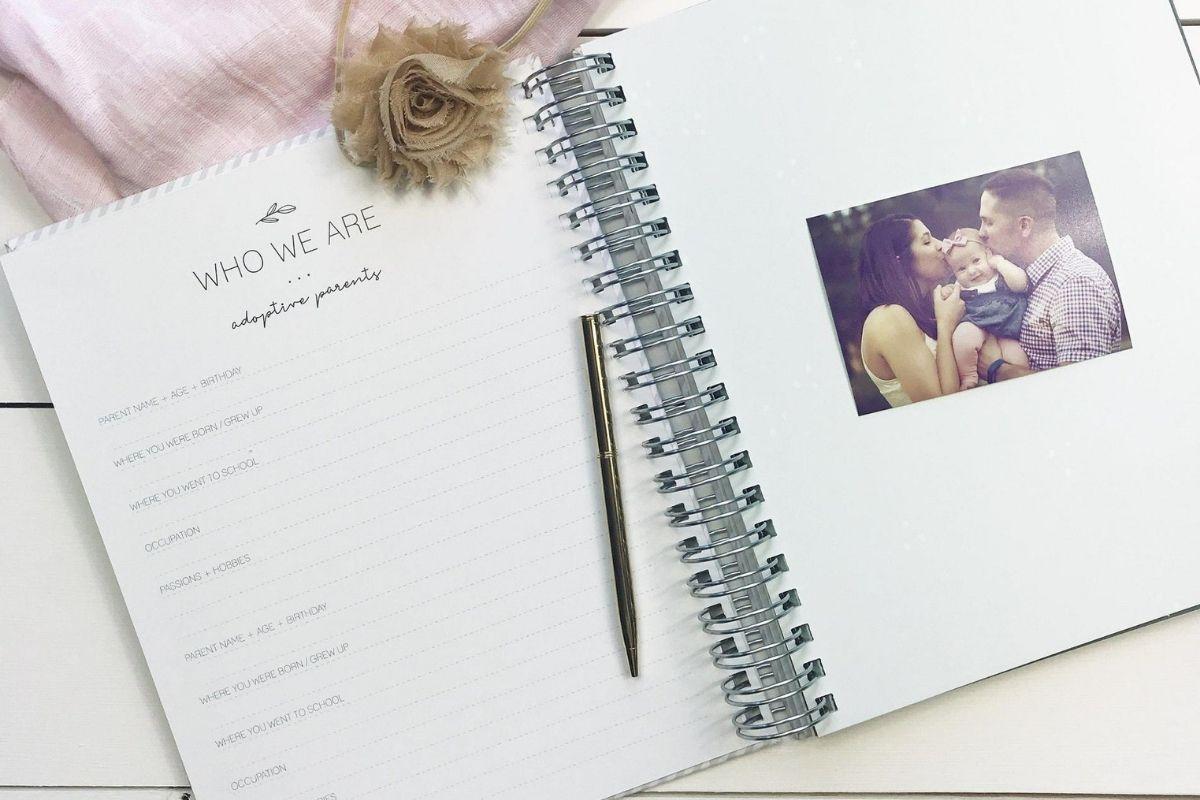 37. Sadie ‒ Modern Baby Book ‒ The First Year ‒ Adoptive Version by Print Smitten
Another modern-style baby keepsake book, this baby book is very inclusive, with no specific mentions of baby's gender, parents, or holidays. However, it is specifically for those adopting a newborn baby, so if you're looking to adopt an older child, one of our other options might work best for your family.
Buy it here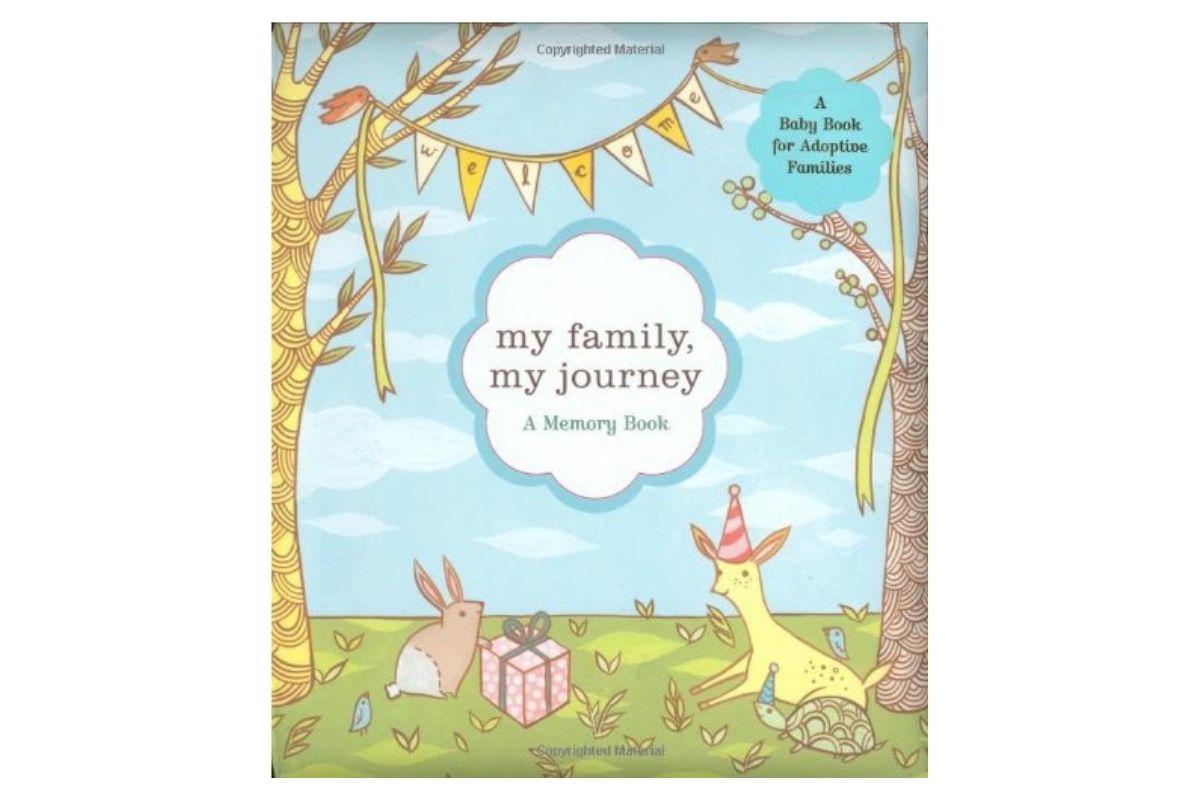 38. My Family, My Journey: A Baby Book for Adoptive Families by Zoe Francesca and Susie Ghahremani
This is another adopted memory baby book for those adopting newborn babies, with sweet illustrations by Susie Ghahremani and beautifully worded prompts by Zoe Francesca. It's a comprehensive baby diary, with sections for the adoption process, how you were matched with your baby, and all the important milestones.
Buy it here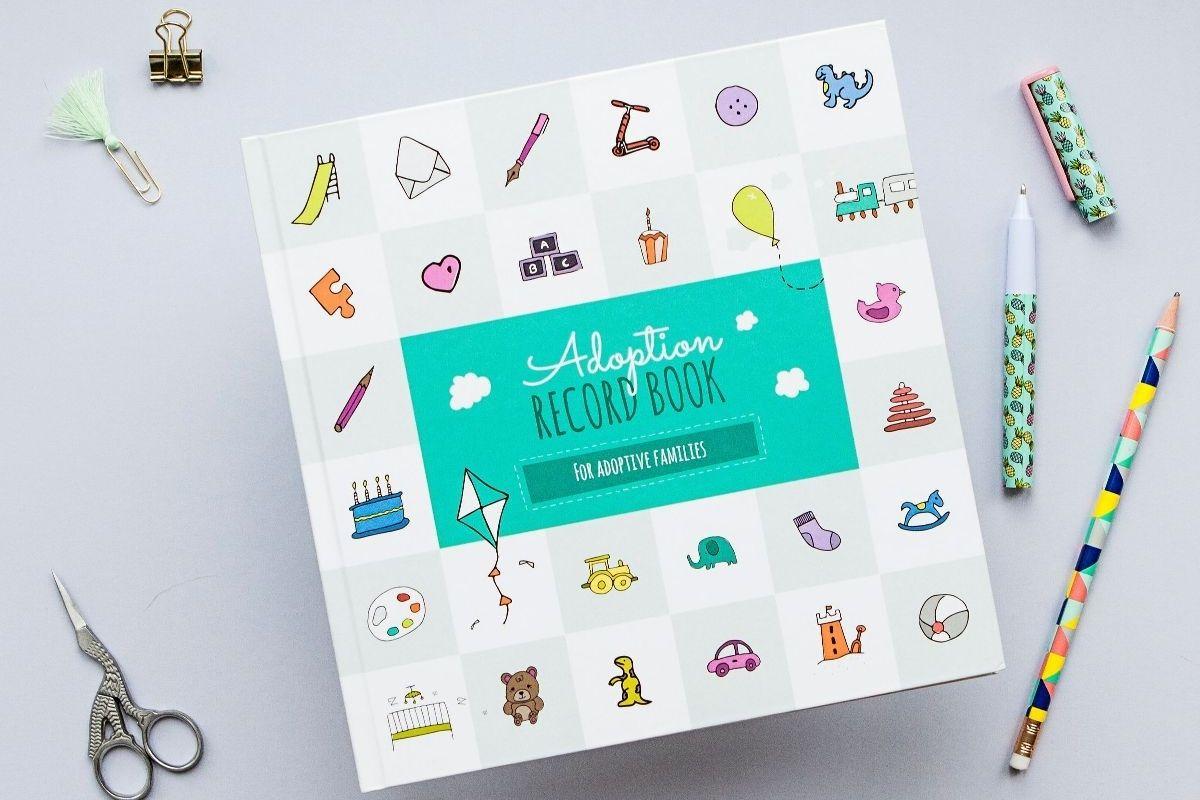 39. Adoption Record Book for Adoptive Families by Little Pickle Memories
Another of our favorite baby memory books by Little Pickle Memories, this is one of the most inclusive and sensitively-worded baby books for adopted babies. Instead of specifically being tailored to newborn adoptive babies, this baby record book is phrased so you're adding memories of your first month together, not baby's first month.
Buy it here

Make your own baby book
If you're after a baby memory book that's truly unique, then why not craft one yourself?
Simply pop into a craft store and pick up your favorite sketchbook or album, grab some pens, washi tape, and anything else you want to decorate it with, and get crafting!
Don't forget to share your DIY baby memory books with the other mamas on Peanut!
💡 More from The 411:
Newborn Baby Feeding Schedule Ideas
24 Baby Essentials You'll Need
How Many Diapers Do I Need for a Newborn?
Why Do Babies Cry? 12 Possible Reasons
8 Things You Don't Need to Buy for Your Baby
Newborn Sleep Schedule: Rough Patterns and Timings
42 Weeks Pregnant: Almost There!