The sky, the ocean, and perhaps your little peanut, too? If you're looking for baby names that mean blue, we've got you covered.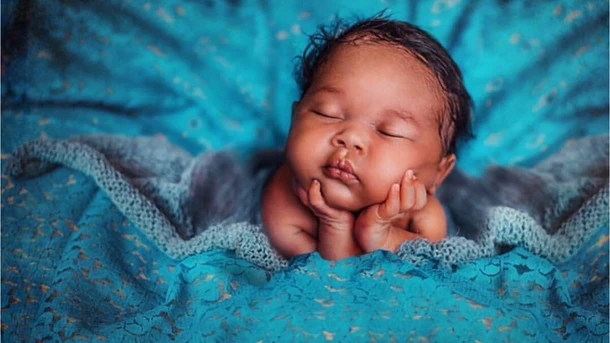 If you're looking for a color name for your baby-to-be, blue names are a good place to start.
The color blue signals calm, serenity, and peace — all wonderful traits to incorporate into your little one's future name.
On our list, you'll find names that mean blue, as well as names that give a nod to this most tranquil of colors.
Ready? Let's dive in. 🌊
In this article: 📝

What names mean blue?

What are some cool names for blue?
What names mean blue?
From the unusual to the adorable, there are plenty of names that mean blue.
And if you're specifically looking for a name for a little boy, here are some of our favorites:
What boy name means blue?
Aciano. The unique name is the Spanish word for cornflower. Of course, it's blue.

Aoki. A name of Japanese origin that works for babies of any gender, Aoki means 'blue tree.'

Azraq. This baby boy's name means 'blue' in Arabic.

Azul. This gender-neutral name is Spanish for the color blue.

Bisman. A name of Indian origin, Bisman is a dark blue or black color.

Blue. You don't need to go looking for other languages or words when you've got this cute name. Popularized by Beyonce and Jay-Z's little one, Blue Ivy, Blue is a great name for any gender.

Blu. Why not try this alternative, shorter spelling for Blue?

Bleu. How about the French word for blue? More popular as a baby boy's name, we think it's a stylish spin on 'Blue'.

Cerulean. Although often used as a boy's name, Cerulean can work for any gender. This unique name comes from the Latin 'caeruleus,' which means dark blue.

Cielo. This boy's name means 'sky' in Italian — a great option if you're looking for a great big blue name.

Cyan. Referring to the beautiful, light, greenish-blue color, this name oozes calm.

Douglas. This Scottish origin name means 'dark water' and is a perfect deep blue name for a baby boy.

Gorman. Looking for a name that means 'blue-eyed one'? This Irish option has you covered.

Hinto. A Dakota boy's name, Hinto means 'blue haired.'

Indivar. This Indian origin name means 'blue lotus.'

Jay. Jay is a nickname for a blue jay, a bright blue bird. It also makes for a super cute gender-neutral name.

Keyne. Another sky-related name, Keyne is an old Cornish name that means 'man of the eastern sky.'

Marlais. A Welsh origin boy's name, Marlais also means 'blue.'

Neel. This boy's name is of Hindu origin and also means blue.

Okko. If you're looking for a Finnish option that means 'blue,' you've just found it.

Oldrik. This old German boy's name which means 'blue hill' or 'blue peak.'

Puskara. An Indian boy's name, Puskara means 'blue lotus'.

Ruka. This Japanese name meaning 'bright blue flower' is typically a boy's name, but can be used for any gender.

Shyam. This cute Hindu boy's name means dark blue or black.

Viorel. Of Romanian origin, Viorel comes from the word for 'bluebell.'

Yahto. A Sioux origin name, Yahto means 'blue.'

Zeru. This gender-neutral name is the word for blue in the Basque region.
What girl names mean blue?
Who said blue was just for boys? Check out these beautiful girl names that mean blue:
Afina. This super cute Romanian origin name means 'blueberry.'

Atasi. A name of Hindu origin, Atasi means 'blue flower'.

Azure or Azurine. Azure means blue sky, and Azurine is a popular name variant. We think both work as sweet baby girl names.

Bluesette. Although it's got 'blue' in it, Bluesette is actually a word for a jazz song. 🎵

Celeste. Celeste means 'heavenly,' but it's also associated with the color of the sky.

Ciel. Ciel, pronounced 'see-ell' means 'sky' in French.

Claramay. If you want to mix up your blues, this name might be the one for you. Claramay is a combination of blue and pink.

Doli. This Navajo name means 'bluebird.'

Fairouz. It refers to turquoise — the precious stone — in Arabic and makes for a beautiful girl's name.

Lapis. This unique name is the word for a semi-precious stone that's a dark, bold, blue color.

Livie. Of Latin origin, Livie name meaning 'blue.'

Marilee. This adorable girl's name means 'star of the blue sea.'

Maya. Maya means 'water' in Arabic, making it a perfect deep-blue girl's name.

Mazarine. This French girl's name refers to a majestic blue color.

Nilam. Looking for something a little lighter? This cute Hindu name refers to a fainter shade of blue.

Odeta. A cute Romanian and Albanian origin name, Odeta means 'blue sea.'

Owaissa. This rare English origin name means 'bluebird.'

Sini. This cute Finnish name originates from the longer name Sinikka, which comes from the word 'sininen,' meaning 'blue.'

Sky or Skye. Sometimes the simplest names can be the best. And a beautiful blue Sky or Skye shows us how.

Sunila. A Hindu name, Sunila means 'sapphire blue.'
112 women are talking about 'baby names' on Peanut. Download the app to join the conversation.
What are some cool names for blue?
Aqua. This super refreshing water name works for any gender.

Blainn. The old Norse word for blue, this Viking name is packed with power.

Indigo. This gender-neutral name, which originates from the rich blue color of the same name, both looks and sounds pretty cool.

Iris. A purple-ish blue flower, the name Iris dates all the way back to Ancient Greece. She was the goddess of the rainbow and was able to connect heaven and earth. 🌈

Sapphire. This gorgeous girl's name comes from the gemstone of the same name that is known for its brilliant blue color.

Slate. This strong boy's name is inspired by the grey-ish-blue of slate rocks.
So, there you have it: 54 names that mean blue for your newest (and bluest!) family member.
If you're looking to continue your search, head over to our other favorites:
80 Charming Prince Baby Names
30 Powerful Baby Names That Mean Brave
86 Baby Names Meaning Sun
50 Baby Names That Mean Fire
47 Baby Names that Mean Moon
93 Baby Names That Mean Life
Top 49 Names That Mean Angel
89 Baby Names that Mean Red
91 Celestial Baby Names & Their Meanings
90 Sunny Summer Baby Names With Meanings
64 Baby Names That Mean Ice
56 Harmonious Baby Names That Mean Balance
86 Blossoming Spring Baby Names
58 Baby Names That Mean Hope
70 Enchanting Baby Names That Mean Night
86 Baby Names that Mean Gift from God
79 Refreshing Baby Names That Mean Rain
41 Baby Names That Mean King for Your Newest VIP
73 Charming Baby Names that Mean Lucky
77 Baby Names that Mean Leader
40 Nautical Baby Names for Adventurous Boys & Girls
55 Everlasting Baby Names That Mean Time
50 Kind-Hearted Baby Names That Mean Mercy
50 Enlightening Baby Names That Mean Smart
68 Breezy Baby Names That Mean Wind