A new dawn is coming. You're about to have a baby. If you're looking for baby names that mean dawn, we've got you sorted. Read on.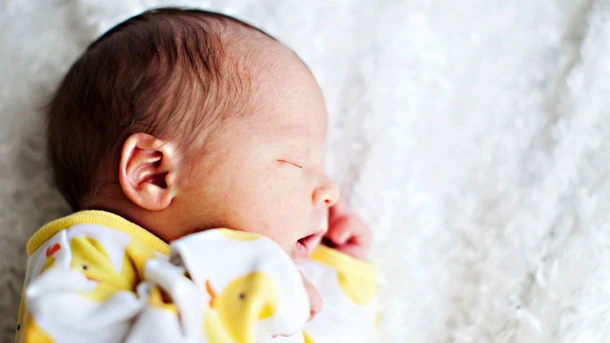 There's nothing like the birth of a new baby to signal the dawn of a new phase of your life.
Whether it's your first, third, or even eighth, a new baby brings new joy, new experiences, and a new dynamic to every family.
Whether they link to the start of the day or the bringing of light, names that mean dawn bring all this rejuvenating freshness with them.
Here are some compelling options for you to consider.
In this article 📝

What name means goddess of dawn?

What are some other names meaning dawn?

Names similar to dawn
What name means goddess of dawn?
Every culture has its myths about nature and its workings and likely its own dawn gods or goddesses.
In Egypt, we find Tefnut, the goddess of the morning dew.
Then we have the Latvian dawn goddess, Austra.
In Sioux mythology, Anpoa, who has two faces, represents the dawn.
And Ushas is a Vedic goddess of dawn.
Perhaps the most well-known name that means "goddess of dawn" is the Roman deity, Aurora.
Legend has it she was the daughter of the Titan Hyperion and the Titaness Theia.
Plus, she was the sister of Helios, the sun god, and Selene, the moon goddess.
Talk about street cred?!
Aurora is also the Latin word for dawn.
And as an aside, if you know your Disney, you'll also know it's one of Sleeping Beauty's names.
And since Greek and Roman mythology are so connected, you may be wondering, What is the Greek name for dawn? The answer is Eos.
Like Aurora, she is the personification of dawn.
What are some other names meaning dawn?
We've gone with tradition here and divided them into girl and boy names.
But rules are meant to be broken.
It's not too long ago that everyone would assume "Charlie" was a boy.
(If gender-neutral names feel like a good fit, check out our list here.)
109 women are talking about 'dawn baby names' on Peanut. Download the app to join the conversation.
Here are our top 5 girl names that mean dawn.
Dawn. Of course, this one has to top the charts. It's the reason we're here. Most popular in the '60s and '70s, maybe it's time to bring this one back. Simple and classic.

Oriana. This Italian name meaning "dawn," is both romantic and fierce at the same time. She's for sure the lead character in her story.

Roxana. A gorgeous Persian name, Roxana means "dawn" or "little star." It also links to Roxanne and Roxy, so it leaves you with many options.

Sahar. A soft and gorgeous Arabic name, Sahar means "just before the dawn."

Zerlina. This name was probably first made famous by its appearance in Mozart's Opera Don Giovani. Zerlina's character is spunky, straightforward, and loyal. The name has Spanish and Arabic roots and means "beautiful dawn."
[](#baby-names-insert
Here are our top 5 boy names that mean dawn.
Ahaan. A beautiful name meaning "dawn," "sunrise," "morning glory," "first ray of light," and "one who is of the nature of time itself." Gorgeous right? It has Sanskrit, Muslim and Indian origins.

Agim. This simple and lovely Albanian name means "dawn" and conjures up all the hope that comes with it.

Lucrecio. This striking name means "twilight of the dawn" and is Latin in origin.

Vihan/Vihaan. This Sanskrit name meaning "dawn," is a strong one. Evoking the beginning of a new era, it is often used for the first baby in a family's next generation.

Aroon/Aruna. This Sanskrit name with Thai links means, no surprises here, "dawn." It's a powerful and athletic name, referring to the mythical charioteer of the sun god Surya in Hinduism.
106 women are talking about 'dawn baby names' on Peanut. Download the app to join the conversation.
Names similar to dawn
These names may not precisely mean "dawn," but they evoke the light and promise that dawn brings and the ideas of renewal and rebirth.
For Girls:
Aamu. A Finnish name, Aamu means "morning."

Arla. A lovely name with Swedish roots, Arla means "early."

Anastasia. Did you know this Russian name made famous by a Princess means "rebirth"?

Aurelia. Of Latin origin, this name means "the golden one" and has risen like the sun (couldn't help ourselves) back into popularity over recent years.

Celia. So here's a name that technically doesn't mean "dawn," but as it's related to a celestial body, it made the list. It's ever so pretty and means "heavenly."

Chiara. This popular Italian name means "light" and "clear."

Daisy. This familiar name means "day's eye" and refers to how daisies open as the sun comes up. How beautiful?

Danica. This gorgeous Slavic name means "morning star."

Danique. This is the French version of "morning star."

Dia. The Spanish word for "day," Dia also means "heavenly" and "love."

Diya. An Arabic, Sanskrit, and Hindi name, Diya means "lamp, light."

Electra. This strong Greek name means "shining" and "bright."

Elena. This Version of Helena, has Greek, German, Spanish and Italian roots and means "bright, shining light." Spectacular.

Helena. With its Greek origins, Helena means "torch and shining light."

Hemera. A mythological Greek character, this name means "day."

Iduna. She is the Norse goddess of "spring and eternal youth." Her name means "loving one." Yes, please!

Keiba. A stunning Hawaiian name, Keiba means "sunrise."

Lesedi. An elegant Sesotho name, Lesedi means "light."

Lucille. A traditional French name, Lucille means "light."

Luz. This Spanish name also means "light."

Niamh. This striking, unusual Irish name, pronounced either NEE-av or NEEV, means "bright."

Orla. This delightful Irish name means "golden princess."

Sabah. This memorable name is Arabic and means "morning."

Savit. A Hindi name, Savit means "sun".

Shahar. This pretty Hebrew name means "dawn."

Sunniva. This impactful Scandinavian name means "sun gift" — like dawn's promise.

Tarana. Okay, another one that doesn't technically mean "dawn" but is so lovely we had to include it. It is a Hindi name that means "born during the day."

Tsehai. This charming Ethiopian name means sunshine.

Zora/Zorina. From Serbo-Croatian roots, it means "dawn."
For Boys:
Aarush. This Hindi name meaning "the first ray of sun," ticks all the boxes — gorgeous and meaningful.

Abner. A Hebrew name, Abner means "father of light."

Addae. A beautiful Ghanaian name, Addae means "morning sun."

Akatsuki. This powerful Japanese name also means "dawn."

Asa. This name is Japanese and means "born in the morning."

Dagur. This mighty Icelandic name means "day."

Elio. A beautiful Italian name, Elio means "sun."

Jemuel. A special Hebrew name, Jemuel means "day of god."

Li. This Chinese name means "dawn" as well as "strength," "logic," and "upright." What a great combination.

Lucian. A name with Latin origins, Lucian means "light."

Nihar. An evocative Sanskrit name, Nihar means "covered in the morning's dew."

Roshan. This Indian name means "dawn," "bright," and "light."

Sampson. This classic Hebrew name needs little introduction. It means "sun."
Gender-neutral dawn related names:
Akemi. Japanese in origin, this short special name also means "bright" and "beauty."

Akira. Closely related to "Akio," this Japanese name means "bright and clear."

Alaula. A gorgeous gender-neutral Hawaiian name, Alaula means "light of early dawn" and "sunset glow."

Fajar. This gentle yet strong Arabic name means "dawn."
Whatever name you choose for your soon to arrive squish, one thing is for sure — a new chapter is just around the corner.
And we at Peanut are so excited for you.
👶 More baby name guides:
100 Space Baby Names for Boys & Girls
91 Celestial Baby Names & Their Meanings
93 Baby Names That Mean Life
101 Brilliant Baby Names That Mean Light
55 Baby Names That Mean Earth
267 Heavenly Baby Names That Mean Star
70 Enchanting Baby Names That Mean Night
86 Baby Names Meaning Sun
79 Refreshing Baby Names That Mean Rain
40 Nautical Baby Names for Adventurous Boys & Girls
55 Everlasting Baby Names That Mean Time
60 Breezy Baby Names That Mean Sky
50 Kind-Hearted Baby Names That Mean Mercy
56 Harmonious Baby Names That Mean Balance
50 Enlightening Baby Names That Mean Smart
68 Breezy Baby Names That Mean Wind