Your little peanut means the world to you, so why not give them a name to match? Baby names that mean earth can do just that.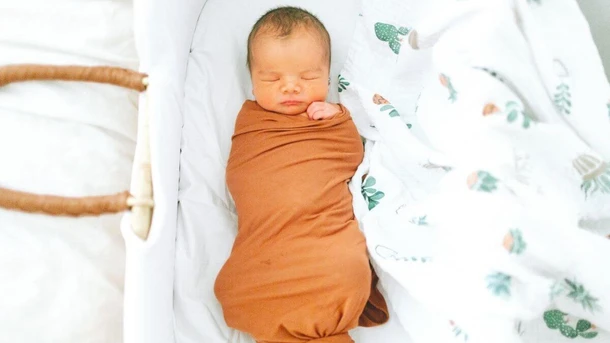 The good news is, if you're looking for earthy names for your little one, there's plenty out there.
From names stemming from the gods and goddesses of nature, to those inspired by the world's most beautiful natural features, there's an earth name out there to suit every taste and style.
We've put together a list of 55 of our favorites for you to choose from.
Let's journey through them.
In this article: 📝

What are some girl names that mean earth?

What name means Goddess of Earth?

What are some boy names that mean Earth?
What are some girl names that mean earth?
In this list of earthy girl names, we've included names that literally mean 'earth' as well as some earth-related names that are equally grounding.
Here are our favorites from around the world:
Avani. A name popular in India, Avani name simply means 'earth.'

Afra. A name of Arabic and Hebrew origins, this name means 'color of the earth.' An alternative spelling is Aphra.

Ashley. From its Old English origins, this name means 'ash forest,' making it a perfect earthy name.

Azalea. This beautiful name comes from the flowering shrub of the same name, and has been growing in popularity.

Chantal. This popular name of French origin means 'made of stone.'

Dionne. A name of Greek origin, Dionne means 'child of heaven and earth.'

Dhara. This Sanskrit name literally means 'earth.'

Dunia. A delightful Arabic name, Dunia means 'world' or 'earth,' as well as 'to be satisfied.'

Eartha. This name has obvious links to earth, but it's hardly used today. Perhaps it could make a comeback?

Ersa. Ersa is the name of a Greek goddess who personifies morning dew.

Eden. The name of the garden of paradise in the bible, this name refers to the most beautiful place on earth.

Hailey. This Scottish origin name means 'hay meadow.'

Ila. This Hindi name means 'the earth.' For an extra earthy element, Ila is also a French origin name meaning 'from the island'.

Ilana. A version of Ila, Ilana is a Hebrew name meaning 'tree.'

Kailani. This beautiful Hawaiian name means 'the sea and sky.'

Leigh. Both an English name and surname, Leigh means 'meadow' or 'pasture.'

Meadow. This pretty name is both sweet and earthy.

Midori. A name of Japanese origin, Midori means 'green,' making it a perfect shade for an earth name.

Omala. Of Indian origin, Omala name means 'earth.'

Petra. This Greek name comes from the word 'petros,' which means 'rock' or 'stone'.

River. We love this earthy name, which is becoming more popular as a gender-neutral name.

Sienna. This popular Italian name, which actually means 'reddish-brown,' refers to the color of the clay that originates from the city of Siena.

Sierra. The Spanish for 'mountain range' makes this a suitable earth name for a little adventurer.

Savannah. A savannah is an open, grassy plains — the perfect inspiration for a beautiful, earthy girl name.

Tierra. This Spanish name is of [La)tin](https://www.peanut-app.io/blog/latin-baby-names origins and means 'earth' or 'land.'

Žemyna. This unique name derives from the Baltic word 'žemė' and means 'Earth'.
What name means Goddess of Earth?
Looking for a name that is simply divine? These earth goddesses offer a world of inspiration:
Gaia. The Greek goddess of the Earth is the most popular of the mythological earth god names.

Terra. Gaia's equivalent in Roman mythology, Terra is a powerful gender-neutral name.

Ceres. She is the Roman goddess of farming, fertility, growth, and plants.

Danu. The earth-mother or goddess in Celtic religion, other variants include Anu or Dana.

Bhumi. She's the Hindu goddess who represents the Earth.

Mahi. Mahi is another name for the earth-goddess, Bhumi.
And, of course, we can't leave these earth gods off the list:
Seb. The Ancient Egyptian god of the earth, Seb is the perfect short and sweet boy's name.

Dagda. This name literally translates to 'the good god' in old Irish. Dagda is the god of earth, knowledge, and magic. A pretty good combo, we think.

Enki. This Sumerian origin name means 'lord of the earth.'
106 women are talking about 'baby names' on Peanut. Download the app to join the conversation.
What are some boy names that mean Earth?
Boy earth names tend to be both rugged and lovable. Here are our favorite earth (and earth-related) options:
Aaron. This Hebrew origin name means 'high mountain.'

Acker. An old German name, Acker means 'field'.

Ajax. Of Greek origin, Ajax means 'of the Earth'.

Ardi. This Javanese name means 'earth' or 'soil.' It also derives from the Arabic word 'ard' which means 'earth.'

Arlo. This super cute baby boy name is of old English origin and means 'hill.'

Bryn. This Welsh origin name also means 'hill.'

Clay or Clayton. We don't think a name can get any more earthy than this sweet option for a baby boy's.

Craig. A Celtic origin name, Craig means 'rock'.

Daichi. This Japanese origin name literally means 'earth' or 'land'.

Dimitry. This Greek origin name means 'earth lover' — something we're sure your little one will be with an earth name like this one. ❤️

Forest. A name meaning either 'woodsman' or 'woods,' Forest comes with an in-built fairy tale magic.

Heath. This Old English name refers to someone who lived on a heath — an area of wild, open land filled with grasses and heather.

Knox. A Gaelic origin name meaning 'hill,' Knox has been a popular option in the last decade.

Parker. This old English name, which is still more common as a last name than a first, means 'park keeper.'

Peter. From its Greek origins, Peter means 'rock' or 'stone.'

Pierce. Derived from the name Peter, Pierce also means 'rock.'

Sol. Meaning 'soil' in French, and 'sun' in Spanish, this name a great mix of earthy and celestial elements.

Tellus. This Latin word means 'earth.'

Terran. Of English origin, this strong name means 'earth-man.'

Wekesa. A name of East African origin, Wekesa means 'born during harvest.'
So there you have it: 55 baby names that mean earth.
Looking for more inspiration? Why not try one of these lists next?
83 Cottagecore Baby Names
138 Nature Baby Names
70+ Gemini Baby Names
90 Sunny Summer Baby Names With Meanings
67 Baby Names That Mean Ocean
75 Water Baby Names
64 Baby Names That Mean Ice
86 Baby Names Meaning Sun
101 Brilliant Baby Names That Mean Light
267 Heavenly Baby Names That Mean Star
70 Enchanting Baby Names That Mean Night
56 Inspiring Baby Names That Mean Dawn
55 Everlasting Baby Names That Mean Time
50 Kind-Hearted Baby Names That Mean Mercy
56 Harmonious Baby Names That Mean Balance
50 Enlightening Baby Names That Mean Smart
68 Breezy Baby Names That Mean Wind
All the best with your choice!