Let's be honest: being a mother can be anything but peaceful. All the more reason to make calm and serenity excellent things to aim for. Here, we're sharing baby names that mean peace.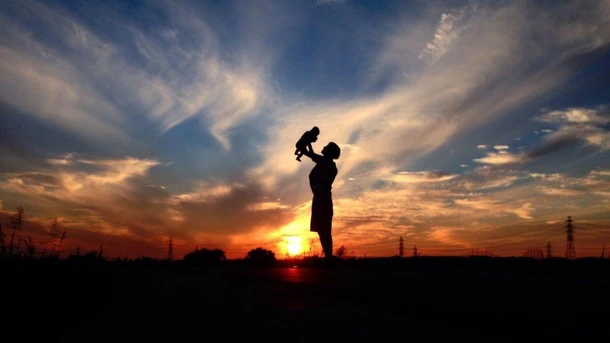 There are baby names meaning peace in every culture, so if a name that inspires tranquility is something you're after, you're sure to find something that's perfect for your little one. Here are some of our favorites.
In this article 📝

What girl name means peace?

What baby boy name means peace?

What name means calm and peaceful?

What name means peace and love?
What girl name means peace?
What girl names mean peace? Well, it turns out there are quite a lot to choose from. Take a calm, peaceful look:
Alanna: A Gaelic name meaning 'serenity'.

Amity: Another beautiful meaning here – 'harmony' and 'friendship'.

Clementine or Clemency: A vintage name that means 'merciful' and 'mild'.

Fen: A short, strong peace name from old English and Dutch.

Freda, Frida, or Frieda: A German and Scandinavian name that means 'peaceful'. And who better as a namesake for your daughter than the artist Frida Kahlo?

Frederica or Frederique: These are the feminine forms of the boy's name Frederick, which means 'peaceful ruler'.

Harmony: A baby name that's both 'peaceful' and 'musical'.

Irina: A softer form of Irene. In Europe, it's usually pronounced with a short "I" (as in tin) rather than a long one (as in time).

Mira: A popular name in many countries, but deriving from eastern Europe originally, Mira means 'peaceful ocean'.

Olive: Because offering an olive branch is a classic gesture of peace.

Olivia: A variation on Olive, and one of the most popular names in the U.S and the U.K right now.

Paccia: A feminine form of Pax and Paz, which are baby names that mean 'peace'.

Paloma: One of our favorite peace names. It means 'dove', one of the most common symbols of peace.

Rena: A shortened form of Irene with a modern twist. It can also mean 'joyous melody', depending on the language.

Salome: Originally Hebrew, a derivation of the peace greeting 'Shalom', but also very popular in France.

Serena: A name derived from 'serene'.

Shanti: This peace name means 'tranquility' and 'quiet', and we love how calm and musical it sounds.

Shiloh: This name, meaning 'tranquil', is great for either gender.

Winifred: From the Welsh, this name means 'blessed peacemaker' and has a great vintage vibe.

Xola: Meaning 'stay in peace'.

Zuma: Everyone loves a Z name. Zuma derives from Zulema, an Arabic name meaning 'peace', similar to the Hebrew Salome.
What baby boy name means peace?
What about baby boy names meaning peace? Whether you're looking for strong names that mean peace bringer or calm names meaning serenity, you'll find something on this list.
Absalom: A Biblical name meaning 'father of peace' and now popular all over the world.

Aarav: This is a Hindi name. The root "Rav" is related to peace and music.

Axel: The Scandinavian version of Absalom.

Baris: A name of Turkish origin meaning 'the peaceful one'.

Callum or Calum: A Scottish name that's still very popular in Scotland and Ireland, that originally meant 'dove'. A version also existed in old German, which meant 'peaceful ruler'.

Colvyr: This is an old English name that we think is worth bringing back.

Clements: A popular German boy's name related to Clemency and Clementine.

Colm: One of the most versatile names meaning 'peace', this is an Irish name that can either be a variation on Calum / Callum, or a shortened form of Malcolm.

Eir: Pronounced "air", this beautiful name has connotations of peace and mercy.

Frederick or Friedrich: This German name means 'peaceful ruler'.

Fritz: A shorter form of Frederick.

Heddwyn: From the Welsh, this gentle boy's name means 'holy peace'.

Humphrey: 'Peaceful warrior'. Another old-Hollywood-sounding name that we think needs a revival.

Inga: This was the Norse god of peace and fertility.

Irenaeus: The striking male form of Irene.

Jonah: You might associate him with the whale, but this name actually means 'dove'.

Jules: Strong literary vibes here, as well as a peaceful meaning. Jules means 'youthful' and 'calm'.

Levi: This name is more than your favorite jeans. The original Hebrew meaning is 'joined in harmony'.

Manfred: 'Man of peace'. Bonus: Manny is a cute nickname.

Milo or Mylo: This eastern European name means 'merciful'.

Miro: A shortened form of Miroslav, also eastern European in origin, meaning 'lover of peace', and a very cool name in its own right.

Miles: An anglicized version of Milo.

Noah: If you want a name to match dove and olive, Noah is also a great peace name. It means 'peaceful rest'.

Oliver: This name comes from ancient Norse but, like Olivia, it's also associated with olive branches.

Paxton or Pax: Another very old name (derived from Latin) with a great modern vibe. It means 'peace town'.

Paz: The Spanish form of Pax.

Siegfried: This name means 'victorious peace' in German. How about Ziggy as a nickname?

Wilfred: Meaning 'desires peace'. This name is becoming popular in the U.K. It's a peace name with a vintage vibe and some excellent inbuilt nicknames.
101 women are talking about 'baby names' on Peanut. Download the app to join the conversation.
What name means calm and peaceful?
Calm and peaceful names for boys:
Akand

Dhin

Doak

Galen

Gerffron

Hermin

Joab

Joah

Kazuya

Mirko

Naim

Rafik
Calm and peaceful names for girls:
Aalin

Chantol

Chiraz

Diara

Grania

Malina

Serena or Serina

Serenity

Tranquilla

Yen
What name means peace and love?
There aren't many names that combine the two concepts into one, but here are some names that mean love, which you could combine with any of the names meaning peace to make a beautiful moniker for your baby.
Girls names that mean love
Amanda

Amara

Aimee or Amy

Aiko

Amorette

Cher

Carys

Darlene

Davina

Esme

Imogen

Maitia

Milada

Milena

Mina

Priya

Nayeli

Valentina

Vida
Boys names that mean love
Amias

Aziz

Connelly

Gerwyn

Darrell

David or Davis

Erasmus

Lennan

Leif or Lief

Kama

Kiefer

Milos

Prem

Jebediah

Valentine
And why not just use Peace itself? There are many parts of the world where it's a common surname, and if you can call your little one Hope or Charity, why not Peace as well?
106 women are talking about 'baby names' on Peanut. Download the app to join the conversation.
If you're still looking for inspiration, try some more of our name lists:
30 Majestic Royal Baby Names and Their Meanings
80 Charming Prince Baby Names
90 Sunny Summer Baby Names With Meanings
64 Baby Names That Mean Ice
80 Radiant Baby Names That Mean Rainbow
68 Dreamy Baby Names That Mean Snow
58 Baby Names That Mean Hope
86 Baby Names that Mean Gift from God
70 Enchanting Baby Names That Mean Night
41 Baby Names That Mean King for Your Newest VIP
73 Charming Baby Names that Mean Lucky
79 Refreshing Baby Names That Mean Rain
30 Powerful Baby Names That Mean Brave
77 Baby Names that Mean Leader
40 Nautical Baby Names for Adventurous Boys & Girls
60 Breezy Baby Names That Mean Sky
55 Everlasting Baby Names That Mean Time
56 Harmonious Baby Names That Mean Balance
50 Enlightening Baby Names That Mean Smart
68 Breezy Baby Names That Mean Wind
We wish you a calm and serene search for your peaceful baby name.