Baby names that mean snow and names that mean ice capture the magnificent stillness of the beauty of chill. Skiing, snowmen, sunlight on white — winter and its landscapes are utterly enchanting.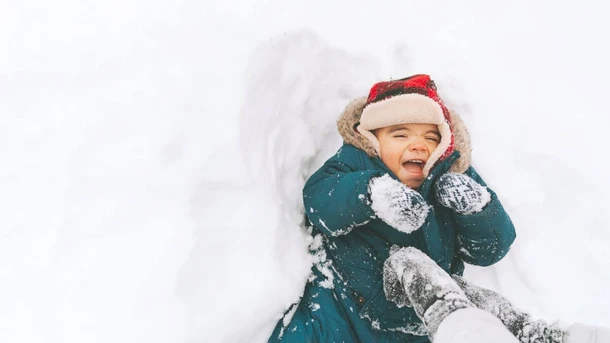 Opt for the name of a magnificent ice queen.
Pick from a selection of snowy places.
Or choose a name that describes the unparalleled beauty of snow and ice.
Whatever your sub-zero preferences, there are options on the table for every frosty choice.
In this article 📝

What name means ice or snow?

What is a snowy name?

Girl names that mean snow

Boy names that mean snow

What is an icy name?
What name means ice or snow?
The names on our list either literally mean "ice" or "snow," or are related to these fabulous freezes in some way.
We'll start by exploring the snowy slopes and then move to the icy plains.
What is a snowy name?
Heard the story that no two snowflakes are exactly alike? It's all true.
Scientists estimate that there are about 10158 snowflake possibilities.
That's some serious magic to inspire your baby's name choice.
While we've divided our list into girl names and boy names, many of these work just as well for any gender.
Girl names that mean snow
Alaska. If you're looking for a name inspired by snowy climes, Alaska is a great option. This Aluet word means "great land."

Aneira. This Welsh name means "much snow."

Beira. She's the Scottish and Irish Queen of Winter. And while she's known as an "old hag," she has some serious power, bringing winter weather down to earth.

Bianca. A popular name in various parts of the world, Bianca tells us of the color of snow. This name means "white."

Blanche. Fans of The Golden Girls may have a particular draw to this one. It, too, means "white."

Drifa. From its Icelandic roots, Drifa means "snowdrift."

Edurne. With Basque origins, Edurne means "snow."

Elsa. This cool name belongs to the snow queen from Frozen. It's also the Scandinavian form of the name Elizabeth, meaning "God is my oath."

Eira. This Welsh name means "snow."

Frostine. A name with French roots, Frostine means "freezing" or "snow."

Fjolla. This sweet Albanian name means "snowflake."

Haukea. From Hawaiian roots, Haukea means "white snow."

Haunani. This one has Hawaiian roots too and means "beautiful snow."

Havaska. With its Hungarian origins, this name means "snowy" or "snowdrop."

Hima. This Hindi name means both "of the snow" and "golden."

Khione. The daughter of the north wind and the lady of the mountain gales, Khione is the ancient Greek goddess of snow.

K'inoĸ. This Greenlandic name means "a mush of snow in the sea."

Lumi. A name with Scandinavian roots, Lumi means "snow."

Neve. "Bright" or "snowy"

Nevis. Nevis is the name of a Caribbean island that gets its name from the Spanish Nuestra Señora de las Nieves, Our Lady of the Snow.

Nivia. Another lovely Spanish name, Nivia can mean "snow" or "friend."

Olwen. From its Welsh roots, Olwen means "white footprint."

Skaði. This Norse ski goddess was once married to Njord, the sea god. But it didn't work out. The reason? She preferred to live in the mountains.

Snow. Yep, this one gets right to the great white heart.
106 women are talking about 'snow baby names' on Peanut. Download the app to join the conversation.
Boy names that mean snow
Andri. With its Old Norse roots, this name means "snowshoes."

Aspen. Fans of the Colorado slopes will love this one. It means "quaking tree."

Boreas. Greek mythology gives us four wind gods, each one representing one of the seasons. Boreas is the god of the northern winter and brings the snow with him.

Bylur. This Icelandic name means "snowstorm."

Edur. From Basque roots, Edu simply means "snow."

Fionn. This Finnish name means "white."

Himesh. From Gujarati roots, Himesh is the name of the snow king.

Khuno. Khuno is the Incan God of Snow and Storms.

Nevada. "Snow-covered"

Pyry. This Finnish name means "snowstorm"

Ullr. He's the Norse god of snow, and while he wasn't initially the god of anything, his passion, and skill as a hunter and skier has now earned him this title. Now, Ullr has great significance for skiing enthusiasts. The Breckenridge Annual Ullr Festival in Colorado pays tribute to him every winter.

Winter. This one tells it like it is.
What is an icy name?
Love the name Crystal? Well, that's just the tip of the iceberg.
These names meaning ice come from all over the world and, in different ways, celebrate the super smoothness of the icy glaze. Let's break the ice.
Girl names meaning ice
Anna. This name has two icy connotations. The one is as Anna of Arendelle, the icy princess from Frozen. The other is Anna Wintour, the editor-in-chief of Vogue, loose inspiration for Meryl Streep's character in The Devil Wears Prada. This famous contemporary ice queen also has a cool-sounding surname — and is one powerful source of inspiration for an ice name.

Crystal. What list of ice names would be complete without the crystals they form?

Hugalik. From its Inuit origins, Hugalik means "ice house."

Ísbjört. This Icelandic name means "bright ice."

Ísdís. And this one's of Icelandic roots too and means "ice goddess."

Íshildar. We're still in Iceland for this one. It means "ice battle."

Isolde. From its Old High German roots, Isolde means "ice battle" too.

Jadis. Belonging to Narnia's ice queen from The Lion, The Witch and the Wardrobe, this one's a great choice if you love a villain. Sure, she's up to all sorts of tricks, but she's also a serious powerhouse.

Kawisenhawe. From its Mohawk roots, Kawisenhawe means "she holds the ice."

Nilak. This sweet Greenlandic name means "a piece of freshwater ice."

Peggy. Peggy Fleming was queen of the ice for years, winning the world championships and Olympic gold in the 1960s. Her name has two different possible meanings — "pearl" and "child of light."

Poli'ahu. She's the Hawaiian Snow Goddess of Mauna Kea, the tallest mountain in Hawaii.

Tuarana. This Greenlandic name not only means "hunter on sea ice." It also refers to "one who you can depend on."

Yuna. The Korean figure skater, Kim Yuna is a two-time Olympic gold medal winner, and a great breaker of world records. Her name means "moon" from its Japanese roots and "allow" from its Korean roots.
Boy names meaning ice
Aisi. A name with Polynesian roots, Aisi means "ice" in Tongan.

Ayaz. With its Turkish roots, Ayaz means "frosty."

Brian. This name makes the list because it belongs to Olympic gold-winning figure skating champion Brian Boitano. The name Brian is of Irish origins and means "high" or "noble."

Frost. This chic little one-syllable name is ultra-cool.

Isveig. This one's got Icelandic roots and means "ice power."

Ísarr. From its Nordic roots, Ísarr means "ice army."

Isbert. "Bright ice."

Ísbjörn. Literally meaning "ice bear," it's also the Swedish word for a polar bear.

Jack. Yep, this name belongs to good ol' Mr. Frost himself. He paints ice on the windows to signal to everyone that winter is coming.

Íseldur. "Ice fire"

Isfrid. This Nordic name means "beloved ice."

Ísleikr. With its Old Norse roots, this name refers to how much fun you can have playing on the ice.

Isolfr. "Ice wolf"

Isotz. With its Basque roots, Isotz means "ice."

Jǫkull. Another Icelandic name on the list. Jǫkull means "ice" or "glacier."

Sikivat. This Greenlandic name means "new ice" or "thin ice."

Sikúnguaĸ. With its Greenlandic roots, this one means "sea ice."

Urmas. From Finnish roots, Urmas means "frost."
All the best with your choice!
👶 More baby name guides:
56 Inspiring Baby Names That Mean Dawn
47 Baby Names that Mean Moon
80 Radiant Baby Names That Mean Rainbow
250+ Adorable Baby Names That Mean Love
Top 49 Names That Mean Angel
93 Baby Names That Mean Life
60 Breezy Baby Names That Mean Sky
67 Baby Names That Mean Ocean
101 Brilliant Baby Names That Mean Light
267 Heavenly Baby Names That Mean Star
126 Mighty Baby Names That Mean Warrior
58 Baby Names That Mean Hope
70 Enchanting Baby Names That Mean Night
86 Baby Names that Mean Gift from God
73 Charming Baby Names that Mean Lucky
41 Baby Names That Mean King for Your Newest VIP
79 Refreshing Baby Names That Mean Rain
56 Harmonious Baby Names That Mean Balance
77 Baby Names that Mean Leader
55 Everlasting Baby Names That Mean Time
50 Kind-Hearted Baby Names That Mean Mercy
50 Enlightening Baby Names That Mean Smart