Looking for the ultimate baby registry checklist? We've got you covered. Read on for the ins and outs of putting your registry together.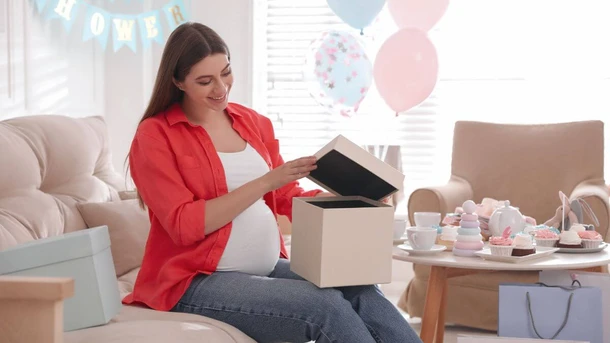 Babies come with a lot of paraphernalia.
For such little beings, they certainly need an entourage of items to get them through the day.
And, in the spirit of the old proverb of it takes a village to raise a child, friends and family will likely want to jump in and help you get the stuff you need together.
So what should be on your baby registry checklist?
We'll take you through our ultimate list. But first, the 411 on baby registry essentials.
In this article: 📝

What to put on your baby registry

What do you actually need on a baby registry?

What should you not put on your baby registry?

When in pregnancy should you start a registry?

What is the most popular baby registry?

74 must-have baby registry items
What to put on your baby registry
A baby registry is a list of things that you need for your baby.
It's typically organized and managed at one store or marketplace — either online or locally — and the process is facilitated by the retailer.
So once you've put your list together, you can step away.
There are many benefits to having a registry.
The first is that you will get gifts you actually need.
It also takes the stress out of shopping for your baby shower guests.
Plus, because the registry will keep track of what's already been bought, you can avoid a situation where you have duplicates.
And there's another bonus here.
Many registries offer a bunch of perks.
Hello discounts, price matching, freebies, and easy returns!
108 women are talking about 'baby registry checklists' on Peanut. Download the app to join the conversation.
What do you actually need on a baby registry?
The wonderful thing about a baby registry is that it can cover your full range of needs.
From small essentials like diapers and diaper pins to larger items like high chairs, there's so much choice here.
And all of it will be useful.
What should you not put on your baby registry?
There are no exact rules here — but there are some items worth thinking twice about.
Consider what you actually need.
There's so much marketed at new mamas that it can be hard to separate out what is essential and what is just the product of good marketing.
Things like baby wipe warmers and baby cologne (yep, it exists) are perhaps best left off the list.
And the American Academy of Pediatrics recommends against using baby powder as it can cause breathing problems.
And while breast pumps are more on the essential side, health insurance plans must cover breastfeeding equipment.
So it's probably not necessary to put these on the list.
Also, try not to go overboard with luxury, expensive items.
Strollers, car seats, and cribs are necessary, but they come with a hefty price tag.
Unless you have family and friends who want to put their money together to buy these big-ticket items, they can be quite an ask!
You also may want to note that your registry doesn't have to only include new items.
Babies are babies for a pretty short period of time.
So passing items from one mama to the next can be a cost-effective and sustainable solution.
Plus, they come with a story.
And consider going beyond newborn items.
Again, the time flies by and you'll soon be needing to upsize.
When in pregnancy should you start a registry?
If you're having a shower or sprinkle, it's a good idea to set up the registry before you send the invites out.
That will give your community ample time to shop.
And while there's no one way to do this thing, showers are generally held early in the third trimester — usually, it's the sweet spot when symptoms are not too bad and you're not too close to your due date.
So working back from there, sending out invites about a month to six weeks before your shower should give your guests enough time to prepare.
And all going well, your registry will be set up by then so that you can get the details to your guests.
(Don't stress if it doesn't work out exactly like this. You can always send them a note about the registry down the line.)
What is the most popular baby registry?
Right, now it's time to choose your registry.
There are various options here, depending on your needs.
Here are some of our top picks:
Amazon
When it comes to easily ticking off all the essentials in a way that's convenient for your friends and family, it's hard to beat Amazon.
It also means that your guests can easily get their gifts delivered to you even if you're having a virtual shower.
The Tot
If you go for this option, you'll be looking at some well-curated items that teams of experts have tested.
Plus, they are an eco-conscious platform.
The site is also very easily navigable, and the registry easy to set up.
buybuyBABY
This one's a good option if you're looking for great deals and perks.
They offer significant membership deals and have in-store pick-up and same-day delivery options.
If you want to shop local, you may also want to register at a baby store in your neighborhood.
This can be a particularly good idea if all your guests live in your area.
74 must-have baby registry items
Ready to get your list together?
Decide which of these baby registry must-haves you'd like to include.
Wearing
Short-sleeve onesies

Long-sleeve onesies

Socks

Footed pajamas

Non-footed pajamas

Leggings

Sweaters

Hoodies

Sun hats

Winter hats

Bathing suits

Snowsuit

Feeding
Bibs

Breast pump and parts (if you're not getting this through your health insurance)

Nipple cream

Nursing cover

Nursing pillow

Bottle brushes

Bottle drying rack

Sippy cups

Small bowls

Baby utensils

High chair
Sleeping
Baby monitor

Cleaning and grooming
Nail trimmers

Baby-safe laundry detergent

Hooded towels

Washcloths

Baby shampoo

Bath toys

Baby shampoo

Baby toothbrush and toothpaste

Baby lotion
Pooping and peeing
Diapers (You get to choose whether you're going cloth or disposable.)

Baby wipes

Diaper cream

Healing and comforting
Teething ring

Thermometer

Saline nasal drops

Suction bulb
Playing and learning
Baskets for toy storage

Activity mat or baby play gym

Stacking blocks

Rattle

Stuffed animals

Baby swing

Traveling
Stroller (expensive, of course. But may be an option for a few people to go in together)

Stroller bunting

Stroller phone holder

Portable changing pad
Memory making
Photo albums

Photo frames

All the best, mama!
Exciting times ahead.