Looking for baby shower cake ideas? Look no further.
It's time to celebrate the newest little family member on the way.
Your family and friends have gathered around to share their excitement for your new baby, but they're also excited about something else…. Cake!
Let's not disappoint them.
If you're looking for some baby shower cake ideas, we've got you covered with these cakes that can suit any theme.
In this article: 📝

What cake should I have for a baby shower?

What should it say on a baby shower cake?

Should you have a cake at a baby shower?
What cake should I have for a baby shower?
What cake you choose totally depends on the vibe you're going for at your baby shower, but you can be as creative or as traditional as you like – there are cakes to suit every kind of party.
Here are some typical cake types that you might choose: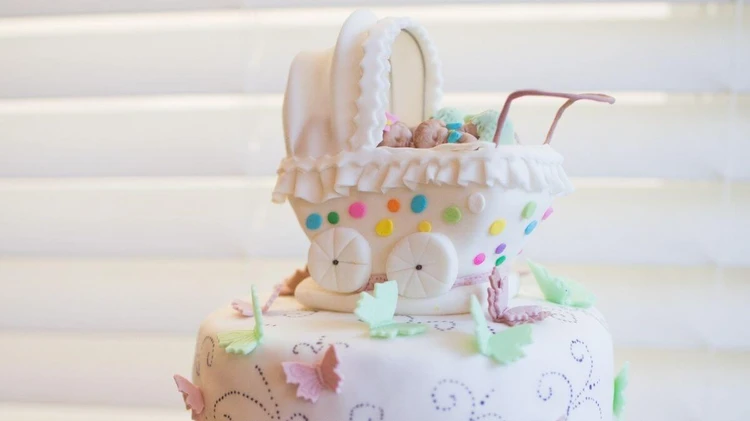 Baby-themed cake
If you're feeling creative in the kitchen (or know a good bakery), there are a whole host of different baby-themed cakes you can try, from onesie cakes to stroller cakes, baby bottle cakes, and baby bump cakes.
The possibilities are endless.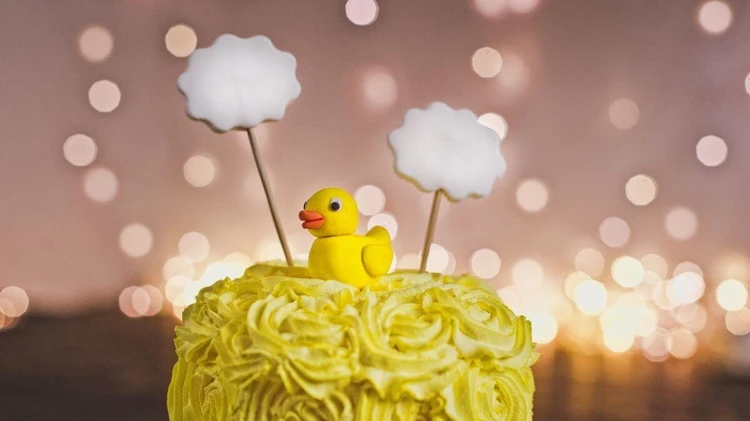 Traditional baby shower cake
If you're not up for the creatively shaped cakes above, you can also make a simple layer cake or cupcakes in a traditional baby shower flavor.
How about a strawberry cream cake, this gorgeous champagne cake, or a tangy lemon cake?
A simple but classy cake could make a wonderful addition to any baby shower.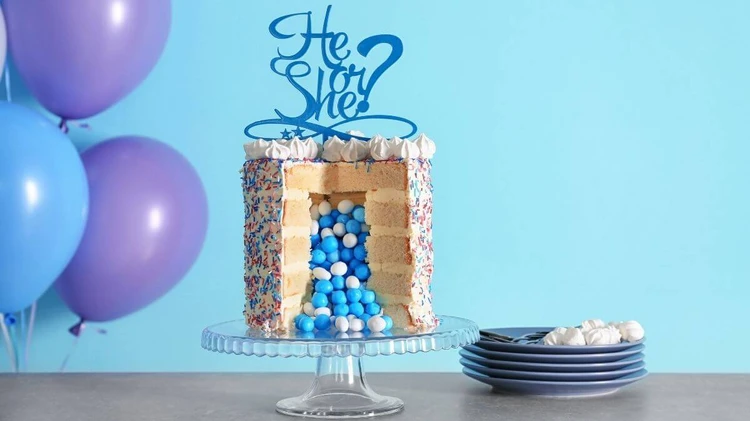 Gender reveal baby shower cake
If your baby shower is also going to be a gender reveal, this could be the perfect way to let everyone in on the surprise.
Gender reveal cakes are made by removing the center of the cake's middle layers and filling it with sprinkles or candies.
You could also make the cake itself a certain color as long as the icing hides it.
Make sure to keep the outside of the cake gender-neutral.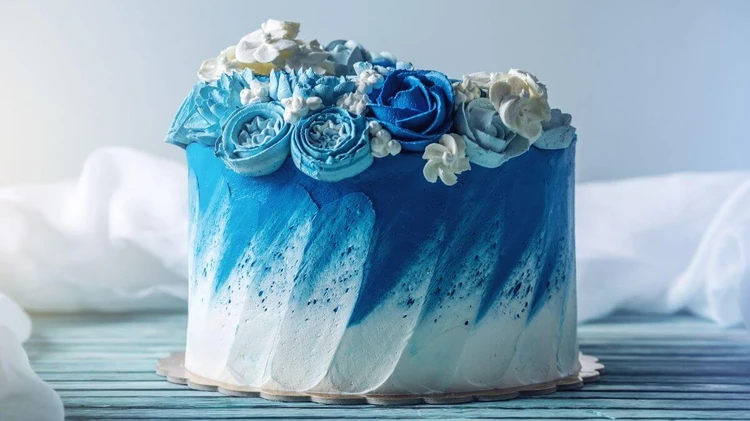 Baby shower cakes for boys
How about this adorable under the sea cake, this all-star cake, or these beautiful blue velvet cupcakes?
You can also color-theme any cake with this simple recipe for blue icing.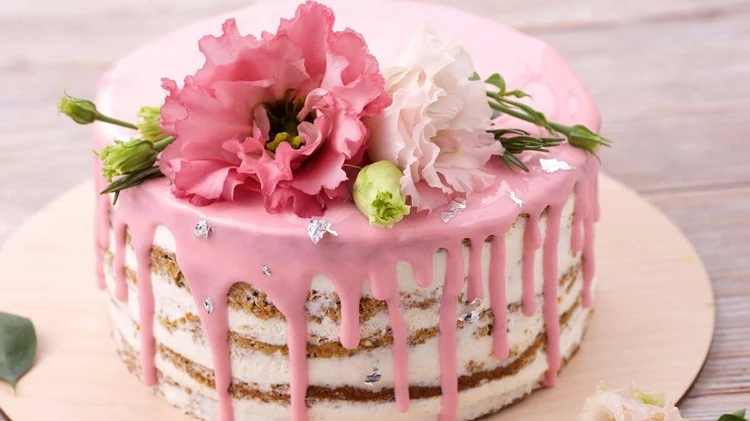 Baby shower cakes for girls
How about this pink velvet cake, which is both delicious and gorgeous to look at?
You can also give this drip cake a go, or if you're feeling ambitious, this ombre cake will look beautiful at any baby shower.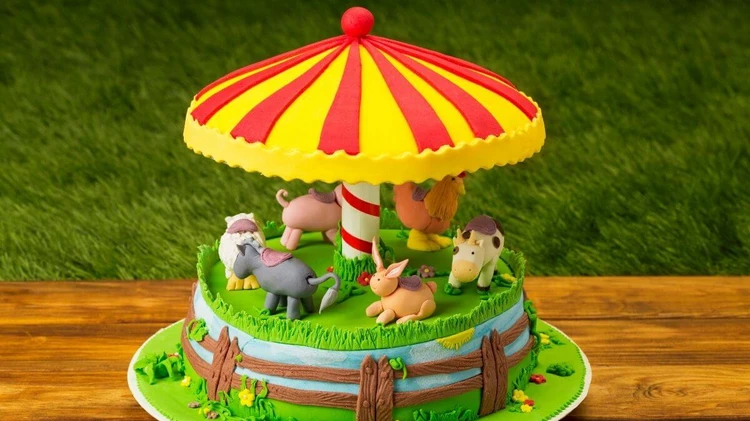 Animal-themed baby shower cake
Cute animals can play a role in baby showers and kids' birthday parties alike.
Some adorable ideas are these jungle-themed cupcakes or these simple butterfly cakes.
What should it say on a baby shower cake?
Finding the right toppers or words to say can be the perfect finishing touch for your cake.
There are no rules for what to put on a baby shower cake or what to write on a baby shower cake, so let your ideas flow!
It can range from something as simple as "It's a Boy/Girl!" to full nursery rhymes or poems.
Here are some simple ideas to get you started:
Welcome, little one
Ready or not, here I come!
Little Baby, Big Love
Next stop: Parenthood
Let the adventure begin
New kid on the block
Should you have a cake at a baby shower?
That's totally up to you!
If a full cake isn't your thing, how about some cupcakes or cake pops instead?
Or if cake's out of the question, you can also try some more unique desserts – things like cookies, macarons, and chocolate are very cute and can complement any theme or decor.
Or skip the desserts entirely and go for something savory! Maybe a baby shower pizza.
Or you can even go for a non-edible, but definitely super useful, diaper cake.
But be warned – there might be some guests who were looking forward all day to a sweet treat!
If you're going to go the savory route, maybe at least provide some blue and pink M&Ms as a party favor?
Whatever you choose, we're sure you and all your guests will have a great time welcoming a little peanut into the world.
If you're looking for more inspiration or have some great ideas of your own to share, head over to the Peanut community.
Have fun!
💡 More baby shower tips:
28 Show-Stopping Maternity Photoshoot Dresses
17 Beautiful Baby Shower Themes
10 Baby Shower Themes for Boys
10 Baby Shower Themes for Girls
What to Wear to a Baby Shower
What to Write in a Baby Shower Card
The Best Baby Shower Invitation Wording Ideas
Baby Shower Favors: Ideas, Cost, and More
When to Have a Baby Shower
7 Fun & Memorable Gender Reveal Games
10 of the Most Fun Virtual Baby Shower Games
26 Ideas for Baby Shower Prizes
Virtual Baby Shower Ideas
What is a Baby Sprinkle? Invitations, Games & Gifts
When to Send Out Baby Shower Invites
The Ultimate Baby Shower Playlist
Pregnancy Must-Haves: Top 10 Pregnancy Products by Peanut
Best Baby Registries: Tried & Tested
25 Baby Shower Decorations Ideas: Costs, Etiquette & Inspo