Looking for ideas for baby shower favors? If so, you're in the right place. Whether you're after extravagant baby shower favor ideas, or a baby shower goodie bag that's a bit more affordable, we've got some great suggestions for every baby shower organizer.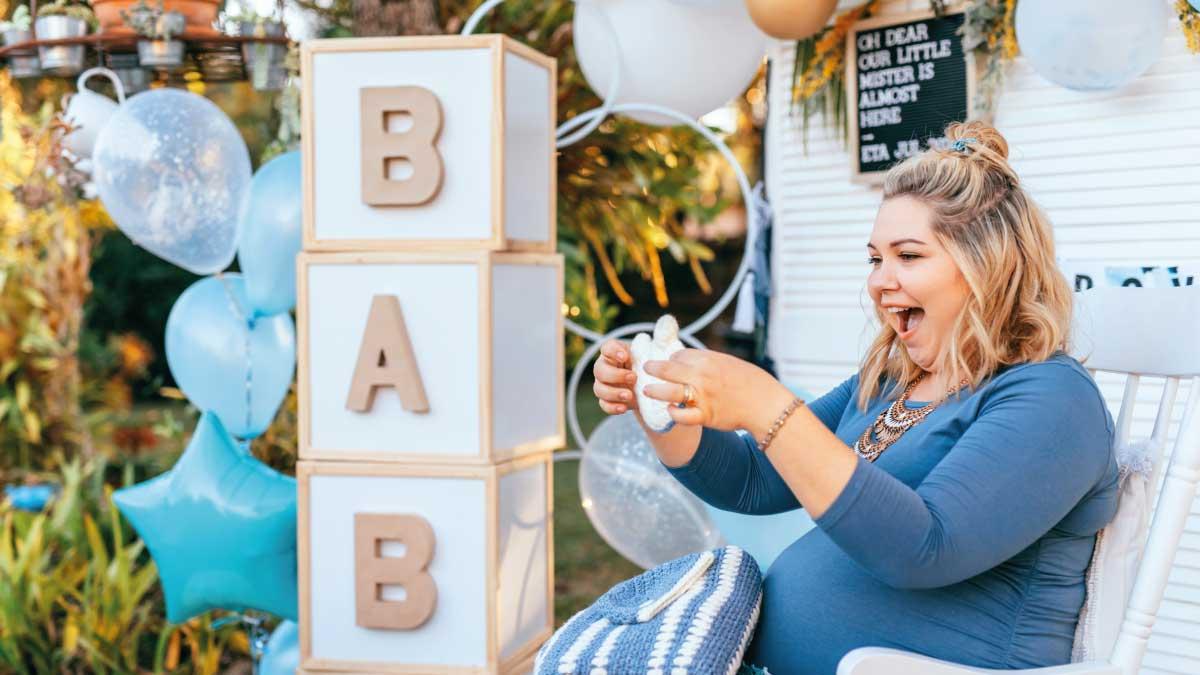 Not everyone does it – and you're not obliged to at all. However, if you're holding a baby shower, baby shower favors can be a lovely idea. They're the gifts that you give to guests. They can be a nice little sign of thanks, and they can show that you appreciate the effort that your guests made to be there.
So, what makes a good baby shower favor? And how much should baby shower favors cost?
Table of Contents 📝

Why give a baby shower favor?

Choosing baby shower gifts for guests

What are the best baby shower favors?
Here, we've got all the info you need to know – and we'll suggest some of the cutest ideas for baby shower party favors around.
Why give a baby shower favor?
Baby shower favors are the little trinkets or treats you give to the guests who come to the baby shower you're throwing. They can be as big or as small, as cute or as grand as you like. They're a token of thanks and a way to show your appreciation of your guests.
But do you have to give them? Not at all! However, if you're celebrating a new human entering the world – as well the mama-to-be's transition to mamahood (something to celebrate, we'd say!) – baby shower favors can be a lovely little addition to the event.
Think about it. If people have come from far and wide to celebrate with you and the mama, maybe a little memento would go down well. They have made the effort to be there after all. So, spread the love!
But how much should baby shower favors cost?
Public service announcement: there is absolutely no need to break the bank.
We know – and everyone that comes to the shower will know – you won't have an infinite amount of money to spend on the event.
Luckily, there are such things as cheap baby shower favors. And, by the way, your guests won't be expecting something unbelievably amazing anyway: it's just a token. So, ballpark figure? We'd say there's no need to spend more than a couple of dollars per person on a baby shower favor. Because, depending on the number of guests you're inviting, this can add up.
Rather than splashing the cash (although no one is stopping you!), take the time to make the favor personal and meaningful. That way, the cost won't matter at all.
Choosing baby shower gifts for guests
So, you know your budget and you've got a sense of who's coming to celebrate with you. Now, you need to choose your favor.
You'll no doubt have noticed that there are many baby shower favor ideas out there. But how are you going to choose? Well, here are a couple of things that you can consider to help you decide:
The baby's gender (the sex). If you're struggling with a compelling idea for a baby shower favor, narrow it down. Is the mama expecting a boy or a girl? Do you want to keep things gender neutral? This can be a good place to start thinking about the gifts.
A baby shower theme. Going all out with a baby shower theme? Well, you're going to want your baby shower goodie bag to match, no? From spaceships to superheroes, teddy bears to tutus, think through a theme and coordinate a favor.
Who's coming? Are you mainly inviting friends, family, the mama's coworkers? This'll change what counts as an appropriate gift (it is for them after all!). You might do best by choosing something that will work for everyone. Or, if your guestlist is short, you can personalize them.
Budget. Oh, that annoying thing again. It is going to be particularly important if you're inviting lots of people, though.
A bit of creativity! If you're choosing a baby shower favor, the final thing to bear in mind is personality! At the end of the day, what you're doing is giving a gift. And gifts are always better with a personal touch.
What are the best baby shower favors?
With all this in mind, there's no such thing as a best baby shower favor. Instead, there are baby shower favors that suit you and your guests – the more fun and unique, the better.
But what are some different places where you might find the perfect baby shower favor? Try shopping around online, or browsing at various stores downtown as a starting point. And, if you want something a little bit different, you can always try craft fairs, community events, or artisan festivals. You might find something there that you wouldn't find anywhere else.
If you're feeling bold or creative, there's nothing stopping you making something special yourself. Just remember, baby shower favors are not the be-all and end-all. They're simply a gesture of your gratitude.
Baby shower favor ideas?
To finish off, we've got just a few examples of baby shower party favors to give you inspiration:
Seeds or plants. A lovely symbol of growth and new life, plants are gifts that last.
Scented candles. They're affordable, simple, and go down well with pretty much everyone.
Personalized anything. We've seen can holders, bottle stoppers, jars of honey or jam, milk bottles… You name it. Anything personalized can work perfectly as a baby shower favor. It ticks all the boxes.
Disposable cameras. An almost vintage little contraption, a disposable camera gives guests a way to create new memories. They might be on the expensive end of things, though.
Chocolates or treats. No one will be expecting anything too grand from a baby shower favor. Some chocolates or other edible treats can be a sweet (and tasty!) gift.
Baby shower goodie bags. On the other hand, no one would ever say that one gift is all you need. A baby shower goodie bag can be as modest or as extravagant as you like – and boasts the element of surprise!
💡 More from The 411:
12 Baby Shower Food Ideas
Baby Shower Etiquette: 7 Guidelines
17 Beautiful Baby Shower Themes
What to Write in a Baby Shower Card
When to Have a Baby Shower