Like any good party, food plays a major role in a baby shower. Luckily there are loads of baby shower food ideas to choose from, whether you're catering for a select few, or a hoard of well-wishers!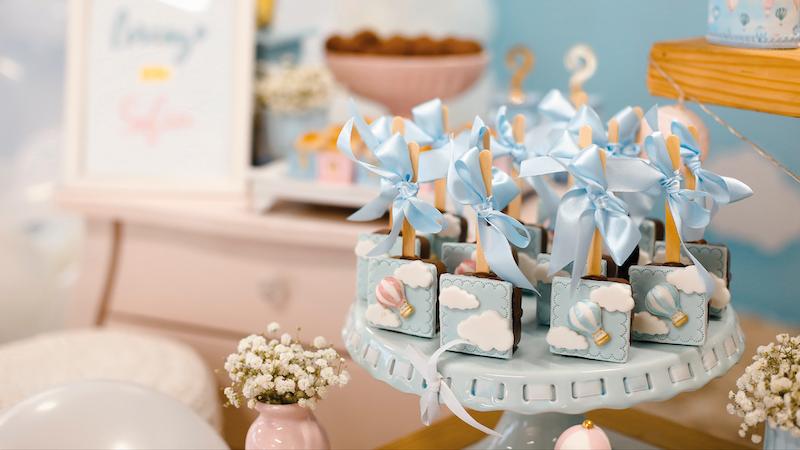 If you've already got your baby shower theme locked in, deciding the right kind of food to serve might be quite a straightforward task — but nailing the presentation and decoration is still exciting! If you're struggling to know where to start with the whole "event-planning-thing", choosing the food can be a great place to kick things off. So don't panic quite yet, just keep reading for our tastiest (and most inspired) baby shower food ideas!
What is a good menu for a baby shower?
You probably don't want to spend your whole day cutting portions or serving up food, so finger foods for a baby shower, that your guests can tuck into themselves are great options. We're talking appetizers, grazing tables, DIY snacks, cupcakes, and dessert bars. Yum.
Choosing a creative way to display your baby shower menu, like arranging your food in front of a fun backdrop of balloons, banners, and garlands will make your photos really special. You can even serve snacks like popcorn, chips, or sweets in small jars like baby food, have sippy cups for drinks, and dispense salad dressings from baby bottles!
Your baby shower is a time to embrace the joy that babies bring, so have fun with it, mama!
Themed baby shower food ideas
If you're wanting some delicious food to be the star of the show, you can choose a baby shower theme that centres around the catering. Some great themed baby shower menu ideas are:
1. Teddy bear's picnic

A song you will probably be hearing a lot of in the coming months/years, why not choose a teddy bear's picnic theme for your baby shower food? Use cute wicker picnic hampers with sandwiches, salads, and pastries to enjoy, and choose some pretty picnic rugs, cushions, and balloons for your decor.
2. Afternoon tea

If you'd like your baby shower to be a sophisticated affair, afternoon tea can work well for small or larger groups. Dainty finger sandwiches, cakes, biscuits and scones, and all different kinds of tea is a delicate way to cater for a baby shower. Use vintage cake stands, teapots and cups for a boho vibe.
3. Very Hungry Caterpillar

The classic kid's book could inspire a colorful and fun menu for your baby shower! If you don't already know, the caterpillar enjoys himself snacking on fruits, ice-cream cones, cherry pie, cupcakes, pickles, and cheese — amongst other things! You could also use caterpillar-shaped cake toppers, copy pages of the book for invites, and have a book gift list, too.
4. Baby-Q

A fun play on words, a Baby-Q (BBQ) themed baby shower menu is sure to go down well if you're hosting your event in the warmer months. Think mini — like baby — and serve items like sliders, baby corn, and baby potato salad.
Baby shower finger foods
Whether you're planning baby shower food for 50 guests, or 15, having a baby shower menu that your guests can pick from themselves will make your life easier! Finger foods for a baby shower will always go down well, and are suitable whether you're expecting a boy or a girl.
5. Grazing tables

A modern classic, what party is complete without a grazing table?! Not only tasty, but platters of cheeses, crackers, meats, fruit, nuts, veggies, and dips also look great too. Just make sure there's plenty of pregnancy-safe food options included so you can indulge too.
6. Appetizers

Baby shower appetizers like bruschetta, mini quiches or pastries, seafood skewers, and salad cups are simple and easy for your guests to help themselves to. Your appetizers could be themed to match your favourite cuisine or any funny pregnancy cravings too.
7. Tex-Mex

You'll soon be a pro at swaddling your baby like a burrito, so why not give your guests a headstart to helping you, with a DIY taco and burrito table?! Lay out your tortillas, shells, and favourite fillings (don't forget the guac!) and let your guests tuck in!
8. Pizza

A great idea if you have a pizza oven because, let's face it, everyone loves pizza! Create a display of bases and toppings and let your guests get creative, making their own. You could even have a decorating competition to make your pizzas into cute (edible) baby faces for some hilarious photos to look back on!
Baby shower desserts
If pregnancy has given you a sweet tooth, or if you need baby shower food ideas for girls, your baby shower menu could be focussed on desserts. You know, "sugar and spice, and all things nice!" Easy to tie in with your color scheme or theme, these baby shower food ideas get the seal of approval from us.
9. Cake pops or macaroons

So versatile, so yummy, cake pops and macaroons can simply be colored to match your theme, or transformed into preggo baby bumps, bumblebees, baby faces, teddy bears, flowers, planets… the list goes on.
10. Showstopper centerpiece

A large tiered cake will make for a stunning centerpiece to your baby shower food display. A naked cake, decorated with fruit or flowers is great if you've chosen a nature or boho theme, or a fully-decorated tiered cake is a great chance to show off what your baby shower is all about!
11. Cupcakes for everyone

Create a focal point with lots of individual cupcakes decorated to match your theme, with dinosaurs, animals, stars, rainbows, flowers — the options are endless! If your baby shower is also a gender reveal party, you could hide colored buttercream in the center of the cakes as a sweet way to celebrate your new baby boy or girl!
12. Ice cream

A Bellissimo idea if you're hosting a summer baby shower, having an array of ice cream flavors, cones, sprinkles, and sauces will satisfy every ice cream lover! An ice cream truck might add a retro vibe to your celebration and be a fun talking point too.
For even more baby shower food ideas, why not ask the mamas of Peanut?
💡 More baby shower tips:
17 Beautiful Baby Shower Themes
10 Baby Shower Themes for Boys
10 Baby Shower Themes for Girls
Baby Shower Etiquette: 7 Guidelines
What to Write in a Baby Shower Card
The Best Baby Shower Invitation Wording Ideas
Baby Shower Favors: Ideas, Cost, and More
15 Baby Shower Games
7 Fun & Memorable Gender Reveal Games