If you enjoy party planning, baby shower table decorations can be a really fun part of mama-to-be celebrations! Here are 24 of our favorite tablescapes to get those creative juices flowing 🎈
Perhaps you've already set a date, sent out the invites, and even thought about a theme.
Now what to put on the tables?
There are tons of options and they can be as simple or outlandish as you want.
The good news is, table decorations for a baby shower needn't be expensive or take forever to make.
We'll put our favorite ideas on the (um) table so that you can find the perfect fit.
Read on.
In this article: 📝

What do you put on the tables at a baby shower?

What can I use for baby shower centerpieces?

How to make table decorations for a baby shower

Lights
What do you put on the tables at a baby shower?
Whatever you wish!
A baby shower is a time of joy and celebration — provided the soon-to-be-mama feels supported and loved by her community, there's no one way to do this.
So, if you want a five-tier cake with gilded frosting and rainbow unicorns as your centerpiece, then go for it!
But, if you want to keep it simple or even do without baby shower table decor, that's totally fine too.
After all, the main event is the mama and their new arrival — and that's all the ornamentation that's really needed!
What can I use for baby shower centerpieces?
If you do decide to go down the decor route, you might be wondering how to make a centerpiece for a baby shower.
This can act as a great foundation for whatever table decorations you choose to go with.
Plus, some centerpieces can even double up as gifts for the new mother.
Here are 24 of our favorite ideas.
We hope they get those creative juices flowing!
How to make table decorations for a baby shower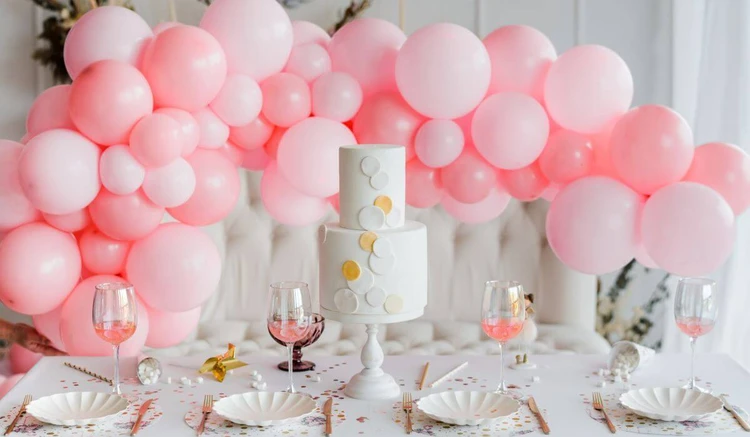 Balloons
What better way to celebrate than with balloons!
Confetti filled. Stunning, yet simple, confetti-filled balloons are always a good choice.

Balloon garland. It's easier to make a striking architectural feature than you think. There are loads of internet tutorials out there, like this one, from Bubbly Balloon Co.

Giant balloons wrapped in tulle. Grab some giant balloons, and wrap them in tulle—a guaranteed showstopper!
Flowers
So vibrant, and always classic.
Rustic mason jars. Mason jars—so versatile and so rustic. Cram them full of your favorite flowers and tie them with ribbon or string to complete the look.

Filled teacups. Slightly more refined, teacups filled with flowers make for a wonderfully retro centerpiece.

Natural petal confetti. Natural confetti isn't just for weddings! Some artfully scattered colorful petals can really elevate an otherwise simple centerpiece.
Diapers
Reusable and practical, what better decor could you ask for?
Diaper blocks. Bunch diapers up into cubes and wrap each in colorful ribbon. Stack into a pyramid for an eye-catching decoration.

Diaper cake. Always a top choice for a baby shower. We love this gorgeous DIY rose diaper cake from Event Answer.

Diaper baby. Another fun choice, and with the baby clothes included, it makes a great gift. Try this tutorial from SoBelle DIY.
Toys
Toys aren't just for the kids!
Add a touch of whimsy to your celebrations with these toy-tastic ideas.
Rubber ducks. These little cuties aren't just for bathtime! Try floating them in a bowl of brightly colored punch for best effect.

Toy wagon. Have a feeling that the new baby will be into all things motorcar? Why not fill a brightly colored toy wagon with flowers, toys, or treats?

Teddy bears. Totally gender-neutral, a teddy bear theme will be a hit with all the guests. And who knows, one of those little furry friends may become a treasured keepsake one day.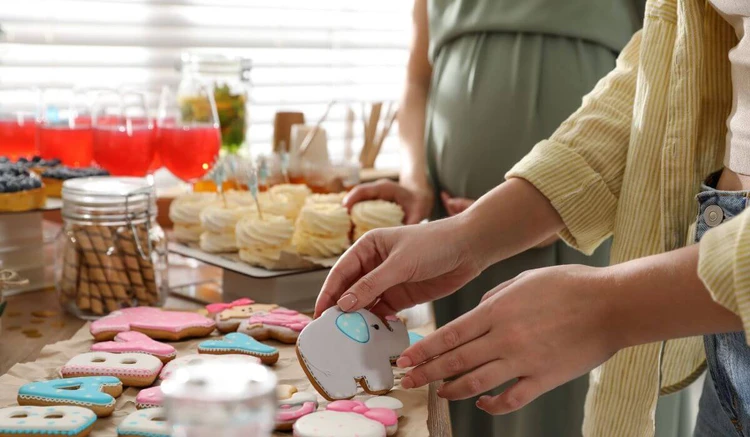 Cakes and baking
Edible decor?
What's not to love?
Retro candy bar. Every generation has their iconic treats (Hubba Bubba, anyone?). So why not fill some old-fashioned jars and let those colorful candies do the talking? Guests will love you!

An amazing cake. A cake for your baby shower centerpiece means you're killing two birds with one stone. And, with baking, there's no end to the culinary creations you can concoct. Personally, we love this pink little ombre number from Country Living.

Cookie bouquet. A bouquet complete with frosting? Yes please. Just take a look at this one from Taste of Home. It's delightful!
Lights
Transform any room with these sparkling suggestions.
Twinkly mason jars. Yep, it's those mason jars again, but you could use bottles too. Fill with battery lights for a magical effect.

Paper Lanterns. Paper lanterns come in so many shapes, and tend to be a fairly cost-effective option. Their glowing warmth when filled with battery-powered lights is really spectacular.

Light-up tree. Bring the outdoors inside with this majestic idea. Either make your own tree sculpture out of twigs or buy one premade and then string fairy lights through the branches. This is an especially lovely idea for a winter-themed baby shower.
Fruit and vegetables
Add a splash of color with these healthy treats.
Rainbow skewers. So simple to make, and yet so yummy, these rainbow fruit skewers will liven up any party.

Filled pumpkin. Candy? Sweet apple cider? Ranch dressing? The pumpkin's your oyster, mama.

Watermelon baby stroller. Who knew? It's actually pretty easy to make a watermelon look like a stroller. Fill it with fruit salad, and you've got a serious centerpiece on your hands. Want to try it out? Find a how-to from eHow here.
Clothes and shoes
Because honestly, who doesn't find itsy-bitsy baby shoes adorable?
Baby shoe cloche. Pop a little pair of baby booties into a glass-domed cloche. Then, add lights, tissue paper, and flowers for extra 'wow'. This also works well with baby rattles or other toys.

Wishes Clothesline. If your baby shower table backs up against a wall this would make a great interactive centerpiece. Plus, all the wishes left by your guests would make a wonderful gift for your wee one once they're a bit older.

Baby sock bouquet. We saved our ultimate favorite for last. This gorgeous sock bouquet is not only charming but decorative and functional too! Event Answer has an online tutorial so you can make your very own, here.
So there you have it!
Pick one, pick a few, pick them all!
And why not share your creative masterpieces with our community?
You might even pick up a few extra ideas.
Now, go and have a ball, mama-to-be!