Buying clothes for your little one can feel a little overwhelming — especially if this is your first time and you are starting from scratch.
And the ol' pregnancy brain fog doesn't help.
We're going to share all we know about baby clothing sizing, as well as some inside tips from mamas who've been there and done that.
In this article: 📝

Preemie clothing sizes

Newborn clothing sizes

0-3 Month clothing sizes

3-6 Month clothing sizes

6-9 Month clothing sizes

Your baby size chart

Pro tips for baby clothing sizes
Preemie clothing sizes
Weight: Up to 6 lbs / up to 2.7kg
Height: Up to 17 inches / 43 cm
The arrival of a preemie baby can be a bit of a surprise.
So you may not have bought anything beforehand.
And preemie clothes weight averages are impossible to guess — simply because they can arrive at such different times.
In some cases, preemies may only be in diapers for the first while.
And in others, the hospital may have some clothing for you to borrow in the beginning.
A pro tip from a preemie mama is that when her tiny tot born at 29 weeks was ready for clothes, she bought 100% cotton doll clothing for her.
Newborn clothing sizes
Weight: 6-9 lbs / 2.7-4.1 kg
Height: Up to 21.5 inches / 55cm
According to the WHO, newborn babies weigh on average 7lb 2oz (3.2kg) for girls and 7lb 6oz (3.3kg) for boys.
(Just remember, "average" does not mean normal. Just like us, babies come in all shapes and sizes.)
When it comes to what to buy for this stage, stick to the basics.
And go with quality vs. quantity.
They may be born bigger than you thought or with super long legs.
Babies also tend to grow very quickly in the beginning.
Growth spurts are a real thing!
So, aside from a few "showing-off-the-baby-to-friends-and-family" outfits that you might not be able to resist buying, stick to essentials in newborn sizes.
0-3 Month clothing sizes
Weight: 9-12.5 lbs / 4.1-5.7 kg
Height: 21.5-24 inches / 55-61 cm
You're far more likely to get better use out of the 0-3 months than the newborn items.
And there's always the option to roll up sleeves and pant hems, so they're a good failsafe size to buy in from the beginning.
3-6 Month clothing sizes
Weight: 12.5-17 lbs / 5.7-7.7 kg
Height: 24-26.5 inches / 61-67 cm
The 3-6 month clothes weight is often calculated on the average of 12lb 14oz / 5.8kg for a 3-month-old.
Here again, we have that tricky word average.
Luckily by this stage, you'll have had some practice eyeballing sizes in the stores, giving you insight into what to buy.
6-9 Month clothing sizes
Weight: 17-21 lbs / 7.7- 9.5kg
Height: Up to 28.5 inches / 72cm
By this stage, your baby might be crawling, so be prepared for the knees of all clothing to wear out quicker!
Your baby size chart
For quick reference, here is a handy size chart guide: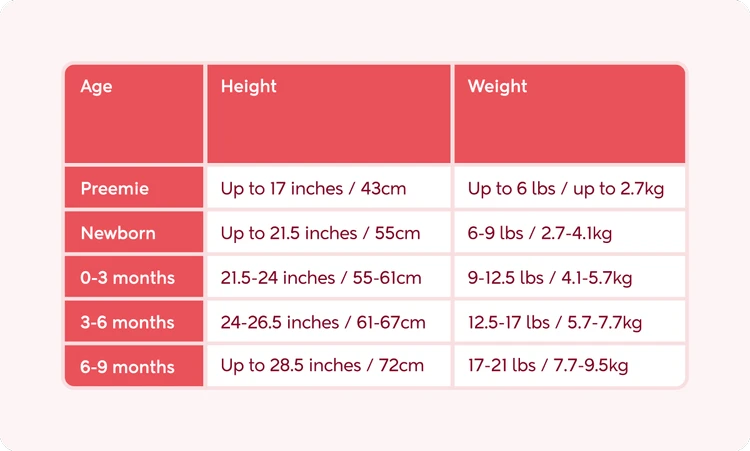 Pro tips for baby clothing sizes
Buy for the current or next season
While you may want to start buying all the baby clothes from the moment you fall pregnant, consider the season baby will be born in.
Unfortunately, there's not much use for that cute summer dress and bloomers in the snow.
Think about diaper changes
Pulling separates over your baby's head can be tricky, so onesies are a good place to start.
Baby-friendly zippers are also easier to work in the dark, so choose those over buttons.
Baby vests typically do go over the head.
But should your baby have what we term a poopsplosion, you may wonder how to get it off without them getting full of their own poo!
Buy vests with little overlapping slits on the shoulders.
Those make it easier to slide the vest down over the body to avoid a second poop emergency!
Dress baby for comfort over style
Cotton is also the most comfortable for babies and helps with temperature regulation.
But it does tend to shrink, so buy one size ahead in case.
Size differences (yes, even in baby clothing)
There may also be differences in sizes between brands.
As your baby gets bigger, take note of which brands work best for them and which brands might need to be bought in bigger or smaller sizes.
Mamahood is a learning experience like no other!
And there you have it.
Our one-stop shop for baby clothes sizing tips, complete with tricks from experienced Peanut mamas who've been around that particular block – including how to fold baby clothes.
Have fun dressing up your little peanut.
They're going to look adorable.