Struggling to find inspiration for bedtime stories for kids? We've got you. Here are 40 entertaining ideas for snuggly sleepy-heads of all ages.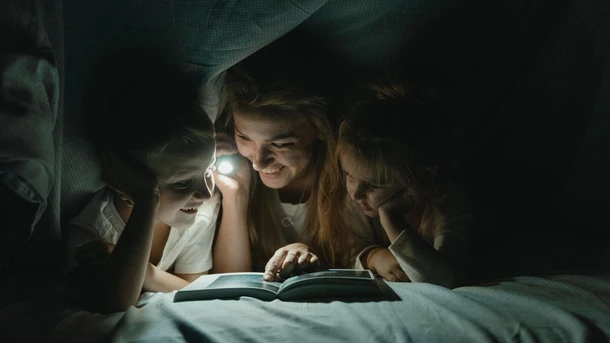 Once upon a time, there was a parent. A parent searching for bedtime stories for kids that would entertain and delight their little ones. Now this parent searched high and they searched low, but they just couldn't find that perfect tale. Some were too long, others too short… that goldilocks zone remained far, far away.
Sound like a familiar story?
Whether you're searching for fairies, funny or fantasy, here's your guide to the best bedtime stories for kids. Help your babies drift off to dreamland with these classic (and not-so classic) ideas.
In this article: 📝

Why are bedtime stories for kids important?

How do you find a good bedtime story?

Are bedtime stories appropriate for a six-year-old?

How do I tell my kids about bedtime stories?

What is the best bedtime story?
Why are bedtime stories for kids important?
Bedtime stories aren't just a lovely way to end a day.
There are so many benefits for you and your child.
Even 5-minute bedtime stories build positive bonds that last a lifetime.
As they grow up, your little ones probably won't remember the details of the stories you tell them, but they'll remember how you made them feel.
As well as reinforcing your relationship, bedtime stories for kids introduce the joy of reading and imagination.
They'll link loving, caring feelings with books and carry this into their teens and later life.
You're also teaching your child new words, characters, and ways of looking at the world — so they can express their own emotions better too.
How do you find a good bedtime story?
No matter how many stories you've told, whether it's six or 600, you'll quickly get a feel for what stories your children enjoy.
Start by thinking about what they usually respond best to.
Do they love tales with clear morals or fantasy-world creations full of dragons and monsters?
To then find a good bedtime story (no matter what genre), start with your local bookshop.
Bookstore staff are always happy to advise, and they're super knowledgeable.
Also chat to other mamas and papas for their tips, and don't forget the most important person — your child.
Have you actually asked them what stories they'd like to hear?
Whether it's princesses, aliens, or animal adventures, chances are they'll have their own (strong!) opinions.
As well as bookstores, there are some useful online collections of paid and free bedtime stories for kids.
Check out these websites for ideas:
Are bedtime stories appropriate for a six-year-old?
Absolutely!
Bedtime stories are appropriate for children of any age.
It's all about finding a story that's right for their interests and vocabulary though.
For instance, a toddler might only be able to focus on 5-minute bedtime stories.
Older children might appreciate longer, classic tales.
What's right for one child will be completely wrong for another… so if your little one isn't enjoying a particular story, don't worry.
Storytime is meant to be fun for everyone (including you), so it's always fine to take a break and try again another night.
How do I tell my kids about bedtime stories?
The best way to tell your kids about bedtime stories?
Just tell them a great bedtime story!
An important part of bedtime stories for kids is the way you tell it.
So if your child clearly loves a particular bit of the story, don't be scared to ad-lib.
Give extra details on people and places to really build a picture in their mind.
And of course, plenty of fun voices, movement, and facial expressions really bring a story alive.
It's all about having fun together, and enjoying the process as much as your little ones.
What is the best bedtime story?
No two children are the same. So there's no one "best" bedtime story.
It's best to think about the genres and styles your child enjoys, and then find age-appropriate tales to match.
As a rule, though, the best bedtime stories have characters your child relates to.
They'll often bravely overcome some kind of challenge, giving your little one a positive, reaffirming message just before bedtime.
Oh, and a great story will have just a little excitement and suspense (but not too much!), so they stay engaged… but nod off to sleep soon after.
With this in mind, here's a list of some of the best bedtime stories for kids with rough suggestions for age.
Sitting comfortably? Let's begin…
Terrific toddlers bedtime stories
Bedtime stories for kids 5-8 years
Bedtime stories for kids 8 and above
Classic Bedtime stories for Kids
Don't forget the classics! You'll find loads of versions of these classic bedtime stories for kids online, all tailored to different lengths and age groups.
A word of warning though… original Brothers Grimm tales (such as Snow White and Little Red Riding Hood) have some pretty gruesome endings.
So it's definitely worth doing some research beforehand, to avoid any tears before bedtime.
And there are two books that we absolutely love as bedtime stories for kids, written by two mamas who met on the Peanut app, Marie Stillerwijk and Tia Bell (one of their characters is even called 'Little Peanut'!):
And The Sparks Flew – a story of friendship, love, and support.

I Will Carry You – perfect to send your little one drifting off to a dream-filled sleep.
📖 More from The 411:
Baby Books: 15 Good Reads for the Littlest One
16 Children's Books About Diversity
10 of the Best Personalized Books for Kids (and Where to Get Them)
The Best Non-Fiction Books for Kids
What is Hyperlexia?