Your baby is getting a huge promotion— to being a toddler!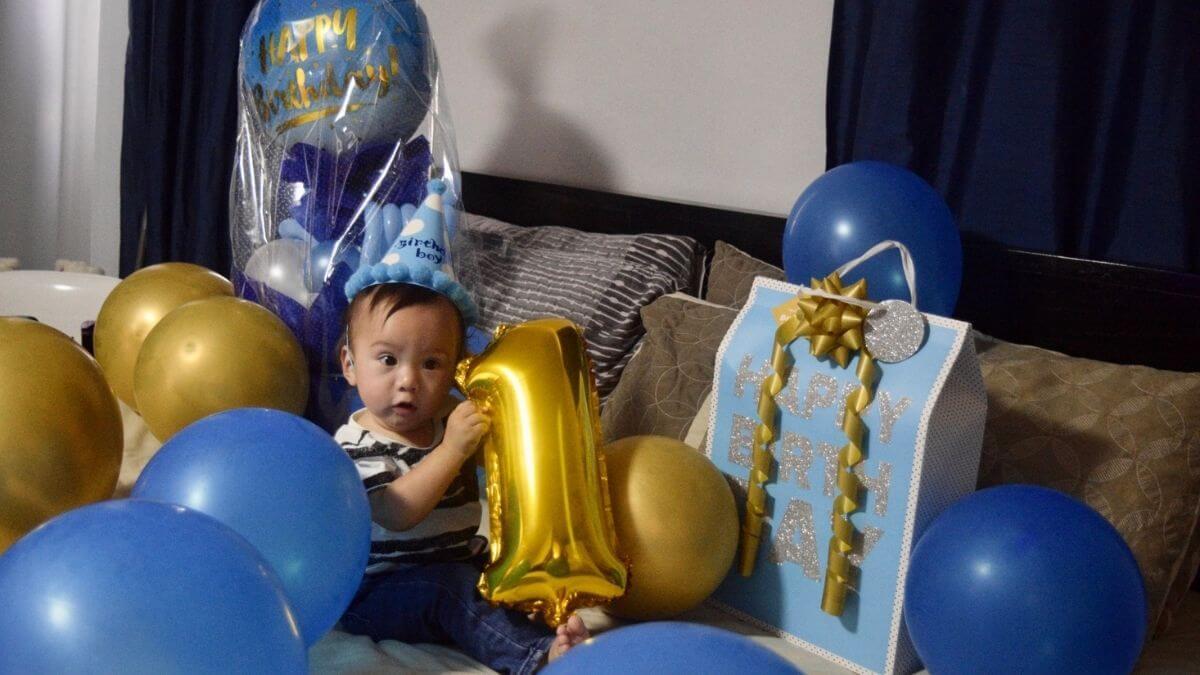 Once babies are officially ONE, they get to enjoy the fun and gifts of toddler-hood.
Books, learning toys and cheery decor are all appreciated by curious littles.
They can eat food now— so even cool new dishware and utensils count! If you're wondering what is the best gift for a 1st birthday, just know how much toddlers love colors and sounds.
Sensory gifts that are bright, happy and engaging will totally win in the gift department!
In this article: 📝

What do you get for a boy for his first birthday?

What do you get for a girl for her first birthday?

Best toys for 1 year old:

Unique gifts for one year old:

Personalized 1st birthday gifts:

Unique first birthday gifts:
What do you get for a boy for his first birthday?
While we aren't ones for gender-specific toys, boys often have a thing for anything that looks and sounds like a fire truck or garbage truck. (Don't ask us for the explanation, just know it's normal!)
What do you get for a girl for her first birthday?
While your LO may also enjoy the fire or garbage truck's colors and sounds, the girls do generally like princess-themed anything. If Disney+ hasn't yet taken over your life, this could top the best gifts for first birthdays list. We're sorry in advance. There's going to be a whole lot of Let it Go in your future.
Best toys for 1 year old:
bbluv's Hibu rechargeable night light works wonders for nap time. The kiddos can carry it around with them and put it to sleep crib-side. It lights up (9 LED colors) with touch control and has 3 auto shut-offs as well as a remote control.
Oribel's PortaPlay Forest Friends Activity Center and Stools is one of the best play gifts any kid could ask for. This will be the center of the playroom for years to come. Newbies can sit safely in the center and enjoy the surrounding activities. As the toddlers grow, you convert it into an activity table where they can pull up a stool and play for hours at a time.
Magna-Tiles and Sesame Street is a win-win. We love the new collection from CreateOn which brings us Magna-Tiles in the form of Hooper's Store, Oscar's Garbage Truck and Elmo, of course.
Boogie Board's Scribble 'n Play Drawing Tablet is a great gift when the kids are ready to doodle. They can doodle non-stop onto the tablet, and when they're done, you tap the button to erase the screen and start fresh. No paper wasted here. We love the Boogie Board for big kids and for adults, there's no reason the littles should miss out on the mess-free fun.
Unique gifts for one year old:
Google Nest Hub Gen 2 may not be just for the kids, but they will love it! When you read Disney's Frozen and Frozen 2 Little Golden Books aloud, the Google Assistant brings the books to life with sound effects and music. Just say, "Hey Google, read along with Frozen 2" to get started. In addition to story time, the Nest Hub Gen 2 plays your favorite kids playlists, just say "Hey Google, play kids songs." Finally, to get the little ones to sleep, ask Google to play white noise, rain or other soothing sounds.
Madame Alexander's Peekaboos Dolls make the best first baby doll for all the littles. These 12" plush dolls have a hood that can be pulled up or down to play peek-a-boo. You can choose from 3 animal types (llama, uni-cat or sloth) and choose from a diverse range of skin tones.
Pottery Barn Kids can always deliver on creating a unique kids room. The Hope for Flowers by Tracy Reese collection is colorful and beautiful for a feminine, calming space. You'll be happy to see this in bb's room every morning, nap and bed time. Now, if you wanted to go more "boy" themed in the bedroom, the newly launched Hot Wheels Collection is pretty damned awesome.
Lunii's My Fabulous Storyteller is a screen free audio-box that lets you create custom stories. Choose from over 150 audio stories and watch your children listen with curiosity and build their own stories with creative imagination as they grow.
If the Storkcraft 5-in-1 Crib with Bonus Playhouse wasn't around in time for your bb registry, put it on the 1st bday list. This crib converts to a daybed, toddler bed, full size bed and even a playhouse. Kids can play hide-and-seek or keep their special doll collection safe inside. They may even continue their naps just a little longer knowing inside their own private sanctuary.
Personalized 1st birthday gifts:
Artifact Uprising creates personalized Color Series Photo Books for all of bb's special moments— pretty much every day of that first year. Select the size, color and inscription and get to choosing your favorite photos. Take the time to do this, you will appreciate this for yourselves as much as the kids will as they grow.
The Woobles' Beginner Amigurumi Crochet Kits let you make a first baby gift for yourself (seriously, we tried it and you can do it!). Choose from a selection of patterns like a little chick or dinosaur and watch your toddler get to cuddling. If you're already a crochet pro, you will love the intermediate crochet kits which create full size stuffies like Poppi the Hippo and Harriet the Rabbit.
Rookie Humans is known for their exceptional artistry. Their gorgeous bedding and wall decals will bring art and sophistication to any kids room. Founder Gabriela Anggono was inspired by her own baby and has sweet memories of him as a little bub sleeping on the Moon's Birthday crib sheets.
The Collage Baby Blanket keeps all the relatives close, even when they're far away. Grab your favorite pics of nana and papa and create a photo blanket within minutes. The images are crisp and the blanket is super cozy (sherpa is our personal fave).
Unique first birthday gifts:
LOVEVERY makes gifting for kids SO easy. Their boxed play kits, which you can have delivered every 3 months, are age based and filled with a generous assortment of toys for learning and discovery. The pairings are genius and take all of the guesswork out of "what do we buy for a first birthday gift".
Mon Coeur makes sustainable fashion for kids that's so cute, you'll want it in your own size (sorry, they only go up to size 9). The Elephant & Bee T-shirt is a fave for either boy or girl, especially paired with the coziest harem pants we've seen yet!
Nuby's 360 Edge Rim Cup is a "big kids" cup they will be so excited to use. Kids can drink from any side of the one-piece soft silicone bite resist, 360-degrees cup rim. The Easy Grip handles allow for a firm grip while drinking, and when they're ready, kiddos are able to hold the cup base + simply remove the detachable handles.
The Wubbanub plush pacifier got many of us through our first months, and their Lovey will take it from there. These ultra plush companions will be held firm under your kids arms for years to come, so pick the animal you know they'll treasure most. It's a tough choice between the puppy, lamb, monkey and more!
Regalo My Play Mat is a gift to mom and baby. This foldable, cushioned play mat has fun, alphabet letters on one side and a modern, grey chevron pattern on the other. This can live on the playroom floor for a long time, but it can also fold up for playdates on the go.
💡 More from The 411:
15 Gifts for a 1-Year-Old Baby Girl
10 of the Best Personalized Books for Kids (and Where to Get Them)