Story time! For many, it's one of the most memorable moments of mamahood. Sitting with a book by the side of your child's bed or crib to read, while watching them doze off.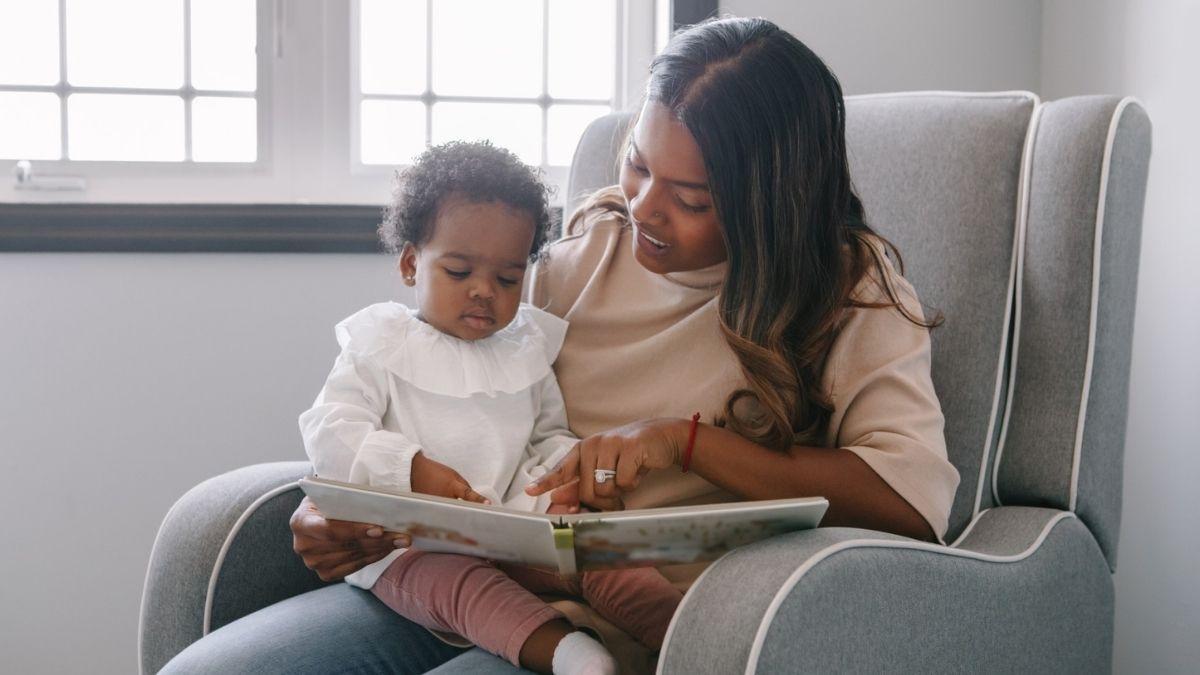 But that's still to come. Here, we're talking baby books – an earlier step on a child's reading journey. Maybe at this stage your baby won't really understand the story, but they'll for sure enjoy the pictures. And you'll love the whole experience too.
Here are some tips on the best books for babies out there, plus some advice on when to start reading together.
In this article: 📝

What age should you start reading to your baby?

15 of the best baby books

FAQs
What age should you start reading to your baby?
When it comes to reading to your baby, it's never too early to start. While they won't understand every word that you say, of course, there are lots of good reasons why reading to babies is a great idea, whatever their age:
The benefits of reading to your baby
It makes little geniuses. Studies have found that babies who are read to have a larger vocabulary and better math skills as they get older.

It aids emotional understanding, too. You'll find yourself making silly voices, emphasizing lines, and moving in all sorts of different ways when you read to your baby. That's great, as it helps them understand emotions and body language.

Bonding. No matter the age, reading together is pure one-to-one attention that's great for your relationship.

It gets you in the habit. Reading to babies doesn't always come naturally. But it's a great habit to develop – and it's one to enjoy forever.
15 of the best baby books
Some mamas say it's not what you read but that you read that matters. Whether your personal reading vibe is William Shakespeare or Sophie Kinsella, just the sound of your voice can be good for your baby.
But if you're looking for something that's designed with baby in mind, read on. Here are 15 baby books that will get you through the first year and beyond.
Look, Look! – Peter Linenthal. A visually beautiful book that'll be captivating for every baby thanks to its bold black and white contrasts. Words are in red, to make it extra engaging for them.

Goodnight Moon – Margaret Wise Brown. A classic baby book from the '40s, Goodnight Moon helps you and your baby say goodnight to all the familiar objects in the room, in a lovely soft and calming rhythm.

The Very Hungry Caterpillar – Eric Carle. Is there a more popular baby book? We don't think so. With iconic illustrations and holes in the pages 'eaten' by the caterpillar, it's an enchanting story of growth and change.

Where's the Astronaut? – Nosy Crow and Ingela P. Arrhenius. Felt lifty flaps and space themes, this simple illustrated book helps your baby find new extraterrestrial friends.

The Foot Book. Dr Seuss's Wacky Book of Opposites – Dr Seuss. Another children's classic, its theme is feet. Count your toes, along with your baby and one of the most iconic children's authors ever.

A is for Activist – Innosanto Nagara. An alphabet book for kids who will change the world. Innosanto Nagara wrote it for his own children – then its popularity exploded.

Little Gorilla – Ruth Bornstein. He only starts off as a little gorilla. Then he keeps on growing. If you like this one, Ruth Bornstein has many more.

Where is Baby's Belly Button? – Karen Katz. Find baby's body parts with a classic flap book.

Baby Faces – Kate Merritt. Part of the 'Indestructible' series (meaning your baby can chew it, drop it, drool on it, with it all staying perfect), Baby Faces helps your little one recognize emotions.

Chicka Chicka Boom Boom – Bill Martin Jr and John Archambault. The letters of the alphabet climb up a tree, until oops! the tree falls down.

Peek-a Who? – Nina Laden. A baby book that takes the pressure off you for the game of peek-a-boo. Lift the flaps and see who's hiding underneath.

Feminist Baby – Loryn Brantz. A series of popular books for infants aimed at those growing up to be feminists.

Not Quite Black and White – Jonathan Ying. A beautiful book with a profound message for everyone: not everything is as simple as it looks.

Alice's Adventures in Wonderland – Lewis Carroll and Carly Gledhill. They went and made Alice in Wonderland suitable for babies.

Counting With – Contando Con Frida – Patty Rodriguez and Ariana Stein. A bilingual baby book in Spanish and English. You'll count and learn two languages!
FAQs
Where to buy baby books?
You can buy baby books from pretty much any decent bookstore. Try Barnes & Noble, Bookmans, or Books-a-Million. If you're happy with second-hand books, give Half Price Books a go. You can get all the best books for infants from online retailers too.
How can I get free baby books?
The ideal place to get free baby books is your local public library. They usually have a wide selection of books for babies – you'll just have to take them back!
If that fails, try other mamas in your area. Get onto Peanut to meet your next best mama friend and do some book sharing.
Happy reading, mama!
Read also:
24 Parenting Books That Will Offer Big Value
16 Children's Books About Diversity
10 of the Best Personalized Books for Kids (and Where to Get Them)