Looking for the best diapers? We've searched out the cream of the crop to keep your little one's tushie warm and dry. Read on for the details.
Finding the right diapers can change your little one's life — and yours!
Say goodbye to leaks, mess, and, most importantly, sore bottoms.
We've tracked down some of the best diapers out there.
So whether you're looking for disposable or reusable, we've got you — and your little peanut's tushie — covered!
In this article: 📝

Best baby diapers chosen by Peanut moms

What diapers are most popular?

Are Pampers or Huggies better?

What diaper is good for a newborn?

Do diapers expire?

What are the safest diapers for newborns?

Best diapers: the bottom line on dry bottoms
Best baby diapers chosen by Peanut moms
We asked our Peanut mamas which diapers they'd recommend and why: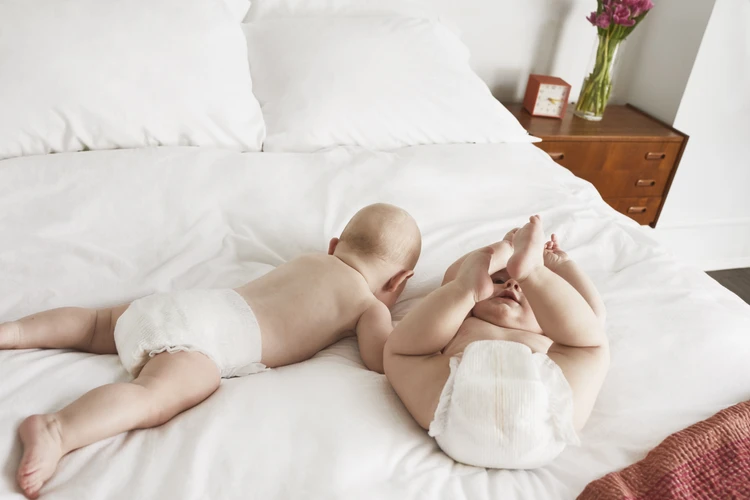 1. The Diaper by Coterie
Every bit as essential as it sounds.
Not just a diaper, The Diaper.
This one tops our charts for best newborn diapers, best overnight diapers, best diapers for sensitive skin, and best non-toxic diapers.
Why?
It holds up to 70% more liquid than standard diapers ‒ less overnight leaks and blowouts so baby can sleep soundly.
It absorbs up to 4 times faster than other diapers ‒ goodbye, diaper rash!
It's made from 25% FSC-certified plant-based materials ‒ better for the environment than your basic diaper.
It's super-soft, so baby's always comfy.
It's non-toxic, hypoallergenic, paraben-free, phthalate-free, fragrance-free, dye-free, and isn't bleached with chlorine like some other diaper brands ‒ nothing nasty!
And even better: you can get it on subscription, so you're never left high and dry.
Plus, with their SMS concierge service, you can text anytime to skip, add to, change the delivery address, or cancel your regular subscription ‒ simple and practical!
Don't just take our word for it, it's beloved by parents all over:
"My 4-month-old baby finally started sleeping through the night with these diapers. They are worth their weight in gold!"
"Best diaper. Soft and absorbent ‒ no leaks ever! I love it and I'm now spoiled for all other diapers."
"Feels amazing, all other brands feel like paper once you've tried these!"
"Love these diapers! My daughter has not had a single diaper rash with these."
Other top diapers
Now you've seen the best of the best, how about the rest?
These other diaper brands haven't quite made the cut, but they're still among the favorites of our Peanut mamas:
2. Pampers Swaddlers
Pampers is one of the most popular diaper brands on the planet.
And their Swaddlers diapers are available in seven different sizes to help you get the perfect fit.
They feature a special channel to avoid leaks and flexible edges for a snug fit.
There's a lock-away core to keep in moisture, a soft liner so your baby's skin can breathe, and a wetness indicator that shows when the diaper needs to be changed.
Plus, these diapers don't contain parabens or latex, which some babies are allergic to.
The only real downside is that they're disposable — convenient, yes, but not the best for the planet.
Your little one will use around 2,000 diapers in their first year.
That's a lot of waste that will probably be heading straight to landfills.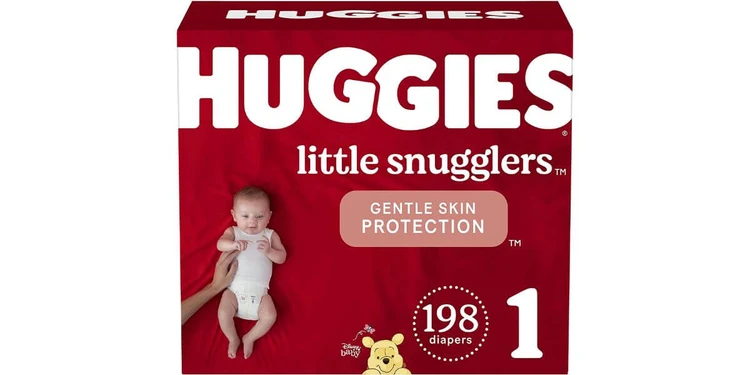 3. Huggies Little Snugglers
Huggies Little Snugglers have a host of features to keep your little one comfy and dry.
They come in seven different sizes, fitting newborns right up to toddlers of 2 years and over.
There's a soft, absorbent liner with a "leak-lock" system to seal away moisture for up to twelve hours.
The newborn size has a cutout to protect the umbilical cord while it heals.
And the larger sizes have flexible sides to keep the diaper in place on active tots.
A pocketed waistband offers comfort and helps prevent those dreaded diaper explosions.
They don't contain chlorine, latex, lotions, or parabens to irritate young skin.
And a line on each diaper goes from yellow to blue when it's time for a change.
They're disposable, so they're convenient and easy to use.
But, like Pampers Snugglers, they generate a whole lot of waste, so they're not very eco-friendly.
4. Bambo Nature
Bambo Nature is a good choice for more environmentally conscious parents.
And you won't have to compromise on the performance of your baby's diapers.
These diapers are made using low-energy machines run on wind power.
And they're certified by a whole bunch of eco watchdogs, including the Forest Stewardship Council and Nordic Swan EcoLabel.
They come in seven different sizes, but they tend to fit large.
You may find even the smallest is too big for lighter newborns.
The design features three layers and an absorbent core to keep your little one dry.
There's a flexible waistband and latex-free leg cuffs for a snug fit.
And a wetness indicator shows when the diaper needs to be changed.
But these are still disposable diapers.
And while they're hypoallergenic, they contain plastics, so they're not biodegradable.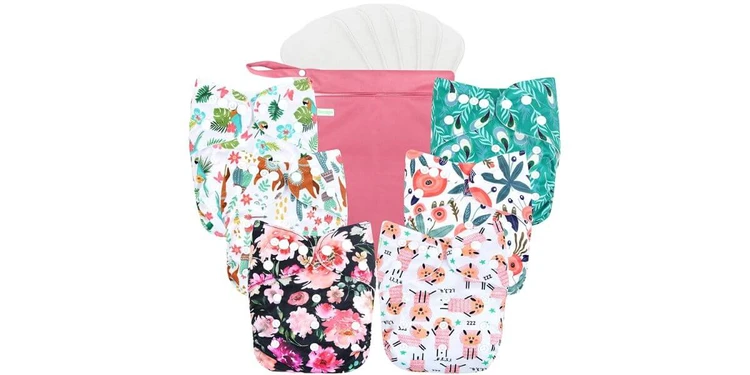 5. Wegreeco Washable Diapers
If you hate the idea of your baby's diapers ending up in landfill, washable diapers are a great option.
And the days of a simple toweling square are long gone.
Wegreeco's washable diapers are just as easy to fit on a wriggling baby as disposables.
A double row of snap fastenings means they can be adjusted as your little one grows.
They'll fit babies from newborn up to 2 years old.
The six-layer construction minimizes the risk of leaks.
There's a patterned polyester outer layer, an insert with four layers of bamboo fabric, and a soft micro-suede layer to wick away moisture.
Every pack contains six diapers, each with a pocket and six bamboo inserts that sit inside.
You'll also get a wet bag.
And they come in an adorable range of colors and patterns.
But the polyester means they don't qualify as the best organic baby diapers out there.
And there's more work involved in washing and drying reusable diapers.
What diapers are most popular?
95% of mothers in the US still use disposable nappies for their babies.
They're easy, convenient, and the upfront cost is usually less than reusable nappies.
But reusable and cloth nappies are enjoying a surge in popularity.
And some parents are using both, combining cloth nappies at home with disposables when they're out of the house.
Are Pampers or Huggies better?
For disposables, Pampers and Huggies are the biggest sellers.
But what is the best brand of diapers? The jury's out.
Both brands offer a wide range of diaper styles.
And when it comes to choosing one for your little peanut, nothing beats trying them out.
Materials, shapes, and sizes that suit one baby may not suit another.
So don't be afraid to experiment with different options.
What diaper is good for a newborn?
When it comes to the best diapers for newborns, one of the key factors is size.
You want something small enough to fit snugly.
Look for brands that offer sizes specifically for newborns.
But if your little one has emerged bigger than average, you may need to try the next size up.
Most brands will give guidelines on baby weights for the different sizes, so check those out before you buy.
The best diapers will have flexible or elasticated seams around the leg and a waistband too.
Newborns spend a lot of time on their backs, and their poo is runny.
So you want a design that will keep the mess inside the diaper and away from your baby's delicate skin.
Do diapers expire?
Technically, most diaper brands will specify an expiry date 3 years after they were first made.
But in reality, they work just fine for years after then.
So if you don't use all your diapers before baby outgrows them, feel free to give them to another mama in need.
What are the safest diapers for newborns?
Baby skin is sensitive, and none more so than newborn skin.
Look for hypoallergenic products to minimize the risk of irritation and diaper rash.
For the first couple of weeks of your baby's life, the area around the umbilical cord will still be healing too.
So go for designs with cutouts that will prevent the diaper from rubbing.
Best diapers: the bottom line on dry bottoms
When it comes to how to choose the best diapers for your baby, everyone is different.
Be honest about your priorities — there's no judgment here!
If you can't face spraying poop off reusable nappies, go for disposables.
And if your first choice isn't working out, don't be afraid to experiment.
Try a few different styles and brands, and you'll soon find the perfect fit for your little one.