Yes, mama! It's time for your baby shower! But what about baby shower themes?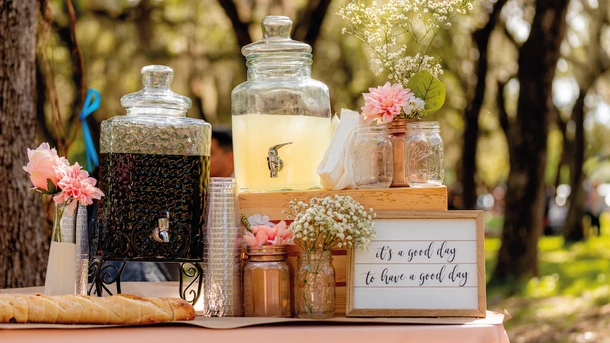 Whether your baby shower is something you've been planning on the D.L. for years or something that your friends are (kindly) insisting you do, you want to choose the baby shower themes that work for you.
After all, this might be your last chance to party before the baby comes along!
So, it's great to think of baby shower themes that reflect your personality and you can look back on fondly.
Baby showers tend to include the quintessential ingredients of cake, gifts, and games, so what's not to enjoy?
To make sure your baby shower is an event to remember, check our handpicked selection of baby shower themes.
In this article 📝

Classic and elegant baby shower themes

Modern baby shower themes

Unique baby shower themes

How do you pick a baby shower theme?

Do baby showers need a theme?

What's trending in baby showers?

What is the most popular baby shower theme?
Classic and elegant baby shower themes
No, classic doesn't have to mean "boring" or "over-done".
If you're wanting a tried-and-tested guarantee for cuteness overload that you can put your own stamp on, these baby shower themes might be just for you.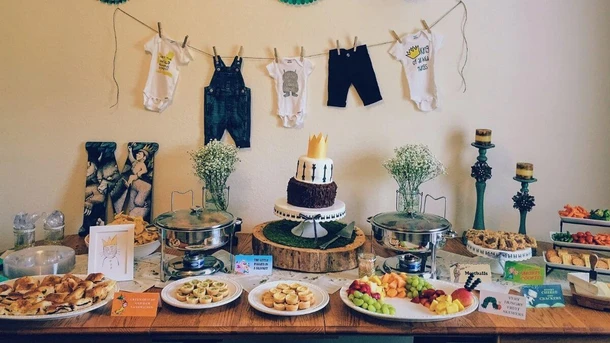 1. Woodland baby shower theme
If baby's arriving into a rustic family who loves to hike and explore rugged areas, how about a woodland baby shower theme?
Using logs as placemats, adorning twigs and leaves as decorations.
Why not take it one step further, with an outside baby shower?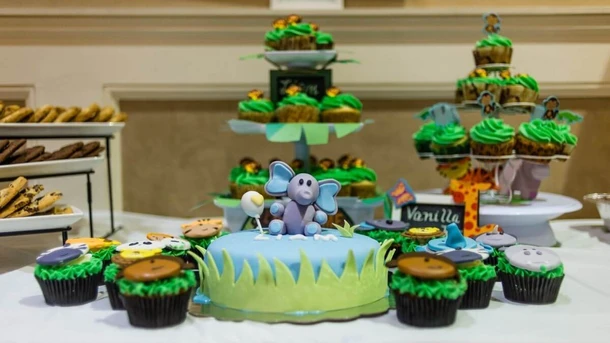 2. Safari baby shower theme
One of the more timeless baby shower themes, gather all the natural world's finest for a fun, baby shower with an animal theme.
Cuddly animal toys, balloon animals, animal print decorations, animal-shaped snacks, animal-themed gifts… the creative ideas for this baby shower theme are endless.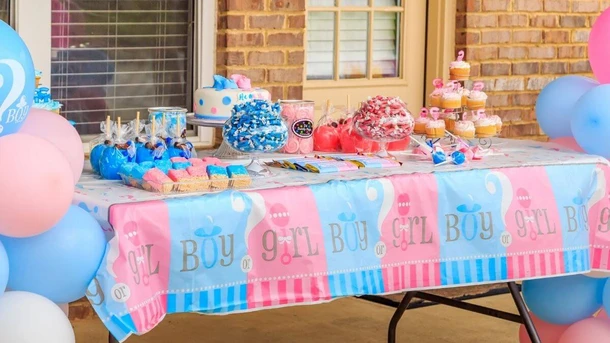 3. Baby themes for shower when you don't know gender
If you're using your baby shower theme to tell guests the sex of your baby, this is the one for you!
[There are plenty of baby shower themes for boys and baby shower themes for girls to choose from – and you may simply go for the classic colorways with table decorations, foods, and drinks to match. It makes for a truly colorful baby shower!](https://www.peanut-app.io/experts/parenting)
You might also go with a neutral color palette, or a mix, and play a fun "guess boy or girl" game with your besties who don't yet know.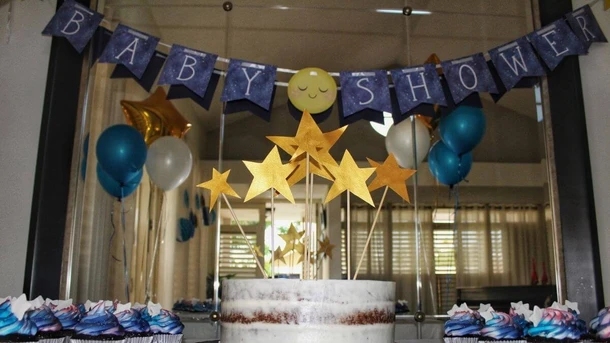 4. Nursery rhyme baby shower theme
Singing to your baby is a great way to connect, so take inspiration from a classic nursery rhyme, like Twinkle Twinkle Little Star, for a cute, classic baby shower theme.
Soft whites and blues with touches of silver or gold and twinkly fairy lights make for a soft and gentle theme to celebrate your baby.
And maybe request some nursery rhyme books on your gift registry, so you never forget the words!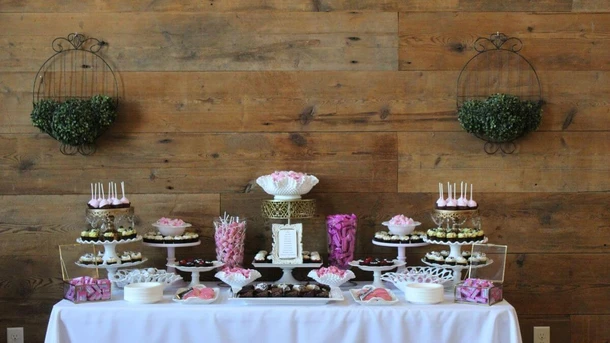 5. Elegant baby shower tea party themes
Enjoy some low-key elegance for your party, with a baby shower afternoon tea.
Fresh flowers, dainty cakes, perfectly-cut sandwiches, and maybe even some classical music will help you relax and celebrate.
After all, elegant baby showers are a classic for a reason!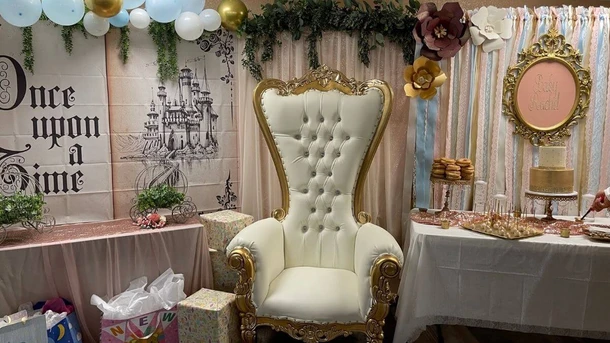 6. Princess baby shower theme
Why not be a princess for the day?
Whether you're expecting your own little princess or you want the day to be all about you (which is absolutely fine, in our books!), a princess baby shower theme can bring a royal touch to your special day.
We're thinking a crown for you, a throne to sit in, elegant baby shower foods, and faux-Champagne for that extra sprinkling of princess magic.
7. Polka dot baby shower themes
Another classic baby shower theme ‒ polka dots!
The great thing about polka dot baby shower themes is that they're one of the easiest gender-neutral baby shower themes to pull off.
Modern baby shower themes
Fancy something more trendy? These modern baby shower themes will bring the wow factor to your celebration!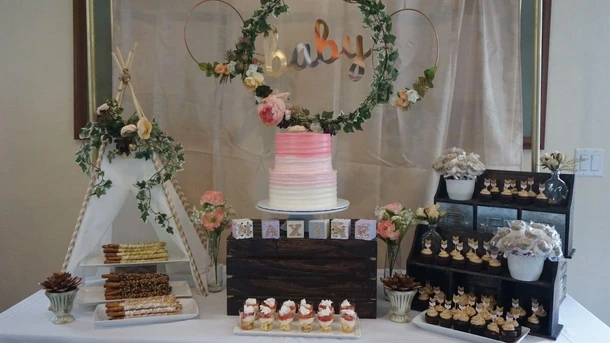 8. Fall baby shower ideas
Masses of country-style foliage, pampas grass, a naked cake centerpiece, and natural textures like wicker and hessian bring your fabulously photogenic fall-themed baby shower to life.
Whether you're planning for an outside baby shower, or you're on the hunt for November baby shower themes for a baby due later in the year, we love the idea of fully embracing mother nature with this fall baby shower theme.
Plus, a subtle color scheme helps keep this loud theme under control. Flower crowns will make you and your guests feel even more special!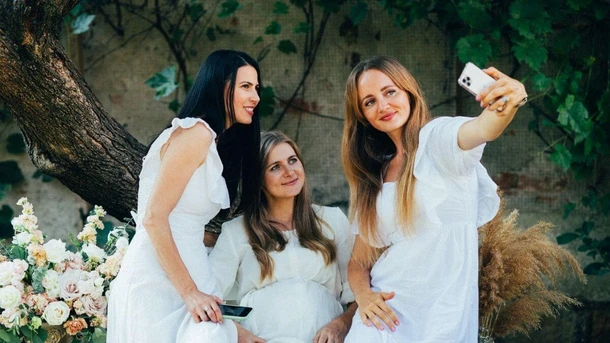 9. White baby shower theme
If minimal is more your thing, it's easy to create a beautiful baby shower theme with maximum wow-factor.
Choosing an all-white baby shower theme for your decor, dress code, food and drinks, and gift items is a stylishly modern way of doing a baby shower.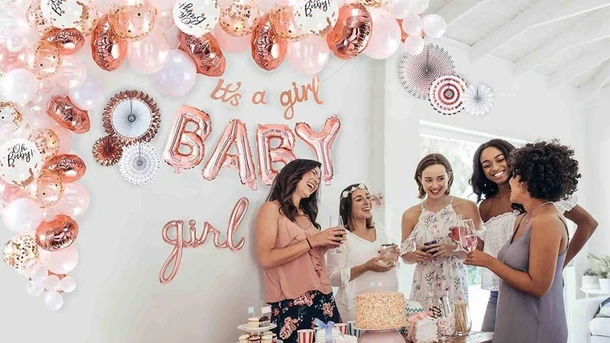 10. Baby shower rose gold theme
That's right, rose gold is still in! If you fancy a millennial baby shower theme, this is the one for you!
Plus, a baby shower with a rose gold theme is super-easy to set up, too, especially with this 36-piece kit from Amazon!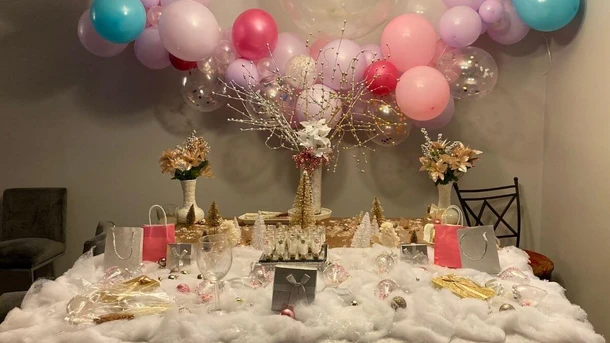 11. Winter baby shower theme
Embrace the season for a simple but modern baby shower idea ‒ winter wonderland baby shower themes!
Get cozy with your nearest and dearest with delicious hot chocolate drinks and cookies.
Winter foliage and wooden accents, with icy white and silver snowflake decor, will make for a stunning, gender-neutral theme.
Plus, it's perfect for December baby shower themes!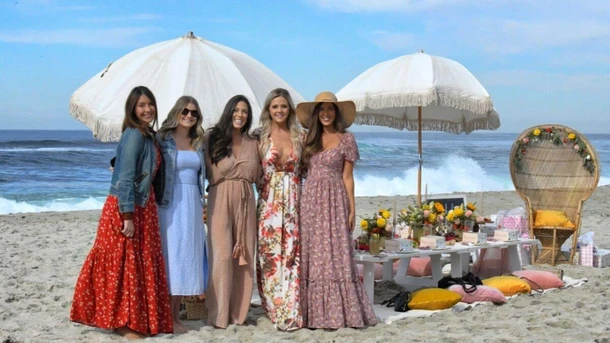 12. Summer baby shower themes
Expecting your bundle of joy in the warm summer months?
Why not go all out with a summer beach baby shower themes, with colorful inflatable decorations, a paddling pool to cool down those (slightly) swollen feet of yours, and go all-out with an outside baby shower.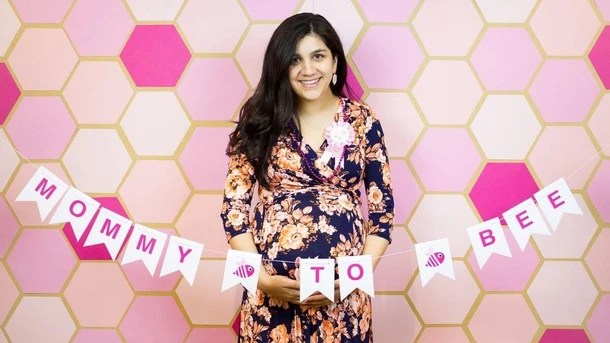 13. Bee-themed baby shower
Hey there, mama-to-bee! Everyone loves a pun!
Wondering how to make a bee-themed baby shower?
Well, yummy honey-flavored cakes or drinks, a black and yellow (or gold) color scheme, and whimsical floral displays will create a nature-loving theme for any mama-to-be(e).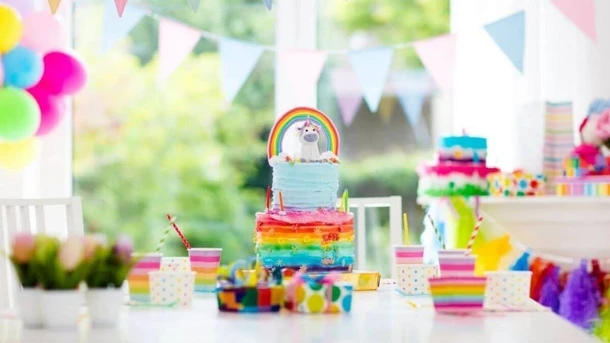 14. Rainbow baby shower themes
Whether you're celebrating the joy a rainbow baby can bring, or simply love the bright and colorful things in life, there's nothing that shouts "celebration!" more than rainbow colors.
For rainbow baby shower themes, how about a rainbow-inspired balloon arch for an awesome photo backdrop and colorful fruit smoothies?
Unique baby shower themes
Looking for a way to bring a bit of you to the celebrations or something a little different?
Then why not use something you love as the inspiration for your baby shower theme?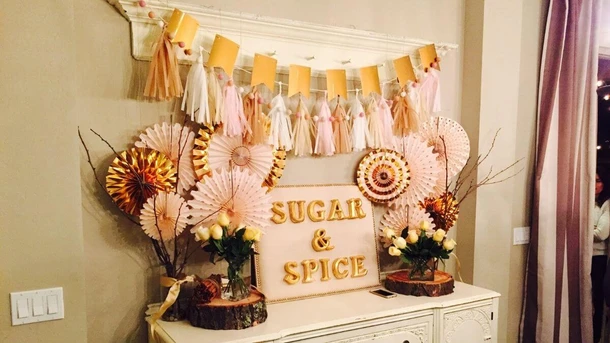 15. DIY baby shower
If crafting is your cup of tea, enjoy your why not do a DIY baby shower?
Craft the decorations yourself, like bunting, centerpieces, or wreaths.
If you're more conscious of your impact on the wider environment, you can ask for good-quality pre-loved or upcycled gifts, too.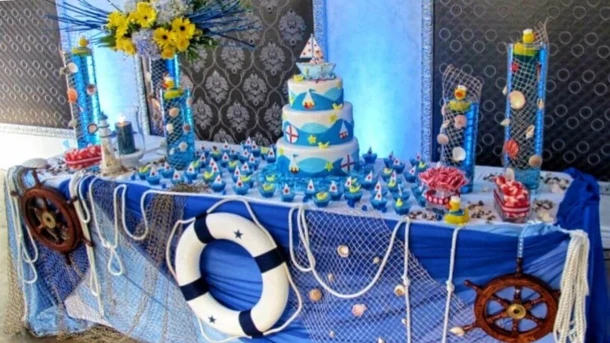 16. Ocean baby shower theme
How about something like sailor baby shower themes?
Deck out your venue with nautical decorations, fish-shaped treats, and sea-inspired cupcakes for a beautiful ocean baby shower theme.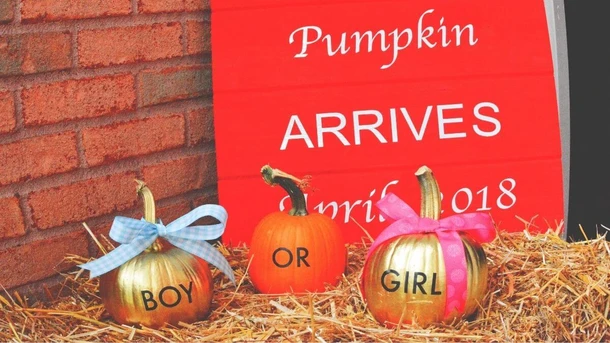 17. Halloween baby shower
Expecting your little one just after the most ghoulish time of year?
Then a Halloween baby shower could be just the thing.
How do you do a Halloween baby shower? Pumpkins. Lots and lots of pumpkins.
And why not make it fancy dress, too?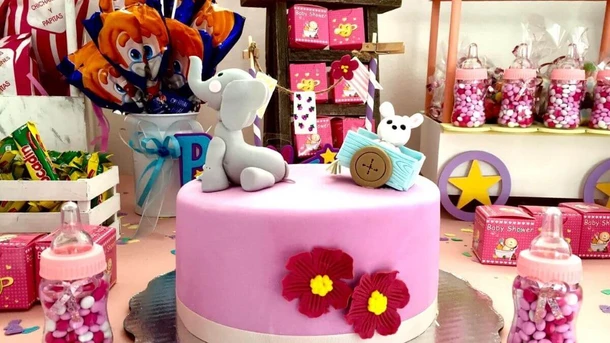 18. Elephant theme baby shower
An elephant baby shower theme works for baby girls, baby boys, and as gender-neutral baby shower themes.
Whether you opt for the classic gray elephant-themed baby shower, or go for pink (like above) or even blue, it's sure to be a cute baby shower theme!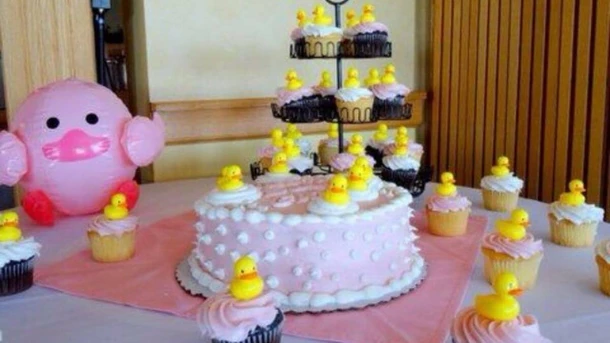 19. Rubber duckie baby shower themes
Rubber duck baby showers have been rising in popularity recently ‒ we've seen lots of pictures posted by the mamas on Peanut!
Not sure how to do rubber duck baby shower themes? Well… get your hands on lots of rubber ducks. Of all sizes. Then put them on everything.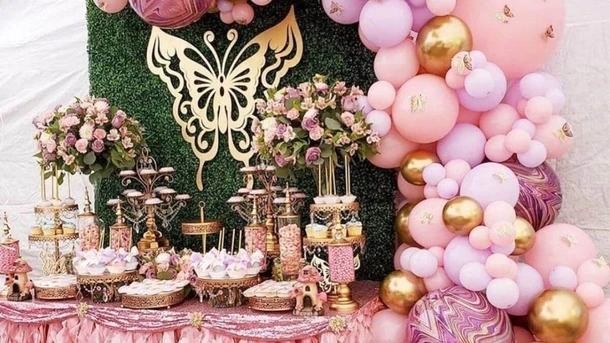 20. Butterfly theme baby shower
Butterfly baby showers are a beautiful way to welcome your baby girl into the world.
After all, she's your little butterfly!
If you're not sure where to start, Walmart has this beautiful butterfly baby shower kit to make decorating a doddle.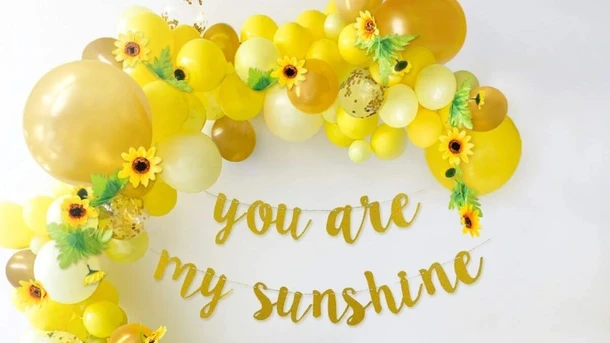 21. Sunflower baby shower
Perfect for your little ray of sunshine, sunflower baby shower themes make the whole day look that little bit brighter.
Plus, Sweet Baby Co has this colorful sunflower baby shower balloon kit for a beautifully bright centerpiece.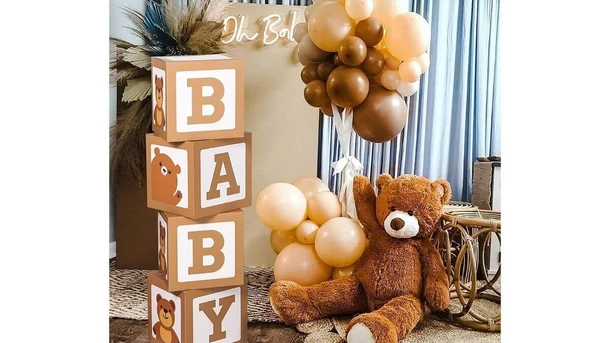 22. Teddy bear theme baby shower
Cuddly toys are going to be your life in a few weeks or months, so get ahead of the curve and go for a teddy bear theme baby shower!
Go for a classic cuddly brown teddy bear baby shower theme for a gender-neutral baby shower theme, or get colorful with themed colors.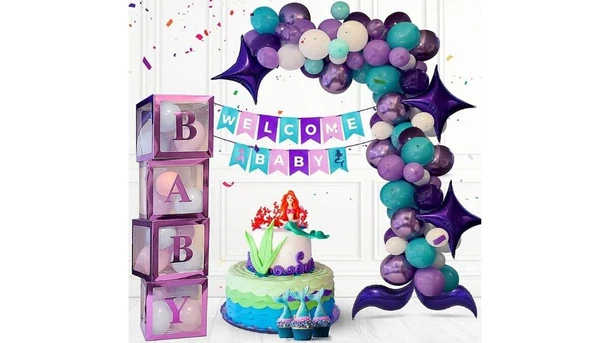 23. Mermaid baby shower theme
If you're a fan of the Little Mermaid, and you can't wait for baby to be part of your world, a mermaid baby shower theme is a must!
We love these cute mermaid baby shower theme decoration kit on Amazon, to make things a little easier.
Then, it's a case of stocking up on Goldfish Grahams, ocean-themed cupcakes, and all the blue food dye.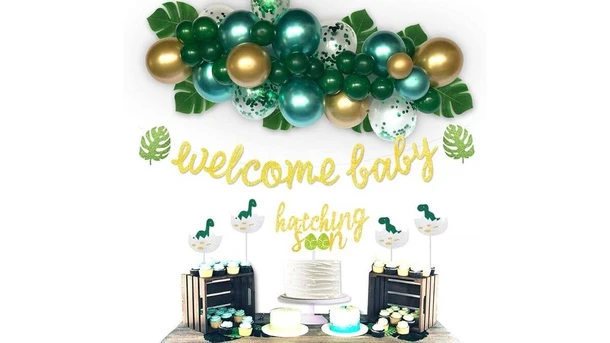 24. Dinosaur baby shower
Cue the Jurassic Park theme tune.
Another of our favorite gender-neutral baby shower themes, a dinosaur baby shower has so many possibilities.
You could play "dinosaur" egg games, eat T-rex footprint-shaped cookies, and decorate your dinosaur baby shower with this gorgeous green jungle decoration kit on Amazon.
How do you pick a baby shower theme?
So with all this choice, just how are you supposed to pick just one baby shower theme?
It's totally up to you!
You can go for something that's seasonal, like a fall baby shower theme, spring baby shower theme, winter baby shower theme, or summer baby shower theme.
Or you could go for something that's more you, based on something you like. Disney fanatic? Go for a Disney-themed baby shower! Bookworm? How about a literary baby shower theme?
Or, if inspiration's a little slim, pick a number between 1 and 24, and whichever number on our list you pick will be your baby shower theme!
Do baby showers need a theme?
No, baby showers don't strictly need a theme, and you don't even have to decorate if you don't want to.
There's no one way to have a baby shower, just like there's no one way to be a mama!
What's trending in baby showers?
Baby shower theme trends are always changing, but recently, we've seen lots of mamas on Peanut hosting rubber duckie-themed baby showers, bee-themed baby showers, and rustic baby showers.
What is the most popular baby shower theme?
There's no way to tell what the single most popular baby shower theme is, but having color-themed baby showers has always been popular among mamas.
All you need to do is pick your favorite color, or opt for blue or pink, then get all the decorations for your baby shower theme in that color.
Simple!
We hope you enjoyed our top 24 baby shower themes – even if you choose to take one of these ideas as a virtual or drive-by baby shower, you do you, mama.
We can't wait to see what yours looks like, so why not share a snap on Peanut?