Gone are the days when a Game Boy was the most high-tech entertainment a child could hope for.
Today, kids are more technologically advanced than ever.
And kiddies' tablets are often their first gadgets.
These devices can be a great buy, with plenty of entertainment options and educational features, and comprehensive parental controls.
But introducing your little one to the world of the web is always going to be a nerve-inducing time.
If you're facing the questions of when, what, and which version is best, we've got you.
Here's your guide to the best tablets for kids.
Parents and Peanuts approved.
In this article: 📝

Is a tablet OK for a 2-year-old?

Can a 4-year-old have a tablet?

How do tablets affect toddlers?

Do tablets cause behavior problems?

Do tablets affect kids' eyes?

Which is the best child tablet?
Is a tablet OK for a 2-year-old?
Now, there's some divided opinion on this.
The World Health Organization recommends children under 2 (that's 24 months) avoid screen time.
The American Academy of Pediatrics says some screen time (like video calls) is OK for kids 18 months and older.
You may want to err on the side of caution here.
But like anything to do with your little ones, trust your gut.
If you're considering a tablet for your 2-year-old, try to limit use as far as possible.
And for kids this young, any screen time should happen in the company of a responsible adult.
Can a 4-year-old have a tablet?
There really isn't a single answer to this question.
The right time to introduce kiddies' tablets will be different for everyone.
In terms of official recommendations, though, tablets for 4-year-olds are fine.
Of course, kids' tablets come with Wi-Fi which can pose extra worries when it comes to screen time.
So the big question is whether you can check their activities adequately and safely.
As well as keeping screen time as short as possible, it's important to understand what parental controls are available.
These include disabling in-app purchases and enabling internet filters and app locks.
You may also want to make sure your kid's apps and games are educational.
There are some great arts and science options to explore!
How do tablets affect toddlers?
For kids aged two to five, the American Academy of Pediatrics recommends limiting screen time to just one hour a day.
Why?
Well, toddlers who play on tablets and phones for longer periods are at higher risk of problems like poor concentration, impulsivity, poor social skills, and hyperactivity.
The same issues appear in children who watch lots of TV from an early age.
For children six and above, increased usage is fine — as long as guardians stay engaged, set time limits (which will be different for each family), and restrict use to apps and games that have some educational or creative value.
Do tablets cause behavior problems?
In their first few years, children develop key social skills.
They learn to recognize facial expressions and understand body language and verbal cues.
All of this helps them interact with their environment.
If they're completely absorbed in their screens, their developmental health could be affected.
Plus, if not properly monitored, tablets can nterrupt exercise, outdoor play, family socializing, or mealtimes.
Most experts also say not to give children tablets at bedtime as the bright lights and exciting games disrupt nighttime routines.
Do tablets affect kids' eyes?
In today's tech-based world, digital devices are important educational tools.
They give children access to information, friends, and fun.
But even the best educational tablets for kids can affect your child's eyesight.
Extended use of digital screens (TV and phones included) can cause soreness, eye strain, and "myopia" (short-sightedness).
To avoid this, consistent breaks are essential.
Follow the 20:20:20 rule, and you can't go too far wrong.
This means your child should look away from their screen every 20 minutes.
When they do, they should look at something at least 20 feet away for — you guessed it — at least 20 seconds.
Making this fun — with a game of eye-spy, for instance! — is a cute way to turn it into a routine you both enjoy.
If you notice your kids are getting headaches, blurred vision, or developing a sensitivity to light, have a chat with your optician.
They'll do tests and give you advice on what's safe.
Which is the best child tablet?
When shopping for kids' tablets, focus on things like warranties, parental controls, durability, and ease of use.
You should also pay attention to size, battery life, and any pre-installed content.
If you're buying a tablet for a teenager, you might want a bigger hard drive or memory card for downloading videos, music, and apps.
With all this in mind, here are seven picks for the best tablets for kids.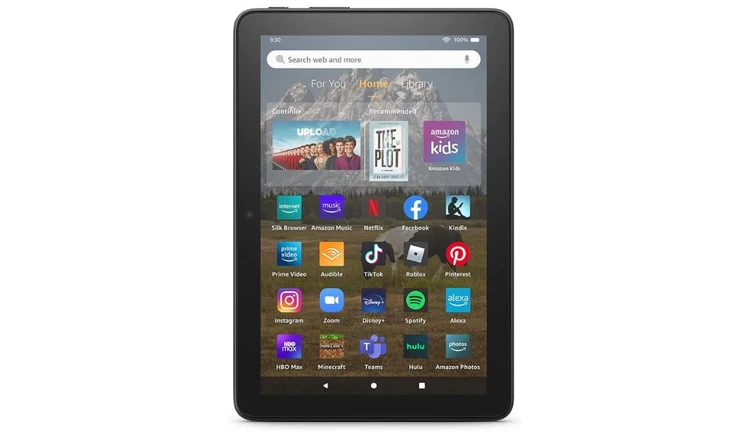 1. Best overall: Amazon Fire HD 8 Kids Tablet
With damage protection and robust parental controls, this is a reliable, robust, and affordable choice.
Combine this with easy-to-grip, functional designs (with plenty of fun cases) and a two-year worry-free guarantee.
It's a sure-fire winner for a first-time tablet.
2. Best for media streaming: Alcatel Joy Tab 2
If your family is on the go a lot, the Alcatel Joy Tab 2 is a smart choice for little media streamers.
It has great battery life, strong connectivity, and excellent audio — great if you're flying with little ones.
No matter where you're traveling, there'll always be something to keep the kids entertained.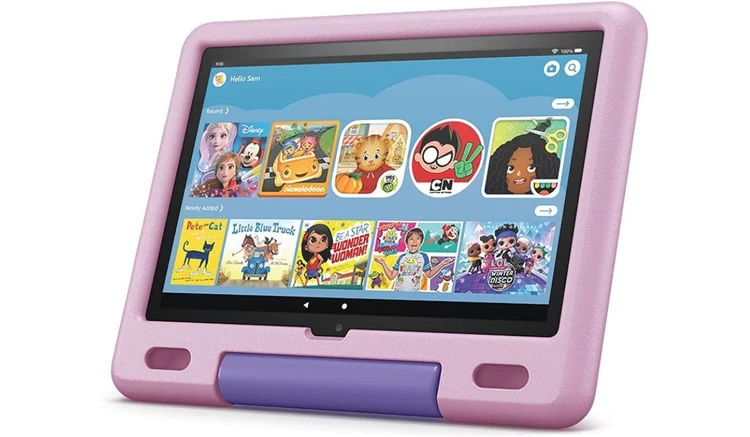 3. Best for screen size: Amazon Fire HD 10 Kids Tablet
For a tablet that's great for movies, picture books, and comics — look no further than the Amazon Fire HD 10 Kids Tablet.
With a screen just over 10 inches, you'll get access to Amazon's Kids+ library alongside powerful parental controls.
If you've got a budding artist on your hands, the big screen makes it one of the best drawing tablets for kids.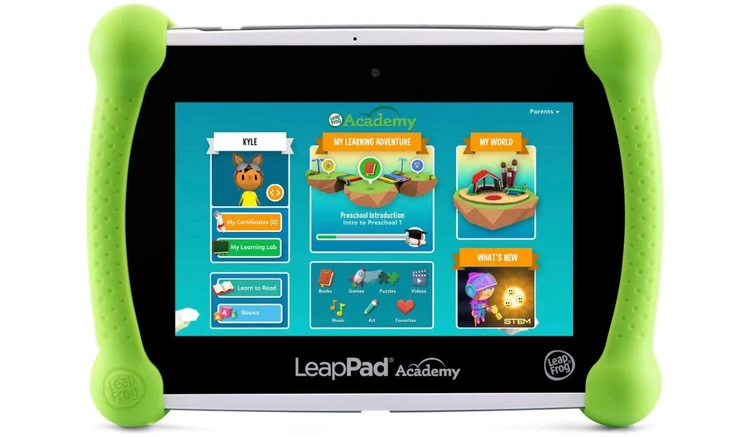 4. Best for toddlers: LeapFrog LeapPad Academy Tablet
Everything on this tablet has an educational aspect.
So this is an excellent choice for toddlers if you want to keep them entertained and learning simultaneously.
Just watch out when browsing apps, as some content needs a paid subscription.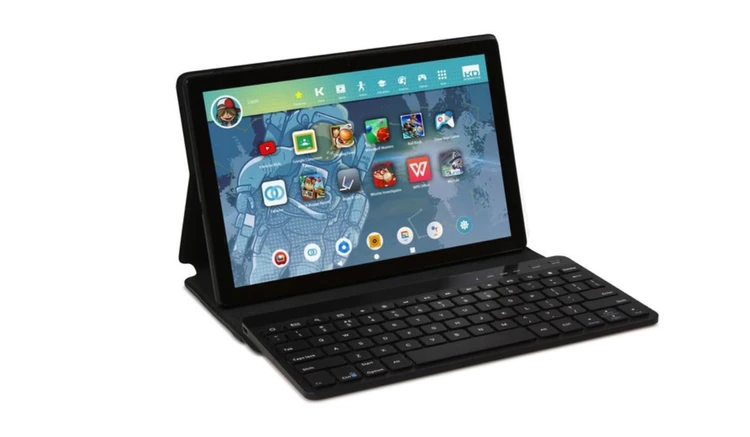 5. Best for teenagers: Kurio SMART 2-in-1 Pro Tablet
This is a kid's tablet offering sophisticated design and easy-to-follow functionality.
It's essentially a mini laptop, complete with a Bluetooth keyboard and a cover that doubles as a tablet stand.
There are also plenty of parental controls, blue-light filters, and time-limit options.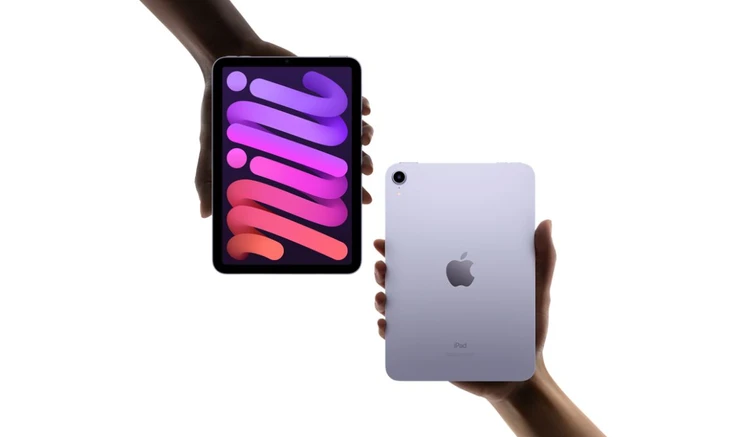 6. Best iPad: Apple iPad Mini
Apple's latest iPad mini tablet is great for older kids.
It offers pro-level functionality in a smaller size, making it great for reading, taking notes, or slipping in a school bag.
With an extensive collection of apps and a fast processor, it's perfect for adults too.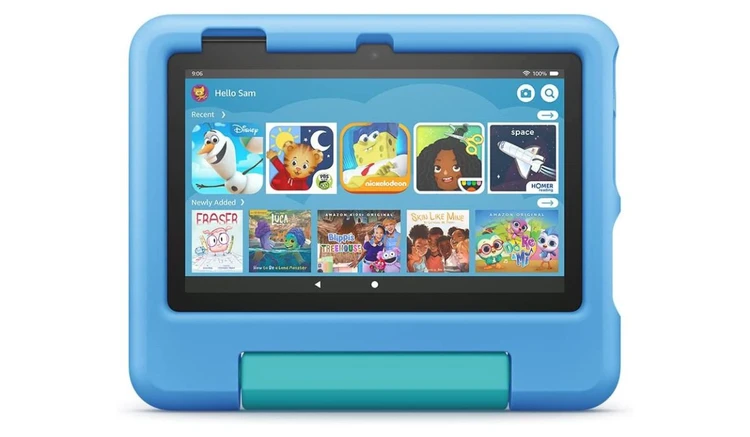 7. Best budget buy: Amazon Fire 7 Kids Tablet
Out of the Amazon range, the Fire 7 is one of the best cheap tablets for kids.
It's also great for parents who want lots of visibility over their little one's online activities.
With a rugged foam case, you can also breathe easily, knowing any knocks and drops won't be the end of the world.
There you have it!
7 top tablets to keep tots entertained.
Just remember to keep the education factor high, the screen time low and you should be good to go.
You can always enjoy a little educational screen time of your own with the mamas on Peanut.
The conversations are flowing!