Keen to take your little one on an adventure?
Here are the 10 best stroller wagons as chosen by our veteran mamas of Peanut. Happy trails!
Perfect for beachside outings or afternoons frolicking in fields, stroller wagons are a great way of getting your little one (and their mountain of baby essentials) from A to B.
Sometimes, traditional strollers simply don't cut it, especially if you're dealing with bumpy terrain and lots of luggage.
This is where the stroller wagon comes in…
Every stroller wagon on this list has been individually chosen by our editors. We may also collect a small commission if you choose to use our affiliate links on this page, at no extra cost to you.
In this article: 📝

Are stroller wagons worth it?

What age are stroller wagons for?

What are the best wagon strollers?

Best stroller wagons with canopy

Best double stroller wagons

Best compact stroller wagons

Best beach stroller wagons

Best budget-friendly stroller wagons
Are stroller wagons worth it?
Stroller wagons are a hybrid between a stroller and a wagon made for family outings—the more adventurous, the better.
So, if you've got a tonne of outdoor activities on your family calendar, whether that be zoo trips or sports days, a stroller wagon is a solid investment.
Their appeal lies in their large, four-wheel size.
They're designed to handle almost any terrain, but they often have the maneuverability of a stroller (swivel wheels included).
The other benefit of a stroller wagon? More size means more cargo.
If you're juggling multiple kids, chances are a simple family outing comes with far more stuff than a standard jogger can handle.
Plus, by the very nature of its design, you can pull it like a wagon when faced with elevated terrains like sand dunes or grassy hills.
Last but not least, a stroller wagon makes for a great sleep space come naptime.
Most even have a durable canopy, so baby can catch some z's, come rain or shine (hopefully, mostly shine).
post:4409146
What age are stroller wagons for?
Most stroller wagons are perfectly equipped for infants between nine months and five years.
It all depends on the model you buy.
Some wagon strollers might just be for toddlers and kids up to 5 years old—the best thing to do is to check with the manufacturer.
General advice is to wait until your baby reaches 18 months old.
This is down to safety concerns since most stroller wagons aren't equipped with the comprehensive protective features needed for small infants.
If you're still enjoying the newborn phase, stick with a stroller that can hold an appropriate car seat or bassinet.
And if the road trips can't wait, there are stroller wagons specifically designed for babies aged 6 months on.
However, baby should be able to sit upright, holding their head by themselves.
What are the best wagon strollers?
The best wagon stroller depends entirely on your needs.
Here are some things to consider when making your choice:
Wagon stroller size: Wagon strollers can get pretty big, with some more than capable of fitting up to four children—great news if you got more than two in your mini crew. It's also worth keeping in mind the transportation you have and how many of your kiddos need to be strapped in.

Weight limit: As hybrids built for storage on the go, wagon strollers, in general, have a pretty solid weight limit. Most can hold up to 100 lbs as a standard, but you can find wagon strollers capable of holding 300 lbs with no problem. It all depends on the size of your family, the age of your babes, and what you intend to bring with you.

Storage: Speaking of heavy lifting, storage is essential. If you need more than one large storage space, there's brands that offer a lot more than just pockets for the kids. Some even have a cooler.

Canopy size: If you've got beach trips on the brain or happen to live in a warmer climate, sun protection is going to be top of the list. From brand to brand, wagon stroller canopy options vary, from one large awning to a foldable canopy for each seat. The (blue) sky's the limit.
You may also want to consider how easy it is to fold or unfold, or for most parents, how easy is it to clean.
To help you get the best of the best in stroller wagons, we asked our veteran mamas of Peanut.
And boy, did they deliver!
Best stroller wagons with canopy
Keep your little explorer safe from the sun with these shady stroller wagons with canopies.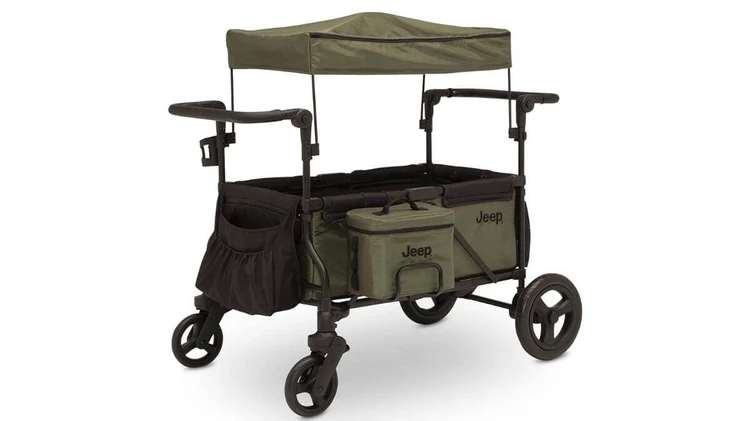 1. Jeep Stroller Wagon ‒ Deluxe Wrangler
Want your little one to travel in style?
Then you'll want to get your hands on this Jeep wagon stroller with canopy.
It comes with tons of storage, including a detachable cooler bag and a parent organizer.
We also love its functionality, with three different options for riding, a removable canopy, and two adjustable handlebars so you can push or pull with ease.
Colors: Black/green
Capacity: 110lbs
Weight: 46.2lbs
Price: $435.99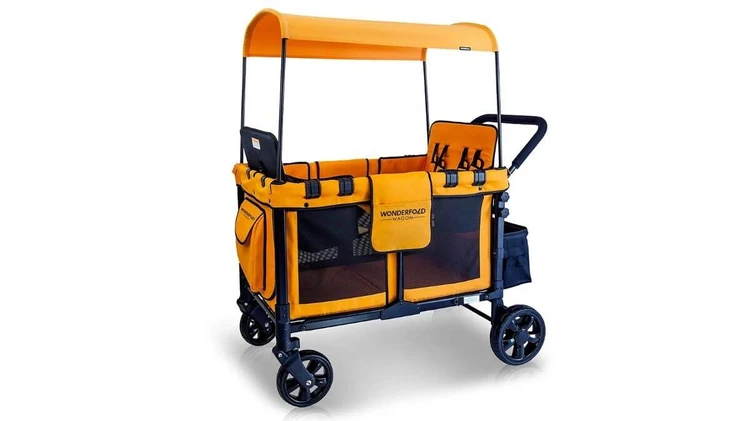 2. WONDERFOLD W4 4 Seater Multi-Function Quad Stroller Wagon
This is known as the "wonder wagon" among our mamas of Peanut, and with good reason!
Perfect for wrangling up to 4 toddlers or kids, it's a fantastic option as a quad stroller wagon.
You can remove the raised seats as needed, and these even recline (ooh la la), giving you plenty of flexibility.
The adjustable canopy poles are also a nice touch for growing kids.
Colors: Orange, black, sunset orange, elite black, elite navy
Capacity: 300lbs
Weight: 50lbs
Price: $899
Best double stroller wagons
Now for the best wagon stroller for 2 little explorers!
Whether you've got twins or a kid and a toddler, these are the best options for double stroller wagons, as chosen by our Peanut mamas.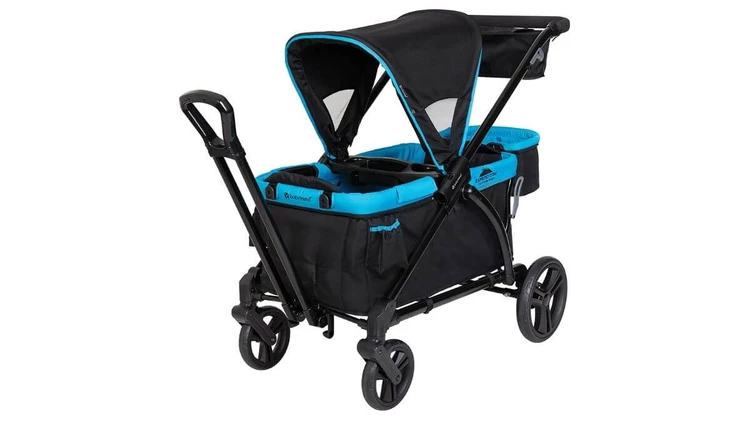 3. Baby Trend Expedition 2-in-1 Stroller Wagon Plus
Go twin-trekking with the Baby Trend stroller wagon for 2 ‒ push or pull, it's up to you!
This wagon stroller offers the height of practicality with flexible storage and a handy Seat2Mat cushion that can transform into a lie down mat.
It also comes with parent and child trays with cup holders — hands-free baby!
Colors: Ultra Marine, liberty midnight, ultra black, ultra gray
Capacity: 50lbs
Weight: 42lbs
Price: $239.99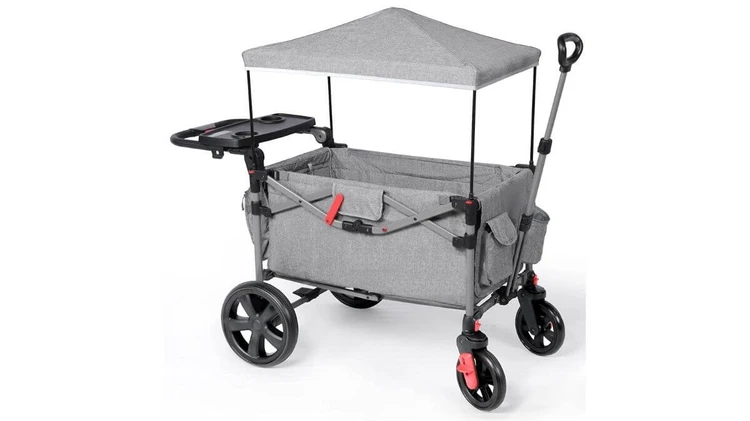 4. EVER ADVANCED Foldable Stroller Wagon for 2
Another push-and-pull double stroller wagon, our Peanut mamas love that you can fold it up in seconds!
Colors: Gray
Capacity: 110lbs
Weight: 33.1lbs
Price: $349.99
Best compact stroller wagons
If you're after a stroller wagon you can pack up to take abroad or pop in the car, you're bound to find the perfect travel-friendly wagon stroller here: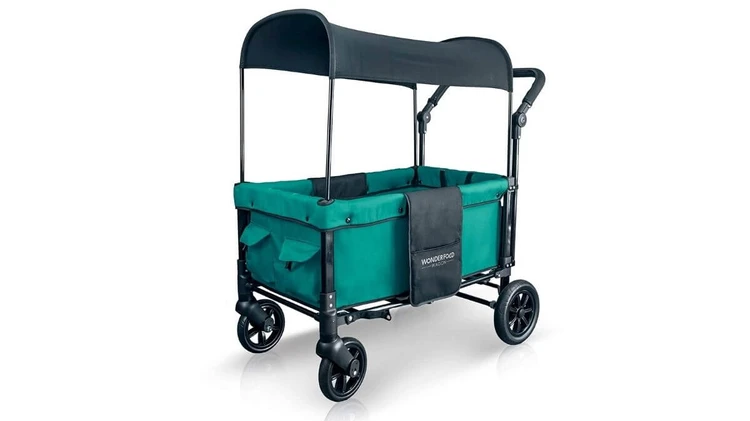 5. WonderFold Multi-Function 2 Passenger Push Folding Stroller Wagon
After a foldable stroller wagon with a canopy, you can easily pack up for trekking further afield?
Pack up your little one with everything else they need in this stroller wagon, and you're good to go!
It can be easily folded in five seconds, plus its mini size means you can store it anywhere you like for easy access.
And the best part? It's designed to carry kids between two and seven, so you'll get plenty of mileage for the prize.
Colors: Teal green, cobalt violet, fuschia pink, smoky gray
Capacity: 180lbs
Weight: 33lbs
Price: $329.99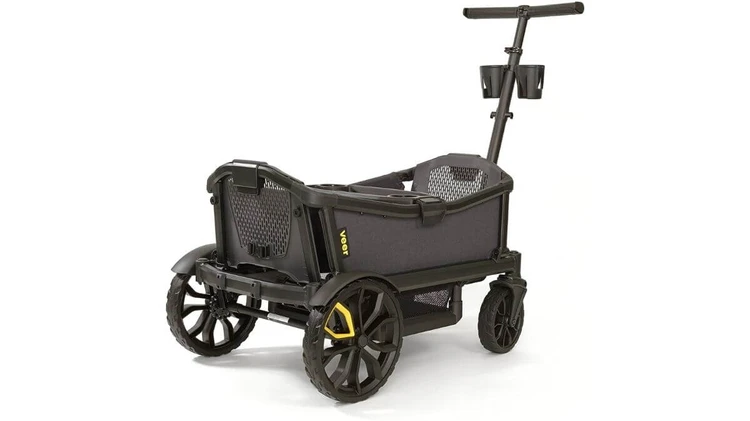 6. Veer All Terrain Cruiser
This is one of the lightest wagon strollers on our list, super-easy to fold up and pack away — and it can be checked in as a stroller on most airlines.
The price point may be high, but the Veer All-Terrain Cruiser is made for tackling the wilderness.
All the while boasting the same safety standards as other premium strollers.
Colors: Black
Capacity: 350lbs
Weight: 32lbs
Price: From $649.99
Best beach stroller wagons
Heading to the beach with your babes?
Some classic strollers can't handle the sandy, bumpy terrain of beaches and dunes, so a beach stroller wagon can make the whole day much easier.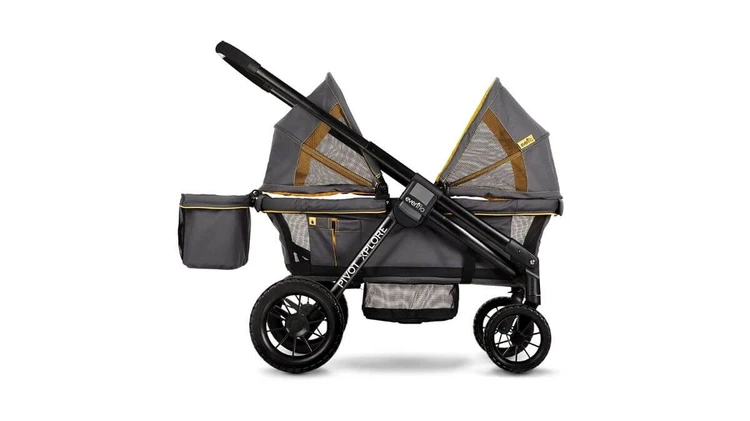 7. Evenflo Pivot Xplore All-Terrain Stroller Wagon
Gravel, sand, mountain pats, hills… this all-terrain stroller wagon can handle it all!
Plus, it comes with spaces for snacks, toys, and mini dining sets for your little ones—everything they need for a fun day out!
Colors: Adventurer, olive, wayfarer
Capacity: 55lbs
Weight: 34.7lbs
Price: $399.99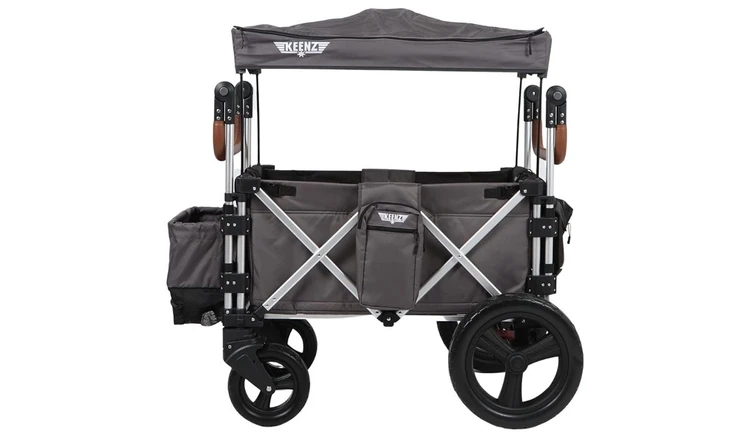 8. Keenz Wagon Stroller
This versatile beach stroller wagon can take pretty much everything you need for a family day on the beach, including the kids—all four of them!
The canopy is designed with blackout panels, so you can keep your babes nicely protected from the sun (or ensure a peaceful naptime).
Plus, there's lots of storage, including a cooler bag, making this the perfect wagon stroller for family and friends.
Colors: Blue, black, gray, red
Capacity: 110lbs
Weight: 32lbs
Price: $749.99
Best budget-friendly stroller wagons
If you're after the perfect stroller wagon on a budget, we've got you, mama: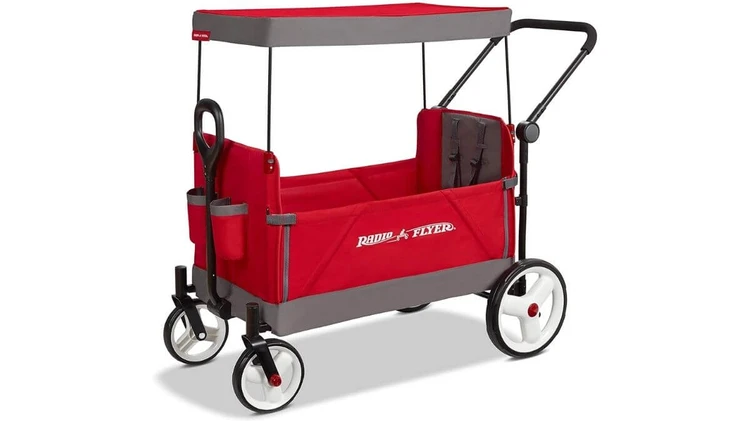 9. Radio Flyer Convertible Stroll 'N Wagon
There's a reason why this budget-friendly Radio Flyer convertible stroller wagon is rated 5 stars by over 1,900 people.
Plus, the lightweight canopy means your little one can stay safe in the shade.
Colors: Red, gray
Capacity: 150lbs
Weight: 31.31lbs
Price: $179.99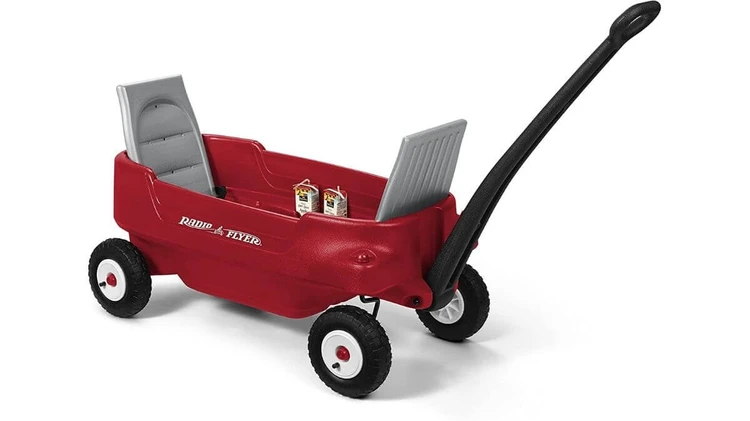 10. Radio Flyer All-Terrain Pathfinder Stroller Wagon
The is a classic when it comes to little red wagon strollers.
If you're heading to the beach, this stroller wagon can comfortably carry 2 kids in its foldable seats, with seatbelts for added safety, just in case.
Colors: Red
Capacity: 200lbs
Weight: 25lbs
Price: $149
Stroller wagons are perfect for parents planning on trekking with their little ones and lots of other supplies or trips to places where traditional strollers can be a challenge to push, like beaches or rocky terrain.
But it's totally up to you whether you invest in a stroller wagon ‒ they can be pricey, but they can be worth it!
Still not sure which stroller wagon is right for you and your little one?
Ask our mamas of Peanut, they'll be happy to help!