So, your little peanut at that stage, mama? If those tiny teeth are looking to make their debut, you're probably on the hunt for the best teething toys for babies. Don't worry. We've got you covered.
As those first little chompers come through, your little one is going to be quite uncomfortable and fussy.
We're not going to lie to you — drooling, gnawing and crankiness are all part of the territory.
This is especially true at night when your little one has less to distract them from the pain.
But, never fear, mama, there are lots of things you can do to help your baby navigate this milestone.
And this includes teething toys.
Your baby is going to look for ways to soothe their sore gums, and giving them something satisfying (and safe) to gnaw on can really help.
In this article: 📝

Are teething toys recommended?

What do dentists recommend for teething?

Which teething toy is best for babies?

Wooden teethers

Silicone and plastic teethers

Rubber teethers

Best teething toys for babies: the bottom line
Are teething toys recommended?
When they start teething, babies instinctively search for something to chew on.
That's because the pressure helps ease the pain of the new teeth breaking through the gum line.
But this means that anything, including your hands or their favorite toy — or yes, even something like a cell phone — could become your baby's chew-tool of choice.
By providing them with a teething toy, you're giving your baby with a safe alternative.
This is why the American Academy of Pediatrics suggests their use (although specially made teething toys aren't the only choice).
What do dentists recommend for teething?
Teething toys, including rings, toothbrushes, and mitts, are all good options.
They come in a variety of materials, shapes, and textures, so it's worth trying out a few to see which one does the trick for your little baby-beaver.
A word of caution, though: while it's a great idea to chill baby teeth toys, freezing them (or anything else used for teething) is not a good idea.
They could damage our little one's growing gums.
You're also best avoiding teething jewelry as they're a choking hazard.
For the same reason, never put a teething toy around your little one's neck.
Which teething toy is best for babies?
Well, that really depends on you and your little one, mama.
There are a few factors to consider:
The recommended age of the teether

Which materials you (and your baby) would prefer

The shape and texture that will give your little one the most relief.
Here are nine of our favorites:
Wooden teethers
Want to cut down your plastic consumption?
Wooden teethers are a fantastic, environmentally-conscious option.
Whichever you choose, make sure it's made of wood that won't splinter—ouch!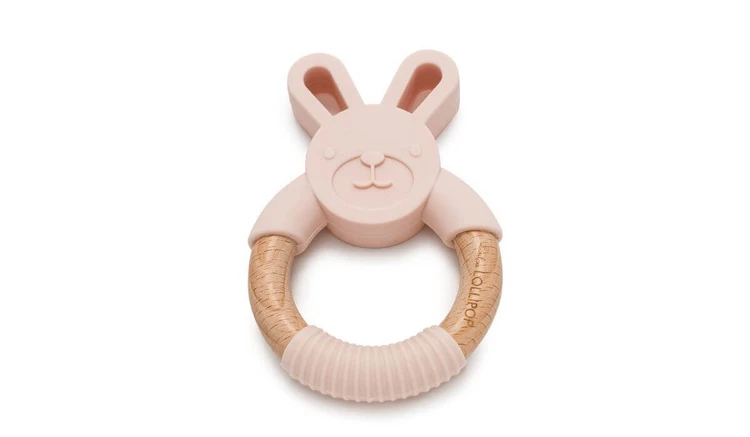 1. Bunny Silicone and Wood Teething Ring
With its easy-grab wooden ring shape and soft silicone gnaw-able bunny ears, what's not to love?
This teether from LouLou Lollipop. is also BPA, PVC, phthalates, lead, and cadmium free.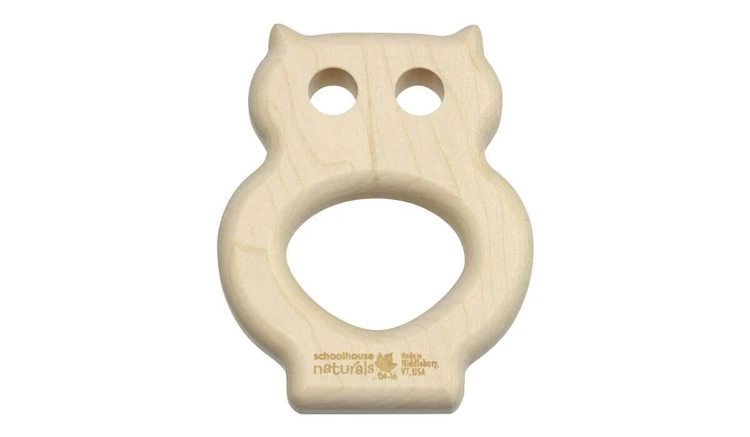 2. Maple Teether
These simple yet beautiful teethers from Maple Landmark are made from solid, smooth hardwood maple in Vermont, USA.
They also come in a variety of shapes, including a mathematically inspired letter 'Pi'!
Silicone and plastic teethers
When it comes to those wee ones who want a softer chew, silicone and plastic teethers are the winners.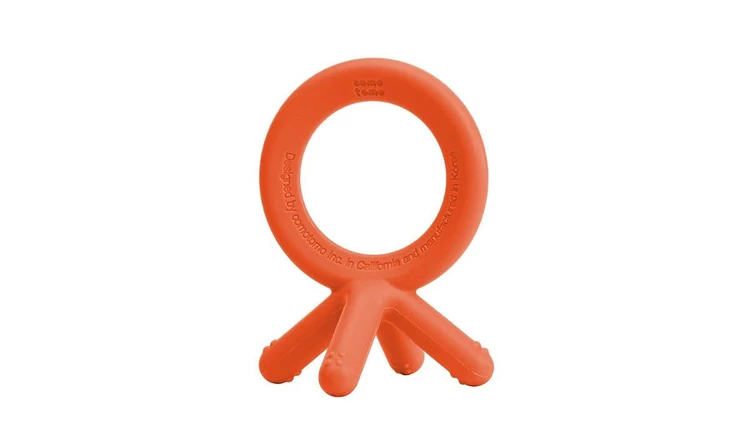 3. Silicone Baby Teether
Does your little munchkin keep nibbling on your fingers?
Save your digits from damage with this finger-sized food-grade silicone teether from Comotomo.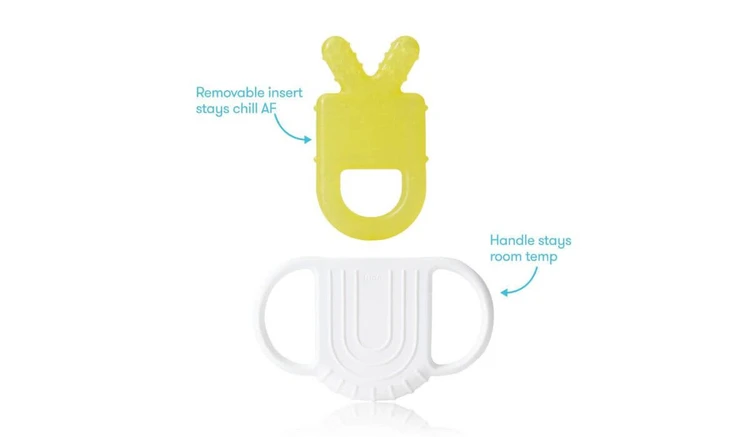 4. Not-Too-Cold-to-Hold BPA-Free Silicone Teether
Someone had their thinking cap on when they created these silicone teethers from FridaBaby.
Let your little one chill their grumbly gums while keeping their little hands toasty.
Plus, the teether comes with two different shaped textured inserts so your little one can gnaw every nook and cranny.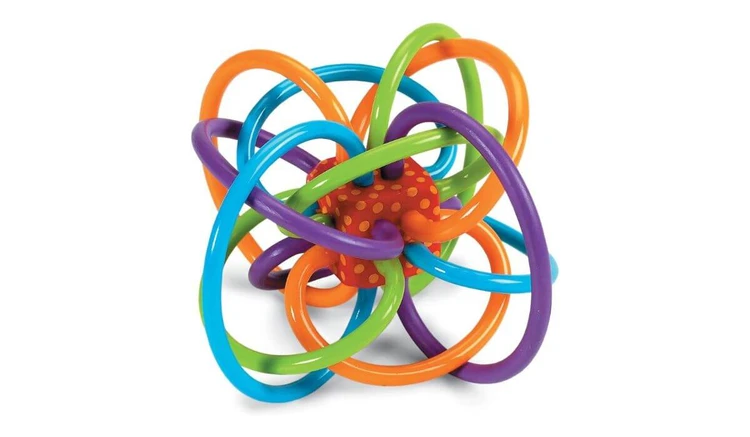 5. Winkel Rattle & Sensory Teether
With its inbuilt rattle and fun colored handles, this BPA-free plastic teether from Manhattan Toy is sure to distract your little one from their teething troubles.
Plus, it's easily chillable — just pop it in the refrigerator.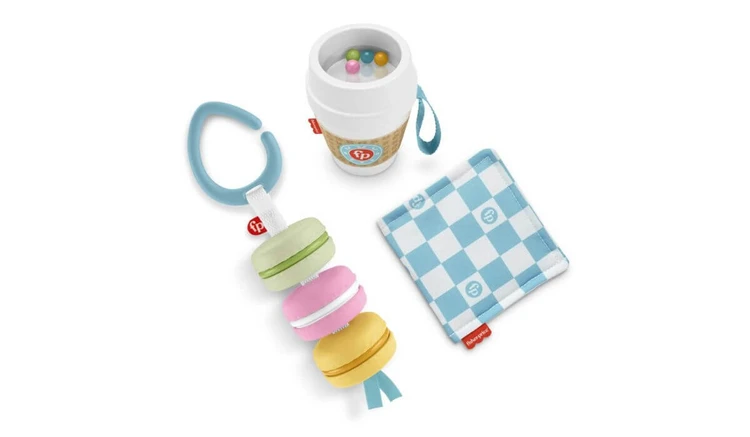 6. Coffee Cup Teether
Okay, we'll admit, this one's for you as much as for your little one.
Seriously — what could be cuter than sipping a cup of joe with your sweetie pie in the morning?
But this teether toy from Fisher-Price has more than good looks.
Its BPA-free teething lid might be just the thing your bambino needs for maximum soothe.
Plus, you can buy this cute coffee cup teether as part of a set, meaning you can distract your little one with the adorable macron toy and a crinkle napkin.
Rubber teethers
When it comes to natural materials, wooden teethers aren't your only choice.
What about rubber?
Many little ones are fans of their soft, squishable, and all-natural credentials.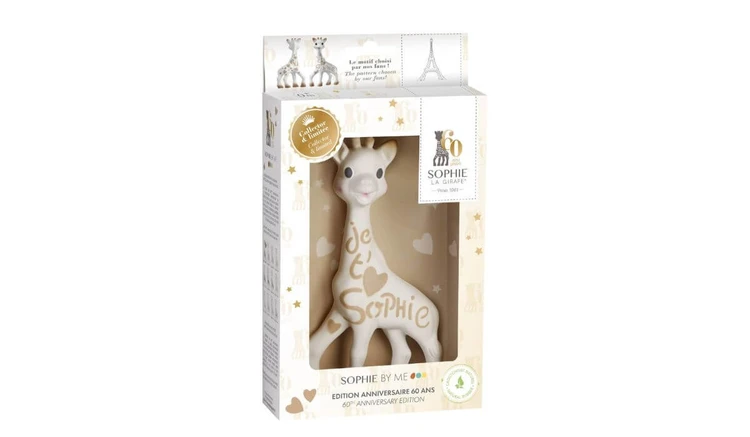 7. Sophie la girafe original baby teething toy
A firm favorite, this adorable 100% natural rubber teether by Sophie la girafe has plenty of different shaped bits and bobs for your little one to get their gums around.
Sophie is easy to grip and has a cute little squeaker but, like with other natural rubber teethers, is wipe clean only.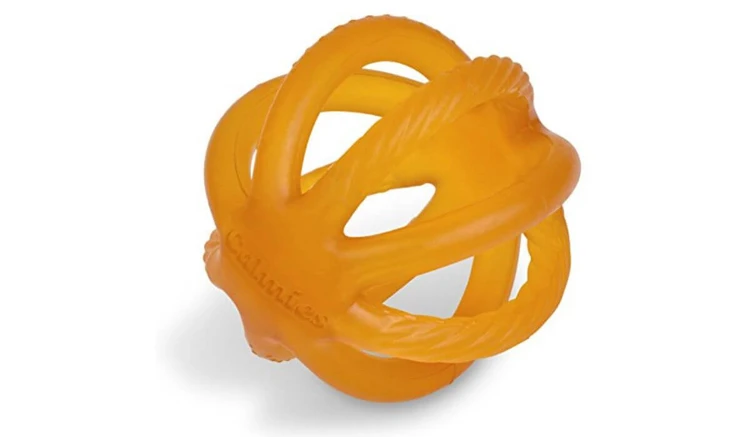 8. Natural Teething Toy for Babies and Infants
Super grippable, this textured ball-shaped teether from Calmies has been designed to help babies develop their sensory motor skills.
It's also BPA, PVC, paraben, and phthalate free.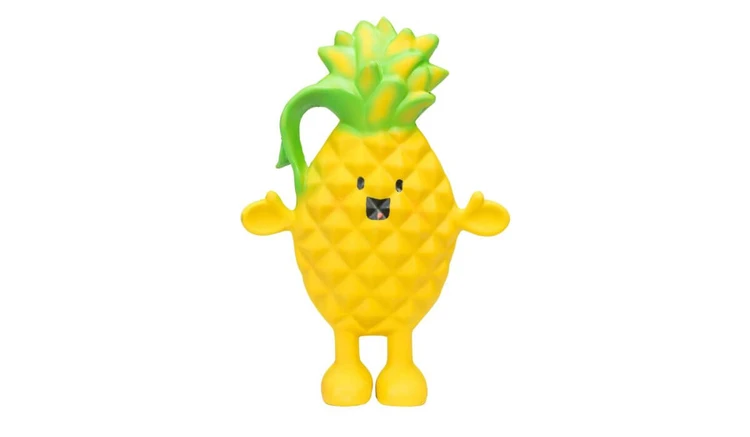 9. Polly Pineapple
One look at Polly's sunny little face is enough to banish any teething woes.
Polly is made from all-natural rubber, and so is BPA, PVC, and phthalate free.
The pineappley shape lends itself to getting to all teeth, front and back.
And, when you buy Polly from gnomgnoms, you'll be supporting No Kid Hungry, a campaign to battle childhood poverty in the United States.
Best teething toys for babies: the bottom line
There are loads of options when it comes to teething toys, mama.
Although some people might swear by a particular teether toy, the best option is the one that works best for your little one and you!
For example, you might just want a teether that can be put straight into the dishwasher and haven't got the time (or the energy) for wipe-clean-only ones.
No problem, mama!
There are plenty of options built especially for this purpose.
Perhaps you want to stay all-natural or keep costs down?
Lots of options out there too.
Don't be afraid to try out a few until you find the right fit.
Teething can be a challenging time, but it won't last forever.
You've got this, mama.
And if you'd like some support, why not join our community?
You'll find plenty of ideas for teething babies (and everything else).