After shopping around, practicing the installation, and taking your little one home from the hospital, you probably feel like you've mastered the art of the baby car seat.
But safety is for life and, when your little peanut gets bigger, booster seats for older children come with a lot of new information to get your head around.
When should they make the transition from infant car seat to booster seat, and when can they travel without one?
We've got the inside info for your most precious cargo.
In this article: 📝

What are booster seats?

Is a highback booster seat safer than a backless one?

Do booster seats need to be anchored?

At what age can you use a booster seat?

When can a child use a backless booster seat?

What are some trusted booster brands?

Other things to consider
What are booster seats?
Booster seats raise older children up so that your car's built-in seat belt fits them safely and stops them from lurching forward if you make a sudden stop or if you're involved in an accident.
First, your child will outgrow a rear-facing infant car seat.
Then, they'll get too big for the harness in a forward-facing safety seat.
When that happens, they'll need a booster seat until they're tall enough and old enough to use your car's regular seat belt properly.
The guidance varies a little around the world but, according to the American Academy of Pediatrics, those magic numbers are 4 feet 9 inches and between 8 and 12 years of age.
There are two kinds of travel booster seats for older children: highback and backless.
Highback booster seats have a cushioned base, a backrest and "wings" around your child's head to give them some extra support and protection.
Instead of having their own five-point harness like most infant seats, these highback boosters work with your car's seat belt.
They have a slot that hooks the seat belt into a lower position.
This means that it sits over your child's shoulder instead of across their neck.
The emergency locking retractor feature will still kick in if the seat belt gets pulled suddenly, and the backrest and headrest offer extra protection to their torso, head and neck if you're ever in a side-on collision.
And as a bonus for those unplanned car naps, these boosters will also support your little one's head and neck if they flop over in their sleep.
Backless booster seats have a raised cushion for your child to sit on.
They usually use armrests to keep the lap part of the seatbelt secure, but they don't have the additional side support of a highback seat.
But which is best?
On the one hand, backless booster seats can be more practical because they're easier to transport — great if you sometimes need to jump in a taxi or travel in someone else's car.
They also tend to be less expensive than highback seats.
Is a highback booster seat safer than a backless one?
Many people think so because of the added protection from the back and wings.
But sometimes a highback booster isn't affordable and, if you have two or more children, it might be tricky to fit these wider seats into the back of a smaller car.
In these cases, a backless booster is definitely a safer option than going without.
It's also worth remembering that many highback booster seats can convert to backless, which might give you some more options as your little one turns into your big one.
Remember, whether it's highback or backless, The AAP are unequivocal in their recommendation that all children under 4 feet 9 inches and under 8 years old use a booster seat with a belt positioner.
Do booster seats need to be anchored?
Ever felt like you need an engineering degree to install a car seat?
Many car seats have a LATCH system (Lower Anchors and Tethers for Children, a.k.a. ISO or ISOFIX in Europe) as well as using the standard seat belt.
This means that a pair of hooks built into the booster will line up with a set of anchors built into the car.
The system keeps the car seat rock solid and stops it from slithering from side to side.
If your car and your car seat have a LATCH system, anchoring your booster is an easy way to ensure an extra layer of safety.
If your car or your booster aren't compatible with LATCH, or if your child is older, the emergency locking retractor on a standard seatbelt is also a dependable (and thoroughly safety-tested) option.
At what age can you use a booster seat?
The CDC recommends using a forward-facing car seat until at least age 5 and then transitioning to a booster.
Of course, you'll also need to look at the manual for your car seat, because you'll need to take its height and weight limits into account.
When it comes to booster seat age, car seat technicians recommend that children be at least 4 years old, 33 lbs (around 15 kg) and 3 ft 3 inches (about 100 cm) tall before transitioning to a booster of any kind.
And, when it comes to knowing when your child is ready for a booster seat, age and size are not the only considerations.
They should also be developmentally ready.
Weight and height aside, the design of a booster car seat means that your child needs to be able to sit still and upright for the whole journey.
It's much easier to unclip the clasp, slide their arms out, shift around or lean forward in a booster than a 5-point harness seat.
Add this to the fact that a harness distributes crash forces more evenly than the 3-point adult seat belt, and it's worth keeping them in their toddler seat (as long as they're within the weight and height limitations) for as long as possible.
It's safer to invest in a car seat with a higher weight or size rating than to move to a booster before your child is ready.
Once the shoulder straps on the toddler car seat are at their highest setting and begin to dip behind them, or your child's eyes are level with the top of the headrest, it's time to upgrade.
When can a child use a backless booster seat?
Kids grow up fast and you'll soon be wondering, "What is the age and weight for a backless booster seat?"
In the UK, as of March 2017, backless boosters can only be used for kids taller than 125 cm (about 4 feet 1 inch ) weighing more than 22 kg (about 48.5 lbs).
In the U.S., booster seat requirements differ by state.
You can find the details here.
What are some trusted booster brands?
Just like when you bought other items like an infant carrier, you're probably weighing your options when you're looking for a booster seat — weight limits, installation, and whether it'll fit in your car.
Here are some trusted brands and booster seats.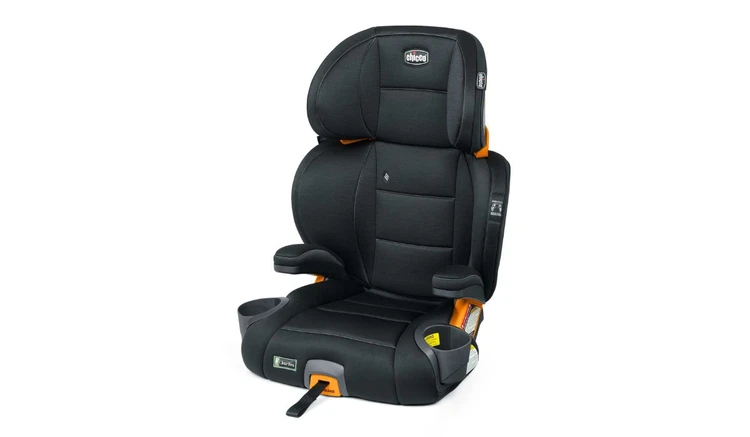 1. Chicco KidFit ClearTex Plus 2-in-1 Belt-Positioning Booster Car Seat
This Chicco booster seat is light and easy to transfer between vehicles. It also converts to a backless booster when your child is ready.
With a weight limit of 100 lbs in highback mode and a height limit of 57 inches, it'll grow easily with your child.
Plus it has dishwasher-safe cup holders!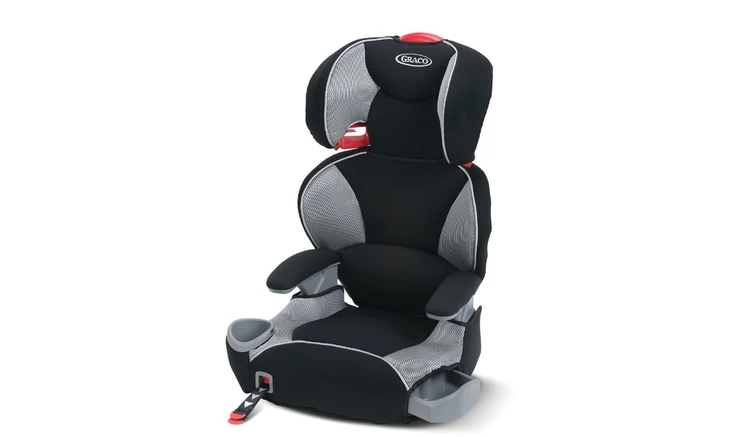 2. Graco TurboBooster LX Highback Booster Seat
This Graco booster seat is a top choice for car safety booster seats.
It's built to exceed the recommended safety standards and it's earned its 5-star ratings.
It also features a cup holder and a storage compartment for that rock your kid found while you were out.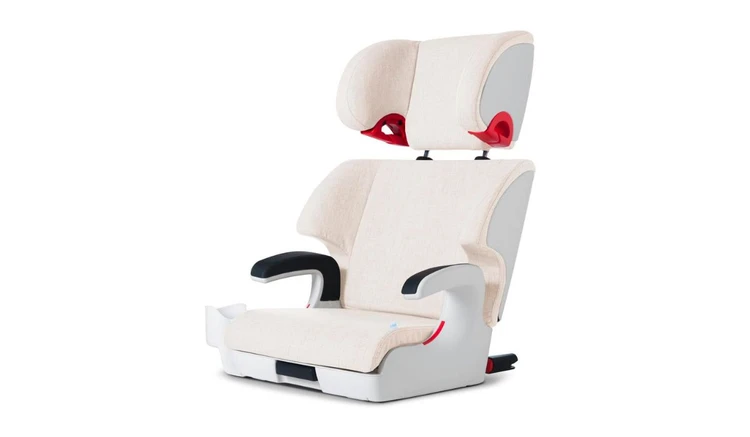 3. Clek Oobr High Back Booster Car Seat
Proof that being uber safe can look uber cool.
This chic back booster sheet is more on the more expensive side but it does give your child all the comfort and stability of a (really nice) car seat.
That includes plenty of room for growth and a removable reclining seat back.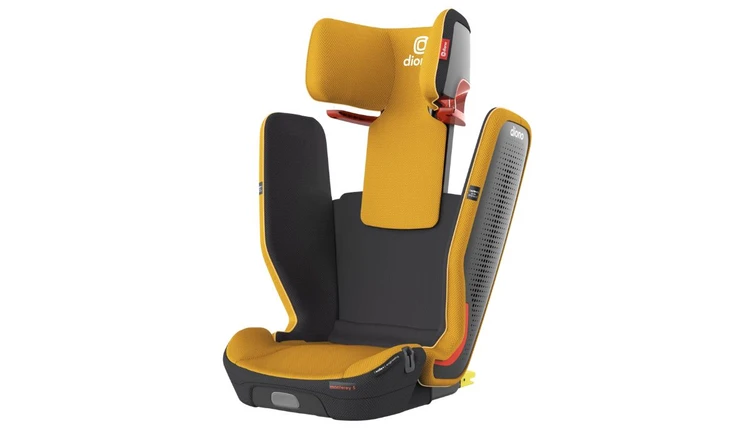 4. Diono Monterey 5iST FixSafe Rigid Latch High Back Booster Car Seat
The Diono booster seat is made for quick and easy portability.
It goes from a full high back booster seat to a compact fold in seconds – complete with integrated handles and carry straps.
And while it's 25 percent smaller than the average booster, it's designed to expand as your child grows.
Other things to consider
If your older child has outgrown their seat and you're thinking of passing it on to your youngest, just remember that car seats expire because the plastic can get weaker with time.
Be sure to check the stickers to make sure that yours is still safe to use.
It can also be best to buy a new car seat for your family, rather than buying secondhand.
Car seats and boosters should always be replaced if they've been in an accident and buying new means that you can be certain of the seat's history.
And because safety while traveling is always important, remember you might be able to bring your car seat if you're taking your toddler on an airplane.
It'll keep them secure, and save you from having to rent one at your destination.
And if this feels like a lot of information, remember that the Peanut Community is here with you every step of the way.