Do you, your partner, or your wider family have Celtic heritage? Then a Celtic baby name with an Irish, Scottish, or Welsh connection could be just the right fit for your little peanut.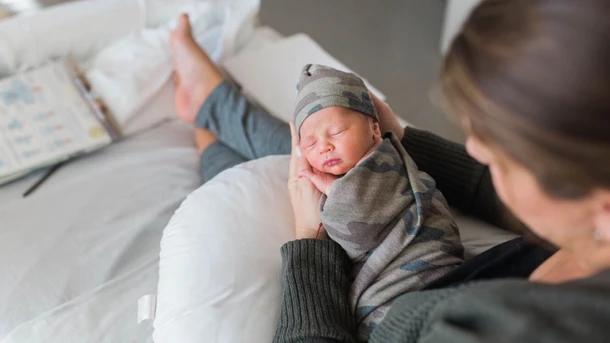 Choosing a name for your baby isn't always the most straightforward of tasks. You need to think about spelling, pronunciation, meaning, initials, and every conceivable nickname.
But the good news is that if you want to honor your culture or family, it makes shortlisting names a whole lot easier. So if you've got some Scottish, Welsh, or Irish ancestry in your bloodline, scrolling through the most charming, elegant, and whimsical Celtic baby names is a good place to start.
So let's take a look at the top Celtic names for girls and boys.
Table of Contents 📝

A (very) brief history of Celtic names

Popular Celtic girl names

Popular Celtic boy names

What are some unique Scottish names?

What about Irish names?

Celtic baby names — Which one will you choose?
A (very) brief history of Celtic names
Throughout the Iron Age (1200 B.C. to 600 B.C), a group of tribes collectively known as the Celts occupied much of northern Europe, before settling in the British Isles.
An enduring and romantic history full of mythology, the impact of the Celts still looms large across Ireland, Scotland, and Wales today — especially when it comes to culture, language, and, of course, names. These names, while sometimes tricky to pronounce, are often full of character, harking back to gods and goddesses, kings and queens, rivers and islands, and so much more.
Popular Celtic girl names
Sabrina — Meaning "from the river Severn", Sabrina is a magical name perhaps most commonly associated with the Teenage Witch. But it was also the name of a Celtic goddess; a powerful, mystical, and sympathetic figure. Nice.
Brianna — "One who is honorable and noble," Brianna (also Breanna, Breana, or Briana) was relatively uncommon in the US until the 1970s, but enjoyed top 20 status between 1996 and 2006. Notable Briannas include Deadpool actress Brianna Hildebrand and journalist Brianna Keilar.
Fiona — Another that was rare in the US until recently, Fiona — which derives from the Gaelic word fionn, meaning "fair" — broke the top 200 in 2017. The name can be shortened to "Fi" (pronounced "Fee") and is shared by the Grammy-winning singer, Fiona Apple.
Caitlin — Caitlin, which means "purity" was a popular choice during the 80s and 90s, and we think this elegant name is due for a comeback. With a variety of spellings (Caitlyn, Kaitlin, Kaitlyn, Kaitlynn, Katelyn, and Caetlin) you're bound to find a version you love.
Erin — Fittingly, Erin means "Child of Ireland" and has been a popular name in the US and beyond for a number of years. It's a short name with a huge history, derived from the goddess Eriu, who gave her name to the country of Ireland (Éire). And your little Erin would be in strong company, with the likes of activist Erin Brockovich and broadcaster Erin Andrews sporting the name.
20 more Celtic female names:
Aisling
Avalon
Bridget
Bronwen
Deidre
Doireann
Enid
Gwyneth
Gwendolyn
Isolde
Keeley
Kiera
Kylie
Maeve
Maureen
Moira
Morgan
Reagan
Rhiannon
Shannon
106 women are talking about 'Celtic baby names' on Peanut. Download the app to join the conversation.
➡️ See our complete list of Celtic baby girl names
Popular Celtic boy names
Aidan — A regular top 100 name in Ireland, Aidan, which means "small fire", has also enjoyed popularity in the US, occasionally finding itself inside the top 50. Notable Aidans include actors Aidan Quinn (Elementary) and Aidan Gallagher (The Umbrella Academy).
Brian — The male counterpart of Brianna, Brian has a long and storied history with Ireland thanks to the king, Brian Boru. He's most famous for putting an end to the Viking domination of Ireland in the 10th Century. No wonder it means "high noble".
Dylan — A Welsh name meaning "great tide" or "son of the sea", Dylan has soared in popularity in recent years. Well-known Dylans include the poet Dylan Thomas (who inspired Robert Zimmerman to change his name to Bob Dylan) and the actors Dylan McDermott and Dylan Sprouse.
Owen — Got yourself a boy bump who's kicking like crazy? Then you can't go wrong with "Owen" which means "young fighter." A now regular top 25 name in the US, you've got to think actor Owen Wilson has played a small part in this Welsh name's meteoric rise.
Kevin — Irish in origin, Kevin can mean "gentle" or "handsome". A top 20 name in the US during the 50s, 60s, and 70s, it recently fell out of the top 100. But with the likes of Kevin Durant and Kevin Jonas on the scene, it won't be long until it's back.
20 more Celtic male names:
Angus
Blaine
Caden
Cormac (Which makes an appearance on our list of Cool and Rare Baby Names)
Douglas
Duncan
Fergus
Finn
Gavin
Gordon
Graham
Ian
Keith
Lee
Malcolm
Patrick
Rowan
Roy
Sean
Trevor
➡️ See our complete list of Celtic baby boy names
What are some unique Scottish names?
If you have Scottish ancestors, you may wish to honor them with a truly unique Scots name. For girls, consider a variation on Caitlin, Catriona, or a beautiful spelling of the name Alice, Aileas (same pronunciation). And if you want to conjure the image of the stunning islands scattered off the coast of Scotland, you could choose Iona (literally "island") or Rhona ("rough island").
For boys, meanwhile, you can give a nod to some Scottish royalty, including Coinneach (a version of Kenneth, pronounced CON-yach), Domhnall, and Fergus — all names of kings at various points in history.
What about Irish names?
Irish names have some of the most fascinating spellings and pronunciations. Pop quiz: How do you pronounce Aoife, Caoimhe, Eithne, Niamh, or Saoirse?
These distinctive Irish girls names go a little something like this:
Aoife — EE-fa
Caoimhe ― KEE-va
Eithne — EN-yah
Niamh — NEEV
Saoirse — SUR-sha
For boys, you've got novel names like Cuchulain (Coo-HULL-un), Eoghan (Owen), and Laisren (LAS-rain) to choose from.
And if you're looking for some unisex Irish names, you could add Branna, Dillon, Enda, Kerry, Casey, Quinn, and Logan to your list.
Celtic baby names — Which one will you choose?
There you have it, mama — 72 Celtic baby names to inspire. What's your current favorite? Share with your fellow mamas on Peanut.
See more baby names:
165 Norse Baby Names for Boys and Girls
129 Scottish Baby Names
Irish baby names
120 Polish Baby Names for Strong Boys and Girls
50 Welsh Baby Names with Their Meanings
96 Romanian Baby Names for Your Bebelus
500 Scandinavian Baby Names
111 Nigerian Baby Names
88 Dutch Baby Names
98 Lithuanian Baby Names
450+ Magnificent Norwegian Baby Names (With Meanings)
160+ of the Best Traditional European Baby Names
114 Magical Medieval Baby Names
96 Stunning Ukrainian Baby Names