Christmas is such a fun time to have a toddler in the family ‒ getting ready for Santa, writing wishlists, making Christmas crafts… there's so much to do! Looking for ideas? Read on for our top Christmas activities for preschoolers.
Toddlers love Christmas. It's an undisputed fact.
So why not make the most of this festive season and plan for some fun Christmas activities for toddlers?
There are lots of toddler Christmas crafts, Christmas math activities for preschoolers, literacy activities, and science activities, too, so your little elf can learn while having festive fun!
Let the yuletide ring with these educational and fun Christmas activities for preschoolers:
In this article: 📝

How can I make Christmas fun for my 4-year-old?

What are some fun Christmas activities?

What activities can you do with preschoolers?

What do you teach preschoolers at Christmas?

How do I entertain my kids for Christmas?
How can I make Christmas fun for my 4-year-old?
Entertaining a 4-year-old this Christmas?
The good news is, we have ten different Christmas activities for 4-year-olds so your little peanut can get the most fun out of the festive season!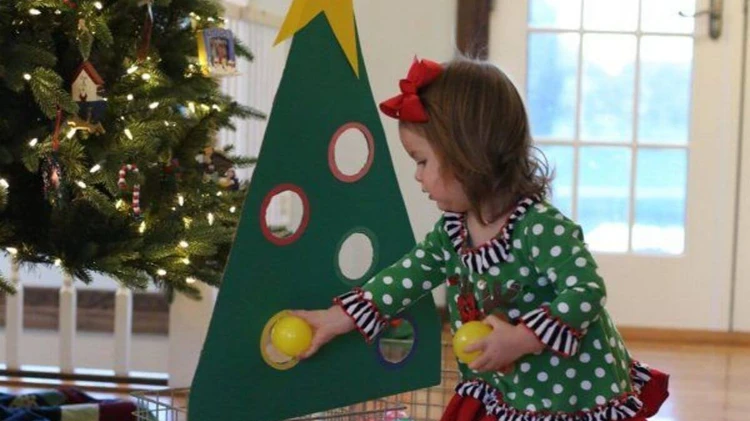 1. Christmas tree ornaments drop
You may need to get a little crafty to make this Christmas preschooler activity.
Simply make a Christmas tree about the same height as your four-year-old, cut some different shaped holes out of it, then give them different-sized plastic balls to post through the holes.
This Christmas toddler activity is also great for younger elves, too!
2. Christmas corn hole
This is one of the best Christmas activities for preschoolers to practice their motor skills.
Draw Santa's empty sleigh on a large piece of cardboard, then tie some beanbags with string to act as the presents.
Have your little one stand a few feet away, and try to throw the 'presents' into Santa's sleigh.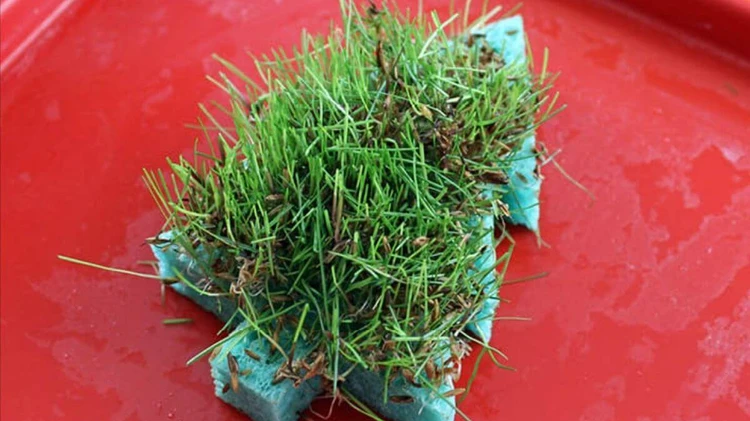 3. Grow your own Christmas tree
Unless you started a few years ago, you might not have a full-size home-grown Christmas tree to decorate.
But if you're after Christmas ideas for toddlers, how about a smaller version of the Tannenbaum using a sponge and some grass seeds?
Gift of Curiosity has a handy step-by-step on this fun Christmas activity for preschoolers.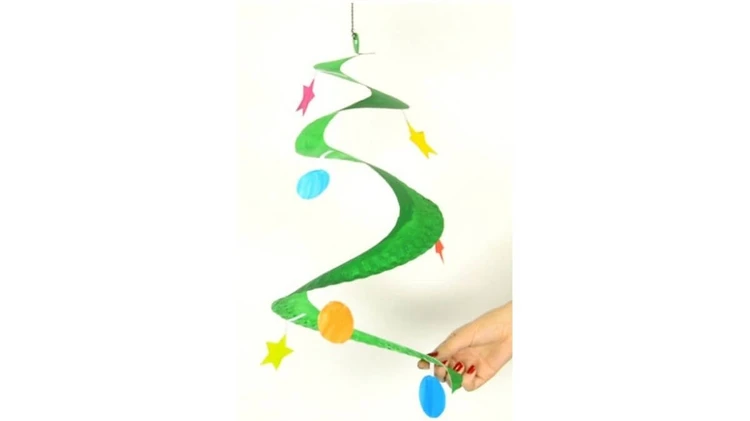 4. Paper plate twirly Christmas tree
How about making a Christmas tree that's a little different?
Using a humble paper plate, your little elf can make their very own twirly Christmas tree!
Simply paint a paper plate green, then cut it in a swirl starting from the outside working inwards.
Make some 'baubles' from card, get some sparkly pipe cleaners for tinsel, and cut out a star or angel to sit atop the tree.
Easily one of our favorite toddler Christmas crafts for the festive season!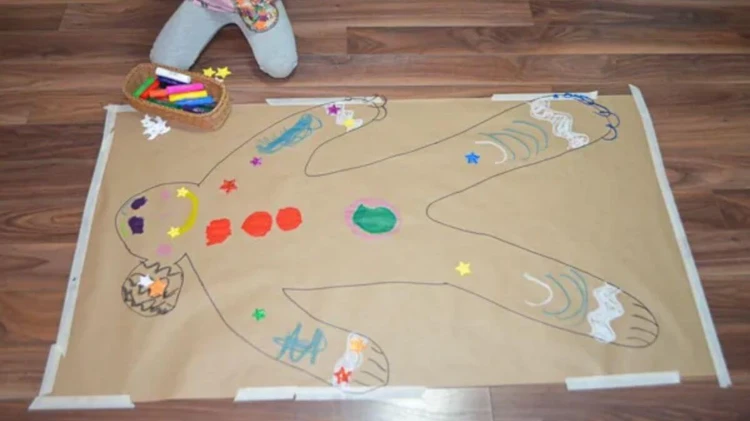 5. Giant gingerbread man
You'll need a big piece of card or paper for this holiday craft for preschoolers!
Have your little one lie down on the card while you draw around them.
Then, let them loose with whatever crafty things you have about the house ‒ paints, pens, pencils, glitter, pom-poms…
Anything goes!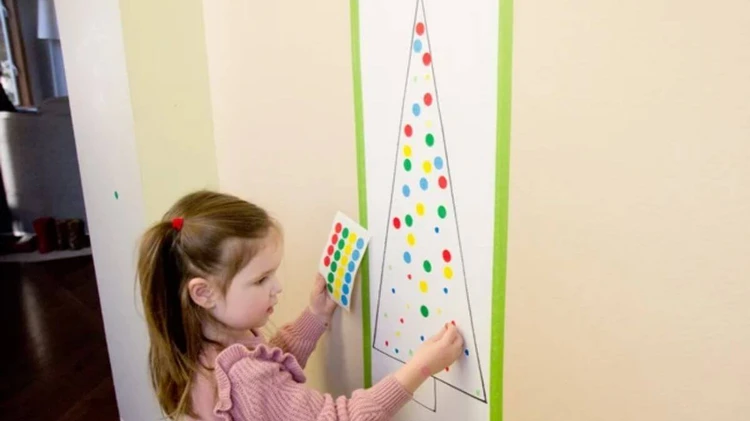 6. Dot sticker trees
Looking for a Christmas activity for toddlers to keep your little elf occupied for a while?
This dot sticker tree by Busy Toddler is the perfect preschool Christmas activity for when you want a little time to yourself.
Easy to make, too, all you need is a big piece of paper or card to draw the outline of a Christmas tree, then have your little one stick dot stickers (or any type of sticker) to decorate the tree.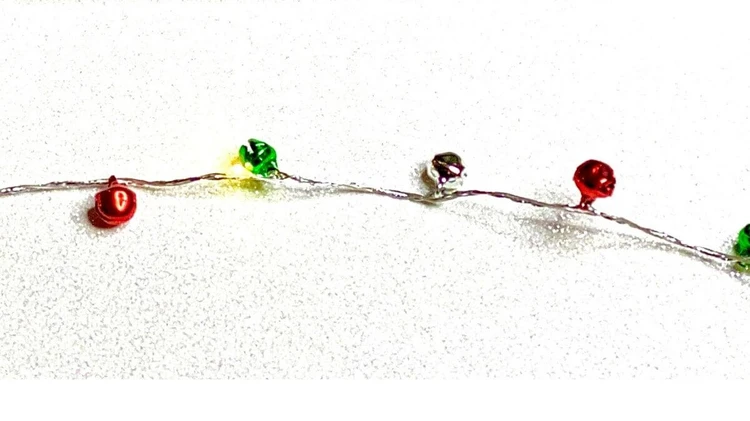 7. Don't ring the bells!
Help your little one's motor skills and spatial awareness develop with this preschool Christmas activity.
Tie some jingle bells to string, then attach the string to act as an obstacle course for them to navigate.
What are some fun Christmas activities?
Some Christmas toddlers' activities are absolute classics.
Here are our top ten must-do Christmas activities for preschoolers throughout the festive season: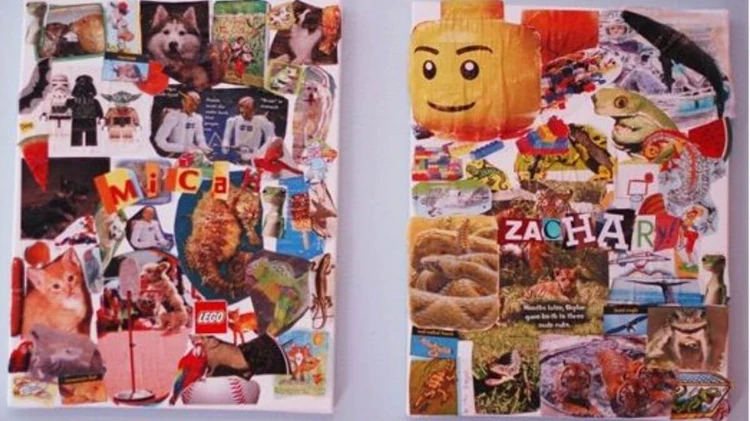 8. Christmas wish list
Writing letters to Santa doesn't have to be with words, if your little one is yet to learn to write.
How about raiding magazines and Christmas catalogs and letting your little elf cut out their favorite toys with child-safe scissors, then they can stick them to their wish list.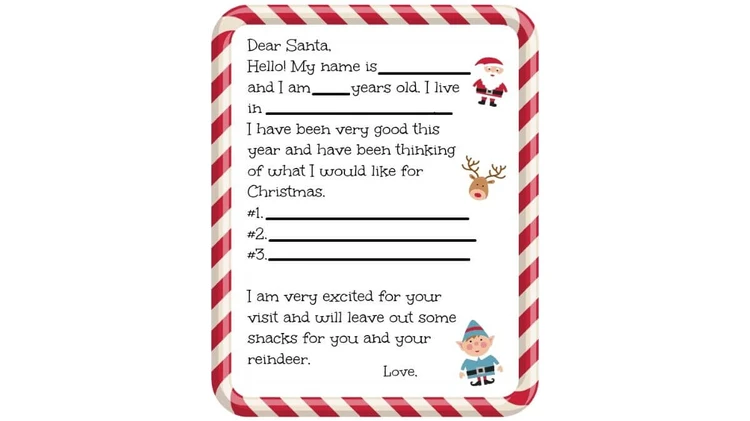 9. Dear Santa printables
If your little elf is learning to write, but isn't ready for full sentences just yet, how about some fill-in-the-blank letters to Santa?
We like this printable version by Farmer's Wife Rambles, with simple prompts for your little one.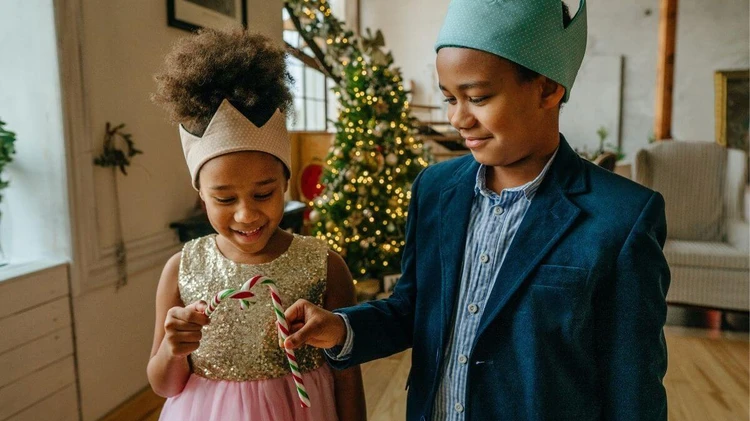 10. Candy cane hunt
Scavenger hunts aren't just for Easter!
All you need to do for this fun Christmas activity for toddlers is to hide wrapped candy canes about the house (at eye-level for your little one, so they don't have to clamber about too high for them).
Then let them loose to find them all!
Our top tip: count how many you hide, so you don't end up with candy canes hidden for months afterward!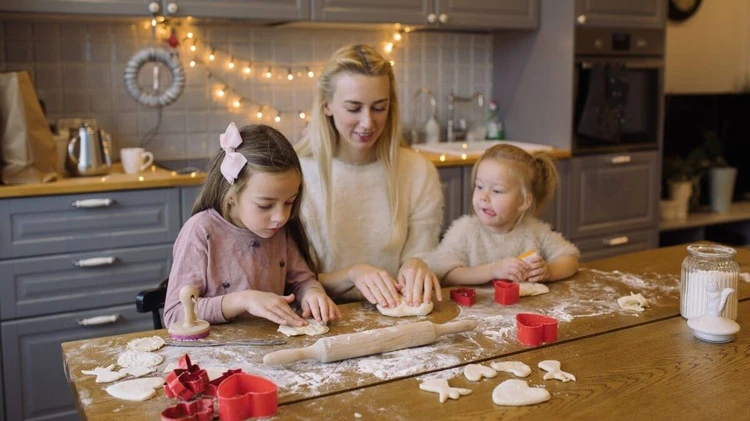 11. Christmas baking
It's not Christmas until your house smells like freshly-baked cookies and gingerbread!
Depending on how old your little peanut is, have them get involved with the baking ‒ or, if they're smaller, let their artistic side free while they decorate them with icing.
Is it even Christmas if the house doesn't smell like gingerbread and nutmeg?
Don't forget to take photos before you gobble it up!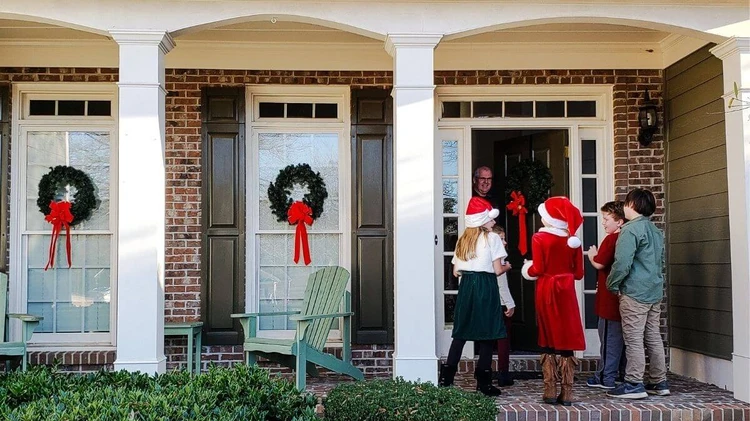 12. Singing Christmas carols
Wrap up warm and take a stroll around your neighborhood, singing festive songs with your little elf. Not sure which songs to sing?
Check out our 25 Christmas Songs for Kids.
A perfect Christmas activity for preschoolers!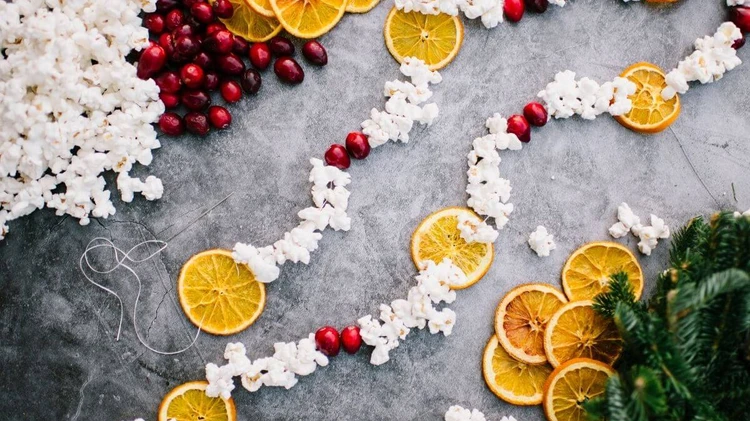 13. Stringing popcorn and cranberries
A beautiful, eco-friendly way to decorate this Christmas.
While the sharp needle makes this a Christmas activity for preschoolers who are a little older, littler elves can help by passing popcorn and cranberries or pushing the decorations further down the string.
Such a wholesome, easy Christmas craft for toddlers!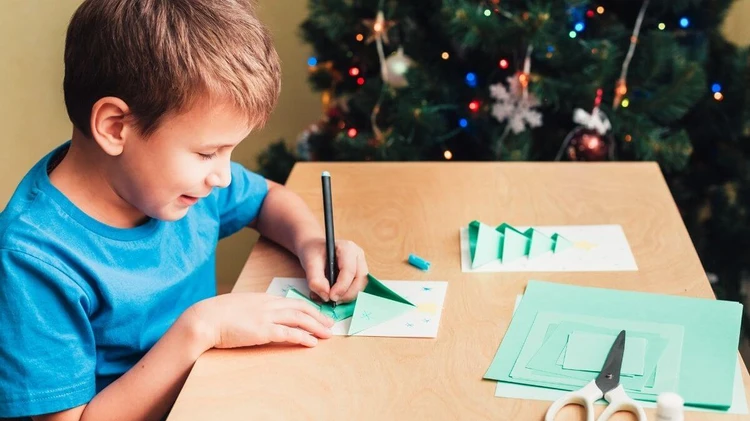 14. Make Christmas cards
The best part of having children around at Christmastime?
They can make the cards, so you don't have to!
Get your hands on some white or colored card, fold them in half, and stock up with festive crafting materials.
Then let them go wild with Christmassy designs!
A classic Christmas activity for kindergarteners.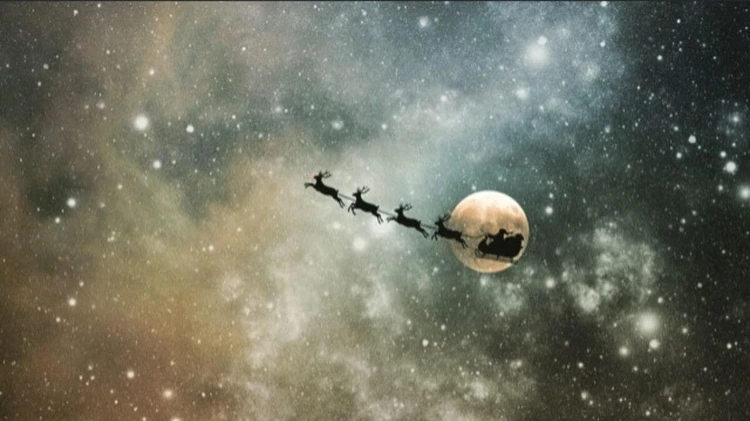 15. Where is Santa?
If your little one is too excited to sleep around Christmas, why not show them where Santa is right there and then with the special Santa Tracker by Google?
Plus, if you're looking for more online Christmas activities for preschoolers, they've got a bunch of fun Christmassy games to play, including Make Your Own Elf and Santa Selfie!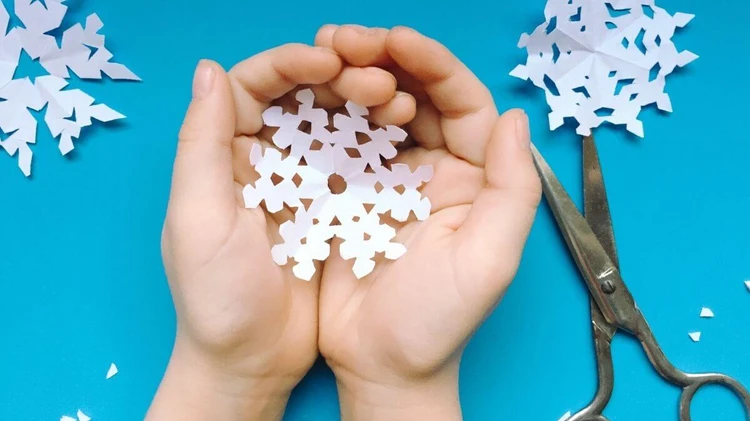 16. Cut-out snowflakes
One of the more traditional toddler Christmas crafts, all you need is white paper and toddler-friendly scissors.
Fold up the paper a few times, then cut little pieces out of it ‒ then unfold to see your unique snowflake design!
17. Elf on the Shelf
Since 2005, Elf on the Shelf has pretty much dominated Christmas for toddlers.
Just get your hands on an Elf on the Shelf, then each night, as your little peanut goes to sleep, move the elf to a different place in a fun position.
After some Elf on the Shelf inspiration? Check out their website.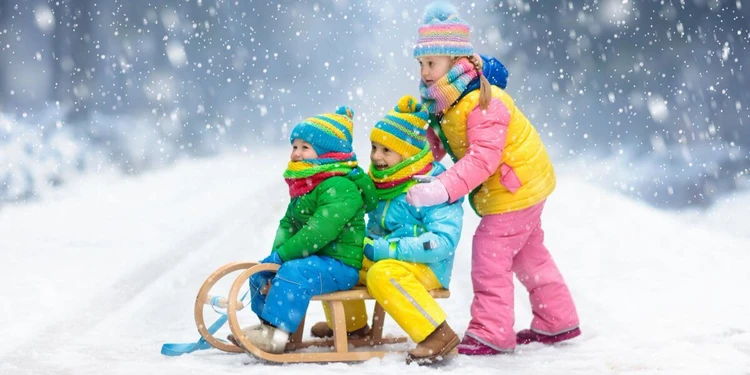 18. Sled races
If you're somewhere you can expect a white Christmas, sledding is a must.
Dress your little elves warm, grab your sled, and head to the top of a nearby snowy hill.
Make sure you're keeping your distance from other sledders ‒ after all, it is a popular Christmas activity for kids of all ages ‒ and slide!
What activities can you do with preschoolers?
There are so many fun things to do with preschoolers over Christmas, helping to develop their motor skills, social skills, literacy, math skills, and logical thinking.
So if you're wondering what Christmas activities for preschoolers you can do this yuletide season, we've got you covered: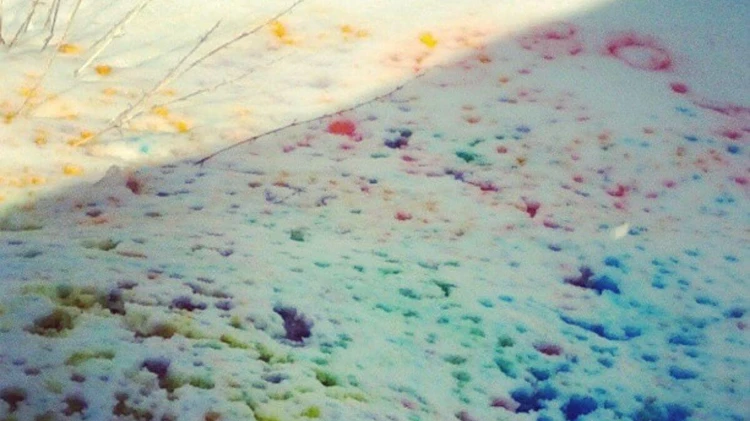 19. Snow spray paint
Let your toddler's artistic mind run free!
All you need to do for this fun toddlers' Christmas activity is wait for a snow day, mix food dye with water in a spray bottle, then see what masterpieces your mini Picasso creates!
This is one of the easiest Christmas crafts for 2-year-olds ‒ so easy, and virtually mess-free!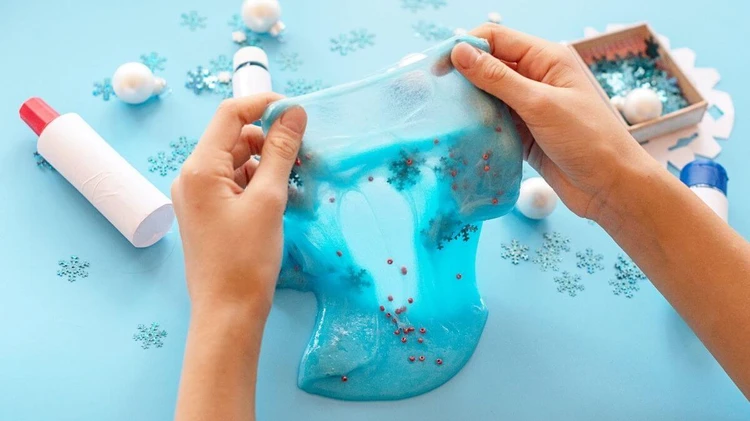 20. Homemade Christmas slime
Kids love slime.
It's a fantastic sensory Christmas activity for toddlers and preschoolers, so why not make your own?
We love this Christmas slime recipe from The Best Ideas for Kids.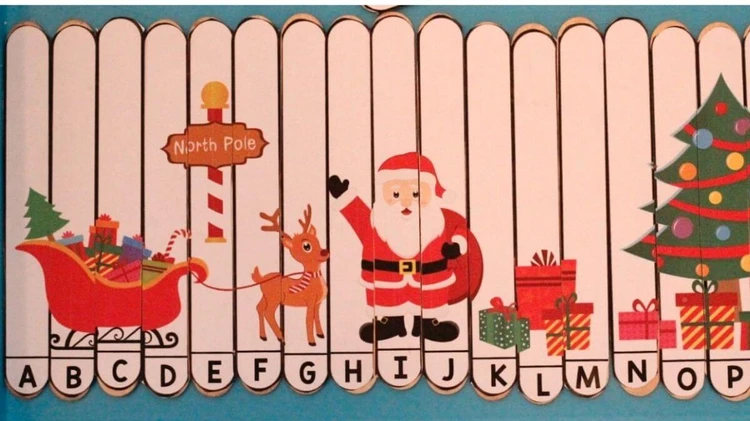 21. Christmas alphabet puzzle
If your little one is starting to learn the alphabet, this is the perfect Christmas toddler activity for you!
First, line up 26 popsicle sticks, then draw a festive picture on them, and write the alphabet from A-Z on the bottom of the sticks.
Then jumble them up and have your little elf put the puzzle back together!
Check out the full guide by Teaching Mama.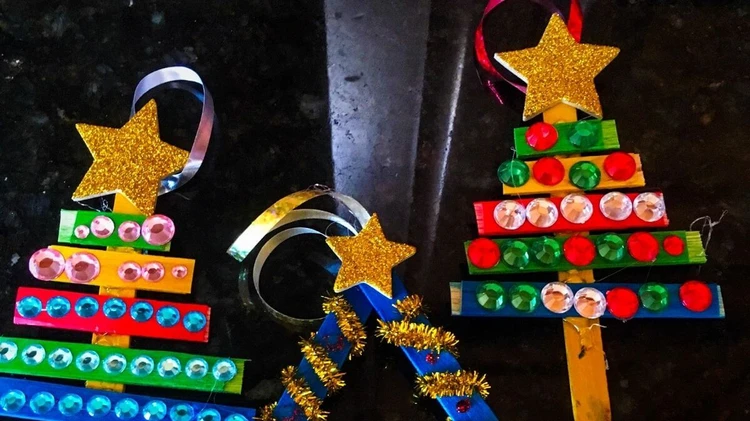 22. Plant a popsicle Christmas tree
Another of our favorite Christmas activities for preschoolers if you have lots of popsicle sticks left over!
This one's great for developing fine motor skills in toddlers ‒ simply stick some green colored triangles to the popsicle sticks, then get a thick piece of card, cut a few small holes in it, and have your little peanut 'plant' the popsicle Christmas trees in the card.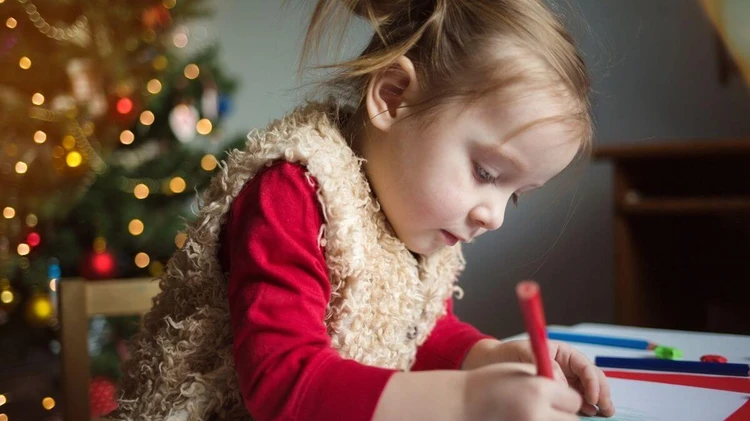 23. Color by numbers Christmas tree
If your little elf is learning different numbers, how about this 'color by numbers' Christmas activity for toddlers?
Simply draw an easy Christmas picture, like a Christmas tree, then add smaller drawings for your toddler to color in, marked with a specific number.
Then assign a color to that number, and let your little one get arty!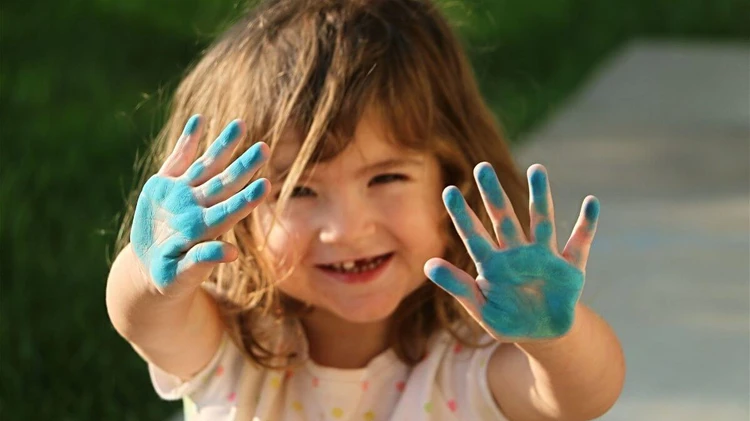 24. Handprint Christmas wreath
How about the cutest festive wreath you've ever seen?
This is a classic Christmas toddler activity, one of our favorite Christmas crafts for 3-year-olds.
All you need is green card or paper, scissors, and red pom-poms or paint (for the holly berries). Have your little one trace around their hand (or you can do it for them, if they find it tricky), cut out the handprint, stick it on a wreath wire, and repeat.
Add some 'holly berries' for extra festive feels.
Check out this guide on Messy Little Monster.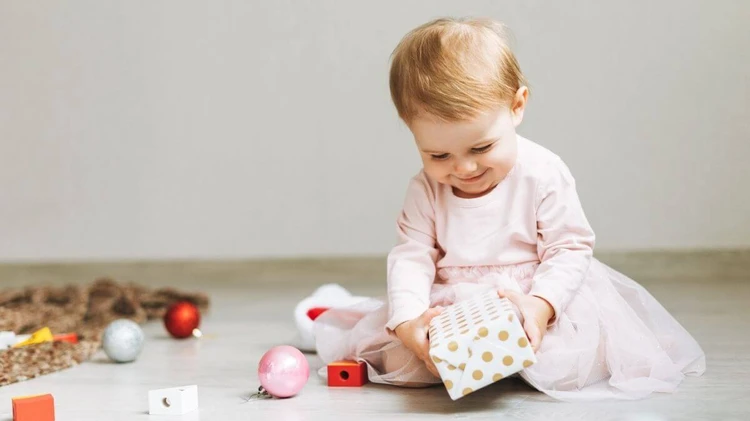 25. Wrapping paper puzzles
Does your little elf get excited when it comes to unwrapping presents, eagerly tearing open presents before Christmas Day?
This toddlers' Christmas activity is perfect to get sensory satisfaction without losing the magic of Christmas morning.
All you need is a chunky puzzle, like this one by Melissa & Doug, wrapping paper, and tape.
Wrap up the individual pieces of the puzzle, then have your little one unwrap each one to finish the puzzle.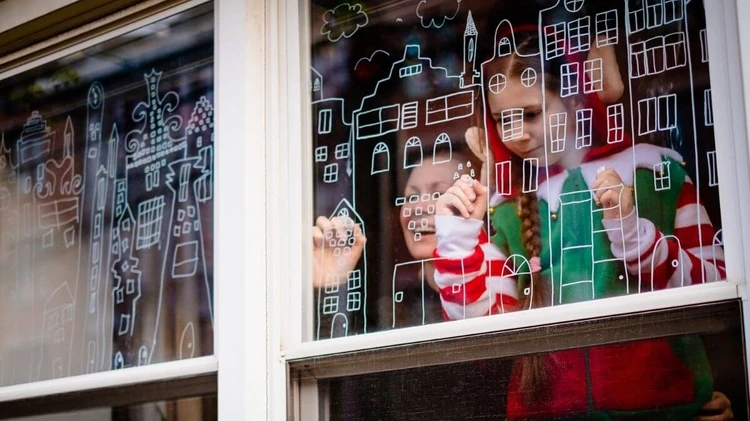 26. Winter wonderland window
Joy to the world!
Bring a smile to the face of anyone who walks past your window, whilst entertaining your little one with a fun preschool Christmas activity.
Find some window markers, like these by Crayola (they're washable, too!), then let your mini artist draw some festive scenes.
Christmas trees, snowmen, presents, and elves are great additions to your winter wonderland window.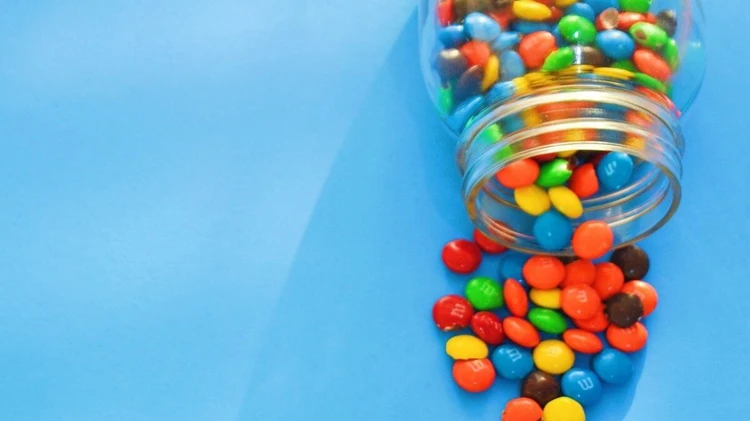 27. We wish you a smelly Christmas!
Looking for a sensory Christmas activity for preschoolers?
Simply fill some empty jars with things that smell Christmassy, like peppermint, chocolate, pine needles, and nutmeg, then have your little elf put on a blindfold and smell each of them to find out what they are.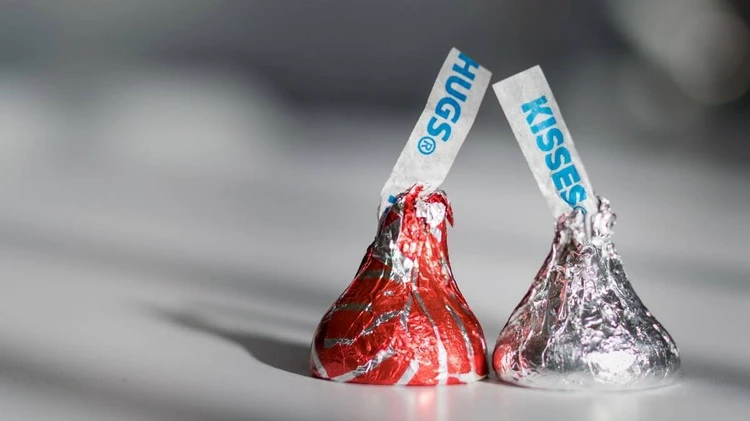 28. Silver bells memory game
Toddlers love picture memory games like Snap ‒ and when there's chocolate involved, it's even better!
Get your hands on some Hersey's Kisses, then draw some small Christmassy doodles on the underneath, mix them up on a table, then have you and your little one take it in turns to match them up.
No eating the Kisses until you make a match!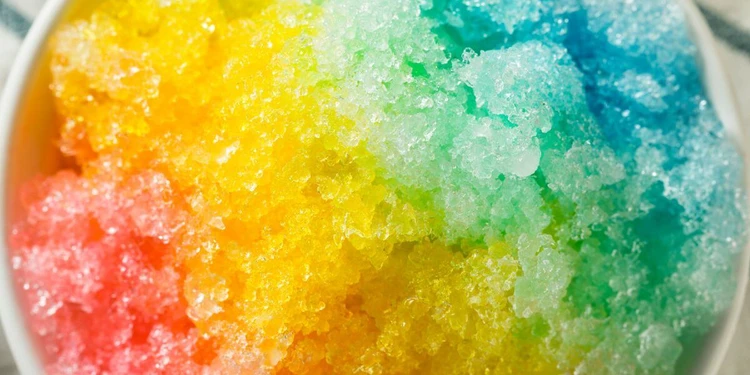 29. Colorful snow
If there's some snowfall over the festive season, turn the white ground into a blank canvas for your little artists!
All you need is spray bottles, water, and food dye.
Then let your little Picasso 'paint' on the snow to their heart's content!
What do you teach preschoolers at Christmas?
After some festive activities to teach preschoolers while they're at school?
These activities will get their minds whirring and help develop important skills.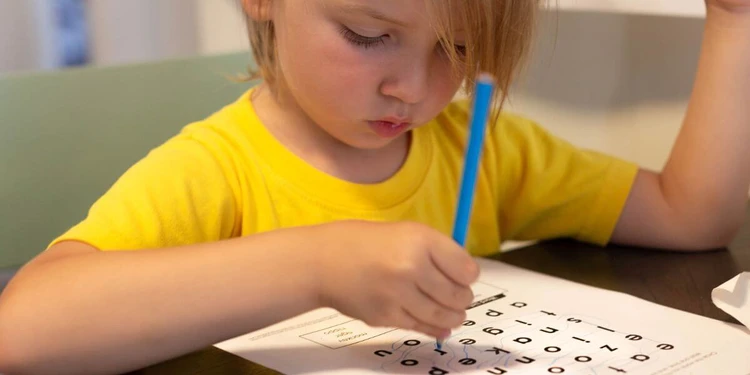 30. Wonderful winter word search
A fantastic Christmas family game to while away the time over the yuletide season ‒ for kids and adults!
Turn it into a competition by giving out the same word search to the whole family and setting a timer to see who can finish it the fastest.
You can print some off here from The Spruce Crafts, or play an online version, like this one by ABCYa.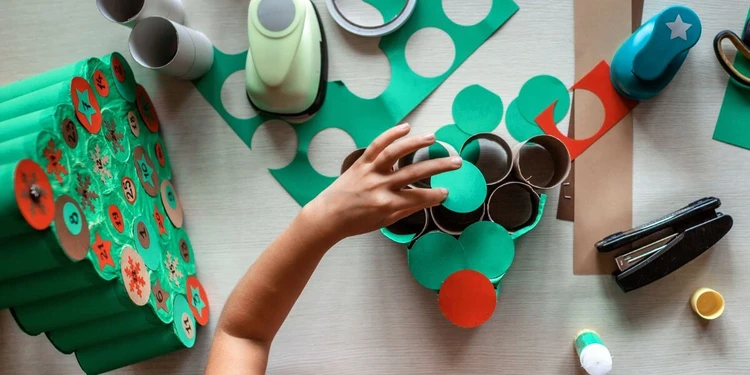 31. Christmas tree 'nice' tracker
How about treating your little elf whenever they're 'nice' (not naughty) over the Christmas period?
Make a Christmas tree out of stacked green painted empty toilet paper rolls, put little treats inside (like chocolates, candy, or small toys), and cover with green tissue paper.
Then, whenever they're nice, they can poke a hole in one of the rolls for a treat!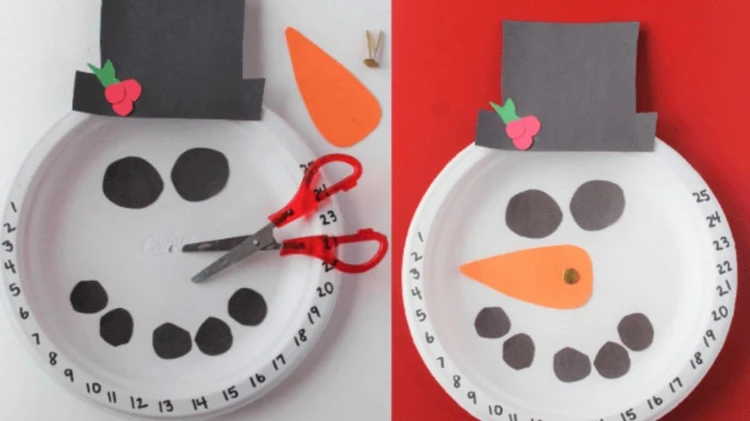 32. Homemade snowman Christmas countdown calendar
Crafting with paper plates is what Christmas as a toddler is all about!
To make this festive countdown, all you need is a paper plate, a piece of orange card, scissors, and a paper fastener.
Then your little elf can decorate the snowman, and all you need to do is put it together and add the numbers around the edge.
See the full guide on how to make your own snowman Christmas countdown calendar by Coffee and Carpool.
33. Christmas tangrams
Tangrams are different geometric shapes that fit together to create pictures.
They make a fantastic Christmas activity for preschoolers, too ‒ all you need are some festive designs to go with the shapes.
We like these free printable ones by Prekinders.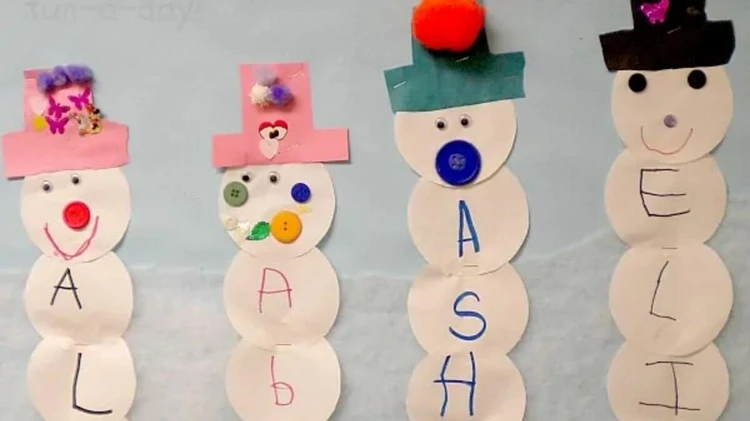 34. Snowman name banners
If your little peanut is learning to spell their own name, then this is one of the best Christmas literacy activities for preschoolers.
Using white cut-out circles, they can decorate a snowman's face (with whatever decorations you can find ‒ get creative!), then they spell their name on individual circles for the snowman's body.
Need some more guidance? Fun-A-Day has the full lowdown.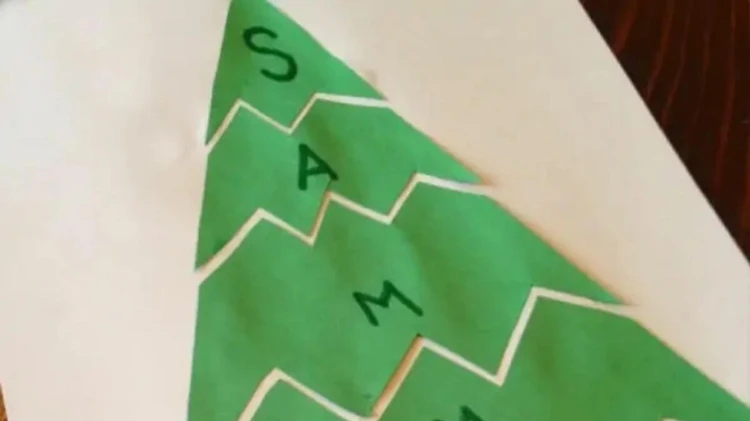 35. Christmas tree name puzzle
Another of our favorite Christmas literacy activities for preschoolers to help them spell their name is this fun Christmas tree name puzzle by How Wee Learn.
It's super-easy to make, all you need is some green paper cut in a triangle, then you cut it into smaller pieces (enough pieces for each letter of your child's name), write the letters on each of them in order, have them add some pizzazz to it with pipe cleaners, glitter, and pom-poms, then let them put the tree back together!
How do I entertain my kids for Christmas?
So what's our number one top tip for keeping your little peanut entertained over the festive season?
Get involved.
These aren't just Christmas activities for preschoolers, they're fun for adults, too!
What are your favorite Christmas ideas for toddlers and holiday crafts for preschoolers?
Share them with the rest of the mamas on Peanut!
And if you're looking for Christmas presents for your preschooler, we've got lots of ideas for girls and boys.
Happy holidays!