Expecting a baby during the holidays? Take a look at our list of Christmas baby names to find inspiration for your little winter baby.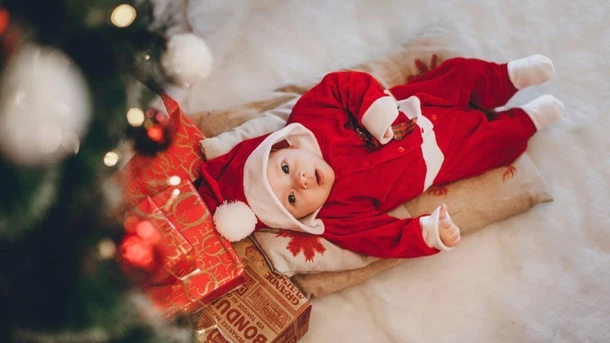 Christmas and the festive season are the inspiration behind many different baby names.
There are subtle names inspired by Christmas carols or even Christmas movies, and others that are unmistakably associated with the Yuletide season.
Our list of Christmas baby names includes monikers from around the world.
You're bound to find something that's right up your street.
In this article 📝

What are good Christmas names?

Christmas names for girls

What's a Christmas name for a boy?

Christmas angel names
What are good Christmas names?
The US Top 1000 includes Christmas baby names like Ivy, Eve, Stella, Natalie, Holly, Josephine, Mary, Lucia, and Angela for girls.
And for a baby boy? Theodore ranks highly on the list, along with Pax, Nicholas, Joseph, Christian, Christopher, Bennett, and Angel.
All these Christmas names have strong associations with the peace and joy of the festive season.

Christmas names for girls
We've compiled a list of 47 more spiritual Christmas baby girl names inspired by the festive season:
Abigail: From the Old Testament, meaning 'my father is joyful'.
Amaryllis: A beautiful flower associated with Christmas and a Greek word meaning 'to sparkle'.
Anya: Anya was Mrs. Claus's first name in the movie Santa Claus.
Audrey: Audrey was the youngest Griswold daughter in the movie National Lampoon's Christmas Vacation.
Avery: Meaning 'elf queen'.
Bell, Bella, Belle: A perfect Christmas girl's name. It means 'ringer of the bell' and 'beauty'.
Beth, Bethany, Bethenny: A nod to Bethlehem, the city where Jesus Christ was born.
Cady: From the French word 'cadeaux', which means 'gift'.
Candi, Candy, Kandi: It's a pet name for Candace and a nod to candy canes.
Carol, Carolle, Carolina: Why not name your daughter after the songs we sing at this time of year?
Cindy: Cindy Lu is a character from How the Grinch Stole Christmas.
Clara: A name with vintage vibes and an association with The Nutcracker. It means 'bright'.
Clarice: Meaning 'bright' and 'clear', this is the name of the female reindeer who likes Rudolf.
Clementine: Meaning 'mild' or 'merciful' and inspired by Christmas oranges.
Dorothy, Dorothea: Meaning 'gift from God'.
Eira: Meaning 'very snowy'.
Emmanuelle: An Old Testament name meaning 'God is with us'.
Epifanio: This is a rare Hispanic name that means 'bringing lights'. It connects to the Three Wise Men and the celebration of Epiphany in January.
Eve: This traditional Hebrew name means 'enlivening', and it's perfect for a girl born just before Christmas.
Felicity: Meaning 'happiness'.
Ginger: We're thinking of gingerbread houses here. The name also means 'pure'.
Gloria: 'Glory' and the part that everyone loves to sing in a carol.
Holly: The plant with red berries that people use to decorate their homes.
Ivy: Another plant used to decorate at Christmas.
Jeanette: Meaning 'God is gracious' and included in the Christmas carol Bring a Torch, Jeanette Isabella.
Jovie: A name from the Christmas movie Elf.
Juniper: An evergreen tree.
Karen: The girl who returned Frosty the Snowman to the North Pole.
Lucy: This Latin name means 'light'.
Marley: This is the name of the ghost in A Christmas Carol and means 'pleasant wood'.
Mary, Maria, Miriam: Jesus' mother and the center of the Christmas story.
Meri, Merry: Meaning 'mirthful' or 'joyful'.
Mitzi: Rudolf's mother in The Red-Nosed Reindeer.
Natalie, Natalia, Nathalia: This French name means 'born at Christmas'.
Natasha, Natasja: The Russian form of Natalie.
Neva: Meaning 'white snow'.
Nicole: A girl's name that echoes St. Nicholas or Santa Claus.
Noel, Noelle, Noella: A French name meaning 'Christmas'. The First Noel is a popular carol.
Nora: Meaning 'light'.
Olive: Inspired by the movie Olive, the Other Reindeer.
Paloma: Meaning 'dove', as featured in the song, 12 Days of Christmas.
Robin, Robyn: A Christmas name that's great for either gender. It means 'bright flame' and is tied to the red-breasted bird that we see on Christmas cards.
Star, Stella, Estella, Estelle: A subtle Christmas name that refers to the star of Bethlehem.
Suzy: How about naming your daughter after the famous snowflake?
Taraji: A Swahili name, meaning 'hope and faith'.
Tiffany: Meaning 'epiphany', a celebration at the end of the 12 days of Christmas.
Zuzu: Meaning 'lily' and inspired by Jimmy Stewart's adorable daughter in It's a Wonderful Life.
🎅 You might also like: 20+ Christmas Pregnancy Announcement Ideas
What's a Christmas name for a boy?
Looking for Christmas baby boy names?
You have lots of options here too. Here are some of our favorites:
Abner: This Biblical name means 'father of light'.
Alonzo: This Latin name means 'eager for war', but it's also used in the Christmas movie Meet Me in St Louis.
Arthur: Meaning 'noble' or 'courageous'. Arthur was Mr. and Ms. Santa Claus' son in Arthur Christmas.
Augustus: 'Noble' and 'courageous', and also one of the characters in How the Grinch Stole Christmas.
Caleb: Meaning 'devotion to God'.
Cane, Kane: As in candy cane.
Celyn: Meaning 'holly'.
Charlie: The main character in A Charlie Brown Christmas.
Christian: Meaning 'follower of Christ'.
Christopher: St. Christopher is the patron saint of travelers and means 'bearer of Christ'.
Clark: Clark is a character in National Lampoon's Christmas Vacation.
Claus, Klaus: It's a nickname for Nicholas and means 'people's victory'.
Clement: Meaning 'is mild' or 'merciful'. A famous Clement was Clement Moore, the writer of 'Twas the Night Before Christmas.
Comet: One of Santa's reindeer.
David: Meaning 'beloved' and also used in the classic carol, Once in Royal David's City.
Ebenezer: The first name of Scrooge, who turns his life around in Dickens' A Christmas Carol.
Emmanuel: Meaning 'God is with us'.
Felix: Meaning 'happy'.
Frank: As in Frankincense.
Frederick: The older brother of Santa Claus.
Frost: Originally a surname, but seen more and more as a first name now.
Geoffrey: An old European name meaning 'peace'.
Jack: Meaning 'God is gracious' and inspired by Jack Frost.
Jefferson: A vintage Christmas movie, Christmas in Connecticut, featured a hero named Jefferson.
Jesus: The man whose birthday Christmas is all about.
Joseph: Another Biblical name.
Linus: A character from A Charlie Brown Christmas.
Luke: An Old Testament name meaning 'light-giving'.
Malachi, Malachi, Malakai: Meaning 'messenger', in connection with the angels who told the shepherds that Jesus had been born.
Natal: This Spanish name means 'birthday'.
Nicholas: Before he was Santa Claus, the man with the white beard was St. Nicholas, the patron saint of children.
Noel: Meaning 'Christmas'.
Pax: Meaning 'peaceful'.
Ralphie: This nickname for Ralph, meaning wolf-counsel, is used in the movie A Christmas Story.
Rudolf, Rudolph, Rudy: Known as Santa's favorite reindeer.
Snowden An Old English name meaning 'from the snowy hill'.
Tannen, Tannon: Taken from Tannenbaum, the German word for a pine tree.
Theodore: Meaning 'gift from God'.
Timothy: Meaning 'honoring God' and immortalized by Dickens' character, Tiny Tim, from A Christmas Carol.
Waite: Meaning 'guard', this is also an Old English name for carolers.
Wenceslas: The name of the good king who attended the feast of Stephen.
Yule: The celebration of the winter solstice.
Christmas angel names
Whether your tree is topped with a star or an angel, you might also find inspiration in this list of classic, angelic names.
Angel, Angela
Angelina, Angelica
Angelo
Gabriel
Gabriella
Michael
Michaela
Serephina, Serefine
Or what about using some of the values we associate with Christmas?
Charity
Faith
Hope
Joy
Peace
118 women are talking about 'baby names' on Peanut. Download the app to join the conversation.
Feeling inspired? You can also check out some of our other baby name lists, including:
58 Biblical Baby Names
180+ Nonbinary Baby Names For Your Little One
The Most Popular Baby Names on Peanut
50 Old Fashioned Baby Names
150 of the Most Cool and Rare Baby Names
190 Gothic Baby Names & Their Meanings
143 Victorian Baby Names with Meanings
100+ Baby Names That Mean Peace
50 Baby Names That Mean Fire