Looking for cute and creative Christmas pregnancy announcement ideas? Look no further! Santa's not the only one who's coming to town.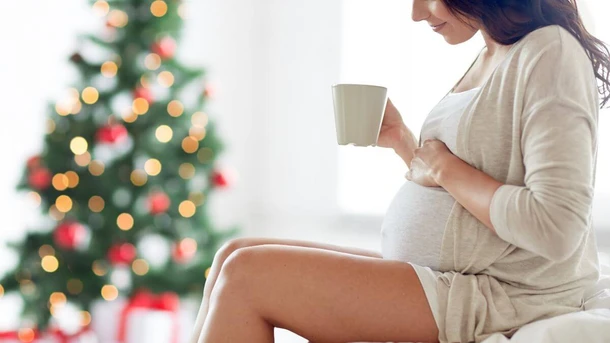 It's the most wonderful time of the year!
If you've got a baby on the way, you might want to make this a Christmas your loved ones will never forget by announcing your big news with some festive flair.
Whether you like to keep things casual or "extra" is your middle name, there are more ways to announce your pregnancy than there are needles on a Christmas tree.
Ready to get inspired? We'll take you through our favorite Christmas pregnancy announcement ideas.
In this article: 📝

How many weeks pregnant should you be before announcing?

Christmas pregnancy announcement ideas

Baby is as big as. . . Christmas edition
How many weeks pregnant should you be before announcing?
You may have heard the old (roasted) chestnut that you must wait until you're three months along before you let everyone know your big news.
So why should you wait 12 weeks to announce pregnancy?
The reasoning is that, after the first trimester, rates of pregnancy loss drop off pretty sharply.
The problem with this is that it stigmatizes pregnancy loss — an experience that is sadly very common.
It also perpetuates the idea that losing a pregnancy early is somehow less of a blow.
This can leave those who are TTC feeling isolated when what they really need is support.
The bottom line: you get to choose who you share your news with, when you do it, and how you do it.
And if your announcement happens to be around Christmas, all the merrier.
117 women are talking about 'Christmas pregnancy announcement ideas' on Peanut. Download the app to join the conversation.
Christmas pregnancy announcement ideas
Pregnancy announcement holiday cards
Does your family send personalized holiday cards?
If you haven't shared your news with your extended family yet, a pregnancy announcement Christmas card could be a great way to let them know.
Here are some ideas for visual pregnancy announcements you can DIY at home.
Go classic with matching Christmas pajamas. His, hers, and a tiny set for your little one.

Add an extra stocking to your fireplace, even if it won't get filled until next Christmas.

Hold your sonogram picture but, for a festive twist, draw a tiny Santa hat on your little one's head. 🧑‍🎄

Lots of maternity photo shoots include a shot of your partner kissing your belly — so why not grab some Christmas mistletoe and hold it over your bump?

What gift is better than a new baby? Tie some Christmas ribbon around your belly and add a simple note: do not open until . 🎁

If you're lucky enough to live somewhere you'll get a white Christmas, build a snowman family to announce your news ⛄

And if you already have a kid (or a pet) that you'd like to include in your announcement, take a picture of them with a sign reading 'Santa's bringing me a little brother/sister!'
Christmas carol pregnancy announcements
Looking for a classic and funny Christmas pregnancy announcement?
Christmas carols give you plenty of opportunities to play on words.
Jingle Bells, jingle bells, baby's on the way!

No more Silent Nights…

Santa's not the only one coming to town!

Someone's going to bring Joy to the World!

Santa Baby…

And who would want to miss a chance to channel Mariah Carey? All I Want for Christmas is You.
How can I surprise my family with a Christmas pregnancy?
If you love the idea of seeing the looks on your friends' and family's faces when you surprise them with your news, combining their Christmas gift with your pregnancy announcement might be the strategy for you.
Your little one's future grandma, cool uncle, or favorite godparent is going to love it.
A tree ornament. A pregnancy announcement Christmas decoration will give them an extra reason to smile whenever they look at their tree. You can add to their collection with a Baby's First Christmas decoration next year 🎄

A mug. A mug or a glass with their new title would make a great keepsake. Don't forget to fill it with the fixings for their favorite tea, coffee, or hot chocolate.

An apron. If they're going to spend Christmas morning whipping up a feast in the kitchen, let them open their gift early. That way they can wear it proudly and cook with a massive smile on their face.

A jigsaw puzzle. Does your family like to break out the puzzles and board games on Christmas? A personalized puzzle with a pregnancy photo makes a great Christmas pregnancy announcement for the family.

A T-shirt. This one works best for future big brothers or sisters. They can wear it now, and again for a photoshoot when their sibling arrives.
And speaking of siblings. . .
Announcing your pregnancy to your other kids at Christmas might not be quite as magical as it is for future grandparents.
There's a high chance they'll be more interested in the presents they get to unwrap on the day.
But if your dates line up and you want to tell them around Christmas, there are some gifts you could consider:
A book about waiting for the baby or about what life will be like after the baby arrives.

A baby doll for them to practice holding, dressing, and bathing.
Spontaneous Christmas pregnancy announcements
If you prefer to go for something on the fly, why not try one of these low-key pregnancy announcement ideas?
When you're opening presents, tell them that theirs is on backorder — and they'll have to wait until your due date to get it.

Or just bring up in conversation that Christmas is going to look different next year because everyone's getting a promotion.
Baby is as big as. . . Christmas edition
Watching your pregnancy belly grow is incredible.
And lots of mamas like to take pictures week-by-week to track the changes, often holding fruit to represent how big their baby is.
If you'd like to incorporate this into your Christmas pregnancy announcement, here are some comparisons that might come in handy:
However — and whenever — you choose to announce your pregnancy, happy holidays, mama-to-be.