Handpicking a name for your baby girl is a great honor of parenthood. Of all the names in the world, you get to choose one that's beautiful to you — and may even carry a familial, cultural, or other special meaning. Luckily, there are plenty of unique girl names to choose from. In our collection of over 160 cool baby girl names, you'll find unusual girl names that you won't see anywhere else. Our list includes the meaning for each name, so you know the significance behind it.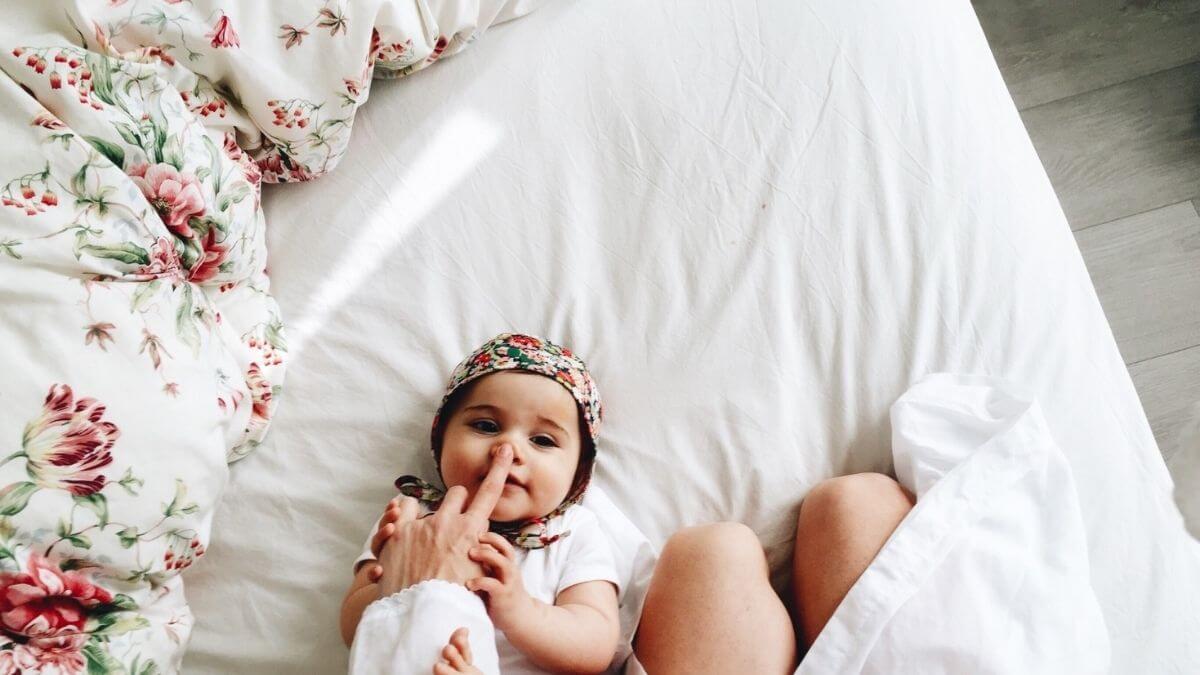 In this article: 📝

Creative Girl Names

Cool Girl Names

Unique Girl Names

Uncommon Girl Names

Awesome Girl Names

What are some badass girl names?

What is the rarest girl name?

What is the coolest girl name ever?
Jot down a few favorites to revisit later and discuss with your partner. While the name you pick is a big decision, be sure to have some fun along the way!
Creative Girl Names
Looking for unusual girl names that are also beautiful? Here are cool female names and their meanings. They're as fun as they are sweet-sounding.
Ariel: Lion of God.
Violet: Purple flower.
Lena: Light, or ray of light.
Emaline: Peaceful home.
Brielle: Heroine of God.
Vera: True, faith.
Hawaii: New homeland.
Liliana: Pure, innocent, lily.
Chloe: Blooming, fertility.
Marlene: Star of the sea.
Gabrielle: God is my strength.
Adelaide: Noble-natured.
Mirabel: Wondrous.
Danica: Morning star.
Myla: Merciful, soldier.
Trista: Noisy.
Ruby: Red precious stone.
Yuka: Reason, fragrance, good.
Jobelle: Yahweh is gracious.
Ausha: Energetic, determined, courageous.
Vienna: Wine country.
Brynne: Noble, defender, drop of water.
McKay: Happy, rejoicing.
Halle: Home ruler.
Jewel: Delight, plaything.
Mari: Beloved.
Julane: Pretty, Yahweh is God.
Octavia: Eighth.
Briar: Brambles, thorny bush of wild roses.
Bella: Beautiful.
Nadia: Hope.
Cool Girl Names
If you're on the hunt for awesome girl names that you won't find other places, check out these baby girl names and their meanings.
Mia: Beloved, darling.
Luna: Moon.
Cora: Just, honest, virtuous.
Evelyn: Wished-for child.
Yolanda: Violet.
Laina: Pathway.
Eva: Life, living one.
Phoebe: Bright.
Irie: Good, pleasing.
Kiera: Dark, dark-haired.
Wren: Small bird.
Daphne: Fountains, springs, brooks.
Tessa: Fourth, reaper.
Phoenix: Dark red.
Aspen: Quaking tree.
Faith: Trust, belief.
Fiona: Fair, white.
Leia: Child of heaven.
Raquel: Innocent.
Astrid: Beautiful, fair.
Heidi: Nobility.
Janece: Benevolent, brilliant.
Rowan: Little red-haired one.
Joelle: Jehovah is God.
Elsa: Pledged for God.
Delanie: From the alder grove.
Winnie: Fair one, smooth, soft.
Scarlett: Courage, passion.
Harlow: Army hill.
Robyn: Bright, famous one.
Selena: Moon goddess.
Elle: She.
Quinn: Counsel.
Chaya: Life.
Unique Girl Names
The most unique girl names include both those revived from the past and newer, modern names. Your little angel will have one of the coolest names for a girl if you go with one of these.
Piper: Feisty yet floaty.
Iris: Rainbow.
Tobi: God is good.
Alexa: To defend.
Kyra: Lord.
Asantewaa: Warrior.
Petra: Rock, stone.
Cinnamon: Spice.
Paris: Wallet, pouch.
Raelyn: Advisor, protector.
Daisy: Day's eye.
Dominique: Of the Lord.
Lara: Protection.
Hope: Desire of fulfillment.
Arianne: Most holy.
Opal: Jewel.
Fallon: Leader.
Anastasia: Resurrection.
Clea: To praise.
Kehlani: Sea and sky.
Emersyn: Powerful, brave.
Mercedes: Reward.
Olive: Olive tree.
Marley: Pleasant seaside meadow.
Estelle: Star.
Kamila: Perfect.
Austin: Great, magnificent.
Jade: Stone of the side.
Serena: Tranquil, serene, clear.
Tena: Strong, healthy.
Melody: Song.
Tania: Fairy queen.
Uncommon Girl Names
Looking for unusual girl names? Here are pretty unique girl names that you won't come across very often — if ever.
Adina: Gentle, mild.
Skylar: Eternal life, strength.
Fern: Green plant.
Serenity: Peaceful.
Raya: Friend.
Juniper: Young.
Carolina: Freeholder, song of happiness.
River: Water that flows to sea.
Sunny: Cheerful, happy.
Josilyn: Member of a German tribe.
Myka: Who resembles God?
Perla: Pearl.
Logan: Little hollow.
Christa: Chosen one, anointed.
Josie: God will increase.
Clementine: Merciful.
Ilse: Oath of God.
Wendy: Friend.
Georgia: Farmer.
Sienna: Orange-red.
Catalina: Pure.
Akia: First-born.
Teagan: Beautiful, perfect.
Jasmine: Gift from God.
Allegra: Joyful.
Holly: To prick, domestic happiness.
Tallulah: Leaping water.
Ayden: Fire.
Magnolia: Flower.
Amalie: Hope, water.
Giada: Jade.
Awesome Girl Names
For a name that'll stand out and have extra meaning, try one of these really cool girl names. You'll be dreaming of the moment you can sign her birth certificate.
Lily: White flower.
Willow: Freedom, willow tree.
Shivani: Life and death.
Naomi: Pleasant, beautiful.
Kinsley: King's meadow.
Aaliyah: High, exalted.
Sejal: Pure flowing water.
Millicent: Strength.
Rochelle: Little rock, rest.
Marina: From the sea.
Beatrix: Voyager, traveler.
Zoey: Life
Ilana: Tree.
Natalia: Christmas day.
Leah: Pretty girl.
Brooke: Small stream, water.
Summer: Season.
Trinity: Triad, referring to the Holy Trinity.
Rasha: Pleasant.
Sabrina: From the River Severn.
Genevieve: Woman of the race.
Azalea: Dry.
Avery: Wise.
Cecilla: Blind.
Adele: Noble.
Kindra: Greatest champion.
Diedre: Broken-hearted, sorrowful.
Stella: Star.
Lilac: Bluish, lilac.
Savannah: Treeless plain.
Dakota: Friend, allies.
Polly: Star of the sea.
Sonya: Wisdom.
What are some badass girl names?
The most badass girl names include Aspen, Jade, and River. These names symbolize a tough, clever, and resilient female. With one of these cool names for girls, your little gal will be ready to wow the world.
What is the rarest girl name?
The rarest girl name is Elora because it is low on the popularity charts, but there are several rare girl names including Hadleigh and Ophelia. Some parents even decide to create a new name based on a place they love, a family member, or one with other cultural significance.
What is the coolest girl name ever?
The coolest girl name ever is Naomi because it means beautiful, pleasant, and "above all." Other cool baby girl names include Ruby, Phoenix, and Luna, although there are hundreds of awesome girl names to choose from.
The name you decide for your girl is what matters most. Choose a name you love, find meaning in it, and get excited to share the news with your family and friends.
Want more ideas for creative girl names? Check out these articles that are stacked with cute uncommon baby girl names.
250 One Syllable Girl Names
108 Celebrity Baby Names
138 Unisex Baby Names
183 Exquisitely Exotic Baby Girl Names
Top Girl Names: The Ultimate List
55 Pretty Flower Names for Girls And Their Meanings
The 1000 Most Popular Baby Girl Names
100+ Uncommon Baby Names & Their Meanings
90 Strong Baby Girl Names & Their Meanings
Top 123 Disney Baby Girl Names
A Long List of Short Baby Girl Names
21 Girl Names That Start With A
67 Girl Names That Start With C
52 Baby Girl Names That Start With D
100+ Baby Girl Names That Start With E
Baby Girl Names that Start with J
Baby Girl Names that Start with M
58 Girl Names That Start With S