If you're happier on a horse than in a car, chances are you're a cowboy at heart. Here are the best cowboy baby names to inspire you. Saddle up for a wild ride!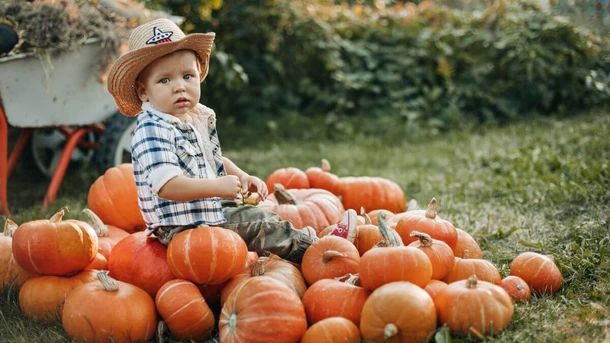 If you're looking for a folk hero, you simply can't go wrong with a cowboy.
And if you're looking for cowboy names, we've got the complete list right here.
There's just something about the freedom, the open space, sleeping under the stars, and the romance of a cowboy's connection with their horse.
It sets off a longing in the heart of even the slickest of city slickers.
Cowboys may have started out as cattle herders, but they became legends.
So if leather chaps and cowboy hats are your thing, sit back and relax.
We've wrangled the 234 best cowboy-themed names for your little peanut (or… baked bean?).
What are some good cowboy names? Let's take a look.
In this article: 📝

Our top 5 cowboy names

Our top 5 cowgirl names

What about some gender-neutral cowboy names?

What are common cowboy names?

More cowboy names

What's a cowboy nickname?
Our top 5 cowboy names
If it's cowboy names for boys you're looking for, let's saddle up and look at history for inspiration.
Some are famous, some you may never have heard of, but one thing's for sure: they've all got great names.
Bass Reeves: Formerly enslaved, Bass went on to become the first African American Deputy west of the Mississippi. He is thought to have been the original Lone Ranger. An important figure forgot by history.

Jesse James is one of the most famous cowboy outlaws of all time. This gunslinger may have gone bad, but his name is synonymous with the Wild West.

Christopher (Kit) Carson, a famous cowboy who managed to keep it legal.

Frank Eaton, the original "Pistol Pete" was a sheriff, cowboy, and military scout.

Willie Pickett. The cowboy who invented bulldogging worked at raches, rodeos and Wild West shows.
Our top 5 cowgirl names
Horses, hats, guns, and boots weren't just for the boys.
Women got in on the action too.
Annie Oakley didn't stand for nonsense and neither did these fierce, feisty cowgirls and outlaws.
Katherine Derre, later Kitty Canutt, is said to have had a diamond tooth. The "Diamond Girl" was a bronc rider with sass.

Lillian Smith: Every gunslinger needs a rival to keep them sharp. This was Annie Oakley's.

Martha Jane Canary: The whiskey-drinking, sharpshooting wildcat better known as "Calamity Jane."

Pearl Heart: A feminist before her time, famous for saying "I shall not consent to be tried under a law which my sex had no voice in making."

Rose Dunn: No wilting flower, "The Rose of Cimarron" was a famous outlaw.
🤠 You might also like: 104 Fearless Cowgirl Baby Names
What about some gender-neutral cowboy names?
What if you're having a surprise, or maybe you're not so fussed about sticking to traditional gendered names?
These are some great gender-neutral options for cowboy names.
Casey: This Irish name means "vigilant" or "watchful," the very purpose of a cowboy.

Montana: This US state is home to many a cowboy.

Rider/Ryder: This popular name meaning "messenger" is British, but conjures up images of galloping over the plains on your prized stallion.

Sam: Hebrew and English origin. Meaning "told by God."
"Jesse" (as in Jesse James) from our Top 5 above is also a good gender-neutral choice.
What are common cowboy names?
These are 60 of the most common cowboy names.
Even if you haven't come across them in years, you can smell the dusty leather the minute you hear them.
They're all pretty great, and there's a reason they've stood the test of time.
Abner

Barrett

Beau

Bennet

Billy

Bonnie

Brock

Buck

Buster

Cal

Callie

Cassidy

Cheyenne

Clay

Cliff

Cole

Colt

Dakota

Dan

Dillon

Dixie

Doc

Duke

Dusty

Earle

Emmy

Flint

Gus

Hank

Hoss

Houston

Huck

Hutch

Jackson

Jethro

Judd

Lawton

Leland

Levi

Marshall

Maverick

Nash

Oakley

Obadiah

Otis

Quaid

Rancher

Remington

Rock

Sawyer

Tex

Tucker

Walker

Willis

Woody

Wyatt

Zeke
More cowboy names
Consider all that the word cowboy evokes: nature, excitement, strength, and general bad-assery.
That's a lot of inspiration to go around.
Some names here are for boys, some for girls, and some that are non-binary.
Aaron

Ames

Amos

Annie

Arizona

Austin

Bandit

Bear

Ben

Betty

Blake

Blaze

Bo

Bobbie Jo

Bobby

Brandy

Brawley

Breaker

Brody

Bronson

Bryce

Bubba

Calhoun

Callum

Canyon

Carson

Carter

Cash

Colton

Chance

Chase

Clarke

Clayton

Clifton

Clint

Clintoon

Clyde

Coda

Cody

Colter

Cooper

Corbin

Cordially

Clive

Dallas

Davis

Denver

Dustin

Dwayne

Easton

Ethan

Forrest

Gage

Galen

Gannon

Garrett

Garth

Gill

Goddard

Grayson

Gunner

Heathe

Hewitt

Hillary

Hogan

Hudson

Hunter

Huntly

Ike

Jace

Jack

Jacob

Jarrod

Jase

Jasper

Jeb

Jed

Jeff

Jem

Jessa

Jim

Linc

Lincoln

Luke

Mack

Maggie

Marsh

Mo

Moe

Nat

Nevada

Oak

Owen

Palmer

Patterson

Phineas

Porter

Prescott

Quinlan

Quint

Randy

Ranger

Ray

Reese

Reno

Ridge

Rocco

Roper

Roscoe

Russel

Rylan

Sage

Scott

Shannon

Sherman

Sila

Silver

Sky

Slade

Sterling

Stetson

Tagg

Tanner

Tate

Teddy

Thatcher

Tobias

Toby

Tom

Trace

Travis

Tripp

Tyler

Utch

Vaughn

Vern

Virgil

Wade

Wagner

Waker

Walter

Webb

Wes

Wesley

West

Weston

Wheeler

Wilder

Will

Winston

Zane

Zeb
What's a cowboy nickname?
Every standout cowboy had a nickname.
It's the thing that made them famous, the stuff that separated them from their peers.
And sometimes they chose their nicknames just because they sounded good.
The great thing about cowboy nicknames is that they're so easy to make up.
All you've got to do is work out the thing your kid is best (or worst) at.
Then slip it between their first and last names.
These are our 10 favorite nicknames for inspo:
Big Toe: Does your little squirt have big feet?

Cactus: Are they prickly but pretty?

Cotton Mouth: Do they know their own mind and aren't afraid to tell you all about it?

Dynamite: Small packages, big personalities.

Flapjack: Can smell a snack a mile away.

Little Head: The little-est of the bunch.

Remington: Are they fiery like the pistol?

Crazy Eye: Don't peel the banana the wrong way or all hell will break loose!

Small Fry: Tiny and cute as a button. Or to be used ironically, if they're big and tall.

Winchester: The famous repeating rifle.
Cowboys are wise, practical, a little wily, and have a twinkle in their eye.
What more could you hope for your little bronco?
So, if you grew up watching westerns, riding horses, or just generally enjoying the great outdoors, consider a cowboy name, or even a Southern name to capture the spirit of the South.
Yee haw, mama!
👶 More baby names:
100 Space Baby Names for Boys & Girls
100+ Baby Names That Mean Peace
50 Baby Names That Mean Fire
47 Baby Names that Mean Moon
100+ Virtue Baby Names (and Names That Mean Virtue)
91 Celestial Baby Names & Their Meanings
250+ Adorable Baby Names That Mean Love
101 Brilliant Baby Names That Mean Light
267 Heavenly Baby Names That Mean Star
126 Mighty Baby Names That Mean Warrior
74 Baby Girl Names That Mean Love
58 Baby Names That Mean Hope
70 Enchanting Baby Names That Mean Night
86 Baby Names that Mean Gift from God
73 Charming Baby Names that Mean Lucky
40 Nautical Baby Names for Adventurous Boys & Girls