On the hunt for crafts for toddlers? Here are 21 great ideas to keep even the most demanding little bean entertained (you can thank us later).
Crafts for toddlers aren't just about keeping your little one entertained.
Creative play helps your little bean develop their motor skills and problem-solving abilities and gives them an outlet for self-expression.
And hey, if you do it with them, you'll be reaping the benefits too! ⭐
It's a win-win, right?
One of the best things about doing crafts is that you don't have to spend a ton of money.
In fact, some of the best crafting ideas come from bit-and-bobs you can find lying around the house.
So here are 21 different ideas to get you started, mama.
Enjoy! 🌈
In this article: 📝

What kind of crafts can toddlers do?

What crafts can a one-year-old do?

What kind of crafts can a two year old do?

What crafts can a three year old do?

Crafts for all seasons

Winter crafts for toddlers

Spring crafts for toddlers

Summer crafts for toddlers

Fall crafts for toddlers
What kind of crafts can toddlers do?
From puppets to DIY instruments, there's no end to the crafty capers toddlers can do.
Depending on their age and personality, they'll need more (or less) of a helping hand with these activities.
This can be a great opportunity to make memories together — and you can even get siblings and other family members involved, too!
Just remember that crafting can involve sharp things, small things, and things that definitely shouldn't be eaten — we're looking at you, Salt Dough!
So keeping a close eye on your little creative prodigy is a must.
What crafts can a one-year-old do?
At one, your little one will have started to develop their motor skills — perhaps starting to copy your gestures and drink from a cup.
They're also starting to make sense of the world and follow very simple directions.
So crafts for one-year-olds need to be fairly straightforward and engage all their senses.
Here are some ideas:
1. Salt dough shapes
It's sticky, it's squishy, and you can easily make it at home.
What's not to love?
For your one-year-old, it'll be less about making intricate sculptures and more about getting gooey.
But there's no stopping you, Michelangelo!
Why not try making these adorable salt dough holiday decorations?
2. Bubble mountain
Who isn't fascinated by bubbles?
Your one-year-old will find the sounds, shapes, and colors irresistible.
Combine water, dish soap, and glycerin to make your own bubble solution in a large bowl.
Then, blow through a straw to make mountains of bubbles or make a bubble wand.
Try experimenting with different colors by adding a bit of food dye to the mixture.
3. Make your own touchy-feely texture book
Making sure they have access to lots of different textures at a young age is important, so why not make a texture book with them?
All you need is some cardboard, child-friendly glue, and stuff that feels interesting.
Velvet, pasta shapes, tin foil — there are just so many options here!
What kind of crafts can a two year old do?
Your toddler is gaining independence now (as I'm sure you've noticed) and is starting to hone their fine motor skills.
Here are some activities that'll spark their interest, without being too complicated.
4. Découpage milk bottle elephants
Why not spark your child's curiosity and recycle at the same time?
Ever noticed that the handles of plastic milk bottles look a bit like an elephant's trunk?
Grab some scrap bits of colorful paper, some PVA glue, and get sticking!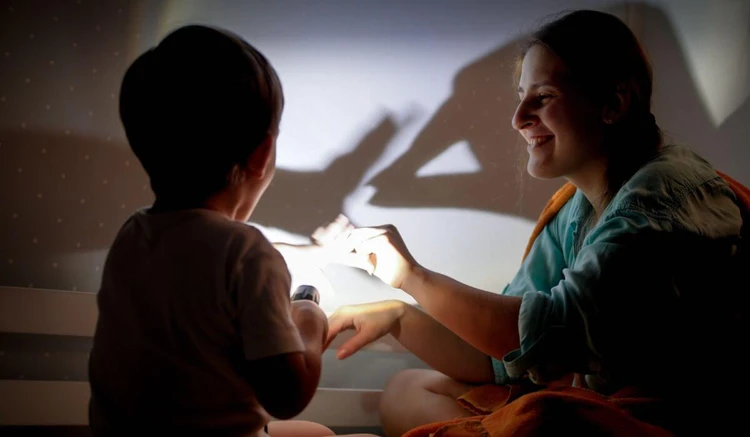 5. Shadow puppets
For a completely mess-free activity, grab a torch and try making some shadow creatures.
The hand movements will help your little one with their coordination too.
(Just don't expect those tiny hands to be able to do too much at this stage.
And sometimes, they may be better audience members than puppeteers.)
There are loads of ideas out there, but making a two-handed bird and swan is a good start.
6. Multicolored celery
This one is an especially good one to try if you think you might have a budding scientist on your hands.
Grab some sticks of celery (with leaves) and stand them in some water with food coloring.
The celery stalks will suck up the liquid and change color.
Magic!
Here's a great guide from PBS to get you started.
What crafts can a three year old do?
By the age of three, the toddler years are coming to a close.
You'll notice they're a lot chattier, starting to do more complicated things like drawing — and yes — a lot more curious about the world around them.
Here are some slightly more advanced activities for them to get stuck into:
7. Cardboard shop
Who says you need expensive toy-sets for make-believe?
It's much more fun to make your own.
Flatten a cardboard box and cut out a rectangular "window."
Decorate to look like a shop front, pet parlor (or whatever your child is into) and voilà!
And what a good use for spare boxes you may have lying around.
8. Pasta jewelry
It's an oldie, but a goodie.
Pasta tubes work especially well for this.
And for extra pizzazz, why not add some glitter, dah-ling?
9. DIY rainmaker
It's not hard to make your own instruments at home, but understandably, you might not want your toddler year old to have their own drum kit.
For an altogether more soothing sound, and an easy make, why not try a DIY rainmaker?
All you need is some tin foil, a cardboard tube, tape, and some rice.
Check out this tutorial from The Crafty Mom.
Crafts for all seasons
Different times of year bring loads of opportunities when it comes to crafts for toddlers.
You can also tie them to particular celebrations.
Whether it's snowflakes for Christmas, egg painting for Easter, or paper-mâché lanterns for Diwali, we've got you covered.
Winter crafts for toddlers
Time to get cozy!
Try out these indoor-friendly ideas.
10. Stained glass windows
All you need for these colorful decorations is tissue paper, glue, and some card.
11. Leaf cookies
Surprisingly simple to make, your kids will love helping you bake these beautifully colored sweet treats.
12. Snowflakes
Another classic, and all you need is paper and scissors!
Try making as many different patterns as you can, and hang them in the window for a winter wonderland.
(Note: littler hands will likely need some help with those scissors.)
Spring crafts for toddlers
Spring has sprung! Get cracking with these colorful creations.
13. Painted eggs
Hard boil some eggs, let them cool, and then paint the shells in whichever way you like.
You could even try rolling them down a hill at Easter, which is all the rage in some parts of England.
14. Handprint flower pot.
Painting terracotta pots is surprisingly easy, all you need is acrylic paint!
Why not add a personal touch by adding a handprint?
This tutorial, by All Things Mamma, provides step-by-step instructions.
15. Marbling
Food coloring, oil, and paper are all you need to make beautiful marbled artwork.
If the weather's nice, you can dry them outside.
Summer crafts for toddlers
Make the most of the sunshine with these outdoor crafting ideas.
16. Flower crowns
A traditional Swedish pastime, making flower crowns is a wonderful way to make the most of summer.
Here's a nice guide from RedTedArt.
17. Bug hotel
Learn all about nature, boost biodiversity and have fun at the same time.
Bug hotels don't need to be fancy to be fascinating.
Try this one, made from cardboard tubes, from Chester Zoo in the UK.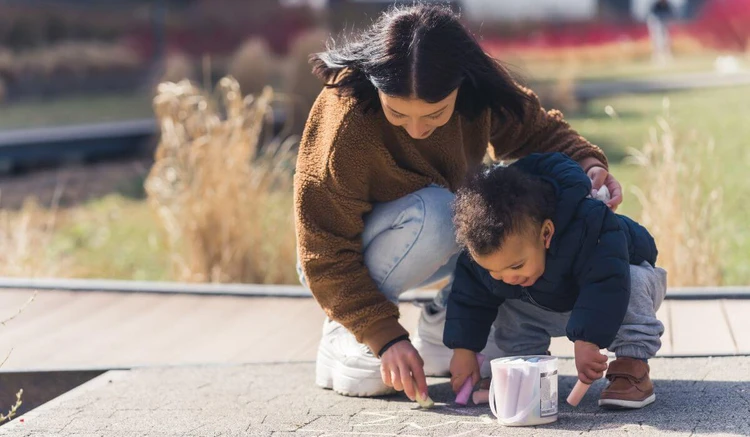 18. Chalk art
Find a canvas somewhere in your yard (if you have one) or on the wall of your house, and let your creative juices flow!
The best thing about chalk is that it washes off, so that cute little hopscotch game needn't be a permanent feature.
Fall crafts for toddlers
The leaves are falling, and the nights are drawing in.
But that doesn't mean your little ones need to rein in their creativity!
19. Leaf bunting
Bunting's not just for summer!
Try collecting as many colorful leaves as you can.
Then use tape and glue to string them up to make a beautiful, seasonal decoration.
20. Paper-mâché lanterns
All you need for these lovely lanterns are balloons, glue, paper, some ribbon, and a battery-powered tealight.
Check out this great how-to from Glazer Children's Museum.
21. Tree hand
Ever wanted to draw a great-looking tree?
Easy, all you need is your hand!
Get your little peanut to draw around their hand, fingers splayed, color in, and then stick on some real leaf foliage from walks you've taken outside.
So there you have it, 21 ridiculously fun ways to keep your toddler entertained.
Happy crafting, mama!
For even more arts and craft ideas, why not ask the mamas of Peanut?