Cuban baby names are some of the most inventive on the planet. Parents love to experiment and are happy to get quite creative with their choices.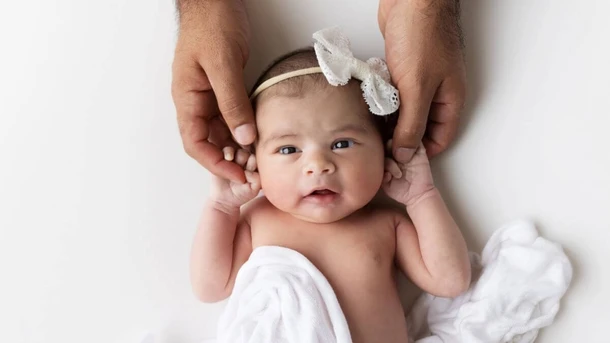 From combining the names of two parents to spelling one parent's name backward, Cuban names are nothing if they're not unique.
And then there's the question of the letter Y. In the 70s and 80s, it rose to stardom as a first letter.
In fact, those born at this time are known as the Y Generation. Yulieski, Yenifer, and Yaniel all found themselves on the list of common Cuban names.
When it comes to last names, Cubans carry two family names — one from their mother's side and the other from their father's side.
It's not customary for married women to take their husbands' names. That means the family name you are born with is the one that you stay with for life.
Right, so that's the scoop. Now it's time to explore our favorite Cuban names.
Whether you're looking for something unique or more classic, there's an option for every taste.
With its rich cultural influences, vibrant colors, and unique history, Cuban names offer a specific combination of enchantment and depth.
Here's our list of Cuban baby boy names and baby girl names to help you with your choice.
In this article: 📝

What are the most popular names in Cuba?

What is a Cuban girl name?

What are Cuban boy names?
What are the most popular names in Cuba?
First, we'll let you in on who is winning the popularity contest.
Of all the popular Cuban names, these top the charts:
Veronica. "She who brings victory." 🎉

Luis. This powerful Spanish name means "famous warrior."

Roberto. A name of Italian origin, Roberto means "bright fame."

Jose. This popular Spanish form of the name Joseph means "he shall add."

Caridad. From Spanish roots, Caridad means "charity."

Rafael. A timeless name that never goes out of style, Rafael means "God has healed." It also may just be the name of your favorite Teenage Mutant Ninja Turtle.

Manuel. From the Hebrew Immanuel, this name means "God with us." It can be shortened to the adorable Mannie.

Ramon. Meaning "wise protector," Ramon is the Spanish version of the Germanic name, Raymond.

Carlos. "Free man"

Antonio. A name that's been in circulation for centuries, Antonio means "flourishing."
What is a Cuban girl name?
Now onto our list of Cuban baby girl names. Let's dive in.
Acindina. Of Greek origin, this tranquil name means "safe."

Adoncia. This Spanish name means "sweet."🍯

Alejandra. The Spanish form of Alexandra, Alejandra means "defender of mankind."

Alicia. "Noble"

Aymee. Like its English counterpart Amy, Aymee means "beloved." ❤️

Barbara. A name that celebrates diversity and uniqueness, Barbara means "foreign" or "strange."

Beatriz. "Voyager" 🌎

Benita. "Blessed" 💖

Blanca. "White" 🤍

Clara. "Clear and bright"

Dalila. From the Biblical name Delilah, Dalila means "delicate."

Damasia. This beautiful name refers to someone from the Adriatic Sea, the body of water that separates Italy from the Balkans.

Dunia. "World" 🌎

Elena. "Shining light" 🌟

Elisa. A diminutive of the timeless name, Elizabeth, Elisa means "God is my promise."

Floramaria. This combination name is made up of Flora, meaning "flower," and Maria, which has a few different names — "of the sea," "beloved," and "bitterness."

Giselle. This name promises to be a hit — it means "oath." It belongs to the Cuban-American singer Giselle Bellas.

Hermosa. "Beautiful"

Ines. "Pure and holy"

Itxaro. A name of Spanish origin, Itxaro means "hope." And if you're wondering how to pronounce it, here's a quick guide: IHTKARow.

Liliana. As in the lily flower.

Lisandra. "Defender of mankind"

Lola. This popular name has a melancholic meaning. From the Spanish name Dolores, Lola means "sorrows."

Lur. "Earth" 🌎

Maricela. "Of Mars"

Mariposa. "Butterfly" 🦋

Marquesa. "Works with a hammer" 🔨

Mirana. This enigmatic name means "strange and beautiful."

Neoma. "New moon" 🌙

Novia. "New" and "young"

Quillen. "Women of the heights"

Ramira. "Judicious"

Rosa. 🌹

Samantha. "Listens to God"

Safia. "Pure"

Silvana. "Wood"

Tranquila. "Calm and peaceful"

Urbana. "From the city"

Valeria. "Strong and brave"

Verita. "Truth"

Xiomara. "Ready for battle"

Yandra. The first of the Y names on our list, Yandra is a Cuban version of Sandra, meaning "protector of man."

Yanet. Just like Janet, this name means "God is gracious."

Yenifer. Like its partner name Jennifer, Yenifer means "fair one."

Yolanda. "Violet"

Yoselin. "Joyous"

Ximena. A feminine version of the name Simeon, Ximena means "one who hears."

Xiomara. "Battle ready"

Zamira. "Nightingale" 🎵🐦
What are Cuban boy names?
Check out these Cuban names for boys:
Alejandro. "Defender of mankind"

Alvaro. A name both adorable and mighty, Alvaro means "elf warrior."

Anton. "Praiseworthy"

Bembe. "Prophet"

Camilo. "Helper to the priest"

Castilo. "Castle" 🏰

Che. Perhaps the most well-known figure of the Cuban revolution, Che Guevara has made his first name particularly famous in the country. Che means "God will increase."

Dalian. "Valley"

Desiderio. This exquisite Spanish name means "desired one."

Diego. While it may not seem like it, Diego is the Spanish version of James. It means "supplanter."

Edmundo. "Prosperous protector"

Elian. "Brightness" ✨

Emeterio. "Deserves affection" ❤️

Ernesto. "Sincere" and "diligent"

Euxenio. Like its Greek counterpart Eugenio, Euxenio means "noble."

Fidel. Meaning "faithful"

Filiberto. "Very bright" ✨ ✨ ✨

Francisco. "Free man"

Frederico. This Spanish name means "peaceful ruler" and can be shortened to the sweet Freddie or Fred.

Geraldo. "Rules by the spear"

Gimoaldo. "Confessor"

Hilario. As it sounds, Hilario means "cheerful."

Homero. "Security" or "pledge"

Ireneo. "Lover of peace" 🕊️

Javiero. "Bright"

Juan. The Spanish version of John, Juan means "graced by God."

Julio. "Soft haired"

Learco. "Judge of the village."

Macario. "Blessed" ❤️

Maceo. "Gift of God"

Manuel. This popular name means "God is with us."

Miguel. The Spanish version of the popular name Michael, Miguel means "who is like God"

Nestor. Of Greek origin, Nestor means "one who returns from travel."

Osvaldo. "God's power"

Paz. "Peace" 🕊️

Pirro. "Flaming hair" 🔥

Placido. "Calm and peaceful"

Raul. "Wolf counsel" 🐺

Reinaldo. Of German origin, this popular name means "ruler."

Reinier. An Old Norse name, Reinier means "counseling warrior."

Roberto. "Bright fame" 🌟

Rodolfo. "Famous wolf" 🐺

Silverio. "Wood"

Vincente. "Victorious"

Yago. A variation of the name Diego, Yago means "supplanter."

Yasiel. Of Hebrew origin, Yasiel means "whom God made."

Yunior. Like Junior.

Yulieski. One of the more interesting Y names on the table, Yulieski means "young" and can be shortened to "Yuli."

Yuri. "Farmer"

Yudel. "Praised"
Happy choosing!
👶 More baby names:
85 Beautiful Brazilian Baby Names
71 American Baby Names (& Their Meanings!)
52 Mayan Baby Names and Their Meanings
75 Mexican Baby Names to Inspire You
140 Portuguese Baby Names With Meanings
218 Beautiful Exotic Baby Names
Top 51 Dominican Baby Names
66 Charming Colombian Baby Names