Leaving the house with a baby can feel like a bit of an odyssey.
You've taken vacations that didn't involve as much planning and packing as this trip to the mall, right? And a lot of the trouble often centers around what to put in that all-important accessory, the diaper bag.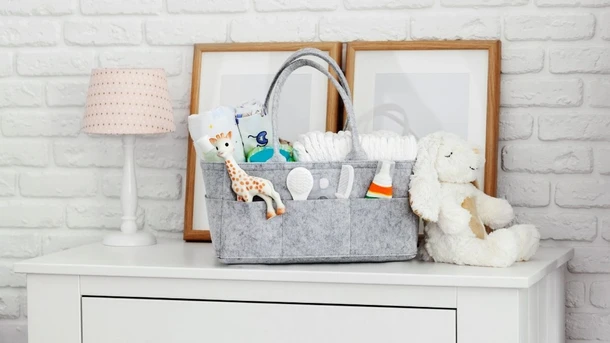 Well, put down those armfuls of random stuff, and let us help bring some calm to the diaper bag chaos.
Here are the diaper bag essentials you should actually reach for every time you go out.
In this article 📝

What to pack in a diaper bag

What do you need to carry in a baby bag?

What do you need in the diaper bag for the hospital?
What to pack in a diaper bag
What to put in a diaper bag will change according to your baby's age, the season, and the place you're headed.
But in general, here's our list of top five diaper bag essentials for every time you leave the house, especially with a newborn.
Your diaper bag essentials
1. Diapers
We'll admit this one is obvious. In the first few months, you'll likely want one clean diaper for every two hours you plan to be out. You'll need fewer as your baby grows and starts to poop less often. And if you're worried about diapers expiring, don't fret, they last for years after their recommended 'expiry date'.
2. Wipes
The most versatile item in your whole diaper bag. Maybe leave a spare pack in your car while you're at it.
3. Changing mat
Even when public changing mats look clean, you might feel more comfortable covering them with something that you know you've washed.
4. Bags for the dirty stuff
Stashing a few plastic bags in your diaper bag means you can throw away dirty diapers without worrying about the smell, or pack up wet clothes to throw straight in the washer.
5. Hand sanitizer or disinfectant wipes
Because when you've got to change, you've got to change, and there's not always a sink for after.
What do you need to carry in a baby bag?
And here's what you should consider in your baby bag for a longer journey:
Spare clothes for baby
Spectacular diaper-blowouts are one of the many fun, poop-related surprises that being a parent is all about.
And for extra excitement, they can happen anywhere, anytime, especially when you least expect them.
So a change of clothes is definitely a wise inclusion for longer periods out.
If you're a "like to be extra prepared'' kind of mama, you might also want to throw in an extra layer in case the weather changes, or take a sun hat or gloves depending on the season.
Babies over six months might need some sunscreen too.
Clean shirt for you
Spit up, leaky diapers, leaky boobs. Aah, the joy.
There will come a day when you thank yourself for having thrown a clean shirt for you in your bag.
Pacifiers
When your baby starts grouching and you're still 15 minutes from home, a pacifier might mean the difference between a meltdown and a peaceful (if brisk) last part of your journey home.
Bottles or nursing supplies
If you're formula feeding, you can always pre-portion some formula into bottles and then just add water while you're out.
If you're breastfeeding, you might want to pack a nursing cover or clean breast pads. Either way, don't forget a burp cloth.
Travel-sized diaper ointment
Because diaper rash can happen suddenly, and it's no fun for anyone.
Toys
Don't go wild here. The trick is a balance between enough to keep baby stimulated, and not so many that you end up bending down every two seconds to pick up one toy animal after another.
Just choose a couple of their current favorites.
Bonus points if you can clip them onto the stroller so they're harder for your little one to lose.
Snacks and drinks for older babies
Even if you're only making a short trip, a compact tub of baby-friendly snacks, a piece of fruit, or a bottle of water can keep them occupied while you finish your jobs, wait for your friend to arrive, or make it the last few minutes to your front door.
And of course, don't forget your purse, your phone, your keys, and anything else that you wouldn't have left home without before you had kids.
What do you need in the diaper bag for the hospital?
The hospital will usually give you diapers and disposable cloths for your baby's first few changes.
They'll also have basic pajamas for them to wear for their first cuddles.
You can find our full hospital bag checklist here, but what goes in a diaper bag for the hospital? Try packing:
A first outfit if there's something special you want them to wear
A going-home outfit for them to wear in their car seat
Cloth diapers, if you'd rather use these than disposables
Enough diapers and wipes to see you through the journey home
And what week should you pack a diaper bag for the hospital?
Lots of parents prefer to have things ready by the 36th week, just in case your baby decides to put in an early appearance.
But if you feel like doing it sooner (or repacking once a week), that's totally up to you.
Good luck!
💡 More from The 411:
10 Best Baby Changing Tables, Chosen By Real Moms
How Many Diapers Do I Need for a Newborn?
How to Change a Diaper
24 Baby Essentials You'll Need
Is Baby Powder Safe?
14 Best Baby Jumpers for Your Little Leapfrog
10 Best Baby Carriers: Tried & Tested by Real Moms
10 Best Baby Gates to Keep Your Little One Safe
5 Best Diaper Pails Chosen By Real Moms
What You Need to Know About Yeast Diaper Rash