Looking for the perfect name from the Most Magical Place on Earth? Whether you're looking for princesses or superheroes, adorable beasts or powerful rulers, Disney baby girl names are here to delight and enchant, beguile and inspire.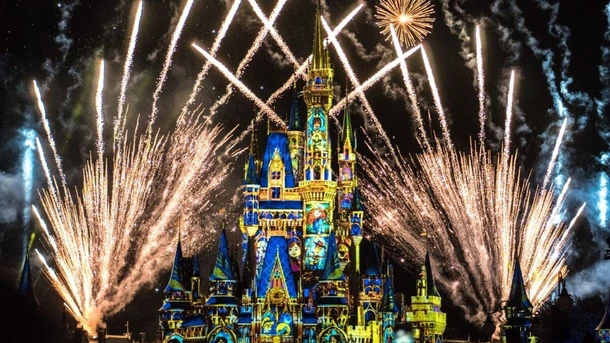 What are some Disney girl names? Here's your ultimate list.
In this article 📝

What are some Disney princess names for baby girls? 👑

What are some magical girl names? 🔮
What are some Disney princess names for baby girls? 👑
Yep, we've got Ariel, Jasmine, and Elsa. But we've also chosen plenty of lesser-known Disney princesses to inspire you. Take a look.
Abigail: That's Queen Abigail, to be precise. From the animated series Elena of Avalor.
Alana: A mermaid, Alana is one of the daughters of King Triton and Queen Athena. So, yes—a princess mermaid.
Aurora: Looking to get that sleep schedule together fast? Princess Aurora is Sleeping Beauty's real name.
Amber: A lover of adventures and parties, Amber is a princess from Sofia the First.
Anastasia: Actually a Russian grand duchess—but close enough to a princess to make the list—Anastasia Romanov is a brave, kind, adventurous character.
Andrina: Also a mermaid princess, Andrina is one of Ariel's sisters.
Anna: The feisty sister of Frozen's Elsa
Arabella: The mermaid niece of Ariel, and of mermaid royal descent
Ariel: This little mermaid needs no introduction.
Arista: One of Ariel's sisters
Attina: Ariel's oldest sibling
Aquata: Ariel's brave sister
Audrey: A magical princess from Descendents
Briar: Briar Rose. AKA Princess Aurora. AKA Sleeping Beauty.
Camilia: That's Queen Camilia, from Elena of Avalor.
Camille: Camille Leon. She's beautiful. She's an heiress to a cat food fortune. And she's from Kim Possible.
Clio: A fancy princess from Sofia the First
Elena: She's the main princess from Elena of Avalor.
Ella: As in Cinderella. Magic.
Elsa: Cool as ice
Giselle: A nature lover, she's from Disney's Enchanted.
Iris: A princess with three eyes from Pair of Kings
Isabel: Elena's younger sister from Elena of Avalor
Jasmine: The gorgeous, independent princess from Aladdin
Leah: That's Queen Leah—and she's Sleeping Beauty's mama.
Megara: She's the snarky princess from Hercules.
Merida: The awesome red-headed princess from Brave
Miranda: Queen Miranda is Sofia the First's mama.
Moana: An awesome adventurer of a Disney heroine
Mulan: Inspired by the legendary figure, Mulan is a powerful warrior princess.
Nala: Simba's lioness love interest from The Lion King
Sofia: From Sofia the First
Tiana: From The Princess and the Frog
What are some magical girl names? 🔮
Maybe you're looking for names inspired by female Disney characters but don't want to go the princess route. These other character names still serve up plenty of Disney magic.
Abby: The adorable duck from Chicken Little. Full name: Abby Ducktail Mallard.
Adelaide: Remember the Aristocats? Adelaide Bonfamille is the former opera singer and mama to Duchess and her kittens.
Alcmene: Love Hercules? Well, Alcmene was his adopted mama.
Alice: How wonderfully wonderland
Amelia: That's Captain Amelia from the Treasure Planet. She's also an alien. Cool.
Amity: For lovers of The Owl House, Miss Amity Blight is the perfect inspiration for future booklovers.
Anamaria: A pirate from Pirates of the Caribbean. Yep, badass indeed.
Anda: So Anda is a moose from Brother Bear 2. She is sweet and kind (and voiced by Andrea Martin, if you're a fan).
Andromeda: Always on the hunt for the truth, Andromeda is an adorable character from Big City Greens.
Angel: This one's for fans of Lilo and Stitch. Angel's other name? Experiment 624.
Angela: From Gargoyles, Angela is super strong and all around magical.
Angelique: If you're looking for a decorator for your castle, this is exactly Angelique's job in Beauty and the Beast: Enchanted Christmas.
Anita: If you love dalmatians (101 of them to be precise), the name Anita may be a source of inspiration. She's sweet, intelligent, and a lover of dogs.
Annette: An armadillo! In Bear in the Big Blue House.
Babette: Lumiere's girlfriend from Beauty and the Beast, she is turned into a feather duster under the spell of the Enchantress.
Bailey: An adorable beluga whale from Finding Dory
Baylene: An elderly brachiosaurus from the 2000 movie Dinosaur, she's both strong and gentle.
Belle: Yep, the beauty from Beauty and the Beast
Bentina: For Ducktales fans, she's the nanny.
Bianca: For children of the 80s, Miss Bianca is the main character in The Rescuers.
Bonnie: Bonnie is the little girl from Toy Story 3 who ends up owning Woody and Buzz.
Boo: From Monsters, Inc., Boo (AKA Mary Gibbs) is not afraid of anything.
Calliope: The hilarious character from Tangled, Calliope is a one-time street magician and current Keeper of the Spire.
Candace: She's the older sister of Phineas and Ferb.
Cece: From Shake It Up, Cece (or Cecelia) is quite the dancer.
Celia Mae: With snakes in her hair and only one eye, Celia Mae is one of Monsters, Inc.'s classic characters.
Charlotte: From Princess and the Frog, Charlotte La Bouff is her full name. The name says it all.
Clara: Clara Stahlbaum is the main character in Disney's recent The Nutcracker and the Four Realms.
Cleo: Geppeto's pet goldfish in Pinocchio
Colette: From Ratatouille, Colette is a big fan of good food.
Daisy: As in the duck. Classic.
Destiny: For fans of Finding Dory, Destiny is the lovable whale shark.
Dory: A name you've been looking for?
Elizabeth: From Once Upon a Time in Wonderland
Ellie: She's the wife from the movie Up.
Emma: The daughter of Snow White and Prince Charming in Once Upon a Time
Esmerelda: She's the beguiling character from The Hunchback of Notre Dame.
Eudora: The mother of Tiana in The Princess and the Frog
Evangeline: The star that others wish upon, Evangeline is from The Princess and the Frog.
Eve: For lovers of tech, EVE is the Extraterrestrial Vegetation Evaluator from WALL-E.
Faline: A female deer from Bambi
Fauna: She's one of the three fairy godmothers in Cinderella.
Flora: Also one of Cinderella's fairy godmothers
Helen: She's Elastigirl from The Incredibles.
Hera: From Hercules, she's the wife of Zeus.
Isabella: One of Phineas and Ferb's best friends.
Jane: From Tarzan and Jane fame.
Jessie: For lovers of the sitcom with the same name
Joy: From Inside out, she's the leader of the emotions inside Riley's head.
Judy: As in Officer Judy Hopps, the bunny officer from Zootopia
June: From Little Einsteins, June is a really talented dancer.
Katrina: A fun and fair character from The Legend of Sleepy Hollow
Kiara: For fans of The Lion King, Kiara is Nala and Simba's daughter
Kim: As in Kim Possible
Lana: She's Mia's greatest foe in The Princess Diaries.
Laurel: From the recent Disney film Onward, Laurel Lightfoot is a mama elf. Fun fact? She's voiced by Julia Louis-Dreyfus.
Lilo: The awesome Hawaiian girl from Lilo and Stitch
Lily: One half of Tiger Lily—from the animated Peter Pan
Lizzie: For fans of Hilary Duff and the Lizzie McGuire series
Maleficent: If you're looking for names of the evil variety, Maleficent is the baddy from Sleeping Beauty.
Marian: Maid Marian is Robin Hood's love interest—and very foxy in the animated version.
Maria: She's the furry white kitten with the punk bow from The Aristocats.
Meena: Mira's cousin in Mira, Royal Detective.
Melinda: Melinda Mouse, Mickey's aunt
Minnie: As in Mouse
Mira: The brave detective from Mira, Royal Detective
Molly: She's the adorable little girl from Talespin.
Naomi: She's Elena's adventurous best friend in Elena from Avalor.
Olivia: Another one for the 80s kids, Olivia Flaversham is from The Great Mouse Detective.
Pearl: The cute pink octopus from Finding Nemo
Peg: She's the mama from Goof Troop. Peg Pete is her full name.
Perdita: The magnificent lead dalmatian in 101 Dalmations
Priya: From Mira, Royal Detective, Priya is Mira's creative cousin.
Riley: She's the funny, sporty lead character in Inside Out.
Roxanne: She's the canine love interest in A Goofy Movie.
Sally: The clever rag doll monster from A Nightmare Before Christmas
Sarafina: The mama of Nala from The Lion King
Sashi: From Penn Zero: Part-time Hero, she's one of Penn's buddies at school.
Shego: AKA The Supreme One. She's from Kim Possible.
Suri: The cheerful lemur from Dinosaur
Sylvia: The head librarian in An Extremely Goofy Movie
Thalia: The muse of comedy in Hercules
Ursula: Yep, she's the sea witch from The Little Mermaid.
Vanellope: The quick-witted racer from Wreck-It Ralph
Vidia: She's speedy, she's a fairy, and she's the enemy of Tinker Bell.
Violet: The eldest daughter in The Incredibles family, Violet is able to turn herself invisible.
Vixey: The little Vixen from The Fox and the Hound
Wendy: Wendy Darling is the young heroine of Peter Pan.
Willow: Princess Willow is Rupunzel's sweet aunt from Tangled.
Yzma: The evil sorcerer from The Emperor's New Groove. She's definitely a vibe.
Wishing you a happily ever after.

103 women are talking about 'baby names' on Peanut. Download the app to join the conversation.
👶
More baby girl names:
Top Girl Names: The Ultimate List
90 Middle Names for Girls
161 Cool Baby Girl Names And Their Meanings
The Most Popular Baby Names on Peanut in 2020
183 Exquisitely Exotic Baby Girl Names
90 Strong Baby Girl Names & Their Meanings
70 Vintage Baby Girl Names
264 Gothic Baby Girl Names for Your Little Raven
93 Anime Baby Girl Names
200+ Super Sweet Baby Girl Names