Looking for the perfect Easter pregnancy announcement? From painted eggs to knitted bunnies—we've got you covered with these 41 cracking ideas.
Wondering how to announce the arrival of your little chick with an Easter pregnancy announcement?
We've gathered nine of our favorite egg-stravagant ideas for egg-spectant mamas.
(Okay, we'll stop with the cracking egg puns now.)
In this article: 📝

When should I announce that I'm pregnant?

How do you announce pregnancy on Easter?

Classic Easter pregnancy announcement ideas

Funny Easter pregnancy announcement ideas

Family Easter pregnancy announcement ideas

Edible Easter pregnancy announcement ideas

Knitted Easter pregnancy announcement ideas

Easter pregnancy announcement caption ideas
When should I announce that I'm pregnant?
Ah, the age-old quandary: when to tell people you're expecting?
How and when you tell people is totally up to you.
You might have heard that you should hold off telling people until the end of your first trimester, at 12 weeks.
But this isn't a hard and fast rule, and some parents-to-be decide to let people know sooner (or later).
The recommendation of waiting until 12 weeks comes from the fact that most pregnancy losses happen in the first trimester.
After that, the risk decreases.
12 weeks is when many mamas-to-be will get their first scan, so this provides a concrete milestone for many to start sharing their news.
But some mamas feel decidedly ropey during those first few weeks of pregnancy and may be looking for some additional support.
Basically, there's no one way to do this.
You do you!
How do you announce pregnancy on Easter?
Cute chicks, yellow daffodils, baby bunnies — we can't fault your timing, mama.
Easter has got to be one of the most picture-perfect times of year to share your good news.
So why not make it official with one of these super-cute Easter pregnancy announcement ideas?
Classic Easter pregnancy announcement ideas
These Easter classics are always top of the pops (or peeps).
1. Easter basket pregnancy announcement
Such a classic way to announce that you're expecting!
Grab a basket, and fill it with straw, tissue paper, or flowers to decorate.
Then, make the centerpiece from whatever you like: a copy of your first scan, a cute hand-drawn sign, or even some DIY-painted eggs.
2. Easter egg hunt pregnancy announcement
Why not sit back, relax, and let your loved ones do the work?
This Easter egg hunt with a difference involves finding the "prize" of news that you're pregnant.
It's sure to delight the winner!
Plus, you can add some hilarity to the clues with some egg-cellent puns.
(Read on for more on this).
3. Easter painted egg pregnancy announcement.
Painted eggs: not only are they a beautiful and creative way to make your announcement in themselves, but they make great features in an Easter basket or egg hunt.
Get cracking with this tutorial from BBC Good Food.
Funny Easter pregnancy announcement ideas
Live life on the lighter side.
4. Easter pregnancy shirt
How cute is this tee by Tashie's Gift Shop?
Sure, you can buy 'em, but why not make your own?
You could even make some as gifts for a properly personal reveal.
Get started with this walkthrough.
5. Painted baby bump egg
Go bold with a bodaciously bright baby bump.
Looking for inspiration?
Check out these beautifully painted egg-bumps from Melanie Rodgers on Pinterest.
6. Puntastic pregnancy proclamation
Are you egg-specting somebunny new?
Egg-static to share your news?
Why not create your own signature pun for your big reveal?
You can use it on DIY cards, onesies, and even scratchcards.
(Laughter really is the best medicine).
Family Easter pregnancy announcement ideas
For your nearest and dearest.
7. Sibling Easter pregnancy announcement
This could work for future grandparents, aunts, and uncles too.
Why not make an Easter-themed gift basket explaining that the little ones in your family are going to be promoted?
It's also a great way to help young children feel included in all the action and prepare for the changes ahead.
8. Easter cards
If your family loves giving our cards for Easter, why not make this one extra special?
We love these scratchcard Easter cards so you can share your big news in a totally unexpected way!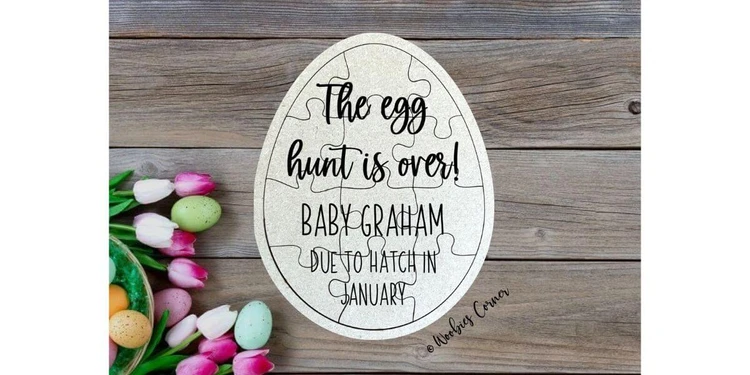 9. Pregnancy Easter surprise jigsaw
This one has to be at the top of our list: simple, fun, and totally frameable.
You could easily adapt the jigsaw for little ones or even make it devilishly difficult for the jigsaw enthusiast in your family.
Make your own easter-themed jigsaw using this easy-peasy tutorial from Howcast.
(We admit this tutorial was designed for kids. But it's totally usable for the young at heart).
Of you can buy a custom jigsaw, like this one from Woobies Corner on Etsy.
Edible Easter pregnancy announcement ideas
The tastiest way to share your news.
10. Easter surprise cookies.
Gingerbread, sugar cookies, shortbread: so many options!
Cut your chosen cookie mix into simple egg shapes and decorate.
And voila!
The perfect Easter pregnancy announcement that everyone will enjoy.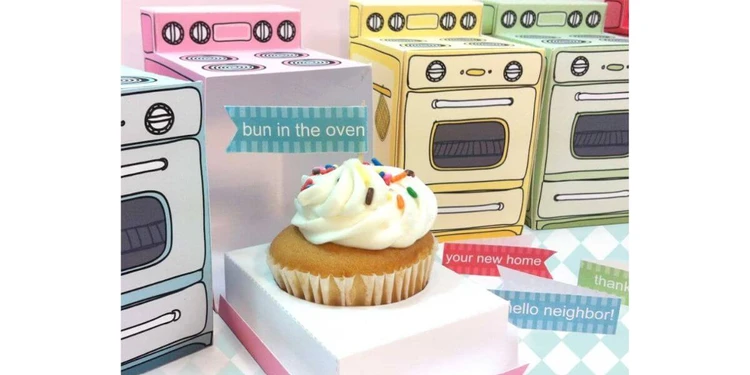 11. Retro oven cupcake box
Just take a look at this adorable bun in the oven cupcake box.
As it's a DIY project, you can make it your own and find the perfect words (and the perfect cupcake) to tell your loved ones the good news.
12. Chocolate bunny family
Another sweet but simple idea.
Two chocolate bunnies and a chocolate egg.
Done!
Knitted Easter pregnancy announcement ideas
Knitting ain't just for the grandmas!
13. Adorable Easter baby clothes
Simple: buy the cutest Easter baby outfit you can find, snap a shot with a cracking Easter pun, and there you have it!
Easy, quick, and adorable.
14. Knitted egg cozy
This cute little project is easier than it looks.
If you can knit and purl, then this is totally doable.
Once finished with this super-easy step-by-step tutorial from LoveCrafts, you'll have an adorable bunny egg cozy—perfect for your Easter pregnancy reveal.
15. Knitted baby booties
What is it about baby booties that make us feel all squishy inside?
And knitted baby booties?
We can't even.
Here's a gorgeous (and simple) baby bootie project from Studio Knit to get you started.
16. Knitted baby reveal card
Why not create a gorgeous DIY knitted card for your pregnancy announcement?
Perhaps a little quicker than a full-on knitting project, this card is definitely a keeper.
In search of some inspiration?
Try out this step-by-step how-to from Veronika Hug.
Easter pregnancy announcement caption ideas
So you've decided which Easter pregnancy announcement idea you're going for, but what do you say?
We've got some egg-cellent ideas:
We're egg-specting!

Baby hatching soon!

Baby bunny coming soon

Looks like we won the Easter egg hunt

We have egg-citing news

The Easter bunny really delivered this year!

Some-bunny special is on the way

Mama bunny

They're egg-cited, I'm egg-specting

One extra egg in our basket

Happy Easter! Also, I'm pregnant.

We're pr-egg-nant!

Baby's first Easter (next year)

Bump's first Easter

My Easter egg was fertilized

Special delivery from the Easter bunny

So egg-cited to meet you!

Don't think this egg will fit in the basket…

New peep in the family

My Easter egg is getting bigger…

Our nest is blessed

An Easter surprise!

Spring is in the air, and we have big news to share…

Another lamb in our flock

Guess what's hatching?
So there you have it — oodles of ideas for your Easter pregnancy reveal.
All are totally combinable and customizable, so why not pick your favorites and make them your own?
We have plenty of ideas for other holidays, too — like these little gems for Christmas.
And, of course, you can share your big reveal with other mamas in our community
You might just pick up some other ideas too!
So go have an eggstraordinary time (last one, we promise), mama-to-be!