One of the best things about Egyptian names for girls is the blend of the old and the new worlds. Many names will have origins in ancient Egypt, thousands of years old and passed through generations. Others have been brought to Egypt from the more recent Arabic world. However, one thing they have in common is that they are stunning names, rich in meaning.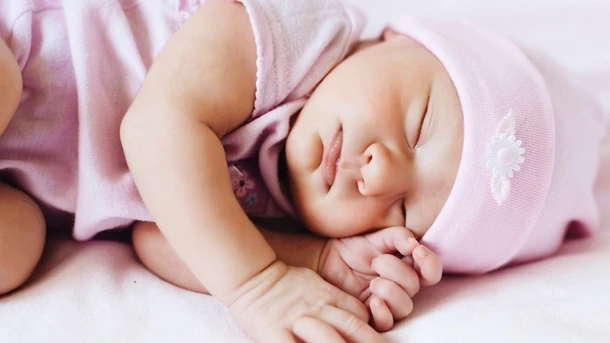 As with many world cultures, Egyptian female names celebrate tradition, nature, and beauty. There are also strong female role models and princesses present in today's names, which could inspire your little girl as she grows up.
In this article: 📝

What is the rarest Egyptian girl name?

What is the Egyptian word for princess?

What are common Egyptian baby girl names?

More Egyptian names for girls

Find more Egyptian baby names
What is the rarest Egyptian girl name?
Let's take a look at some Egyptian girls' names. Firstly, one of the more unique names.
Nubia
This lovely name is uncommon today but could be a great fit for your little girl. It comes from ancient Egypt and means 'gold.' This name would show your baby girl that you treasure her, but if you're looking to spoil your little princess, then read on for the perfect name.
What is the Egyptian word for princess?
If your little girl is true royalty, then consider naming her after the Egyptian word for princess.
Sara
This name is consistently popular across Egypt and the rest of the world, and with good reason. It is a beautiful feminine name, and literally means 'princess.' What better title to give to your wonderful baby girl?
What are common Egyptian baby girl names?
If princess and gold are not quite the meanings you're looking for, let's take a look at some more beautiful Egyptian names:
Aya
Aya was a queen in ancient Egypt and the name has grown in popularity recently.
Cleopatra
One of the most famous female rulers in history, Cleopatra was famed for her intellect and beauty. A stronger female role model you could not find.
Eman
This name is used for both sexes but is more common for girls. It has Arabic roots and means 'faith.'
Heba
One of the most popular Egyptian female names, Heba may be very apt for your bundle of joy; its meaning translates as 'gift.'
Layla
Another Arabic name popular in Egypt, Layla is a gorgeous traditional name that is popular across the globe. Your baby girl would also have her own theme tune!
Marwa
Marwa is a traditional Arabic name very popular in Egypt today. It comes from nature, meaning 'stone' or 'mountain.'
Mona
A mysterious name meaning 'wishes' and 'desires', Mona is perhaps the most common of all female names in Egypt today.
Zahra
Zahra also has its roots in nature and means 'flower.' A perfect fit for your gorgeous baby girl.
More Egyptian names for girls
If the names so far have not helped, here is a list of 72 more Egyptian names for girls:
Akila
Amunet
Anat
Anippe
Asenath
Auset
Bahiti
Bastet
Bennu
Berenike
Chione
Dalilah
Dendera
Ebonee
Eboney
Eboni
Ebony
Edrice
Eshe
Farida
Feme
Femi
Fukayna
Gamila
Habibah
Hafsah
Hathor
Heqet
Ife
Isis
Jomana
Keket
Khepri
Kissa
Kleopatra
Lapis
Lateefah
Lotus
Maibe
Mandisa
Mariam
Masika
Massika
Maye
Midge
Moswen
Nailah
Nane
Nanu
Nefertari
Neferteri
Nefertiri
Neferure
Nefret
Neith
Nenet
Nephthys
Nour
Onofria
Rabia
Rana
Rehema
Safiya
Salma
Shani
Tanit
Tanith
Tauret
Thema
Tiye
Zuberi
Find more Egyptian baby names
For more ideas on the best baby names for your little one, why not ask the mamas of Peanut?
👶 Find more girl baby names:
Top Girl Names: The Ultimate List
161 Cool Baby Girl Names And Their Meanings
90 Middle Names for Girls
57 Italian Baby Girl Names
168 Celtic Baby Girl Names for Your Daughter-to-Be
250 One Syllable Girl Names
The 111 Best Japanese Baby Girl Names
85 Persian Baby Girl Names for Your Daughter-to-Be
100 of the Most Popular Ethiopian Baby Names
The 76 Best Turkish Baby Girl Names
100+ Russian Baby Girl Names for Your Baby
174 Indian Baby Girl Names for Your Little Daughter
212 French Baby Girl Names
100 Spanish Baby Girl Names With Their Meanings
The Top 100 African Baby Girl Names
90 Strong Baby Girl Names & Their Meanings
82 Filipino Baby Girl Names
250+ Adorable Baby Names That Mean Love