Looking for the perfect name that reflects your favorite season? We've got you covered. Read on for our list of the feistiest fall baby names around.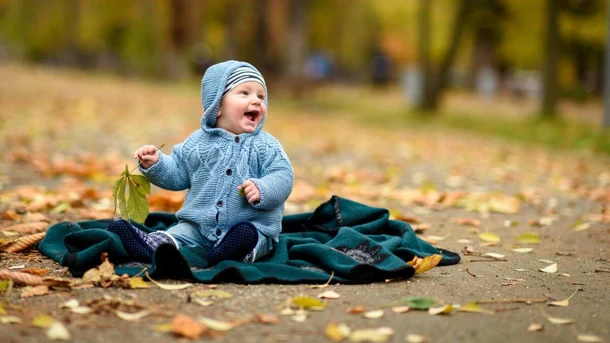 Pumpkin patches, apple pie, snug sweaters — there's a lot to love about fall.
It's a time of magnificent transition, as the air starts to cool and the nights starts to lengthen.
Inspired by the fiery foliage furnishing the landscape, these fall names explore the cream of the Autumn crop.
Names like Demeter and Pomona speak of the fall harvest.
Other names reveal the origins of the October month, and yet others celebrate the colors of the season.
(Spoiler alert: there are also a few chilling names on the list to honor Halloween. 🎃)
In this article: 📝

Is Autumn a rare name?

What name means harvest?

What are some October names?

Fall names for girls

Fall names for boys
Is Autumn a rare name?
Autumn
This sweet fall name is well-favored in the United States,
Autumn made it onto the list of most popular names for the 2010s, and has remained a hit right up to the present day.
So, if you're looking to truly harness the magic of the season, this name might be a perfect pick.
What name means harvest?
These names either mean harvest or speak to the gods and godesses that preside over it.
Ceres. She's the Roman goddess of agriculture, grain crops, fertility, and — yes — motherhood.

Dagon. From its Hebrew roots, this name means "grain" and "the earth."

Demeter. She's the Olympian goddess of harvest, agriculture, and fertility.

Freyr. He's the Old Norse god of all sorts of things — including good harvest. Other things that he's in charge of? Fertility, peace, and fair weather.

Garner. This English name means "keeper of grain."

Harvest. Nuff said. 🌾

Maisie. From its Scottish roots, Maisie is short for Margaret. Its Autumn harvest roots? Maize.

Pomona. She's the Roman goddess of fruit trees.

Persephone. The daughter of Demeter, Persephone presides over grains and vegetation.
110 women are talking about 'fall baby names' on Peanut. Download the app to join the conversation.
What are some October names?
If your baby is born in the month of October, you may want to harvest a name that celebrates that.
(If they are born at a different time of year, but you simply love this month, that's fine too.)
Because of the "oct" in October, it seems like it should be the eighth month of the year.
But in a serious plot twist, it's actually the tenth.
Why is this the case? Because according to the ancient Roman calendar, it was positioned at number eight.
In our Gregorian calendar, it makes a fashionably later appearance.
These October related names celebrate the month that is right in the heart of the fall season:
Dex. If you want to celebrate October's position as the tenth month, this can be a great option.

Octavia. Simply "eighth."

Octavius. And here's the masculine version.

October. What could be more of an October name that October?

Otto. While Otto can mean "wealthy" from the Old German, it can also mean "born eighth."

Tavian. From Latin roots, this name means "eighth."
Fall names for girls
And then here are some other options you'll fall in love with.
Aki. This Japanese means autumn, but also "sparkle" and "bright."

Amber. From its Arabic roots, this one means "jewel" but also refers to the color of autumn — yellow, orange, brown, and red.

Apple. 🍎

Aster. This beautiful bud is September's birth flower — an ideal name for the start of the season.

Aurelia. "The golden one"

Brandy. "Burnt wine"

Cera. "Fiery ones"

Cerridwen. She's the Celtic goddess of transformation and inspiration — perfect for the changing season. It also "fair" and "blessed poetry."

Clove. With its partners cinnamon and nutmeg, clove makes the perfect Autumn taste.

Goldie. This one's "made of gold" — as are the color of some Autumn leaves.

Jora. From its Hebrew roots, Jora means "autumn roots."

Keziah. The Cassia tree has its gorgeous leaves yellow in the fall.

Lilith. Okay, we've come to our Halloween name here. Lilith means "night monster."

Maple. This Canadian staple boasts beautiful autumn colors.

Marigold. There's no stopping these flowers from blooming all fall long.

Orla. "Golden princess"

Pansy. This gorgeous flower is planted in the fall.

Raine. Particularly if you live in certain locations, the arrival of autumn corresponds with the rainy season. Raine also means "she is singing" and "queen."

Roux. This name means "someone with red hair" — the color of an Autumn leaf.

Ruby. A precious stone that is deep red in color, ruby is the perfect description of an Autumn leaf.

Saffron. "Yellow flower"

Scarlett. This name evokes the deep red of changing fall leaves.

Sienna. "Orange-red"

Susan. The reason it makes this list? The Black-eyed Susan that has magnificent fall colors. While these flowers will die off when the winter sets in, they'll still be around in the fall.

Teresa. This name actually means "late summer" — a time at which you can already start smelling the pumpkin spice of the fall.

Thu. This sweet gender-neutral name simply means "autumn" in Vietnamese.

Willow. These magnificent trees are the last to drop their leaves in autumn.
113 women are talking about 'fall baby names' on Peanut. Download the app to join the conversation.
Fall names for boys
Acer. This is the botanical name for the brilliantly red autumnal maple tree.

Adam. "Of the red earth"

Aspen. The Quaking Aspen is a tree with roundish leaves that turn from gold to orange.

Baize. With its French roots, this name means "dark brown."

Bean. "Harvested in autumn"

Birch. This gangly tree turns magnificent shades in the fall.

Blaze. From its American roots, this name means "orange and red fire." From French roots, it means "plains dweller."

Bruno. "Brown"

Carmine. This name means both "deep red" and "song."

Casper. Here's a perfect name for Halloween. It belongs to that famous friendly ghost. From its Persian roots, it also means "treasure bearer."

Cormac. Meaning "son of the charioteer," Cormac also refers to the trunk of the tree.

Forrest. Imagine those leaves changing in unison.

Franklin. This tree changes color in the most dramatic fashion. It also means "free landholder."

Leaf. 🍁

Keegan. "Small flame"

Phoenix. This mythological creature that rises from the ashes has a name that means "dark red."

Red. Look up and around for the autumnal meaning of this color.

Rowan. Meaning "red-haired," this fiery name is perfect for a fall baby — red hair or no.

Russel. From its French origins, Russel means "red-haired." You may already have the feeling of Autumn leaves. But this name offers another tidbit: the rustle of the fall leaves.

Russet. "Reddish." Its shortened form? "Rusty."
All the best with your choice.
👶 More baby names:
100 Space Baby Names for Boys & Girls
86 Blossoming Spring Baby Names
138 Nature Baby Names
150 of the Most Cool and Rare Baby Names
75 Water Baby Names
100+ Baby Names That Mean Peace
50 Baby Names That Mean Fire
100 Anime Baby Names
132 Ethereal Elvish Baby Names
100 Disney Baby Names
582 Mystical, Magical Baby Names
45 Dragon Baby Names for Your Little Firecracker
72 Wonderful Winter Baby Names