Looking to spend some time with your little peanut this October? Check out our top family Halloween activities for some Halloween family fun!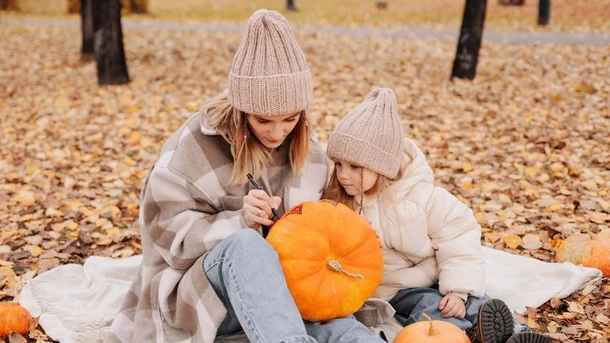 In the run-up to Halloween, it's fun to get involved with your little peanut ‒ donning a spooky costume, picking pumpkins, creating fall crafts.
After all, Halloween isn't just for kids!
If you're after some family fun Halloween inspiration and things to do for Halloween, browse our 20 spook-tacular family Halloween activities:
In this article 📝
Indoor Halloween activities for families

Outdoor Halloween activities for families

What are some good Halloween activities?
Indoor Halloween activities for families
When the weather gets chilly, there's nothing quite like snuggling up indoors with cozy jumpers, warm apple cider, and hot cocoa.
But that doesn't mean you can't enjoy fun family Halloween activities while inside! Have a look at our favorite 14 fun Halloween activities at home:
1. Carving or painting Jack-o-lanterns
We had to start our list with this most classic of all things to do for Halloween! When you've chosen the perfect pumpkin, make an evening of scooping out pumpkin guts and carving a fun face on it! Got a little one who wants to get involved? Skip the carving and instead break out the paints to draw a spooky face on your new pumpkin friend.
2. Read some Halloween books
Got a little bookworm? Try reading some Halloween children's books together for some Halloween family fun. We like Room on the Broom, Trick or Treat Little Pumpkin, Baby Touch and Feel: Halloween, Peppa's Halloween Party, and the Harry Potter series for bigger kids.
3. Costume report
Add a little education to the traditional Halloween family activity of dressing up n a costume. Encourage your little one to research whoever they've chosen to dress up as, and give a mini 'report' to your family or their friends. They can learn research skills as well as improve their communication.
4. Make-your-own Halloween costumes
Instead of buying a pre-made Halloween costume online or in-store, why not try making your own from old clothes at the back of your closet? Get some extra crafting supplies to make this family Halloween activity extra fun!
5. Create a candy wreath
Go one step further than a carved Jack-o-lantern to get trick-or-treaters to your front door with a DIY candy wreath. Find a 'naked' wreath, like this one by Michaels, then attach some of your little one's favorite candy using a hot glue gun.
6. Bake some spooky cookies
There are so many ideas for this fun family Halloween activity ‒ from sugar cookie skulls to ghostly meringues, Rice Krispie pumpkins, and spider truffles. We can't decide what our favorite family Halloween activity is: baking or eating the treats!
7. Halloween movie spook-a-thon
From Halloween movies for toddlers and babies to scary movies for bigger kids. Get the popcorn popping, dim the lights, and snuggle up with your little one. Not sure what to watch? Have a look at our ultimate list of the best kids' movies for Halloween.
8. Easy pom-pom spiders
Make your own creepy-crawlies to spookify your house! This fun family Halloween activity is great for toddlers ‒ simply get a bag of pom-poms, googly eyes, and pipe cleaners to make your own eight-legged creeps!
9. Paper plate masks
One of our favorite classic things to do for Halloween! Paper plates, elastic, scissors, coloring pens, and extra crafty embellishments make some creepy Halloween masks! Simply snip some eye holes and attach elastic to the paper plate, then let your little artist's imagination run wild!
10. Watch a Halloween video
If your little one has watched all the Halloween movies, or you're keen to have them learning while getting their spook on, how about some Halloween videos on Youtube? From magical math videos and Halloween vocabulary lessons to spooky nursery rhymes and not-so-scary stories for littler hobgoblins.
11. Magical floating ghost
For bigger kids keen to learn some weird science, how about this electric Halloween family activity? Show your little one the magic of static electricity by making a tissue 'ghost' float over an inflated balloon.
12. Counting candy corn
Another of our educational family fun Halloween activities, this one teaches important math skills to littler children. Try one of these math printable candy corn counting activity sheets from Math Geek Mama.
13. Blow-painting monsters and ghosts
Got a mini artist in the family? All you need for this family Halloween activity is straws, paint, and paper. Simply use the straws to blow paint onto the paper, adding googly eyes and black pen to add details for a totally unique monster or ghost. Just make sure your little one doesn't completely slurp up the paint!
14. Hair-raising antics
Give your little hobgoblin a Halloween hair makeover with one of these spooky hairstyles!
How can I make Halloween fun at home?
One of the best ways to make Halloween extra special for your little monsters this October is to have fun yourself!
All our indoor spooky things to do can be Halloween activities at home, or wherever you are!
Halloween can be a fun time for kids and adults alike, so get involved in as many of our Halloween family activities as you like!
Outdoor Halloween activities for families
The weather's getting chilly, but there are some Halloween things to do outside that simply can't be missed!
Wrap up warm for these outdoor Halloween family activities!
15. Navigate a corn maze
One of our favorite fall traditions and family Halloween activities, getting lost in a corn maze is all part of the Halloween family fun! Let your little spooks lead the family to encourage problem-solving and leadership skills.
16. Explore a haunted house
Sure, some haunted houses are a little too scary for littler hobgoblins, but others are the perfect Halloween family activity. No haunted houses nearby? Turn your own house into a spooky scene with devilish decorations.
17. Apple picking
Another of the more classic things to do for Halloween, find your nearest apple farm or orchard and let your little one pick the best apples. Then, when you get home, make a boo-licious apple pie from your freshly-picked apples!
18. Visit a pumpkin patch
One of the more traditional outdoor Halloween activities for families, visiting a pumpkin patch is perfect for picking pumpkins, getting some exercise, and snapping some boo-tifully spooky fall photos.
19. Contactless trick-or-treating
Keen to keep your distance this Halloween but don't want to miss out on the classic family Halloween activity of trick-or-treating? Make some pre-packaged Halloween candy goodie bags to drop off at neighbors' homes with your little spook in tow. Why not encourage your little one to practice their writing by penning some handwritten notes for your neighbors with the goodie bags?
20. Make a ghost garland
A crafty Halloween family activity for kids of all ages. Find some dried fall leaves in your garden or a nearby park, then take them home to paint white and add ghostly faces in black pen. Next, punch a hole on either side of the 'ghost', thread some string through it, and repeat, until you have a spook-tastic homemade ghostly garland.
What are some good Halloween activities?
We think that the best Halloween activities are the classics. After all, they're classics for a reason! This includes family-friendly Halloween activities like:
Pumpkin picking and pumpkin carving
Visiting a corn maze
Trick-or-treating
Watching Halloween movies
Dressing up in spooky costumes
Decorating your yard with creepy ghosts and ghouls
That's our top 20 family Halloween activities ‒ what are your favorites for the spooky season? Share them with the rest of the mamas on Peanut.
🎃 More on Halloween for kids from The 411:
46 Frightfully Fun Halloween Activities for Kids
62 Spook-tacular Kids' Halloween Movies
31 Boo-licious Halloween Food Ideas for Kids
How Long is Summer Break?
Our 17 Favorite Thanksgiving Shows for Kids