We've all heard the phrase about it taking a village to raise a child. And with many of us living away from family, or around just a small group of pals, it's easy to start feeling a tad isolated with your new little one in tow.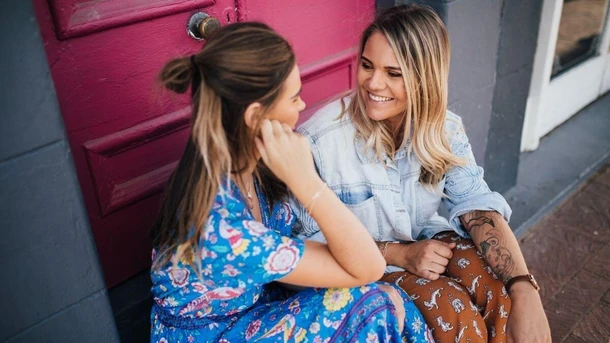 Even if you have the best support group around you, you might be the first, or last, of your friends to have a baby, which means finding common ground can be difficult. Maybe all your family works full time, so the Monday to Friday grind is long and lonely for you. We understand.
Meeting mom friends is a daunting task; whether you choose to do it in person, or using mom chat apps, it can be like dating all over again. Shudder. But the truth of the matter is that most new mamas are on the lookout for like-minded mom friends, too. So how can you find mom friends in our area without turning into a total lurker? Here are our hot tips.
How do I find other moms in my area?
Top tip number one is to put yourself out there. You can simply go out for a walk with your little one in their stroller, and you might be surprised by how many smiles and hellos come your way.
But there are other places where you can meet other parents in a more natural social setting:
Where can I meet other parents?
We all need social interaction, so it's not surprising that certain neighborhood spots naturally attract other parents. There's no harm in discovering your local mom/dad and baby hangouts, taking your time to explore them, and starting up a conversation when the time is right.
You can sign up for a regular baby activity class where you can connect with other parents who have children of a similar age. Local libraries and community centers often run things like storytime sessions, or you might fancy trying swimming or moms and babies yoga, which are great for your baby's development too.

If you attended, or plan to attend, a private antenatal class, you can leave with everyone's digits – or start a group chat and make plans to meet up once all the little ones have arrived.

Your local park or playground will probably be full of other local moms and dads. If your kids seem to hit it off, it might be worth swapping numbers or arranging a playdate.

New parents need caffeine, so heading to your favorite coffee spot might be all you need to strike up a conversation with other energy-seeking parents. If you keep seeing the same mama in there, they've probably noticed you too.
Is there an app to find mom friends?
Yes, there is! It's called Peanut. Sure, we're biased, but if you're looking for an easy way to find mom friends in your area, Peanut may be the app for you. You can match with other mamas based on your location and interests, and grow your village. As part of the Peanut community, you can meet, chat, and learn from like-minded women.
Why is it so hard to make mom friends?
It can be difficult to make new friends as an adult, whether you're a mama or not. This is something that many people struggle with, so you shouldn't feel alone. And as a mama, it's normal to feel a bit insecure as you navigate your way through this crazy whirlwind of mom-life, but remember: babies and kids are a fantastic conversation starter.
💡 More from The 411:
How to Ask Someone to Be a Godparent
How to Work from Home with a Baby
How to Be A Good Mother: 9 Top Tips
10 Life-Changing Mom Hacks From Peanut Mamas
13 Pieces of Advice That New Moms Need to Hear
Mom Groups: What to Know
Healing From Mom Burnout
How to Meet Other Moms
59 Self Care Ideas For Moms
How to Understand Mom Guilt
Mom Burnout: Reasons, Symptoms and Treatments
Peanut: Tinder for Moms (& So Much More!)
Peanut Gave Me a Platform to Find My "Framily", Where Other Platforms Couldn't
50 Parenting Quotes to Remember
What is a Crunchy Mom?
50 Fun Things to Do on Mother's Day 2022