Are you a new mom struggling to make other mom friends? We've got tips on how to find mom friends in your area, from real women who have been there.
We've all heard the phrase about it taking a village to raise a child.
And with many of us living away from family, or around just a small group of pals, it's easy to start feeling a tad isolated with your new babe in tow.
Even if you have the best support group around you, you might be the first, or last, of your friends to have a baby, so finding common ground can be difficult.
Maybe your friends and family work full-time, so the Monday-to-Friday grind is long and lonely for you.
We understand.
Meeting mom friends is a daunting task; whether you choose to do it in person, or using mom chat apps, it can be like dating all over again.
Shudder.
But the truth of the matter is that most new mamas are on the lookout for like-minded mom friends, too.
So how can you find mom friends in your area without it feeling super awkward?
Well, why not hear it from real moms who made real mom friends?
In this article: 📝

Tips for meeting other mom friends

How to meet other moms near you

How to meet moms in your local city

How do I meet other pregnant moms?

Why is it so hard to make mom friends?
Find friends near you
Over 17M connections made by 3M+ women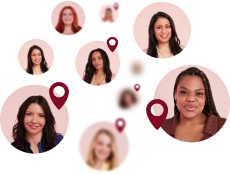 Tips for meeting other mom friends
So how do you actually go about meeting mom friends?
Well, the first step is to make the first step!
But that's easier said than done, so here are some practical and useful tips on how (and where) to meet mom friends, from real moms on Peanut:
"Start talking online before you meet up. It makes it waaay less awkward IRL." ‒ Cherie

"Babies are the best opener. If you're not sure what to say to a potential mom friend, just ask how old their kid is, tell them how old yours is, and you'd be surprised how quickly you just start chatting." ‒ Rebecca

"One of the best places I have met mom friends is the local library; 4 so far!" ‒ Kim

"Bring kids the first time you meet up ‒ you can use them as an excuse if it feels weird!" ‒ Sarah

"Always meet in a PUBLIC location. Just in case, it's better to be on the safe side." ‒ Joy

"For me, the hardest thing was leaving the house after having my first. The best thing I did was putting her in the stroller and going for a walk. So many moms (I'm assuming) gave me those knowing, supportive smiles as I just walked in the park. I didn't say anything to them then, but it was good to know that I wasn't alone." ‒ Kerri

"Signing my toddler up for classes was great, he did his swim class and I watched from the bleachers. There were a few other moms there watching theirs, and we just started talking." ‒ Shelani

"Go. To. The. Park! Your kids will burn off energy and there will be other moms to talk to." ‒ Noor

"I went to baby classes before my little one arrived, so I had mom friends with kids the same age as mine. Best decision ever!" ‒ Kalisha

"I searched online for mommy-and-me events near me, went to a couple ‒ a few were crap, but some were really good, and I chatted to some other moms there." ‒ Lisa

"Honestly? I just went out for coffee about a week after she was born, looking like I'd been dragged through a hedge backward, and that's how I met one of my best mom friends ‒ kinda like a meet-cute, I dropped my credit card, she picked it up for me, and we started chatting." ‒ Cherise

"I've been open with my pregnancy journey on TikTok, and from that, I've made a few close mom friends with similar due dates to me." ‒ Caitlin

"Try not to cancel! If you've arranged to meet other moms, especially if you're a new mom, it can be so easy to just put it off. Don't! Unless it's a proper emergency or you and/or baby have caught something contagious, do your best to go. It won't be as bad as you think, promise!" ‒ Bree
Gabby found that she struggled to find mom friends about 3 months postpartum ‒ anxiety, overwhelm, depression, and loneliness started to creep up.
Here's her story, in her words, of how she found her mom friends:
How to meet other moms near you
Want to make your own mom friends in your local area?
Let's break it down ‒ our top tips on how to make mom friends:
1. Join local mom groups
If you're in a big city, chances are there are a few mom-specific groups you can join.
Even a quick Google of "mom groups near me" can conjure up a few options, as can local bulletin boards, school newsletters, and even libraries ‒ try them out, and see what works for you.
If it's not right, you don't have to stay part of the group.
Some mom groups have regular outings, playdates, or get-togethers, which can help to break the ice.
If an in-person mom group seems a bit daunting right now (that's totally valid, and you're not alone in feeling that way, mama), how about going virtual?
Ever since the pandemic, virtual relationships have meant so much more ‒ just because you know someone online that you haven't met IRL doesn't mean you can't still be connected.
You'll find a whole host of locally-based mom groups that meet virtually (or even hybrid ones that have regular virtual and in-person get-togethers).
2. Find local mommy-and-me classes
You can sign up for regular baby activity classes where you can connect with other parents who have children of a similar age.
Local libraries and community centers often run things like storytime sessions, or you might fancy trying swimming or mom-and-baby yoga, which are great for your baby's development too.
Or, if you attended (or plan to attend) an antenatal class, you can leave with everyone's digits – or start a group chat and make plans to meet up once all the little ones have arrived.
Find friends near you
Over 17M connections made by 3M+ women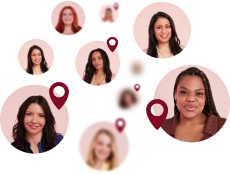 3. Attend local mommy coffee mornings
It doesn't have to be as "organized" as an official mom group or a mommy-and-me class ‒ you can just rock up to a coffee morning, just for moms.
Again, a Google search can show whether there's already an ongoing mom coffee morning you can try out.
After all, new parents need caffeine, so a mommy coffee morning might be all you need to strike up a conversation with other energy-seeking parents.
And if you keep seeing the same mama in your local coffee spot, they've probably noticed you, too, so why not break the ice?
4. Start the search on social media
It's easy to forget the social part of social media, amongst all the filters, face-tuning, and seemingly picture-perfect households.
(Seriously, no-one's house is actually that tidy if they've got kids!)
But social media can be a great tool for connecting with local moms ‒ or even moms from far away.
Sometimes, you'll find online local mom groups, like on Facebook, or you can use hashtags to find your community.
5. Go for a walk
Okay. This one can be one of the hardest ones, but honestly, many of our Peanut moms highly recommend getting your stroller out and just going for a walk as soon as you can.
(Taking your mental and physical health into consideration, of course, mama.)
Even just a five- or ten-minute walk can do wonders for your postpartum brain, dusting off the cobwebs and getting some fresh air
Plus, it's great stimulation for baby!
And of course, you can spot all of your local parenting hangouts ‒ which coffee shop is the one all the moms go to?
There's also the chance you could randomly find another mom with her baby.
Give them a warm smile, a wave, and, if it feels right, say hi and ask about their baby or how they're doing.
It can feel cringy at first, but it's worth it, we promise.
6. Go to the park
You might have already discovered this from your neighborhood walks.
Your local park or playground will probably be full of other local moms and dads.
If your kids seem to hit it off, it might be worth swapping numbers or arranging a playdate.
Simple as that!
7. Join Peanut
Of course we're going to toot our own horn here.
Peanut was created for this!
Seriously, we are the app for moms ‒ a safe, online space for women to connect and find advice and support.
On Peanut, you can connect with other moms one-to-one, join mom groups (either local or for your favorite hobbies or interests), ask questions and share your stories with the Peanut community, and even find expert advice from qualified professionals.
Intrigued? We don't blame you.
You can find out more about the Peanut app here.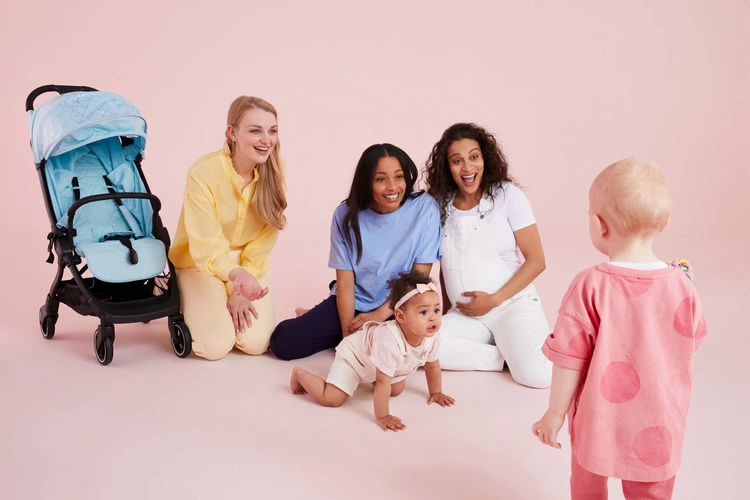 How to meet moms in your local city
So how can you meet moms where you are?
Well, to save you the search, we've got the best local mom groups near you, right here:
New York City
Ah, the city that never sleeps.
(Sounds familiar…)
From trips to the Bronx Zoo to long walks through Central Park, being a mom in New York City can sometimes make you feel… small.
But you're not alone ‒ there's a huge community of moms in New York City, and they're waiting for you to join them:
Los Angeles
There's no end of things to do with your kids in LA, from Westside to Eastside ‒ Disneyland? Come on!
But if you want a coffee and a mom-chat in Pasadena or go for a playdate in Glendale, this is the group for you:
Chicago
Another bustling city, Chicago is packed with stuff for kids ‒ even down to deep-dish pizza (the favorite of anyone over five).
So sort out a day out to Lincoln Park with your new mom friends, right here:
Philadelphia
If you're after a mom friend to take snaps of you and your little one on the carousel at Franklin Park, or you just want a coffee and a real talk, why not join our moms of Philly?
Florida
Want someone to take a stroll through Langford Park with?
Or maybe an impromptu trip to SeaWorld?
You'll find your Floridian mom friends right here:
Toronto
If you're raising a little one in T.O, but want someone to grab a Tim Hortons with, or just have a chat and a stroll through High Park with, you're welcome to join our other Torontonians:
Québec
Bonjour, maman!
Fancy soaking up some of the French-Candian culture with your next mom-BFF?
Start a tête-à-tête with the other moms of Québec here:
Vancouver
How about a playdate at Science World, Vancouver Aquarium, or a coffee and a chat while the kids have fun at Circus Play Cafe?
Find your Vancouver mom friends here:
Ottawa
Whether you're after an Ottowan mom friend in Kanata, Vanier, Nepean, Gloucester, or Cumberland, you're sure to find them here:
Edmonton
Looking for a mom friend to go to one of Edmonton's many festivals?
You're in the right place: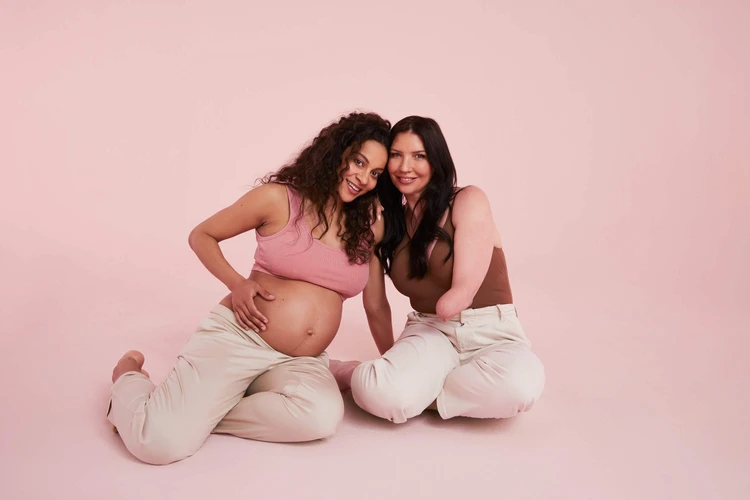 How do I meet other pregnant moms?
If you're a mama-to-be, there's nothing stopping you from finding your mom friend ahead of schedule.
And you could find another mom-to-be with a similar due date so your babes will grow up together (goals, right?).
Plus you'll have someone to chat with about your pregnancy symptoms ‒ someone who really gets it.
So here are our tried-and-tested ways to make mom friends while pregnant:
1. Sign up for prenatal classes
Ask your OB-GYN for recommendations for local prenatal classes ‒ they're a great place to meet other moms-to-be.
Not sure what to say when you're there?
Ask about their due date and their pregnancy experience so far ‒ you're sure to find some common ground, and before you know it, you'll have a pregnant mom friend.
Find friends near you
Over 17M connections made by 3M+ women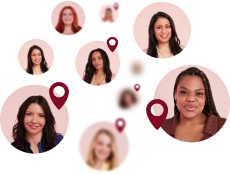 2. Try local pregnancy meet-ups
Another one you can ask your doctor about ‒ they may know of organized pregnancy meet-ups you can stop by.
Or check out bulletin boards in your local cafes, libraries, and shops.
3. Try a pregnant workout class
How about prenatal yoga, maternity swimming, or pregnancy pilates?
Ask at your local gym whether they have pregnant-friendly classes you can try out.
Get chatting with the other moms-to-be, swap digits, meet for (decaf) coffee, and voilà ‒ you've got yourself a pregnant mom friend.
4. Find your Bump Buddy on Peanut
Okay, what's a Bump Buddy?
Well, it's someone who has a similar (or same) due date as you!
On the Peanut app, you can join a Group full of other moms-to-be with a similar due date, so you can share your pregnancy journeys together.
And if you want to get pregnancy advice moms who have been there (or are right there with you), there's even a larger 'Pregnancy & Motherhood' Group, where real moms swap stories and support each other.
So if you're expecting (congrats, mama!), pick out your due date month and find your Bump Buddy:
Why is it so hard to make mom friends?
It can be difficult to make new friends as an adult, whether you're a mom or not.
This is something that many people struggle with, so you're not alone.
And as a mama, it's normal to feel a bit insecure as you navigate your way through this crazy whirlwind of mom-life, but remember: babies and kids are a fantastic conversation starter.
You've got this, mama.
And when you find your mom friend on Peanut, we'd love to hear your story.
Find friends near you
Over 17M connections made by 3M+ women