Looking for the perfect free printable baby shower games for your upcoming party? We've got you covered. These are our favorites.
Ready to kickstart a lifetime of fun?
Let's welcome the new arrival in your life with a hefty dose of delight.
With these free printable baby shower games, you can tick off one more thing on that to-do list with minimal hassle.
Baby shower games are an excellent ice-breaker, a wonderful way to celebrate the mama-to-be, and a great way to entertain kids and adults alike.
From hot favorites like Baby Bingo and word scrambles to more niche options like baby-related music trivia, there's something for every taste.
In this article: 📝

How many games should you play at a baby shower?

What can I print baby shower games on?

How do you make baby shower card games?
How many games should you play at a baby shower?
Good news here—there's no one way to do this.
Whether you play one game or ten is entirely up to you.
For many showers, the sweet spot is often around two or three.
There's a lot going on at a baby shower, between opening gifts, catching up with friends and family, and tucking into delicious edible treats.
So fitting in more than that might be tough.
What can I print baby shower games on?
Among the spills and thrills of baby shower festivities, it may be hard keeping more fragile pieces of paper intact.
Opting for cardstock may be the way to handle potential wear and tear.
And popping your games on more durable cards may also mean you can use them at more than one baby shower or sprinkle.
How do you make baby shower card games?
Right. You've got your cardstock ready.
Now to figure out what to print on it.
Don't worry! We've got you covered.
Here are our favorite free printable baby shower games for you to choose from.
1. Baby Bingo
Baby Bingo is a winner and can be enjoyed by all ages.
It's hard not to get excited as you inch closer to being the one who gets to shout out BINGO!
There are two ways to play:
If a gift registry is set up, create a bingo card with the registered items on it.
For example, if you know that the mama-to-be will be getting diapers, crib sheets, and bottle cleaners, each of these items should fill a square on your bingo sheet.
Then, as the mama-to-be opens her presents, the guests get to check off the items as each one is revealed.
To keep things flexible, here's our very own Peanut Bingo Card for you to print out and fill in.
Remember to shuffle up the words in the grid so each person has a unique card.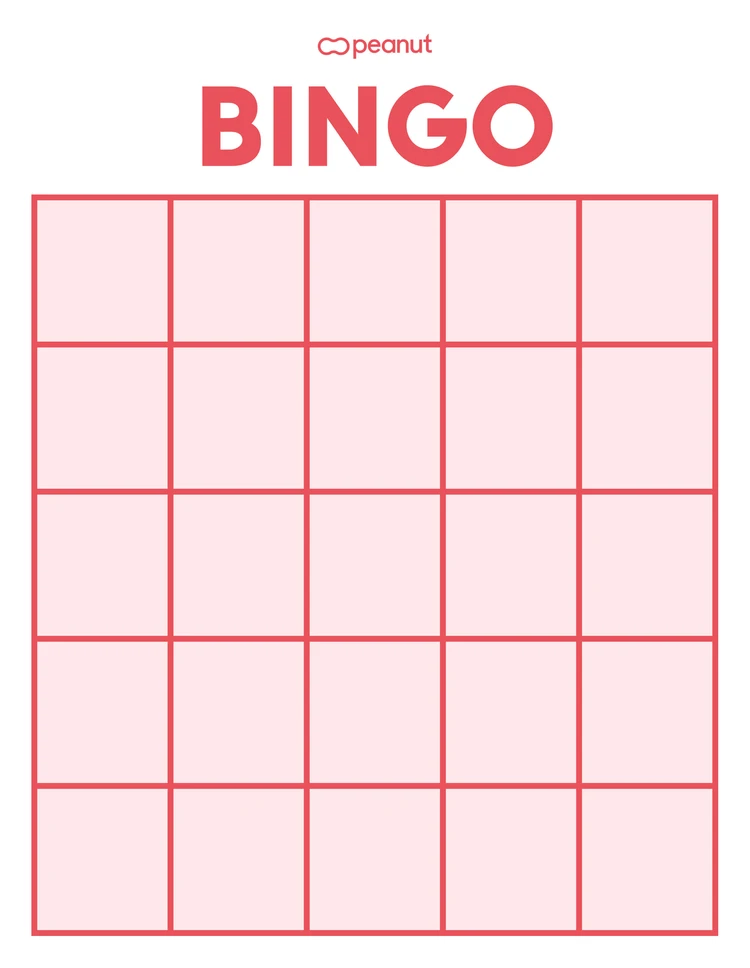 2. Name the Baby Song
This fun music trivia game will be a favorite for music buffs.
Guess the title of the song that holds a baby in it.
Use our printable template, or create your own: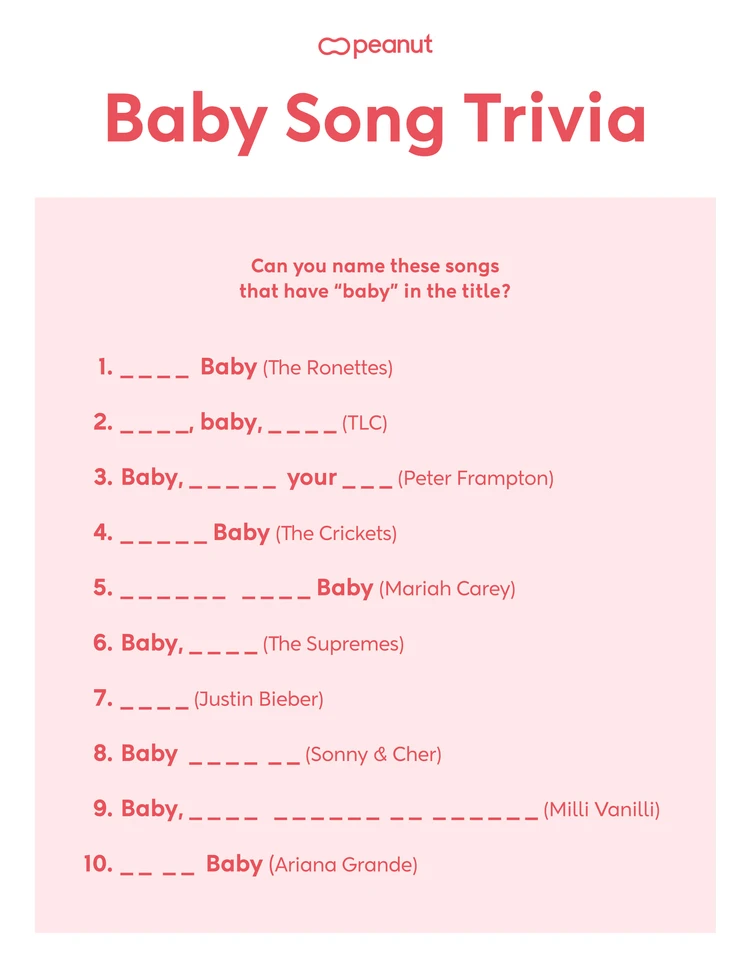 3. Baby's Going to Be a Star
This one's similar to our music trivia game, but it's for the movie buffs.
Name the movie with "baby" in the title.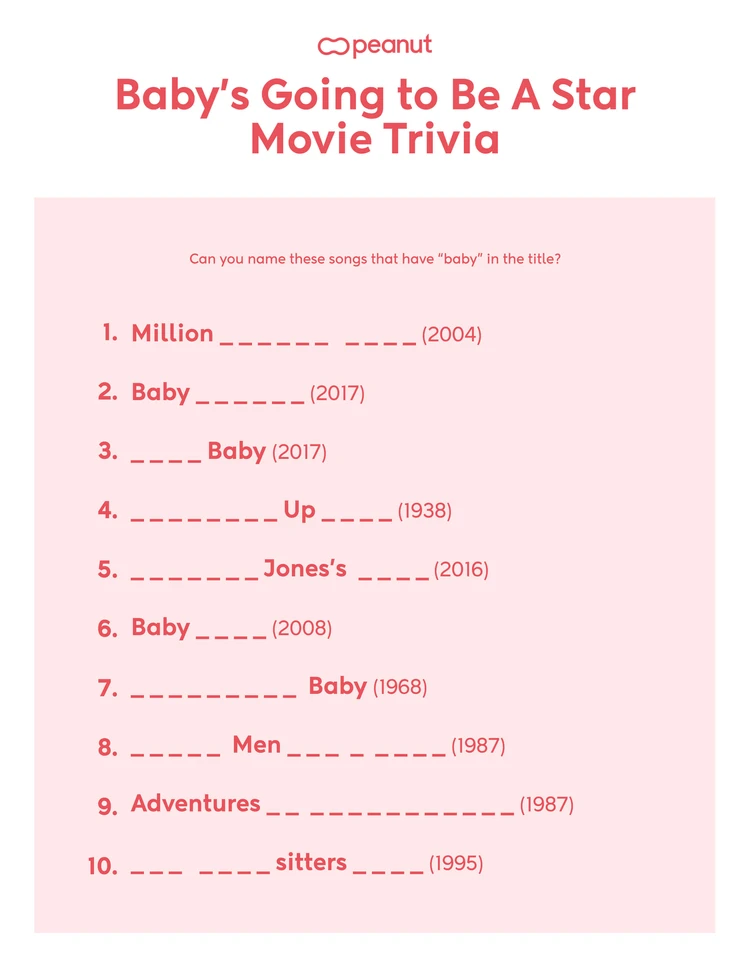 4. Globe Trotting Baby
For the multilingual in your group, this game will be a breeze.
Think of the name for baby in as many languages as possible.
The person who gets the most right wins.
Here's our template: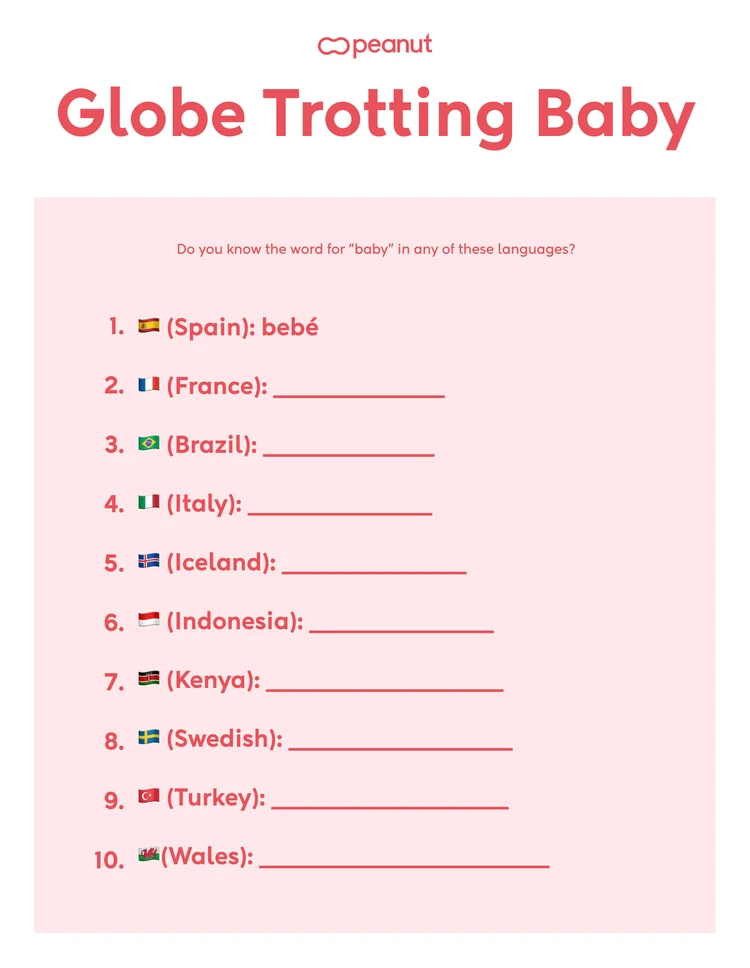 5. Baby Animals
Do you know what the babies of different animals are called? If so, this is your game.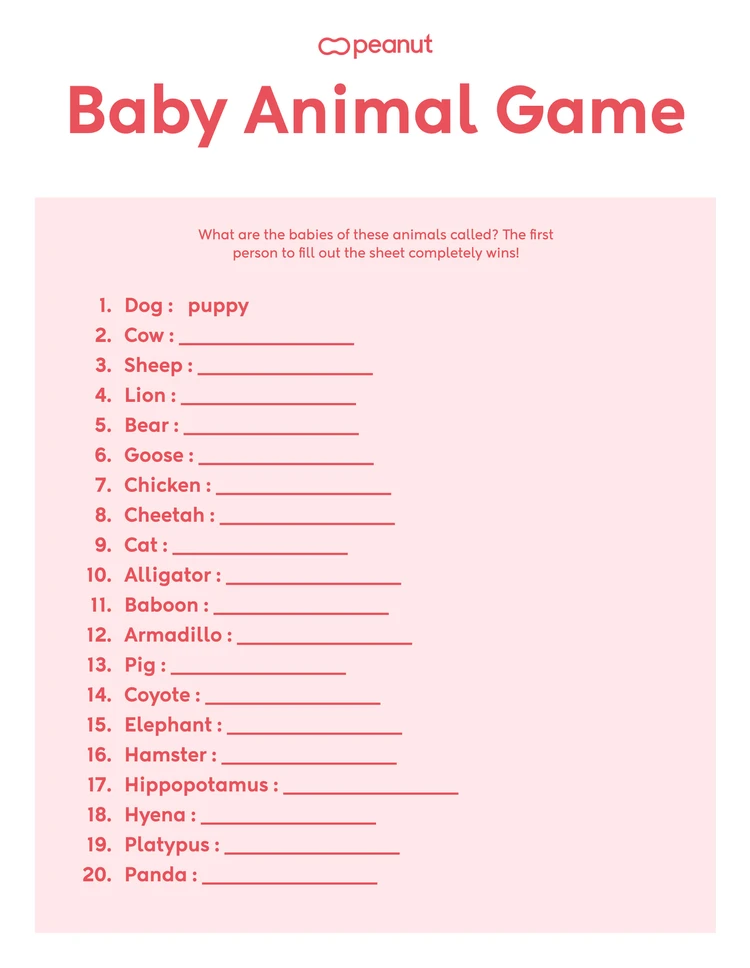 6. Baby Word Scramble
A word scramble is fun, easy, and entertaining for bigger kids and adults alike.
Each word should spell out something baby-related.
Check out this printable template, or create your own: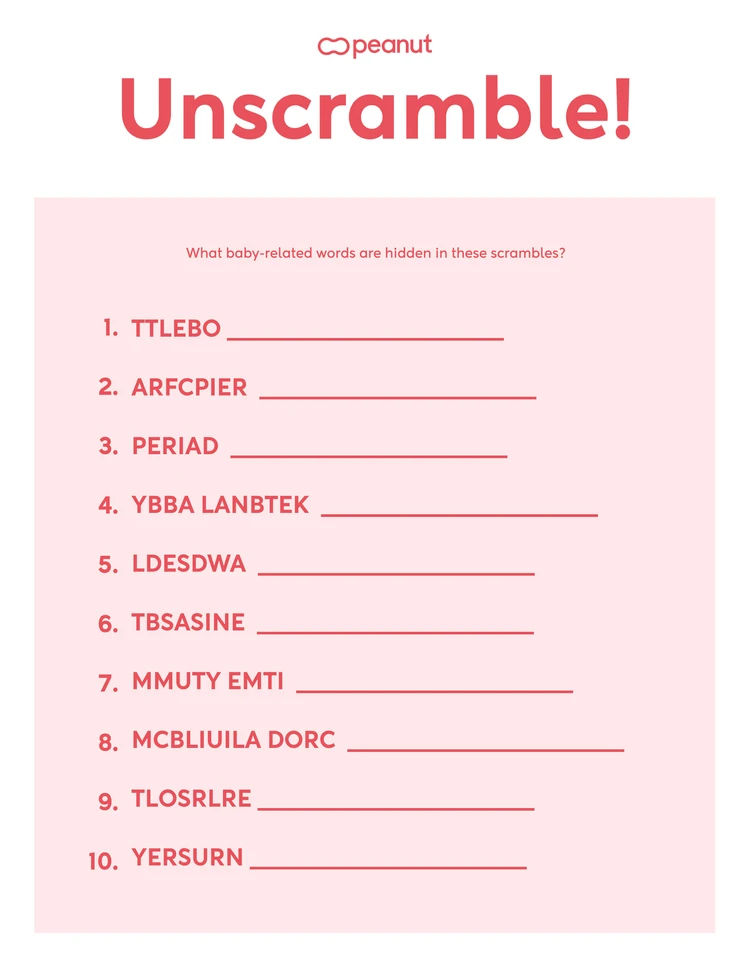 7. Baby Shower Scattergories
If you've ever played Scattergories, you know how much fun it can be.
Each player gets a letter. (Either assign a letter to each person, or they can use the first letter of their names.)
Everyone is provided with a sheet filled with baby-related prompts.
Each player has to fill in the blank as quickly as possible with an answer that starts with their specific letter.
Print out this template, or use your own: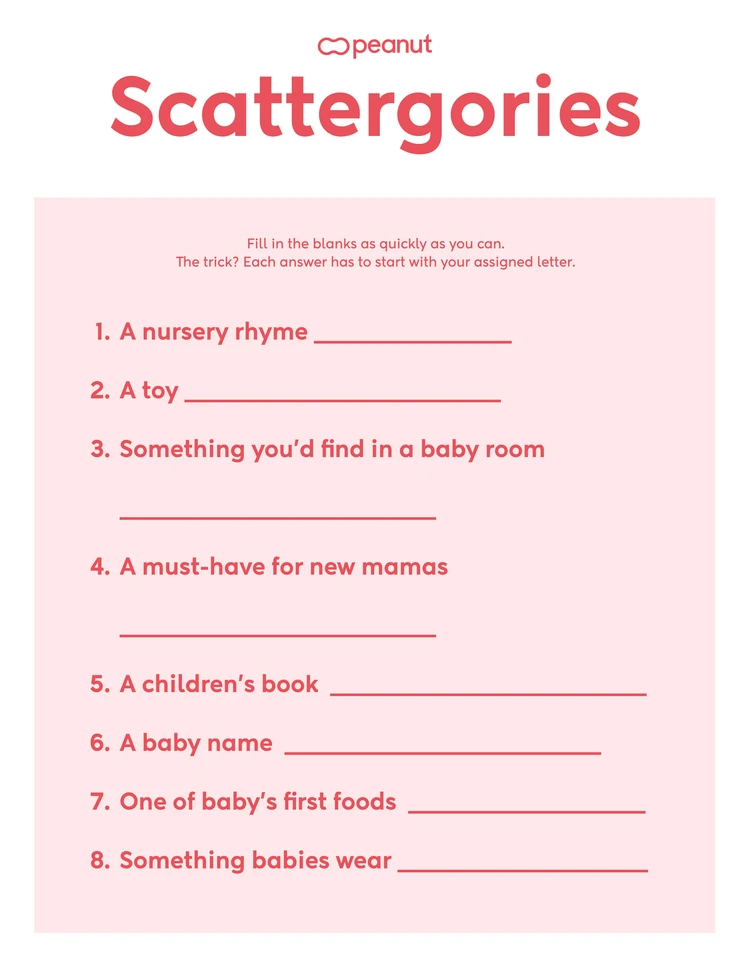 8. Messages for the Future
This is part game/part craft. Each person gets a card. (Our template is below.)
On the card, they write a message to the baby that they can read in the future.
The mama can then keep these in a safe place, bring them out on a special occasion, and share them with their child.
So simple and so meaningful.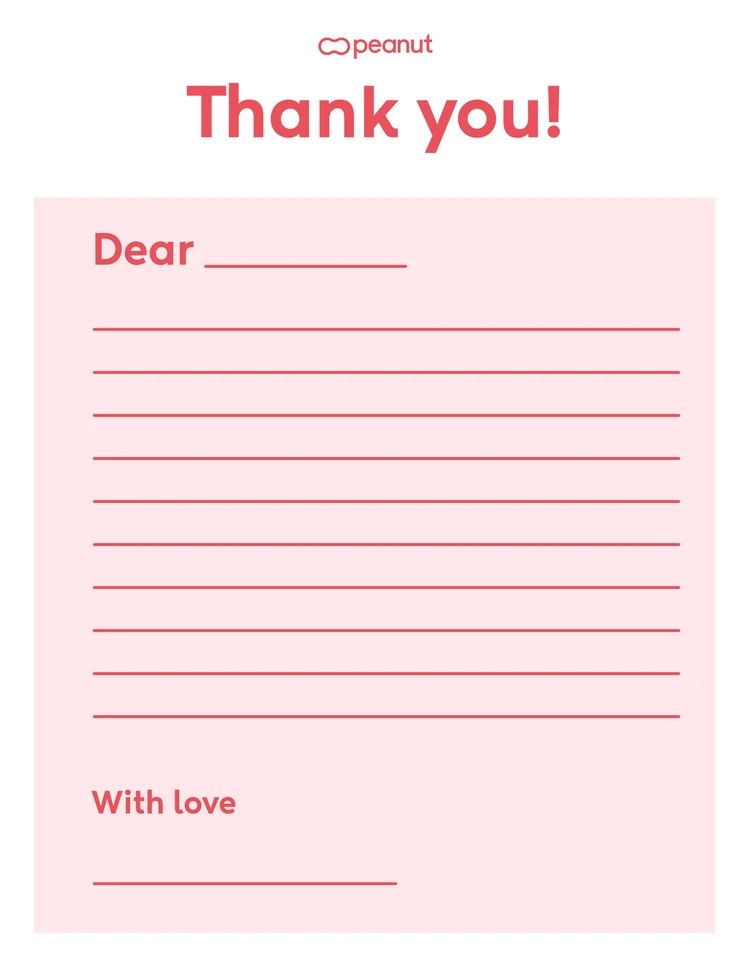 9. Nobody's Baby
Okay, this one requires no printing and is guaranteed to create some giggles.
There's only one rule to this game: You are not allowed to say the word "baby."
When your guests arrive, give them each a safety pin.
They need to pin it to their clothes.
If they are caught saying the word "baby" at any point during the shower, they have to give up their pins.
Whoever is left with a pin at the end of the party gets a prize.
10. The Price is Right
If you're familiar with the game show The Price is Right, you'll love this baby shower game.
Simply guess the prices of the different baby goods!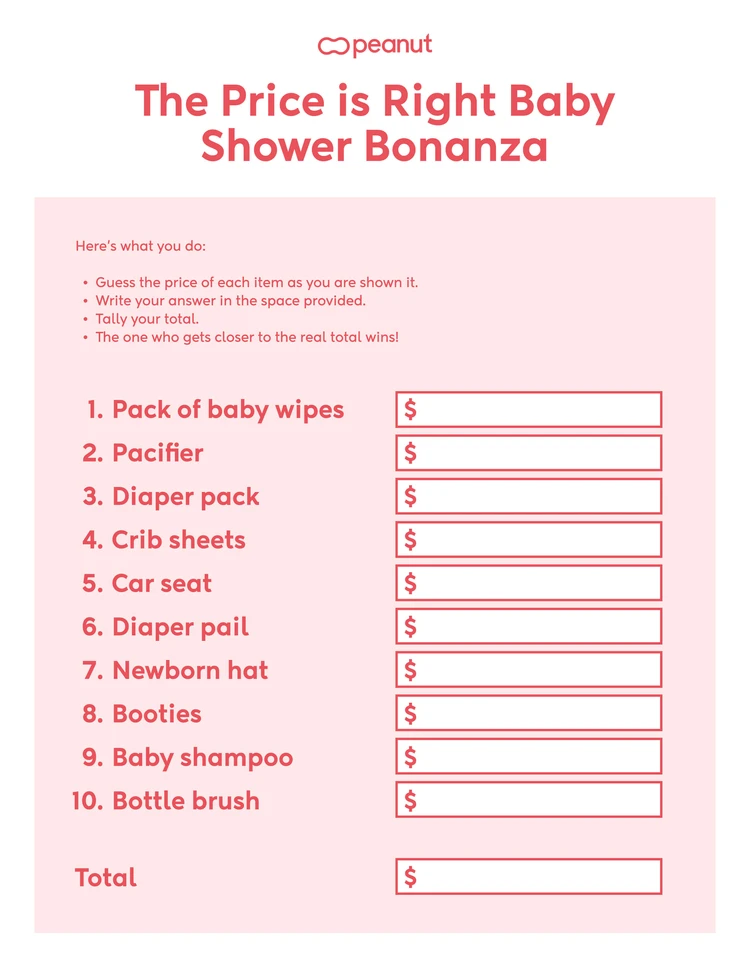 And there you have it! Just add cardstock and fun is bound to ensure.
Why not share your snaps of you playing your free printable baby shower games with the other mamas-to-be on Peanut?