If you're looking for French boy names for your baby, maybe you're looking for a name which is more "traditionally" French, or possibly more unique with a special meaning.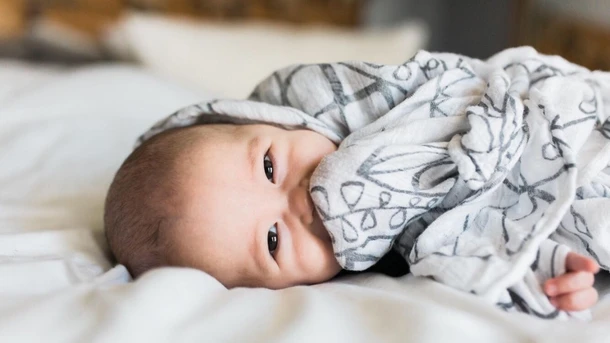 Classic French names include Charles, Louis, and Dennis. And alongside these are other traditional names claiming a space in the official US Top 1,000 names list, including: Andre, Blaise, Dion, Josue, and Remy.
And then there are the more unique French male names, such as Dio and Quincy.
In this article: 📝

What's a good French name for a boy?

OK, need some more inspo? What are some other male French names?

What about some really unique French baby boy names?

And finally, a bit of random knowledge – do you want to know what is the rarest French male name in 2021?
What's a good French name for a boy?
Boy names inspired by the Gallic country can range from the classic to the rare, the traditional to the popular. In 2020, the most popular baby boy French names in the country itself were: Gabriel, Leo, Raphael, and Arthur. They've certainly stood the test of time!
Here are some other French names for boys:
Alexandre: Defender of the people
Andre: Strong and manly
Beau: Beautiful or handsome
Bellamy: Good friend
Benard: Bold as a bear
Benoit: Blessed
Chandler: Candle maker
Charles: Free man
Chase: To hunt
Danniell/Danon: God is my judge
Darrell: Open
Diggory: Lost one
Elroy: The king
Ethan: Fort or firm
Forest: Woodsman
Gage: Oath or pledge
Guillaume: French version of William, meaning strong willed protector
Harvey: Battle warrior or battle worthy
Henri: Ruler of the house
Hugo: Intellect
Jacques: Supplanter
Landry: Ruler
Léo: Lion
Louis/Luis: Renowned warrior
Marc: Warlike
Nathan: He has given
Nathanael/Nathaniel: Gift of God
Olivier: Olive tree
Philippe: Lover of horses
Ranger: Forest guardian
Raphaël: Healed by God
Sabastien/Sébastien: Venerable
Thayer: French variation of Taylor meaning tailor
111 women are talking about 'French baby boy names' on Peanut. Download the app to join the conversation.
OK, need some more inspo? What are some other male French names?
Aimon: House or home
Alain: Little rock
Algernon: Mustached man
Alphonse: Noble and ready
Ambroise: Immortal
Ames: Friend
Anatole: From Anatolia
Antoine: Priceless one
Aramis: French literary name from The Three Musketeers
Armel: Bear prince
Autry: Noble strength
Baptiste: Baptist
Barbeau: Fisherman
Bastien: Venerable and revered
Bayard: With red-brown hair or foolhardy
Bayless: Bailiff
Beauchamp: The beautiful field
Beaumont: Beautiful Mountain
Beauregard: Beautiful gaze
Berne: Bold as a bear
Blaise/Blaisot: To lisp or stammer
Bouvier: Herdsman
Breton: From Brittany
Bruce: From the brushwood thicket
Burke: From the fortress
Cable: Rope
Cabot: To sail
Candide: White
Cavalier: Knight or horseman
Chamonix: From Chamonix
Chapin: Shoemaker
Chaplin: Clergyman
Charnell: Burial place
Cheney: Oak tree
Claiborne: Boundary with clover
Claucer: Trouser maker
Clovis: Renowned fighter or famous in battle
Coeur: Heart
Coligny: From Coligny, in eastern France
Corentin: Tempest or hurricane
Coty: French surname
Croix: Cross
Curtis: Courteous or polite
Dabney: From Aubigny
Damond: The world
Dartagnan: French literary name from The Three Musketeers
Daumier: French artist name
Davignon: From Avignon
Dax: French place name
Decartes: Dweller at the outskirts of town
Delano: From the forest of nut trees
Delmore: Of the sea
Delroy: Servant of the king
Dennis: God of Nysa
Denver: Green valley or from Anvers
Deveraux: Riverbank
Dougray: French surname
Drury: Dear one or sweetheart
Dumas: On the little farm
Duvall: Of the valley
Edouard: Wealthy guardian
Érasme: Beloved or desired
Étienne: Garland or crown
Fabrice: Smith
Favre: Ironworker
Fleming: From Flanders
Florin/Florent/Florentin: Flowering
Fort: Strong
François: Free man
Gabin: Of Gabium
Gable: Triangular feature in architecture
Gabriel: God is my strength
Gaetan: From Gaeta in Italy
Garnet: Pomegranate
Garson: To protect
Gaspard: Treasurer
Gaston: From Gascony or the foreigner or the guest
Gaubert: Bright ruler
Gautier: Army rule
Georges: Farmer
Gervais: Spearman or skilled with a spear
Gilles: Form of Giles
Granville: French-inspired family name
Harlequin: Mute pantomime clown
Iker: Visitor
Jean: God is gracious
Jermaine: From Germany
Jeter: Surname
Jocelin: Little goth
Josue: A variation of Joshua
Lacrosse: The cross
Lafayete: From the land of the beech tree
Lafayette: Faith
Lamont: From the mountain
Lancelot: Servant
Lanier: Wool worker
Laramie: Canopy of leafy boughs
Larue: Dweller by the road
Laurent: Bright, shining one
Lave: Lava
Lebron: Brown-haired one
Leroy: The king
Liam: Desire or guardian
Lowell: Young wolf
Lucas: Person from Lucania
Lyon: Lion
Macon: Mason
Maël/Mael: Chief or prince
Mailer: Enameller
Maine: Mainland
Maison: House or home
Marcel: Little warrior
Marcellus: Young warrior
Marquette: Land owner
Mars: Roman god of war
Marshall: One who looks after horses
Matthieu: Gift of the Lord
Mercer: French occupational name
Montague: Pointy hill
Napoleon: Person from Naples in Italy
Nazaire: French place name (Saint-Nazaire on the west coast of France)
Neville: New town
Nicolas: Victory of the people
Noe: Rest or peace
Noel: Christmas
Normandy: Land of the northern folk
Nouvel: New
Page: Page attendant
Parc: Park
Paris: As we all know; the French capital
Parish: Ecclesiastical locality
Pascal: Easter/Passover
Patrice: Noble
Patrick: Nobleman
Paul: Little one or small
Pepin: Determined
Percival: Pierce Valley
Picard: From Picardy, in northern France
Pierre: Rock or stone
Platt: Flat land
Prewitt: Brave little one
Proust: French literary name
Quain: Clever or quick
Quennel: Dweller at the little oak tree
Regis: Kingly
Remi: Oarsman or Remedy
Renate/Rene: Reborn
Renon: To make famous
Reynard: Counsel or brave
Rigny: From Rigny, an area in eastern France
Rousseau: Red-haired
Roy: King
Rupert: Bright fame
Russell: Redhead or fox-colored
Saber: Sword
Sacha: Man's defender
Salinger: Surname
Sequin: Shiny disc
Sorrel: Reddish brown
Spencer: Keeper of provisions
Squire: Esquire
Stéphane: The crown of glory
Talon: Large claw of a bird of prey
Tananarive: City of the Thousands
Tavin: Royal staff
Terrance: Smooth
Thoreau: Literary name
Toulouse: From Toulouse
Toussaint: All saints
Travis: Tollgate-keeper
Vachel: Cowherd
Valentin: Strength or health
Vallis: From Wales
Vardon: Green knoll
Vere: Alder
Vermont: Green mountain
Verrill: Honest
Villiers: Town-dweller
Vitus: Life
Vrai: True
Warren: Park-keeper
Wisconsin: Gathering of waters
Yves: Yew wood
Yannick: God is gracious
What about some really unique French baby boy names?
Abelard: Brave Abel
Dio/Dion: Child of heaven and earth
Elie: The Lord is my God
Izod: Hardy or strong
Marvel: To Wonder or admire
Obert: Noble or bright
Pacome: Of strong nature or pacifier
Quincy: Person from Quincy or estate of the fifth son
Razo: Royal
Severin: Severe
Urbain: From the city
Verrill: Faithful
And finally, a bit of random knowledge – do you want to know what is the rarest French male name in 2021?
Zeke is up there, with Maddox, Cree and Crockett, But Ephraim is currently at number 1,000 on the US baby name list, so one of the rarest at the moment.
Hopefully you are feeling excited about finding a French name for your new family member. But if you don't know if your baby is a boy or a girl, you might also want to check out our list of French names for girls.
👶 Find more baby boy names:
1000 Popular Baby Boy Names
137 Cool Baby Boy Names and Their Meanings
141 English Names for Boys
90 Middle Names for Boys
121 Polish Baby Boy Names With Meanings
The Best 107 Hawaiian Baby Boy Names
161 Hebrew Baby Boy Names to Choose for Your Baby
87 Japanese Baby Boy Names With Their Meanings
70 Persian Baby Boy Names And Their Meanings
70 Turkish Baby Boy Names & Their Meanings
100+ Russian Baby Boy Names for Your Little Boy
The 109 Best Irish Baby Boy Names
The 100+ Best Egyptian Baby Boy Names
103 Greek Baby Boy Names And Their Meanings
The Best 100 African Baby Boy Names
Top 100 Spanish Baby Boy Names & Their Meanings
90 Latin Baby Boy Names With Their Meanings
80 Strong Baby Boy Names (with Meanings)
216 Strong Norwegian Baby Boy Names
121 Italian Baby Boy Names for Your Bambino
98 Portuguese Baby Boy Names
85 Scandinavian Baby Boy Names
187 Australian Baby Boy Names for Your Little Anklebiter